Silicone baking molds have become increasingly popular since they hit the market. The one downside to this product is that grease and grime sometimes stick to them, which makes knowing how to clean silicone molds absolutely necessary.
Aside from this build-up, there is a multitude of benefits to these molds. Silicone molds are flexible, inexpensive, naturally non-stick, and come in tons of colors, shapes, and sizes.
The only smart way to clean silicone bakeware is to know what product you're working with. Silicone is made up of polymers, which are large chains of atoms combined with hydrogen and carbon.
This element is naturally found in sand and is extracted and made into products for our convenience. When baking or cleaning silicone cupcake liners and molds, there are ways to get the most use. First, bigger isn't always better. The smaller muffin and cupcake molds are more rigid than big pans and less likely to crack the baked goods. Second, you don't require anything fancy.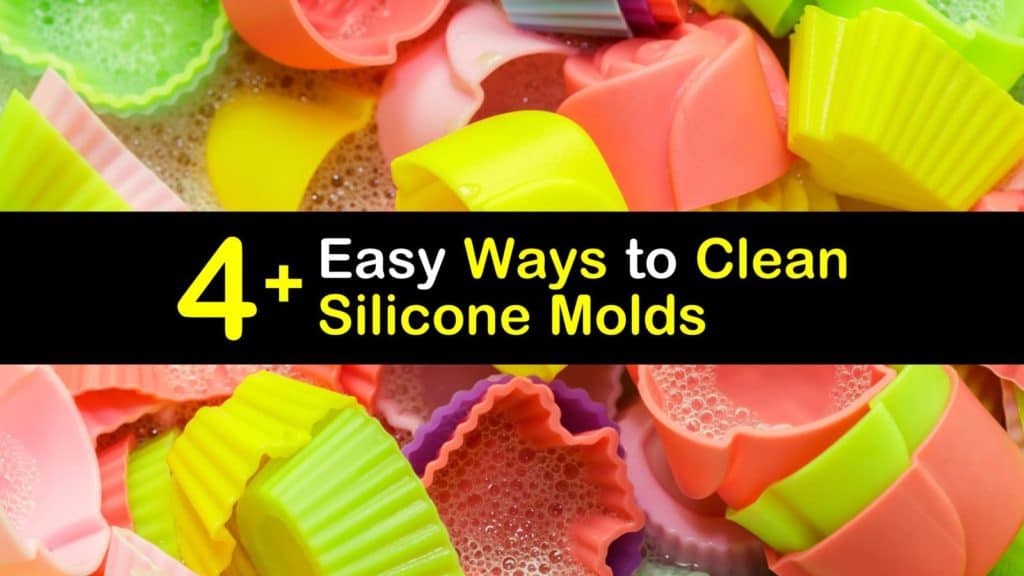 Cleaning Silicone Cupcake Liners and Other Molds
Inexpensive options are often more practical than the molds with intricate designs and higher price tags. Third, build a collection with variety. The more diverse your molds are, the more you're able to fit every baking need.
Aside from all the benefits of silicone, these molds have one big drawback that we mentioned earlier. A sticky film builds up over time. Oil and grease get baked onto the surface of the silicone due to the high temperatures of the oven.
This grime is unavoidable even after you've given them regular hand washings. Eventually, this sticky mess becomes unsightly, and you have to decide to replace your bakeware or clean a silicone muffin mold by incorporating a regular, deep-cleaning regimen.
This article provides a smart way to clean silicone bakeware and natural ways to clean your oven and other non-stick cookware.
How to Clean Silicone Molds
Dish soap and baking soda have always been go-to ingredients as cleaning kitchen supplies, and there are no exceptions with silicone molds.
With a little elbow grease, easily scrub away the film of oils left behind with only a few everyday items found around your home.
The Quickest Way to Clean Silicone Bakeware
Dish soap is essential in learning how to clean silicone molds. Make sure to choose soap with grease-fighting abilities to ensure it thoroughly cuts through the oils.
Put the drain stopper in your kitchen sink and fill it with hot water at a temperature as high as you can tolerate. Squeeze several drops of dish soap in the water and mix it, so you have soapy water.
Place the silicone molds in the mixture and soak for one hour. Dip a non-abrasive sponge in the soapy water. Add a few more drops of soap on the sponge and begin scrubbing the mold. You'll have to scrub hard.
Rinse the mold with warm water. If there are still sticky spots, repeat the process with hotter water. Rubber gloves help with tolerating higher temperatures if necessary. Be sure to rinse and dry your molds before using them again.
Use Heat as Your Ally
Heat is an essential component in breaking down tough stains, and it sanitizes surfaces. Use the oven to your advantage instead of making it your enemy.
Preheat your oven to 350°F. Put the silicone bakeware into the oven and let warm for ten minutes to heat the food stains. Remove the mold, set it in the sink, and rinse with water. Shake the water off and sprinkle baking soda over all areas with food stains.
Dampen a clean cloth or rag and rub it over the baking soda until it forms a paste. Let the baking soda paste dry completely. Rinse the paste away and repeat until clean and dry.
Baking soda is an ideal DIY rubber car mat cleaner, too. Mix with water to scrub at tough stains, rinse, and air dry.
Utilize Your Dishwasher
Non-stick silicone molds are 100 percent dishwasher safe. If you've recently noticed a film starting to form, the dishwasher may be your quickest and most effective option for cleaning.
Wash the silicone bakeware on your regular cycle, preferable with dishwashing soap with grease-fighting abilities. Let the product dry thoroughly before using it again.
Take Preventative Action
The best way to clean silicone bakeware is to take preventative measures before it gets out of hand. The worst possible solution is putting off cleaning your molds, so incorporate a regular cleaning routine when using them.
Rinse Immediately
Don't ever let residue sit on your silicone molds for hours on end. When finished baking your yummy treats, wash the molds with dish soap and hot water.
At the very minimum, fill the molds with soap and water and let them soak, so you're able to come back to clean them later.
Don't Use Abrasive Sponges or Pads
Using abrasive cleaning supplies doesn't work better than regular sponges and damages your products in the process. The roughness of the sponges eats away and chips off small pieces of the silicone. Over time, there won't be much of a mold left.
Don't use Grease on Non-Stick Products
Silicone molds are already considered non-stick bakeware. There's no reason to use cooking sprays or other oils and grease because they don't make it any easier to remove the baked goods.
Aside from that, they contribute to the build-up of stains, which require more cleaning and create more damage. Cleaning silicone cupcake liners regularly is an essential step in preserving your bakeware and getting the most use.
Do silicone molds shrink? Does rubber shrink when you expose it to hot temperatures? Both of these materials can be reduced a little in size if necessary.
With the proper care and regular washes, these products should last you at least four or five years. Silicone has made an accessible entry into the cooking world.
There are now freezer bags, cups, straws, spatulas, baking mats, and many more products, all of which are cleaned by the tactics listed in this article.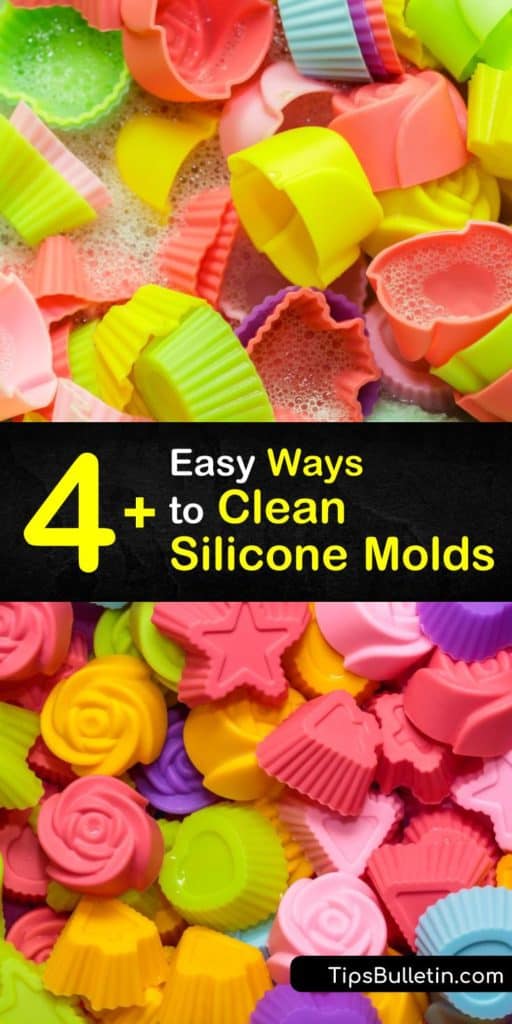 If these strategies helped you learn how to clean silicone molds properly, please share these silicone cleaning tips on Facebook and Pinterest.