Did you accidentally drop your curling iron on the rug, and now it has an unsightly burn mark? Unfortunately, there's no way to hide burned carpet, and the black stain sticks out like a sore thumb in contrast to the rest of the rug. Find out how to get a burn mark out of carpet and restore its original appearance.
There are many causes of carpet burns. They can be from a fireplace, candle, iron, or dropped cigarette. Unlike other stains, standard carpet cleaning isn't enough to clean the burned fibers. The first thing people do when they discover an extreme carpet stain is panic and grab the nearest carpet cleaner.
Wiping the scorch stain with a paper towel or scrubbing the carpet fibers with a scouring pad only worsens the mark. The good news is that you do not have to replace the entire carpeting just because it has an iron or cigarette burn. It's possible to restore your rug using the correct cleaning methods.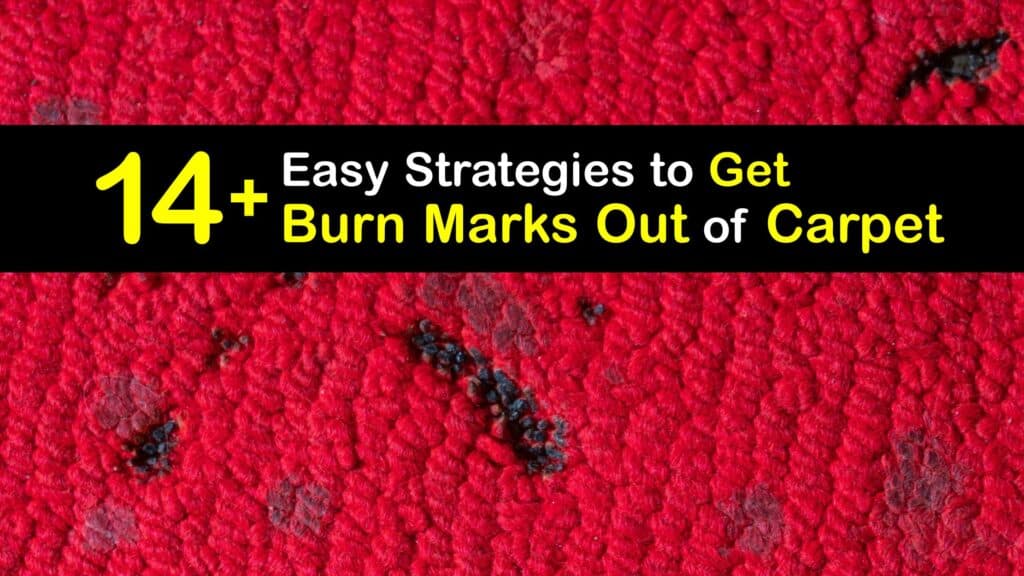 Ways to Get Burn Marks off Carpeting
You're not the only person to accidentally get a cigarette or iron burn on the carpet, and you won't be the last. Learn different ways to get a burn mark off a rug, from easy stain treatments to carpet burn repair.
How to Remove Carpet Burns by Trimming Fibers
Removing the affected carpet fibres is an essential step for getting a burn mark out of carpet. Burnt rug strands are black, sooty, and crusty; separating them from the clean carpet area is essential to keep them from worsening the stain. However, don't perform this step if you have a looped pile rug to prevent damage.
Trimming Burnt Carpet Fiber
Trim the burnt fibers from the rest of the carpet with a small pair of scissors. The smaller the scissors, the more accurately you can cut. Remove as much of the burned carpet as possible for optimal results.
To repair the spot, trim clean fibers from a less noticeable rug area, like inside a closet. Use super glue to attach the fibers to the bare section of the carpet and restore its appearance.
Getting a Burn Mark Out of Carpet
The best way to remove surface scorches from a rug is to sand them away carefully. This ensures you do not spread burn debris when wet cleaning. Find out how to remove carpet burns with a sheet of sandpaper.
Use 220-grit sandpaper to remove scorch marks from the rug by gently buffing the affected area. Sand from the outer edge into the center of the burn to prevent discoloration of the surrounding carpet. Do not attempt this method on looped pile carpet.
After removing the burn mark, vacuum the area to clean up fiber debris. Spray water over the spot, pat it dry with a paper towel, and let the carpet dry completely before walking on it.
How to Get a Burn Mark Out of Carpet With Adhesive
An adhesive is the most straightforward tool for removing burn stains in carpet. While sticky tape doesn't remove a large burned area, it's ideal for removing small burnt carpet stains.
Sticky Carpet Soot Removal
The simplest way to remove minor burn marks only on the tips of the carpet fibers is with sticky tape. Wrap a piece of duct tape around your fingers with the sticky side facing outward, and pat your hand on the burned rug. Continue tapping the tape on the fibers to lift soot and burnt material until they're gone.
Vacuum to Remove Carpet Burn Mark Residue
Using a vacuum cleaner after treating the rug with scissors, sandpaper, or tape is helpful to remove crusty bits of burn residue from the carpet. The vacuum sucks up loose bits of burn debris, which may spread to clean areas of the rug.
Vacuuming Carpet Soot
Use the hose attachment on your vacuum to suck up loose bits of burnt carpet and sooty material. Press the hose over the affected area and use a criss-cross motion to clean the carpet fibers. The hose is most effective since you can target it better, and there is more suction.
Use Detergent to Clean a Carpet Burn
It's possible to clean carpet soot with soapy water if the burnt area is minor. Still, it's better to remove the burned strands beforehand and use a degreasing detergent for optimal results.
Fill a container with hot water and add a squirt of detergent. Agitate the liquid to create mild suds, and apply the soapy water to the stain with a clean rag. Wash the spot from the outside-in, and use small, circular motions.
Rinse the rag and continue cleaning the burn mark until it's gone. Avoid using too much water, which soaks the rug and seeps into the carpet pad, and dry the area thoroughly with a towel.
Clean a Burnt Carpet With Hydrogen Peroxide
Hydrogen peroxide is a mild bleaching solution that dissolves stains and is safe for use on textiles. It's an inexpensive alternative to harsh cleaners, and you may already have a bottle in the medicine cabinet. Discover how to remove carpet burns naturally with peroxide.
Mix a tablespoon of hydrogen peroxide with three tablespoons of warm water in a small container and apply it to the burn stain with a white cloth. Use white fabric rather than colored to keep from transferring the color to the rug.
Clean the stain with a small, circular motion, applying more peroxide and water as needed until you remove the stain. Pat the spot with a paper towel and let it air dry.
Hydrogen peroxide can also be used for getting rid of black burns marks on a wood table. This easy cleaning solution can get burn marks off a number of surfaces.
Remove Soot Marks From the Carpet
Baking soda is an everyday kitchen staple with many uses, including absorbing ash and soot. Use it to soak up the stain for convenient removal or make a cleaning paste. Find out how to get cigarette burns out of carpet with sodium bicarbonate.
Absorbing Carpet Soot Stains
Heavily shake baking soda over the soot stain. Corn starch is a good substitute if you don't have any baking soda. Leave it for at least an hour; the longer it sits, the more effective it is.
Use the hose on your vacuum to suck the powder from the rug. Don't use the brush attachment, which may press the burn mark deeper into the carpeting. The soot should lift from the fibers as you vacuum.
Clean a Rug Burn With Rubbing Alcohol
Rubbing alcohol is a good option for removing cigarette stains on the carpet, especially if there is leftover soot after you trim the rug and vacuum. The alcohol creates a quick recipe to clean dark stains off a carpet and rugs by lightening the stain.
Apply alcohol to an inconspicuous spot to test for colorfastness before applying it to a noticeable area. Pour a tablespoon of rubbing alcohol on a cotton pad or ball and rub it over the carpet burn stain.
Try not to spread the soot further as you gently scrub the rug. Once the stain is gone, clean the fibers with a damp sponge and dry them with a towel.
Get a Burn Stain off a Rug With White Vinegar
The simplest way to clean a burnt stain from a curling iron on the carpet is with white vinegar. This acidic liquid dissolves stubborn stains from various surfaces, including rugs.
Mix equal parts of white vinegar with warm water in a spray bottle and shake it well. Spray the liquid directly on the soot stain and scrub the carpet with a sponge. Use clean sponge sections as you remove the stain, and try not to spread it to clean areas. Finish by drying the rug with a soft cloth.
Clean a Rug Scorch Mark With a Melamine Sponge
A melamine sponge has tiny pores and is mildly abrasive, and it's the go-to for removing a tough stain. The Magic Eraser is the most popular type, and its denseness makes it ideal for gently scrubbing a scorch mark off a rug.
Erasing Rug Burn Stains
Dampen a corner of a Magic Eraser with warm water, wring out the excess liquid, and scrub the burn stain in a circle. Repeat the steps with new sponge sections until the burn mark is gone.
Use a TSP Cleaner to Remove a Rug Burn
TSP, or trisodium phosphate, is a non-sudsing cleaner that removes everything from grime and grease to soot stains. It's an inorganic chemical compound you mix with water to create an alkaline cleaning solution.
TSP contains phosphates and may not be legal in your area, so check your locality before using it. Follow the directions and dilute the powder with the recommended amount of hot water.
Wear rubber gloves, goggles, and a mask for safety reasons, and apply a small amount of the liquid to the stain with a sponge. Once the mark is gone, rinse the area with clean water and dry it with an absorbent towel.
Carpet Cleaning to Remove Scorch Marks
You may notice leftover scorch or soot marks on the rug after getting a burn mark out of carpet. Carpet and upholstery cleaning removes burn residue, giving the rug a new look.
Carpet Cleaning
Follow the directions for your steam or carpet cleaning machine and add the appropriate amount of cleaning solution to the water tank. Use the hose attachment to clean the burn stain by going back and forth over the area with overlapping passes.
Replace Damaged Carpet With New Carpet
It may be necessary to replace the rug section if nothing works to fix an iron burn in the carpet. While it sounds labor-intensive, it's not as complicated as you think. Remove and replace the damaged rug section and restore the carpet's appearance.
Carpet Repair
Cut around the edges of the burn mark with a utility knife. Make sure not to cut too deep and stop before you slice into the carpet padding. Remove the burnt rug section and use it to measure the precise size of a clean rug area.
You can get a replacement piece from your local carpet store or cut out a section from an inconspicuous area, like a closet or a corner. Apply double-sided tape or glue to the clean rug section and insert it into the bare spot. Let it dry for several hours before allowing traffic.
Things to Avoid When Removing Carpet Burn Marks
Only some things are suitable for cleaning a sheepskin rug. Some cleaners may damage the rug fibers, creating more of a mess than the original stain. This is especially true if you have an expensive or antique rug.
Cleaning Carpets
Don't apply too much cleaner, which is challenging to remove and causes mildew growth in the carpet pad. Avoid chlorine bleach and other harsh cleaners since they cause discoloration to the carpet fibers. Always check the care tag on throw rugs for special cleaning instructions.
If you leave the carpet damp, you can remove green mildew from the carpet with rubbing alcohol or hydrogen peroxide.
Ways to Control Carpet Burns and Stains
Candle wax spills, a misplaced curling iron, and other accidents happen, and some of them are unavoidable. Nonetheless, there are ways to lessen the chance of carpet burns in the future.
Keep area rugs away from the fireplace or wood stove. Don't set candles on the floor or carry them from room to room when lit. Iron your clothes on an ironing board since ironing them on the floor may cause an iron burn on the rug.
Always set your curling iron or hair straightener on the bathroom sink or another hard surface. Unplug it as soon as you finish styling your hair.
Carpet burns happen instantly, turning carpet strands black and crusty. While you can always hide the stain with a piece of furniture, this isn't a permanent fix. Luckily, all you need is a pair of scissors or sandpaper to remove the burnt fiber and a carpet cleaner to clean the sooty residue.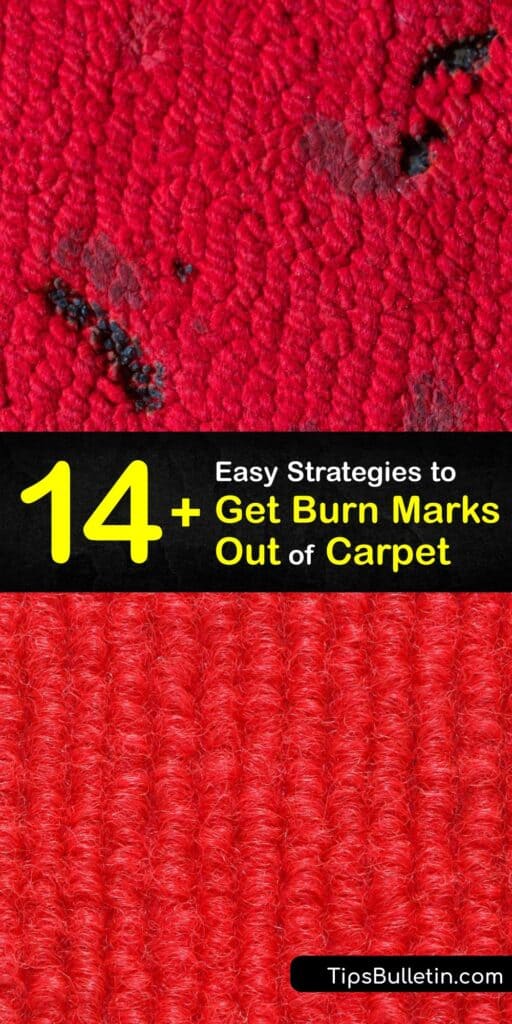 We hope you enjoyed learning how to get a burn mark out of carpet, and we'd love it if you'd share our tips for cleaning carpet burn stains with your family and friends on Pinterest and Facebook.