Cigarette smoke residue sticks to everything and is one of the most stubborn smells to conquer. Whether you purchased a car that already smells of smoke or you need tips to clean a vehicle regularly exposed to cigarette smoke, we've got it covered. Discover how to get cigarette smell out of a car with this step-by-step guide to a great-smelling ride.
Third hand smoke is the residue left after the cigarette smoke disappears, and it is the culprit causing the stink in your car. These smelly smoke particles are full of pollutants that build up on surfaces and cling to the car interior and cloth seats long after smoke exposure stops. Smoke molecules are difficult to get rid of but not impossible.
Smoke smell elimination requires several practical tips that work together to rid your car of that tell-tale stink. Learn how to refresh your car's upholstery, get cigar smell out of a car, and develop tobacco smoke smell eliminators for continued protection. Let's dive into the best ways to stomp out smoke smell forever.
How to Remove Cigarette Smell from the Car
If you struggle with car odor and are unsure how to remove cigarette smell from the car, this article is for you. Whether the problem requires a quick fix or a deep clean, we have solutions. With these incredible tips, getting cigarette smell out of the car, truck, or van is simple and time-saving.
Start with an Empty Ashtray
Getting cigarette smell out of the car is a multi-step process; there is no quick-fix or magic product. However, an open, stinking ashtray full of cigarette butts is a great place to start since it is the first smell to hit your nose when entering the car.
A simple ashtray check goes a long way, and regularly emptying your ashtray makes a big difference in the interior air quality. Ideally, empty the ashtrays after every use. Keep a small disposal container near your parking spot to make it easier and more convenient.
Invest in an ashtray with a closed top that traps the odor of stale butts. Crack your windows and blow the smoke out, and don't leave cigarette butts to burn away inside the car. We have an excellent recipe for an effective vinegar spray coming up. Why not keep some in the car for a quick spritz after emptying the ashtray?
Vacuum the Interior Thoroughly
Vacuuming helps get rid of cigarette smell in a car or truck by sucking up the smoke particles that cling to carpets, cloth seats, and crevices. Pull all your things out of the car, take the covers off the floor mats, and open all compartments.
Vacuum between the seats, and don't forget the fabric roof. It's important not to forget to deep clean your car headliner, as this is where much of the smoke ends up.
If you don't have a heavy-duty vacuum, many car wash locations have coin-operated vacuums that do an excellent job. Plus, car wash vacuums are generally more powerful than your home vacuum; they are made to take a beating and handle just about anything your car has under the mats.
Take things a step further with a steam cleaner to fight the cigarette smoke odor clinging to car upholstery. Some grocery stores rent small steam cleaners pretty affordably. Or, try a dry foam upholstery cleaner from your auto supply place; they're about ten bucks and work upholstery miracles. Machine wash the seat covers, too.
Wipe Down Surfaces Regularly
Keep your car's surfaces clean and free of smoke odor particles with a simple, DIY vinegar spray. This non-toxic cleaner makes an effective homemade car cigarette smell remover that will help you stay on top of unwanted odor buildup.
Vinegar spray is inexpensive to make and stores well for simple spot treatments and other unexpected events. Make your own powerful DIY cleaner for car interior with ingredients you probably already have.
Mix your DIY odor spray by adding vinegar, dish soap, and water to a repurposed spray bottle; use something small for more control over liquid distribution on your car's interior. To get smoke smell out of leather car seat, wipe surfaces, mirrors, and windows with a soft cloth.
Make a habit of weekly wipe-down duty. Keep a package of disinfectant wipes in the glove box for those days the car needs an extra deep clean. The more you clean, the less chance odor particles have a chance to build up and the less time you have to spend cleaning cigarette smoke off walls in the car or even in the house.
Clean Your AC Ducts with Lysol
Did you know tobacco smoke odor sticks to the air conditioning vents inside your car? That smoky smell travels to every nook and cranny, even the car's internal machinery. Try this tip if you're wondering how to remove cigarette smell from the car without taking apart the dashboard.
Locate the AC intake duct for your car's air conditioner, usually at the base of your windshield. If unsure, do a quick Google search for your car's make and model.
Turn the car on, and blast the AC to full. Lightly spray a few spritzes of Lysol into the AC vent, and allow it to circulate for about ten minutes. For best results, turn the recirculation button off so the vehicle sucks in fresh air from the outside.
Replace the Cabin Air Filter
One of the best tips to help you get cigarette smoke smell out of a car involves changing your cabin air filter. Almost all vehicles dating back to the 90s have a cabin air filter. These simple paper purifiers trap dirt, pollen, and other irritants circulating through your car's duct system.
The cabin air filter is usually under the hood, dash, or behind your glove box. Depending on the location, you may have to unscrew a panel or slide the glove box off its hinges.
Don't be intimidated; the air cabin filter is easy to change yourself. Consult your owner's manual for the location of your cabin air filter and information about how often to change the filter, about every 12 months or 12,000 miles. Each replacement filter has directions to ensure it's facing the right way once installed.
Regular filter maintenance not only cuts down on unpleasant odor but also makes a big difference in the air quality circulating through your car, improving the efficiency of your car's duct system.
A Bit about Absorbing Smoke Odor
There are hundreds of scented sprays, wipes, fresheners, and household items that many people swear by when trying to mask car odor caused by cigarette smoke.
For example, some recommend dumping coffee grounds, cat litter, baking soda, or activated charcoal in the car to help with odor removal by absorbing some of the smell. However, these home-spun methods need to be integrated into a multi-step cleaning process to be effective because cigarette smoke molecules don't work like traditional bacteria-driven smells.
Smoke odor needs to be destroyed, not absorbed. Placing an air freshener in your car helps combat lingering cigarette odor by providing a sweet scent, but it doesn't eliminate lingering smoke particles.
While not effective on their own, air fresheners are still helpful when used with other cleaning methods. Explore our excellent DIY air freshener guide to enhance your odor-fighting abilities.
How to Get Cigarette Smell Out of a Car with a DIY Air Freshener
A sweet-smelling car interior improves your quality of life and makes those long drives to work a little more enjoyable. Unfortunately, many commercially manufactured air fresheners are expensive, overpowering, and full of chemicals. Discover how to get cigarette smell out of a car with this handy DIY air freshener instead.
Get a small 1-cup Mason jar, also called a half-pint jar, and fill it with ⅔ cup of baking soda. Squeeze in about 20 drops of any essential oil you like; cedarwood has absorbent and antifungal properties. Put the lid on your Mason jar and shake well to evenly distribute the essential oils.
Make a lid that allows the scent out of the jar. Use the disc inside the Mason jar lid as your template, trace it onto the cardboard and cut it out. Put the new cardboard lid onto the Mason jar and poke small holes in it with a thumbtack. Pop your DIY air freshener into a cup holder, and refill every month.
Getting Cigarette Smell Out of the Car with an Ozone Generator
If you just purchased a car that smells of smoke, chances are it has already been cleaned and requires a deeper level of sanitation. Ozone treatment is the most effective method possible and gives a bit of hope to those who've tried just about everything to get rid of the smoke smell.
Ozone machines are portable units used in the cleaning industry. An ozone generator charges oxygen molecules and turns them from O2 oxygen to O3 ozone molecules. O3 is an unstable gas that has very effective oxidizing properties. This gas attaches to the smoke molecules and neutralizes them.
Unfortunately, upholstery miracles aren't cheap, and an ozone generator costs anywhere from a hundred to a thousand dollars. Many local businesses offer ozone generator rentals as a more affordable one-time use option or shop around your area to see if car detailers offer ozone treatment services.
We hope you enjoyed these tips for a smoke-free ride. Banishing smoke odor smell starts with a few simple steps: daily ashtray duty, weekly wipe-downs, and the occasional ozone treatment. Remember to check your air cabin filter, disinfect your AC vents, and always keep your DIY air freshener in the cup holder.
Once you know how to get cigarette smell out of a car, there's no looking back. A clean car improves your quality of life, the quality of air, and the quality of time spent with friends. Put these clever tricks to work for you, and see how great your car begins to look and smell.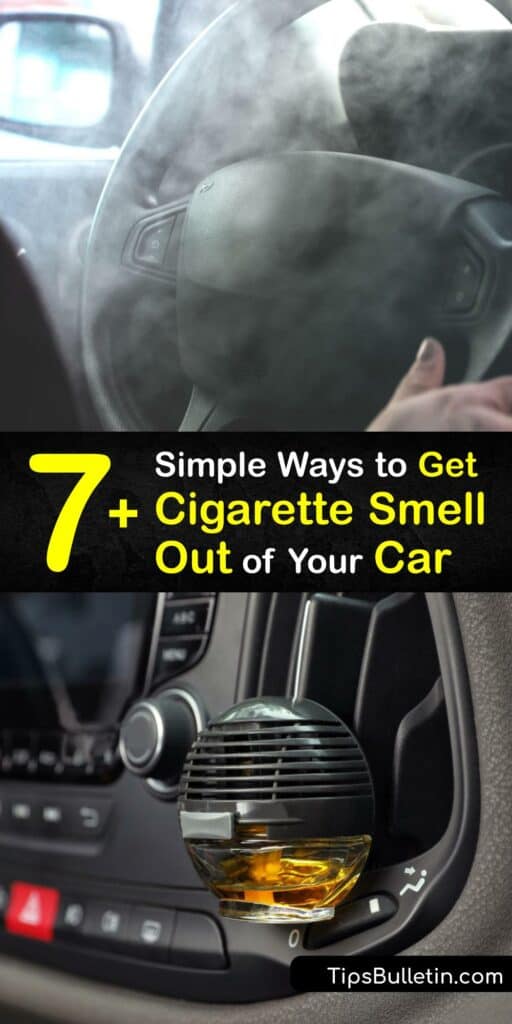 If you liked learning how to get cigarette smell out of a car with these fantastic ideas, please share this article with friends on Pinterest or Facebook who struggle with cigarette smoke smell in the car.