Have you ever slipped on a black shirt only to discover that you accidentally got deodorant marks on the fabric? You're not the first, and you won't be the last. Fortunately, removing these white stains is easy. Learn how to get deodorant out of black clothes in a few steps.
Deodorant streaks are unsightly, and they're more noticeable on black clothing. It's as if the white mark is announcing that you dressed hastily. Removing the stains with a tissue often makes them worse, and you have to change your clothes before leaving the house.
Pit stains are easy to spot on white clothes, yet a deodorant stain sticks out like a sore thumb on a black shirt. Unfortunately, what works to clean one type of stain doesn't always work for the other. Luckily, many home remedies remove stains and take foundation off clothes, along with sweat stains or deodorant stains.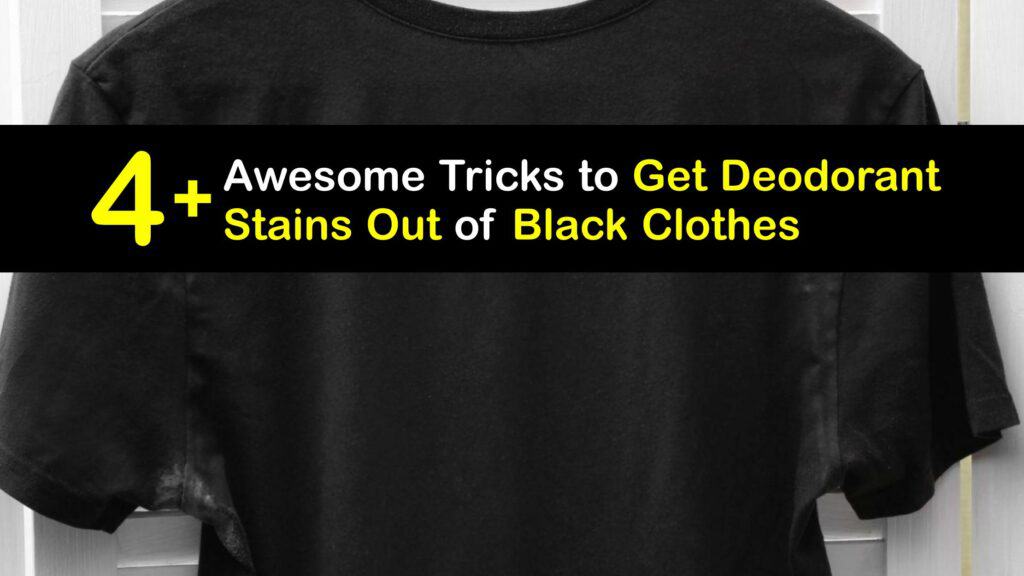 Removing Deodorant Stains From Dark Clothing
Nobody wants to walk around with a white stain on their black shirt, and not wearing deodorant will cause your t-shirts to have an armpit odor. The good news is that many items in your house work great to remove a deodorant stain from dark clothes.
How to Remove Deodorant Stains From Black Clothes
It happens to the best of us. You slip on a black shirt and find deodorant residue on the front. You don't always have time to wash a garment or change clothes. Learn how to use essential oils to make a fabric freshener and take deodorant stains off dark clothes if you're in a rush.
Quick Deodorant Stain Removal
Use a nylon stocking to get deodorant stains off dark clothes fast. Ball up the nylon and rub it briskly over the antiperspirant deodorant stain.
If you don't have any nylons, rub a dry and used fabric softener sheet on the fabric with short, quick strokes until the deodorant stain is gone. Avoid baby wipes since the moisture may adhere deodorant to the fabric.
How to Take Deodorant Stains off Dark Clothes
Discover how to remove deodorant stains from black clothes with baking soda. Sodium bicarbonate is a multi-purpose powder; you probably have a box in the kitchen. Its mild scrubbing ability makes it perfect for cleaning stubborn stains and safe for dark clothing use.
Mix three teaspoons of baking soda with a teaspoon of water in a small container, and apply the paste to the stained area with a soft cloth. Scrub the stain gently with a circular motion and let it rest for a few hours. After it dries, shake the powder into the trash and rinse the garment with warm water.
How to Get Deodorant Out of Black Clothes With Vinegar
White vinegar removes all stain types, from grease, mildew, and hard water stains to deodorant residue. It's also helpful for cleaning both white and dark clothing. Use vinegar to remove white deodorant stains from black clothes.
Combine two tablespoons of white vinegar with a cup of water and pour the liquid directly onto the white stain. Leave it for a few minutes, and use a clean rag to scrub the deodorant away from the fabric carefully.
Rinse the clothes with clean water, and check for remaining stains. If the deodorant persists, try applying dish soap or soaking deodorant stains in a vinegar and water solution for an hour before laundering.
Remove Deodorant Marks From Dark Clothes
After treating the fabric, you may notice leftover deodorant and stain remover on your clothes. Find out how to remove deodorant stains from black clothes by washing them with the proper cycle and settings.
To remove white deodorant buildup from black clothes, place them into the washing machine and add your favorite laundry soap. Use the hot water setting and normal wash cycle if the garment's care tag permits.
Otherwise, use cold or warm water, depending on the fabric type. When the washer finishes, check the clothes to ensure the stain is completely gone before transferring them to the clothes dryer.
Preventing Deodorant Stains on Black Clothing
Deodorant leaves a white mark on fabric, making it look dirty and unwearable – learning how to take deodorant stains off dark clothes is only half the battle. The best way to keep your clothing deodorant-free is to prevent stains.
Many people recommend applying deodorant after putting on a shirt. However, this often leads to deodorant buildup on the armpits of the clothing. Instead, allow the deodorant to dry thoroughly on your armpits before dressing. If you're in a hurry, use the low heat of a hairdryer to speed up the drying process.
Switching deodorant products may lessen the chance of deodorant stains. For example, try wearing a clear gel deodorant rather than a solid white one, and avoid applying too much.
Slip on an undershirt beneath your outer shirt to prevent deodorant stains from getting on your clothes and creating armpit stains on shirts and jackets. Roll up the bottom hem outward before you put it on to eliminate the chance of getting residue on the outside of the fabric.
This way, if you get a stubborn stain on the fabric, it's on the inside instead of the outside. Finally, keep an old dryer sheet or pair of panty hose in your car or purse for on-the-go use.
It's essential to use the proper stain remover when treating antiperspirant and underarm stains to ensure you get the fabric clean. A white deodorant stain on black clothes is just as unattractive as a yellow stain on a white shirt. Luckily, pantyhose, vinegar, and other home remedies do the job.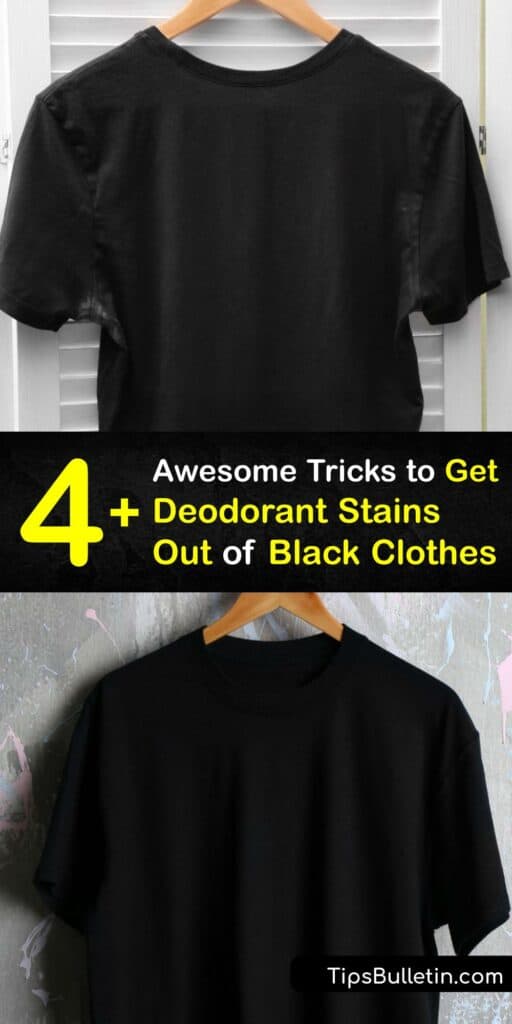 We hope you liked learning how to get deodorant out of black clothes, and we'd love it if you'd share our tips for removing white deodorant marks from clothing with your family and friends on Pinterest and Facebook.