There would be no dust, dirt, mud, or germs in a perfect world, and all surfaces would remain sparkling clean and bacteria-free. However, we do not live in this type of environment, and dirt is literally everywhere. Learn how to get rid of dirt from common household surfaces to keep your home clean.
There are all kinds of dirt, from dry garden dirt to wet, dirty stains, and many areas around your house that collect it. Carpets are a magnet for dirt tracked in from the outside, clothing gets dirty as you wear it, and grime accumulates between tiles and hard surfaces.
It's essential to understand the type of dirt you're dealing with and the material you're washing before using a cleaning solution since what works to clean up mud stains from the foyer floor doesn't always work to remove filthy buildup from a countertop.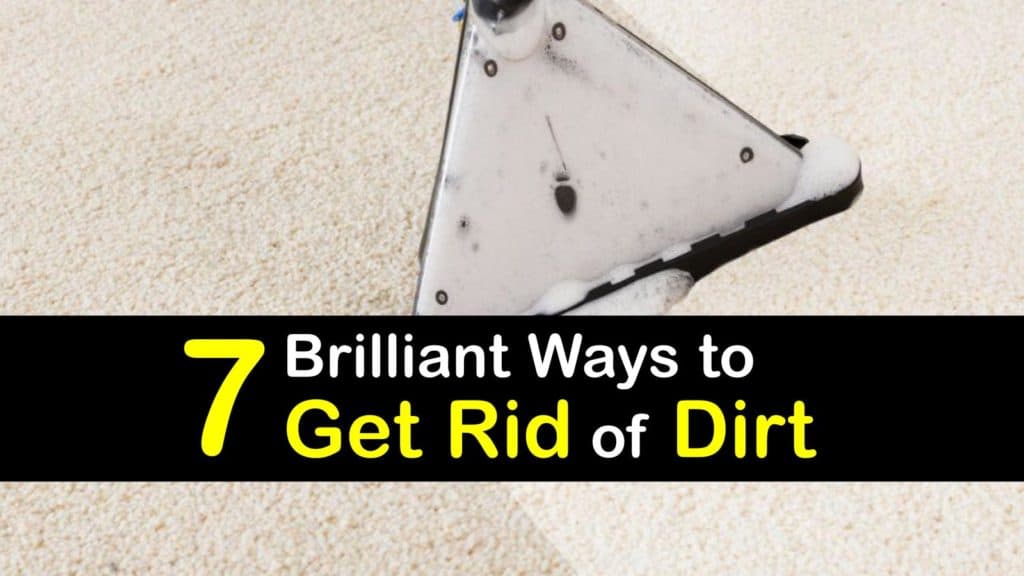 Ways to Remove All Types of Dirt
While you may think you need a ton of cleaning products to clean the different areas of your home, you don't.
There are many simple, natural, and inexpensive solutions around your house right now. Discover how to use them to clean everything from the carpets to your laundry.
Getting Rid of Dirt on Carpets
Getting rid of dirt on carpeting is a multi-step process since a dirty rug has different causes. Find out how to remove dust and debris, stains, and foul odors.
Use a vacuum cleaner to clean your carpeting to remove everyday dirt, dust, pet hair, and debris. Use the correct setting according to the carpet pile height and move the cleaner back and forth from one side of the rug to the other.
Consider sprinkling baking soda over the carpet before vacuuming to eliminate foul odors.
To get ground in dirt out of carpet or to clean away stains, combine white vinegar and dishwashing detergent in a spray bottle and spray the solution directly on the stained area.
Work a soft bristle brush or old toothbrush into the dirt. Once the stain is gone, clean the spot with warm water and a white cloth to ensure all grime is removed.
Natural Ways to Get Rid of Dirt on Hard Surfaces
Carpeting is not the only part of your home to collect dirt. Kitchen counters suffer from food spills, floors gather debris, and end tables collect dust. Here is one of our favorite natural ways to get rid of dirt on hard surfaces.
Check the hard surface material before using a new cleanser since some materials like granite require special care and maintenance.
Pour equal amounts of white vinegar and hot water into a glass spray bottle and add up to ten drops of citrus essential oil. It's vital to use a glass container since essential oils break down plastics.
Spray the cleaner on the hard surface and wipe it clean with a soft cloth. If you use the liquid to clean a floor, combine equal amounts in a bucket and apply it to the flooring with a wet mop. Make sure to dry the area thoroughly after cleaning.
How to Get Rid of Dirt on Laundry
It's not uncommon to get clothing stains from mud or spilled food, especially if you have kids. Here is the best way to get rid of dirt on clothing in the washing machine using your favorite detergent and white vinegar.
To get laundry stains out of your clothes, hold the stained item under cool running water to flush away as much of the dirt as possible.
Pre-treat the spot by saturating the stain with white vinegar and letting it soak for 15 minutes. Wash the item in your washer with laundry detergent and cold water and check to ensure the stain is gone before transferring it to the clothes dryer.
Cleaning Away Dirt in Between Tiles
Tile grout is one of the most difficult spots to clean, and getting rid of dirt from these damp areas is essential to prevent mold and bacterial growth. Learn how to use baking soda and white vinegar to quickly and efficiently clean tile grime.
Pour baking soda into a bowl or container and add just enough white vinegar to make a bubbling paste. Dip an old toothbrush head into the foam and scrub it into the grout lines of the tile.
Continue to dip and scrub as you move along the tiles until all the grout is clean. Rinse the surface with hot water and dry it with a clean towel.
How to Remove Dirt with Natural Disinfectants
While strong cleaners like bleach work well for cleaning and sanitizing, avoid overusing these products. Fortunately, there are natural ways to get rid of dirt and disinfect surfaces for a germ-free clean.
Fill one bottle with white vinegar and the other with hydrogen peroxide. Label each container and store in the cleaning closet.
When you're ready to disinfect, spray the white vinegar on the surface, let it sit for a minute or so, and then spray the hydrogen peroxide over the top. When you finish, wipe the area with a clean cloth.
Using Bleach to Clean Away Dirt
While we don't like to use strong chemicals for everyday cleaning, there are times when a product like bleach is necessary to remove stubborn dirt. Explore how to safely use bleach to clean your home and when to avoid it.
Before you clean with bleach, open a window to ventilate the room or turn on a fan, and check that the item you are cleaning is safe for bleach cleaning. Do not use bleach on certain fabrics, wood, or granite, and do not mix it with other chemicals.
Fill a container with equal amounts of bleach and water and dunk a sponge or rag into the liquid while wearing rubber gloves. Wipe the dirty area clean and rinse it thoroughly with fresh water.
Making an All-Purpose Spray for Cleaning Away Dirt
If you'd rather use a mild and safe cleaner to remove grime, we have a solution for you. This DIY all-purpose cleaning spray is one of our favorite home remedies to get rid of dirt.
Pack a quart-sized jar with citrus peels and fill it to the top with white vinegar. Close the cover and put the container in a sunny area to infuse for two weeks.
Strain the liquid, discard the peels, and mix a half cup of the citrus-infused vinegar with 2 cups of water and a teaspoon of Castile soap in a spray bottle. Shake it gently to mix, and use the cleaner as needed.
There is no getting around it. Dirt is inevitable in day-to-day life. However, cleaning up dirty areas and stains is not as difficult as you may think as long as you use the correct cleaner for the job.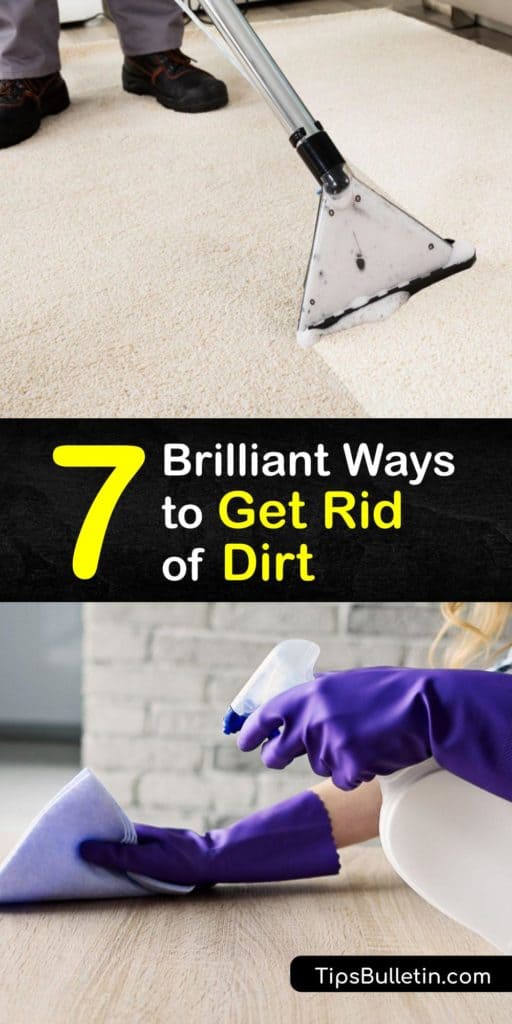 Now that you know how to get rid of dirt from areas throughout your home using simple solutions, we'd love it if you'd share our dirt cleaning tips and methods with your family and friends on Pinterest and Facebook.