As spring rolls around, pool owners dread removing their pool cover to see all the algae growth that took place over the winter months. Even after you clean your swimming pool, nobody wants to head out for a dip to see that an algae bloom happened seemingly overnight. Knowing how to get rid of green algae in the pool is necessary for those who are lucky enough to have one.
When you discover that you have a green pool, it leads people to ask many questions. What causes green algae in the pool?
How do you kill green algae on pool walls, the bottom of the pool, and other pool surfaces? Getting green algae out of your swimming pool seems like a tricky fix.
Although sometimes frustrating, pool maintenance is far easier when you keep up with it and understand the types of algae you are battling.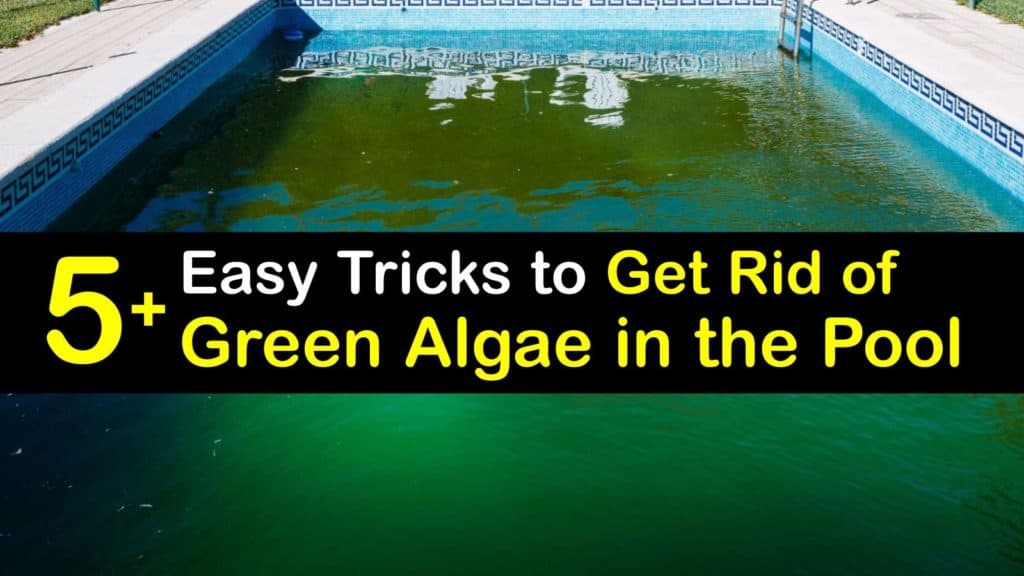 Types of Algae
If you discover that your swimming pool turned green overnight, there is no need to despair. You can handle the problem.
There are three types of algae that you are most likely to see in your pool water. Green algae are the most common that either sticks to the wall or floats on the water.
Black algae is dark and slimy and often forms in cracks and crevices within your swimming pool. Mustard algae, or yellow algae, closely resembles sand sitting at the bottom of your pool.
You only spot red algae if you have a salt water pool. Pool algae isn't typically harmful to swimmers, but it makes an unpleasant swimming environment.
Getting rid of green algae is imperative because, if left untreated, it may cause poor circulation or permanent damage to your pool filter.
Figuring out how to get rid of green algae in the pool is one of the most critical things that all pool owners must understand and initiate.
How to Get Rid of Green Algae in the Pool
What causes green algae in the pool? Before you put on your swimsuits, take some time to understand not only how it grows but how to treat green algae in a swimming pool.
Before you know it, you will soon take care of killing algae in pools and keep it from returning the rest of the summer.
What Causes Green Algae in the Pool?
Knowing how to clean green algae in your pool requires you to understand how it got there in the first place. Algae spores are brought into your pool water from rain, wind, swimsuits, and contaminated pool equipment.
Algae growth occurs quickly under the right conditions. Algae spores are impossible to avoid, but there are several ways to create a hostile environment and kill green algae on pool walls and in the water consistently.
Planting the right landscaping around the pool can also help keep algae out by preventing leaves and flowers from floating in the water. Hydrangeas around pool area and plants that don't "shed" easily are perfect.
How to Get Rid of Algae after Opening the Pool
Removing dead algae by hand is the easiest first step to take on your pool maintenance journey. The beginning of the season is often when your pool is dirtiest. If you can see up to six inches below the water level, you likely won't have to drain your pool.
Take your pool skimmer and remove as much debris floating on the surface of the water as possible. From there, attach a pool brush to the pole and wipe down all of the pool walls. Change the brush head to a basket.
Scoop out as much sediment from the bottom as possible, trying not to stir it back into the water. Once you have removed all of the dirty debris, it is time to check the pool chemicals.
Follow the same procedure for your hot tub but be sure to clean hot tub jets, too, to get rid of buildup hiding there.
How to Kill Green Algae on Pool Walls and in the Water
Now that you have removed most of the sediment in the water, checking the pool chemicals is the next most important step.
Purchase a water chemistry testing kit from your local pool shop so that you have all the information required to create a crystal-clear pool. Water testing kits provide information on several different aspects.
The results offer you the chlorine levels, alkalinity and pH levels, free chlorine, phosphates, cyanuric acid, and calcium hardness.
Proper water chemistry levels are between. 7.4 and 7.6 for pH, 1.0 to 3.0 parts per million (ppm) for chlorine, 80 to 140 ppm for alkalinity, 25 to 50 ppm for cyanuric acid, and a 200 to 400 range for calcium hardness.
If any of these levels are off, you must use pool chemicals to get them back to a healthy range.
Shocking the Pool
It isn't possible to avoid using chemicals to clean your pool. When your water chemistry is off, most people rely on a shock treatment to bring them back in balance. Shocking is the best way to clear cloudy pool water fast.
Shock treatments raise free chlorine in the water. Even though this works for a lot of people, it sometimes doesn't do the trick. There are plenty of other clarifier and sanitizer products to use when trying to kill green algae on pool walls, too.
Algaecide and pool flocculant are other popular products that clump the algae together and make it easier to remove.
Always follow the printed instructions on the bottle to ensure that you are using the right amount for your pool size. If you don't have these on hand, it is possible to use bleach.
For a 30,000-gallon pool, add one gallon of bleach to a bucket and dilute it with water until it is full.
Walk around the edge of your pool while slowly draining the bleach water into it. Check on the pool every few hours and keep the filter running until the water starts to clear.
Vacuuming a Dirty Pool
Using a pool vacuum is one of the best strategies when learning how to get rid of green algae in the pool. Some people use automatic vacuums that hook right up to the filtration system.
Others vacuum by hand by attaching a vacuum head to a pole and using tubes to connect the head to the filtration system. If vacuuming by hand, keep the pump running and slowly work your way along every surface of the pool.
Clean the Pool Filter
No matter how many chemicals you add or how many times you vacuum, your pool water will never be clear if you don't clean the pool filter cartridge. Cartridge filters and sand filters are the two most common types that people use.
For a dirty pool, you might have to wash your cartridge filter three or four times every day with a hose. Sand filters are usually easier to clean because of their backwash setting.
Backwashing discards the sediment that builds up in your filter and keeps it out of the pool. After backwashing is complete, turn the knob back to filter and continue to run your system.
Always keep an eye on how dirty your filter becomes so that you aren't recycling dirty water back into the pool.
What causes green algae in the pool, and how do I get rid of it for good? There is no possible way to remove algae permanently from your swimming pool.
As disheartening as this sounds, using techniques to create a harsh environment for the algae spores is your greatest defense against them. Remember that the more you stay on top of your pool maintenance, the less likely you will deal with an algae bloom.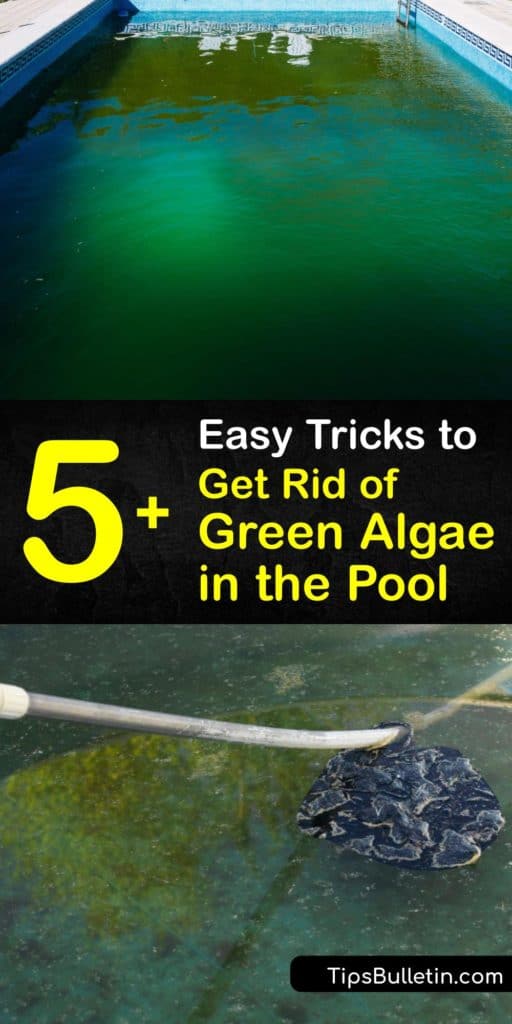 If this pool article helped you learn how to get rid of green algae in the pool, share these easy ways to kill green algae on pool walls on Facebook and Pinterest.