There is nothing fun about enjoying a picnic or preparing a meal during an ant invasion. An ant infestation in and around your home is a problem, but one that is easy to resolve. Discover how to get rid of tiny ants by killing them and preventing further ant issues.
The ant species includes many types of ants, including pharaoh ants, black ants, carpenter ants, sugar ants, pavement ants, and odorous house ants. Tiny ants are of more concern than the larger varieties simply because they fit through smaller crevices and little entry points and go unnoticed until they become an infestation.
Ants are social insects with a big family to feed. They spend their days searching for food, and once they discover a food source, they are quick to alert other ants in the colony. Their very existence depends on team effort, meaning that a couple of ants quickly leads to an ant problem.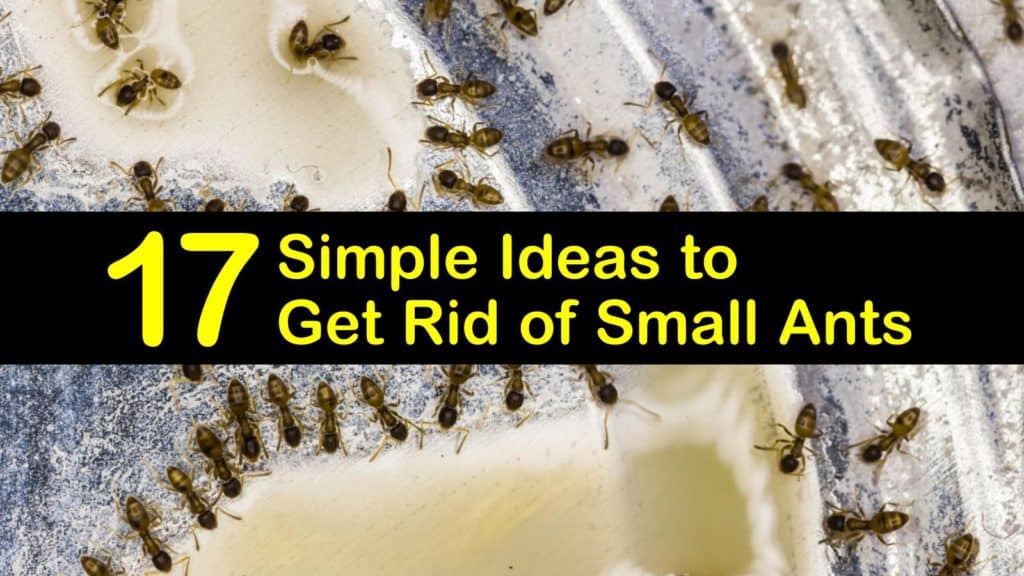 Getting Rid of Tiny Ants
Ants are a pain no matter where you find them. There are many easy solutions to use to not only kill pesky ants but prevent them from becoming problematic in the future.
We'll explain why you have an ant infestation, what to do to prevent ants, and how to kill these household pests. Learn how to get rid of ants in house and garden with simple ingredients and even easier procedures.
Why are There Tiny Ants in my House?
Three main factors cause ants to enter your home, and understanding the importance of these roles helps you take the right steps in preventing and eliminating small ants in your house.
House Ant Prevention
Ants spend their days foraging, and it's the worker ant's job to locate food for the colony and leave a pheromone trail to notify other ants where to gather food. While they are generally omnivores, different species have their favorite types of food. To avoid ants in your home, keep the kitchen counter clean of food crumbs and spillage.
If possible, keep fruits and vegetables in the refrigerator. While water is vital to ants, they get most of their liquid from food. However, there are a couple of species of ant that are attracted to water.
The pharaoh ant makes nests near water sources, and the carpenter ant loves damp wood. Therefore, fixing leaky pipes and eliminating wet areas in and around the home is vital to preventing an infestation.
Ants require an environment that is suitable for regulating their body temperatures. During the winter, these cold-blooded insects seek out comfortable areas to reside, such as the cozy interior of your home.
Use caulk to seal cracks in the foundation or basement of your home, around windowsills and doorways, and any other location where ants get in. It's vital to use a silicone-based caulk since ants break down other forms of caulk.
How to Get Rid of Small Ants with a Barrier
There are certain scents that ants are repelled by, and it's easy to use these to your advantage. Here is how to get rid of small ants around your home and prevent them from entering the house.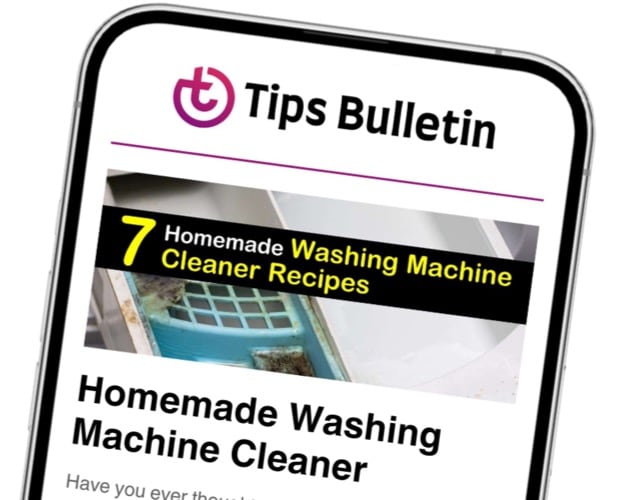 Finally, an email that Transforms Your Home.
Get the latest home and garden tips from our experts, delivered straight to your inbox.
Instead of throwing used coffee grounds in the garbage, sprinkle them around the base of your home to stop ants from crossing the barrier. Old coffee grounds also work well around the garden and other areas of the yard.
Another way to create a barrier is to plant herbs around the foundation of your home. Specific plants are great at keeping ants at bay, including spearmint, peppermint, sage, catnip, and pennyroyal. Not only do these deter ants from your home, but herbs are a great addition to your diet.
How to Get Rid of Tiny Ants with Diatomaceous earth
Diatomaceous earth, or DE, is a naturally occurring sedimentary rock crumbled into a fine powder. This non-toxic powder is excellent for getting rid of tiny ants around your house before they make their way inside. As a matter of fact, DE works very well as one of the natural ways to kill carpenter ants and other insects that become a problem indoors and out.
Diatomaceous Earth Ant Killer
Dust a fine layer of food-grade diatomaceous earth around the perimeter of your home to kill ants traveling back and forth from the house to their nest. The DE is also useful for applying around other areas of the yard where there are infestations. The ants pick up the powder on their exoskeletons as they travel across it, causing them to dehydrate and die.
Wash Away Ant Trails
Tiny ants in the kitchen are a nuisance because that is the room in the home where food is prepared and enjoyed. There are a few things to do to stop them in their tracks.
Ants follow scent trails left behind by worker ants. Removing the path causes ants confusion and forces them to return to their ant nest.
Before killing the ants, observe their walking pattern to find out where their ant trail leads. Once you find their path, use wet paper towels to squish any visible ants.
Wet a sponge with warm water, add some dish soap and use the sponge to wash away the entire length of the ant trail. When you get to a point where the trail becomes untraceable, use a piece of chalk to mark a line across the area. The chalk blocks the ant trail entryway.
Use Spices and Herbs to Repel Ants in the Kitchen
The best way to get rid of sugar ants and other tiny ants in the kitchen is to deter them by using scents that cannot stand. Not only does it repel them, but you probably already have these ingredients in your cupboard.
Place whole cloves around areas of the kitchen where you notice ants hanging out. Place a bowl of potpourri scented with cinnamon and cloves on countertops. Put several drops of peppermint on a cotton ball and set it in strategic locations throughout the home to drive ants away.
Bay leaves and cayenne pepper are also great deterrents that keep sugar ants away. Not only do the herbs and spices keep ants out of the kitchen, but they give the room a pleasant aroma.
Killing Ants with Borax
Borax is an excellent solution for getting rid of small ants in the kitchen and is similar to Terro Ant Bait. The tiny ants gather up the powdered sweet Borax solution and take it back to their ant nest.
Mix the powdered sugar and Borax in a container and scoop small amounts into bottle caps, milk caps, or any other small container. Place the baits in areas where ants are sighted.
Entryways to the home or near cracks in the foundation are great places to start. Remove the traps after you no longer see ants traveling back and forth.
Making Borax Ant Bait
It's a good idea to use both solid and liquid ant baits. The adult ants only ingest liquids, while the larvae ingest solids. Using both forms eliminates the entire colony. Here is a simple recipe for liquid ant bait.
Combine the water, Borax, and sugar in a bowl to mix well. Dunk a cotton ball into the solution and place it into a bottle cap. Set the trap on the kitchen counter where you have seen ants marching along, and other areas of the home where there is an infestation.
Repelling Ants with Natural Ingredients
Ants are quickly eliminated from the house and yard using a natural repellent. These ingredients are safe for your family and pets and are non-toxic in the garden as well.
Sprinkle handfuls of cornmeal, Cream of Wheat, or coffee grounds in an ant-infested garden, entryways to your home, around the patio, and other areas where you do not want ants congregating. These natural ingredients keep ants from entering the area, and cornmeal is a natural fire ant killer.
How to Make Homemade Ant Traps
While you could always purchase ant traps at the store, making a homemade ant bait trap at home is easy enough. All you need is some Borax, a sweetener, and an index card. The sweetness attracts the ants while the Borax poisons them.
Mix equal portions of Borax and corn syrup in a container and spread the sticky solution over the top of index cards. Place the poisoned card in areas that you see ant activity, such as entryways, baseboards, and windowsills. Consider placing the traps in the evening when ants tend to hunt for food.
Using Boric Acid as an Ant Trap
Boric acid is a slow-acting poison that is ideal for killing ants. The ants have sufficient time to take the bait back to the colony to poison all of the ants rather than just a few of them.
Mix boric acid and sugar into a shallow container. Use a tub that is large enough to hold the poison yet easy for the ants to enter and exit.
Place the dish in an area where ants are spotted and wait for them to take the bait. Remove the container once you no longer see ants.
Making an Apple Cider Vinegar Ant Trail Spray
If you notice ants in pet food, then the first thing to check for is ant trails. Since you cannot put your pet's food away, the best thing to do is kill the ants on-site and eliminate the path to prevent other ants from finding their way to the food source.
Combine cider vinegar and water in a bottle spray and shake well to mix. Spray the solution along the pheromone trails and wipe it away with paper towels.
Continue spraying the trail until you reach the end. Repeat the process one more time to ensure that you eliminate the trail.
Using Boiling Water to Eliminate an Ant Colony
Ants are a burden while picnicking outside on the patio. If you have a particularly troublesome ant colony in your yard, use boiling water to eliminate the entire nest.
Bring a large pot or pan of water to boil, and carefully pour the hot water into a watering can. Adding dish soap or salt to the water increases the effectiveness by up to 60%.
Pour the boiling water directly into the entryway of the ant hill or mound. Be careful to avoid nearby vegetation, since the hot water kills them as well.
Eliminating Ants with Peanut Butter Bait
This bait is a solid and liquid poison that kills both adult ants and larvae. The worker ants carry the bait back to the colony, and the larvae digest it and turn it into a liquid for the queen ant.
Mix the Borax, peanut butter, and honey in a disposable container. Spread the poison on top of a small piece of cardboard. Break off tiny pieces of bread and dip them into the solution before sticking them to the cardboard. Place the bait trap in an area where you see ants regularly.
Killing an Ant Colony with Camphor Oil
Camphor oil and ethyl alcohol are very effective at eliminating ants. While it may take several applications, this solution eliminates an entire colony of ants in the yard.
Combine nine parts ethyl alcohol and one part camphor oil in a container and mix well. Use a stick to open the entryway of the ant mound, place a funnel over the top, and pour in the poison. Use multiple treatments to kill the entire colony.
Removing an Ant Trail and Killing Ants with Bleach
The easiest way to kill ants is to spray and squash them as soon as you see them. Use a bleach solution to kill them as you spot them and clean away their trail to prevent other ants from finding the new food source.
Combine the water and bleach in a bottle sprayer and shake well to mix. If you plan on using the bottle regularly, label it for safety purposes. Watch the ants before killing them to establish the exact location of their trail.
Spray the ants directly with the bleach solution and wipe them away with paper towels. Once you eliminate all ants, spray the solution on the ant trail and dry with paper towels.
Using Commercial Ant Bait Traps
If you do not have the time to make a homemade ant bait trap, there are a variety of commercial baits sold at hardware stores. These are easy to use and set up in and around your home without making a mess.
Commercial Ant Bait Trap
Decide which type of ant bait is required by reading the manufacturing label. There are sugar-based, protein-based, and grease-based traps, so it's essential to know which kind of ant is infesting your home. If you are unsure, consider getting one of each.
Follow the instructions on the bait label, and place it in strategic locations around your home. The bait works best if you eliminate competing food sources in the area.
How to Exterminate Carpenter Ants
There are times when an ant infestation gets out of control, and an exterminator is required. This is especially true if you have carpenter ants which destroy damp wood in the home by tunneling.
Exterminating Carpenter Ants
There are several signs that you have carpenter ants in your home, and it's time to call an exterminator. Check external areas of wood for small openings that have bits of sawdust material, insulation fragments, and insect body parts around them. This type of debris near a hole in the wood is a good indication that your home has carpenter ants.
To avoid carpenter ants, make sure to fix any leaks in your home as soon as possible. The ants and termites are attracted to fungus and damp wood. Move wood piles away from the house, and seal up any cracks in the foundation.
Remove any tree limbs that touch your home since these act as a bridge to your house. If you still have a carpenter ant infestation after trying homemade solutions, a pest control service is necessary to protect the structural integrity of your home.
As you can see, there are several ways to get rid of ants without calling an exterminator. Eliminating and preventing ants in your living space is easy using home remedies such as Borax, white vinegar, essential oils, and diatomaceous earth. Not only do these remedies work to kill and deter ants, but they are healthier for you and the environment.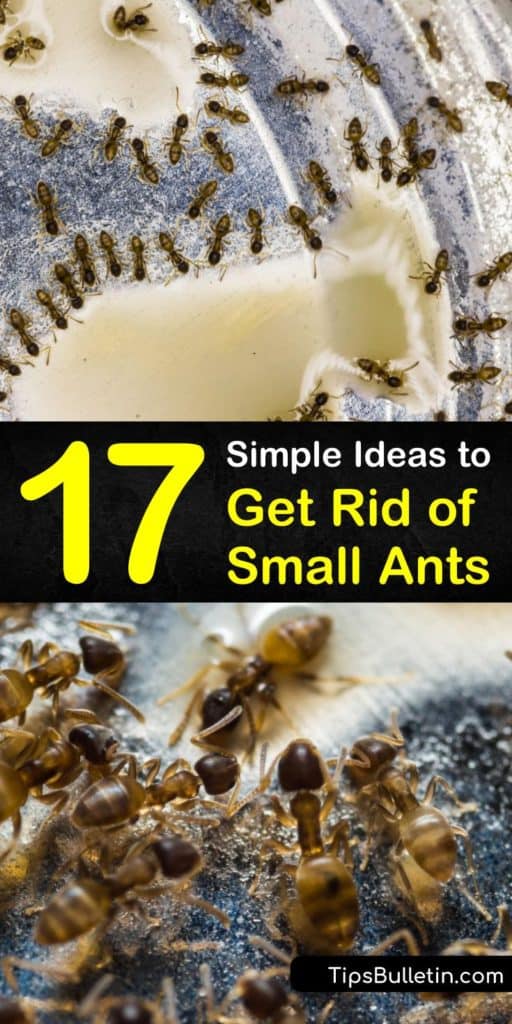 We are happy that we could show you how to get rid of tiny ants in and around your home, and we'd love it if you'd share our ant killing and prevention tips with your friends and family on Facebook and Pinterest.