Smoke odor clings stubbornly to furniture, whether it's cigar or cigarette smoke, cooking smoke, or smoke residue from fire damage. While it may seem impossible to remove the lingering odor, there are ways to eliminate the smoke particles and leave the surface with a clean scent. Find out how to get smoke smell out of furniture with a few simple home remedies.
Nothing is more unpleasant than cigarette smoke smell, especially if you're not a smoker. Unfortunately, tobacco smoke seeps into upholstery, leather, and wood, remaining for days, weeks, or months. The odor from smoke damage lasts even longer.
While you may think all you need is to add some fresh air to the space to remove smoke smell, this isn't always enough since smoke molecules adhere to furniture and other nearby surfaces. It's essential to use a cleaning solution and deodorizer to remove the odor and an air purifier to improve the air quality.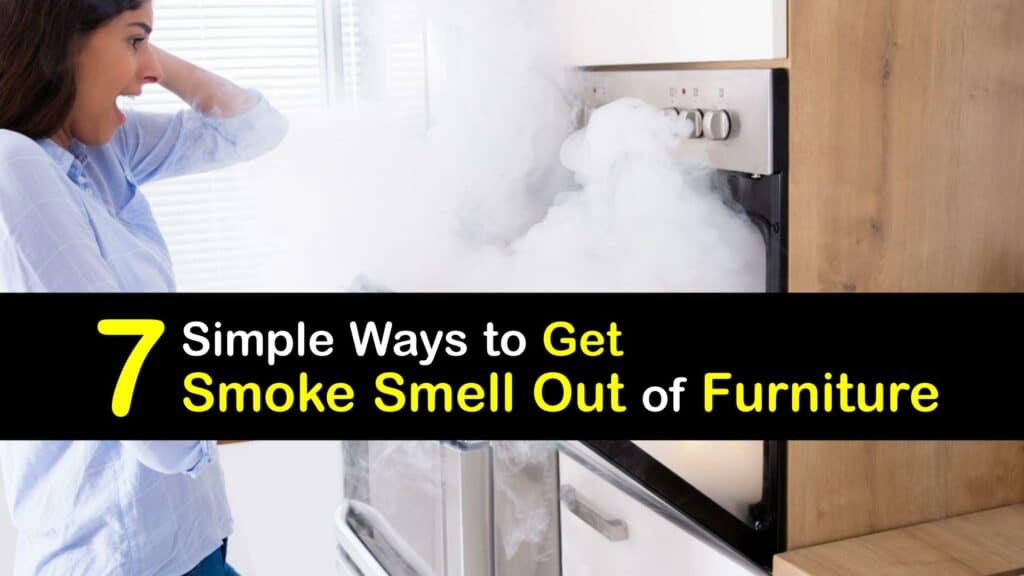 Ways to Remove Smoke Smell From Furniture
Cigarette odor is unpleasant, especially when it permeates upholstery. Learn ways to clean black smoke off the walls and other smoky smells from furniture with basic and deep cleaning strategies and odor absorbers.
How to Remove Smoke Smell From Wood Furniture
Baking soda is a top choice for absorbing foul odors; it quickly removes cigarette smoke from upholstery. Discover how to get smoky odors out of furniture with this inexpensive and natural powder.
Pour baking soda into a salt shaker with large holes for easy dispersal and shake it evenly over the entire surface of the smelly furniture. Let it sit for a couple of hours as the soda absorbs the smoke smell, and use the hose from a vacuum to suck up the powder.
Getting Smoke Smell Out of Furniture
Though vinegar has a strong scent, it's an excellent choice for getting smoke smell out of furniture. Its acidity breaks up the smoke molecules, neutralizes smoke odors, and is safe for most furniture types. Explore how to remove smoke smell from wood furniture and upholstery with white vinegar.
To remove a smoke odor from upholstery, fill a spray bottle with distilled white vinegar and spritz it lightly over the fabric of the couch or chair. Gently rub the material with a dry sponge and let the furniture dry. The strong vinegar smell evaporates as the furniture dries, removing the smoke's odor.
To get fire smoke smell out of wood furniture quickly, combine four portions water with one part white vinegar in a bottle, shake it thoroughly, and spray it lightly over the surface. It's important to dilute the vinegar to prevent stain damage to paint, as this is the best way to clean nicotine off walls and ceiling. Finish by wiping the wood with a damp cloth and buffing it dry with a soft towel.
How to Get Smoke Smell Out of Furniture With Activated Charcoal
The best way to remove the smoke smell out of wood furniture after a fire is with activated charcoal. The charcoal contains carbon molecules that trap odors, cleaning them from the air and furniture.
Activated Charcoal Smoke Odor Eliminator
Many hardware stores carry activated charcoal, usually in small burlap or fabric bags. Place several of these bags on the furniture and let them sit overnight or longer to soak up smoky smells. Do not place the charcoal directly on the upholstery since it can stain.
Steam Cleaning to Get Smoke Smells Out of Furniture
While odor absorbers like baking soda and activated charcoal effectively remove odors, they may not work as quickly as you like. Use your steam cleaner to get smoke smells out of furniture.
Follow the directions for your cleaner and fill it with the appropriate amount of warm water and cleaning solution. Clean the upholstery with the hose attachment by working in overlapping sections. Allow the couch or chair to dry, and finish by vacuuming up residue.
Steam cleaning can also be useful when smoke stains are stuck to the walls of your house. Remove nicotine stains from walls with this easy steam cleaning solution.
Coffee Grounds Absorb Smoke Smells From Furniture
Not only does coffee taste great in the morning, but the grounds are also ideal for getting smoke smell out of furniture. They soak up the foul odor while releasing a pleasant aroma; you probably have some in the kitchen. Learn how to remove smoke smell from wood furniture fast with coffee grounds.
Pour fresh coffee grounds into a few shallow containers and place them beneath the smelly furniture. To remove tough odors, fill cloth sachets with dry beans or grounds and tuck them behind the sofa or chair cushions. Discard and replace the coffee as needed until the smoke odor is gone.
Make a Furniture Deodorizing Spray
If you have an essential oil or two in the house, you have the perfect ingredient for making a furniture freshener when you experience a bad smoke smell on a leather couch and armchair. Prepare a DIY deodorizing spray for removing smoke smell from furniture.
A bright citrus aroma is ideal, yet any oil scent works. Pour rubbing alcohol, white vinegar, water, and your favorite essential oil into a plastic spray bottle and shake to mix. Label the container for regular use, spray it liberally over the affected furniture, and wipe the upholstery with a clean cloth.
Ways to Prevent Smoke Odors in Furniture
Indoor smoke odor is typical, whether from cooking or tobacco. However, there are ways to prevent the smoke from lingering and saturating your furniture. Follow these tips to help you keep your house smoke-free.
The simplest way to prevent cigarette smoke from stinking up your furniture is to smoke outside, whether you're a smoker or you have visitors. If this isn't possible, open windows when you light up to bring fresh air inside and draw the smoke outdoors.
Smoke sometimes occurs while frying or broiling food, and turning on the overhead stove fan helps vent the smoke outside. If smoke still fills the room, turn on other fans in the home, like ceiling fans and oscillating fans, and open a few windows.
Air purifiers are excellent for removing impurities from the air, including smoke, and are convenient for everyday use. Additionally, install a HEPA air filter in your HVAC system and replace it every couple of months.
Consider cleaning the air duct every three to five years to ensure maximum efficiency. Use a steam carpet cleaner for upholstery and carpet cleaning when necessary to remove smoke smells and keep your home smelling clean.
Cigarette smell is notorious for absorbing into materials, and it's one of the more stubborn odors to remove. Luckily, there are ways to restore your furniture's clean smell with the proper odor removal method.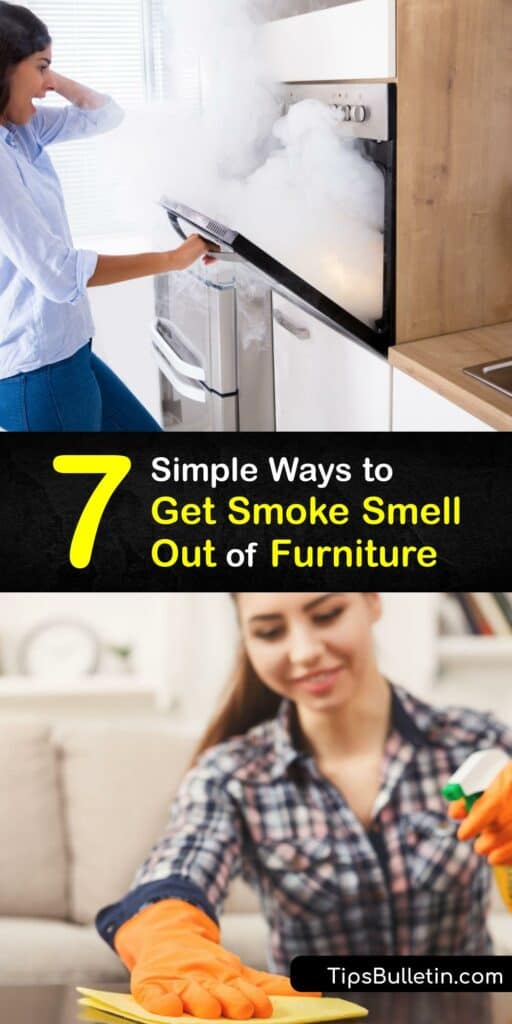 We hope that learning how to get smoke smell out of furniture keeps your sofa and chairs smelling fresh, and we'd love it if you'd share our tips for getting smoke smells out of furniture with your family and friends with smoky smells in the house on Pinterest and Facebook.