There are few odors quite as distinct as the smell of tobacco smoke. When you enter a smoke-stained room, that lingering odor jumps into your nostrils. Discover how to get smoke smell out of walls and other household surfaces with our smoke-busting suggestions. Restore your rooms and your resale value today.
America's complicated relationship with tobacco began at the settlement of Jamestown, Virginia, in 1612. A settler named James Rolfe was the first to successfully grow a tobacco cash crop for personal use and commercial sale at that time. Although the indigenous population had been growing tobacco for at least 1,200 years, this marked the start of the "brown gold" rush.
Gradually, we saw tobacco appear in advertisements, commercials, and films. Approximately 30 million Americans currently smoke, which makes it essential to have cleaning strategies that don't just mask the stink. Learn how to eliminate the cigarette smoke smell with these tried and tested tutorials.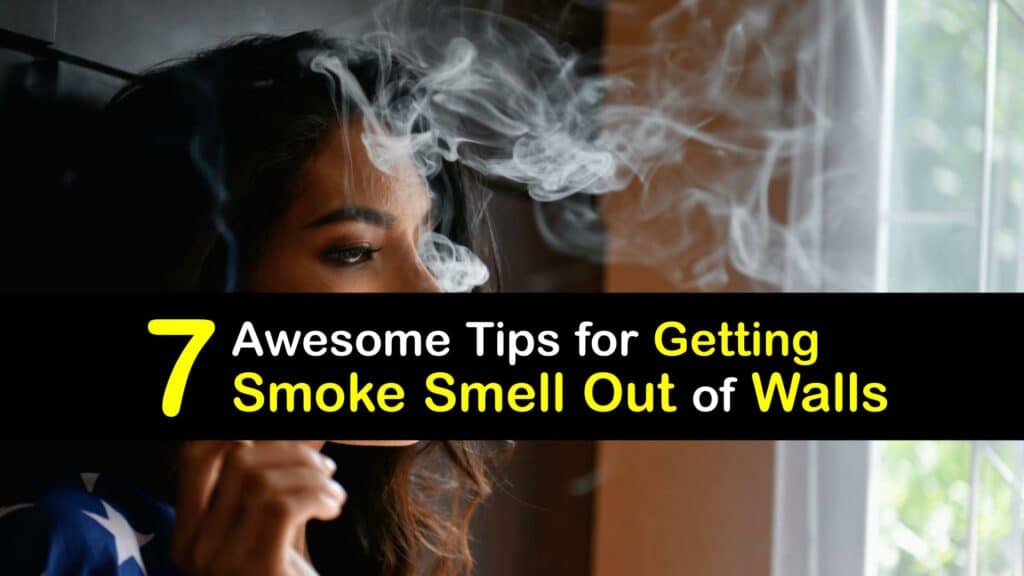 How to Remove Cigarette Smoke From Walls
There are many reasons to consider smoke removal options inside the home. It's healthier, smells better, and preserves your property's resale value. Stop struggling with the smoke smell and discover how to get your walls sparkling white again. Learn tips and tricks to help you along the way, and enhance your smoke removal strategy.
Getting Rid of Cigarette Smell in House Walls
There are several groups of cigarette smoke odors. First-hand smoke is inhaled directly from the cigarette, secondhand smoke is inhaled from the surrounding air, and third-hand smoke is that nasty yellow residue that clings to household surfaces.
Third-hand tobacco smoke embeds itself into every fabric, surface, corner, and crevice of your home. Smoke smell is often undetectable by those who live in the house, but potential buyers can smell it, and it's repellent. Not only this, but candles can leave soot stains on the walls and ceiling as well, making smoke removal necessary for many homes.
Removing cigarette smoke smell from a wall is a tough task; while it does require significant elbow grease, it's not impossible. Start by stripping the room; pull down upholstery, throw rugs, couch cushions, pictures, etc.
Disassemble the light fixtures, where possible, and remove the outlet faceplates; we're not kidding when we say you'll find those telltale smoke stains everywhere. In addition to door handles and ventilation grates, the baseboards often need to come off; save yourself time by being thorough.
Open the Windows and Use Activated Charcoal
Getting rid of cigarette smell in house walls is a multi-step process; it takes time and considerable effort, so don't be discouraged. Once you clear the room of fabrics and knickknacks, it's time to get some fresh air circulating through the house to help disperse the smoke molecules.
Open the windows and consider air duct cleaning or using an air purifier to enhance and improve air quality. Take odor control further and add a few pellets of activated charcoal around the room.
Activated charcoal is a porous material that traps odor molecules and reduces cigarette smoke odor in the air; set out a few bowls of coffee grounds or some baking soda if that's all you have.
How to Get Smoke Smell Out of Walls
You don't necessarily need an expensive cleaning product to deal with light smoke staining; you can clean smoke off walls with vinegar then reassess. Distilled white vinegar is excellent for smoke particles because it disrupts the residue enough to be scrubbed away, reducing the lingering smoke smell.
Knowing how to get smoke smell out of walls is an invaluable skill, especially if you rent or sublet. Lay out a drop cloth or plastic barrier to protect the flooring from liquified cigarette smoke. You don't want that yellow smoke residue running down the walls and into the carpet.
Mix one part white vinegar and one part water in a spray bottle, put your rubber gloves on and get ready to scrub. Keep a bucket of warm water to rinse the scrub brush as you clean. Refresh the water frequently to prevent transfer back onto the wall.
Be sure to clean the room from corner to corner. Scrub everywhere; the walls, ceilings, under the doors, the baseboards, the outlets, the fixtures. Wipe the windows and the window tracks; don't stop until all the yellow tar is gone.
How to Use Trisodium Phosphate for Smoke Smell
Trisodium phosphate is a water-soluble powder that, when dissolved, creates an alkaline solution ideal for use in detergents and degreasers. Use this powder to see serious results against heavy smoke buildup and remove cigarette smoke stains from the ceiling with ease. Find out how to remove cigarette smoke from walls with trisodium phosphate.
Put your safety equipment on, open the windows, and seal kids and pets out of the room. Fill a 1-gallon bucket with warm water, and add a tablespoon of trisodium phosphate. Use the sponge to work across the walls until the smoke residue and unpleasant odor are gone.
Try an Ozone Generator for Stubborn Smoke Odors
An ozone generator does precisely that; it generates ozone gas which disrupts the smoke molecules clinging to walls and ceilings. These units are great for getting rid of cigarette smell in house walls and are especially useful if you're dealing with rental properties, apartments, or turning over an Airbnb property where the guests have smoked.
A decent ozone generator is less than a hundred dollars and lasts for 6,000 hours before requiring service. While convenient and practical, you should still use ozone gas with caution. Shut all the doors and windows, and ensure you use the timed 30-minute cycle per the manufacturer's directions. Remove all people, pets, and plants before you run the machine.
Finish With Some Carpet Care
We can't talk about how to remove cigarette smoke from walls without mentioning carpet care, too. The smoky odor clings to carpet fibers, which often need a good steam clean session to be fully restored.
A professional carpet cleaning will blast filthy carpets with detergent and hot water while disinfecting and conditioning the fibers. Release cigarette odor and improve the overall effectiveness of your cleaning routine; don't forget about carpet care.
Make a Mint Citrus Air Freshener for Smoky Rooms
After putting all that work into getting rid of the cigarette smell, you'll want an odor-killing spray for the future. Keep that bad smell at bay with a minty-smelling air freshener made from natural ingredients.
Our DIY air freshener spray provides a crisp punch, ideal for stale rooms and musty furniture. This recipe is for you if you're looking for a quick refresh to chase away the smoky smell.
Start by adding the water, vodka, and vanilla, followed by the peppermint and orange oil. Essential oils sometimes float on the liquid; give a good stir to mix things thoroughly. Use this spray to break up smoke odor and refresh stagnant spaces.
We hope you enjoyed our thoughts on smoke damage and how to get smoke smell out of walls effectively. Remember to remove upholstery and fabrics, wipe down individual items, and open the windows to improve your chances of success.
Use a natural vinegar spray before moving up in terms of aggressive chemical steps, and always wear protective gloves and a face mask when scrubbing nicotine stains. Consider an ozone generator for large-scale projects, and don't be afraid to inquire about professional carpet cleaning.
If you've tried everything and the smoke still lingers, we recommend a couple of professional products. Try Atomic Degreaser for lingering smoke stains, and follow up with Kilz Restoration odor-blocking primer to seal lingering cigarette smoke odor forever. Smoke odor removal is a big job; we hope these tips help you conquer those smoke stains.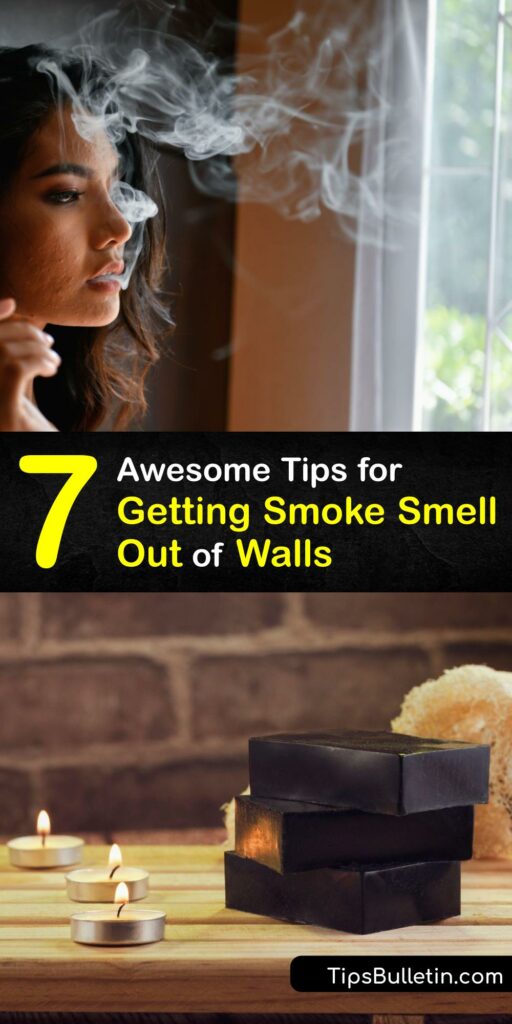 If you liked learning how to get smoke smell out of walls with our easy-to-follow tutorials, share this article with friends on Pinterest and Facebook looking for smoke-related solutions.