Castor bean plants are ornamental plants grown for beauty and health benefits. While they are native to the Ethiopian region of Africa, they are easy to plant in a home garden. Learn what these plants are and their many uses, and how to grow castor beans of your own.
This tropical plant is a relative to the poinsettia and wood spurge family. It develops bright red male and female flowers, grows up to ten feet tall and four feet wide, and has spiny seed pods or seed capsules resembling the moonflower. Palmate castor bean plants have stunningly large, star-shaped maroon or green leaves that grow up to three feet in length, making them a bold statement in the garden.
You may be familiar with the many great uses of castor oil, an old-time laxative. However, castor beans are not a true bean, contrary to the name. They are poisonous plants with bean pods that naturally contain ricin, and their toxicity is harmful to small children and pets.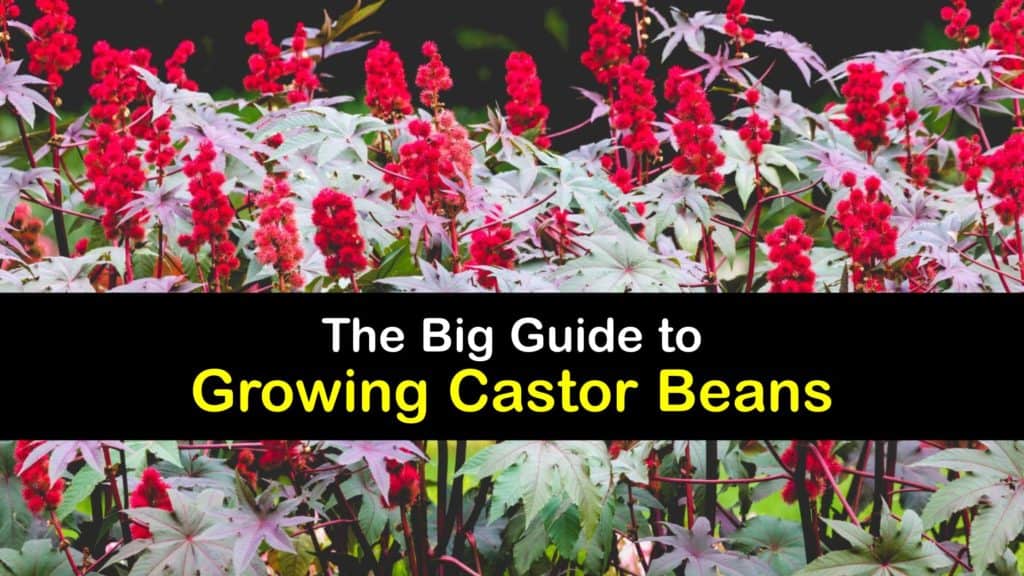 Growing Castor Bean Plants at Home
Growing castor beans (Ricinus communis) is easy, and they are both annuals and perennials. Their striking foliage provides shade cover, and they produce vibrant red flower seeds from summer through fall. These Euphorbiaceae family members grow so quickly that they resemble small trees by the end of the growing season.
Discover how to plant castor beans by starting them indoors in the early spring and transplanting them in an ample garden space outside. Additionally, explore how using castor bean leaves reduces muscular swelling.
How to Plant Castor Beans Indoors
Castor bean plants are fast-growers, and a great way to get them started is to plant them inside before the last frost. Find out when to plant castor beans indoors and sow the seeds properly for germination.
What are castor beans? The castor oil plant is a tropical plant native to the Mediterranean basin that grows in warm regions worldwide. It grows wild in low-lying areas along riverbanks. They are annual in most places and perennial in hardiness zones 9 and up, and there are different types, from Red Spire to Carmencita Pink.
To sow seeds indoors, start them six to eight weeks before the last frost. Soak the seeds in a glass or jar of water overnight to aid germination. Then, fill peat pots with soil and sow the seeds an inch to an inch and a half deep. Spritz them lightly with water and set them in a warm area to germinate. Do not let them dry out.
While these plants grow best outside, it is possible to grow castor bean plants as a houseplant. If you decide to keep them indoors, plant the seeds in a larger pot with drainage holes.
How to Grow Castor Beans in the Garden
After planting castor bean seeds indoors, it's time to move them outside in the full sun. Here is how to plant castor beans in the garden with the proper soil conditions and spacing.
After planting castor beans seeds indoors and the danger of frost is gone, harden off your plants by taking them outside for an hour or two each day for a week.
Pick a sunny area of your yard and prepare the garden spot with well-draining fertile soil. Dig a hole in the dirt slightly larger than the peat pot and transplant the entire container into the ground.
If you plant more than one castor bean, space them 36 to 48 inches apart to allow them room to flourish. Water your plants after planting, give them about an inch of water each week and provide them staking if you grow them in a windy area.
Making a Homemade Anti-inflammatory Remedy after Growing Castor Beans
Due to the toxicity, it's not safe to use the bean seeds after growing castor beans. However, the large, green leaves have many uses, including reducing muscular swelling and pain.
Break the castor bean leaves into small pieces and place them into a mortar. Pour a tiny bit of cold water and a pinch of salt over the leaves, and then use a pestle to grind them into a paste. Spread the poultice on a strip of cheesecloth and fold it over before wrapping it gently around the inflamed area.
You can always buy castor oil but it's sometimes fun to apply a DIY approach instead. Make your own castor oil and put castor oil on eyebrows or make a spray to deter rodents in the yard. It's uses are almost limitless.
Castor beans are not the first thing that comes to mind when growing garden plants. However, its fast growth rate and easy-growing nature make it a great addition to the yard, especially when you need quick and beautiful landscaping.
Knowing how to grow castor beans means you get to enjoy the beauty of a tropical plant, so why not share our castor bean growing guide with the gardeners in your life on Facebook and Pinterest?