Food spills, stinky foods, and bacterial build-up all contribute to unwanted odors in your refrigerator. When you open the refrigerator door and are greeted with a foul odor, it's time to explore how to make the fridge smell better. If you don't know how to deodorize a fridge, you likely have to deal with an unappealing and smelly fridge regularly.
A smelly fridge makes the prospect of eating the food inside seem unappealing. Learning how to get rid of refrigerator odor ensures your fridge is always clean and fresh and a healthy place to store your family's groceries.
Forget about commercial fridge cleaners laden with toxic chemicals and potentially harmful substances. Turn to simple home remedies to oust bad smells from your refrigerator or freezer. Use baking soda, distilled white vinegar, dish soap, and essential oils to eliminate bad odor and leave your fridge smelling fresh.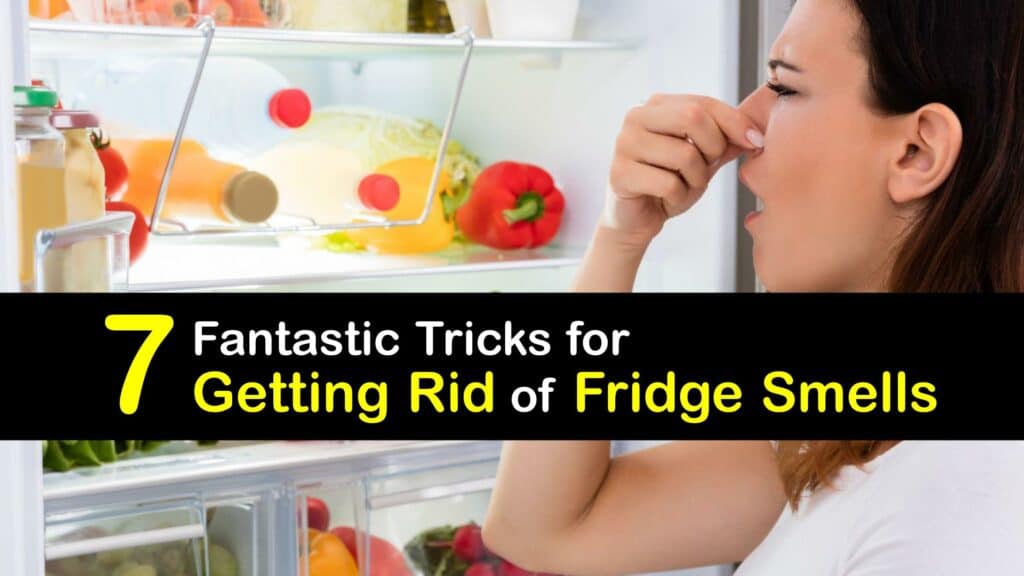 How to Deodorize a Fridge Using Home Remedies
Discover how to make the fridge smell better when you notice an unpleasant smell. Food odors and moldy or musty smells can happen, regardless of how often and thoroughly you clean your fridge.
Locate the source of the nasty smell and throw out spoiled food or clean-up spills, then work through one of our ideas on how to deodorize a fridge. Get rid of the stinky fridge smell to keep your refrigerator and freezer clean and sanitary.
Follow our guide for the best way to store veggies correctly to keep bad smells out of your fridge to stop the smell before it begins.
How to Make the Fridge Smell Better
Distilled white vinegar offers a two-fold approach to keeping nasty smells out of your refrigerator. The acidity of white vinegar is a potent odor neutralizer; this sour liquid is also well known for its cleaning and sanitizing properties.
Soak a rag or paper towel in white vinegar, lay it in a shallow bowl, and put it in the back of your fridge for a day to absorb food odors. Make this white vinegar deodorizer spray for a heavy smell, and use it to clean your refrigerator's interior surfaces.
Shake the water and vinegar in a spray canister and spritz on fridge shelves, doors, seals, and drip pan before wiping with a clean cloth to dismiss the odor. You can also begin cleaning the hardware in the fridge with a spray to get rid of any dust or stuck on food.
How to Get Rid of Refrigerator Odor Using Dish Soap
Standard dish soap can be helpful when odours invade your fridge. You likely already have this powerful cleaning product in your kitchen.
Liquid dish soap is a potent degreaser that destroys bacteria and releases tricky food stains from plates and cookware. It's perfect for cleaning your smelly fridge. Mix liquid dish soap into warm water to make a solution for straightforward cleaning.
Take out all food products and wash down the shelves, inside the fridge door, and around the seals, and drip pan with the soapy water solution.
Try Activated Charcoal to Keep Your Fridge Clean and Fresh
Activated charcoal is an ideal recommendation for an unpleasant odor. This all-natural odor eater has a massive absorptive capacity thanks to its large surface area. One teaspoon of active charcoal has the surface area of a whole football field, using it all to trap food odor and other smells to keep your fridge or freezer fresh.
Add a few tablespoons of active charcoal to a small bowl or mesh bag and set it at the back of your fridge or freezer. When you notice smells returning, dump the old granules and replace them to keep odor at bay.
Remove Odors from the Refrigerator Freezer
Coffee grounds are an excellent option to take in foul odors and fragrance your fridge with the pleasing aroma of coffee. For best results, use coffee grounds as an odor eater with a cleaning technique. Pour a few tablespoons of unused coffee grounds into little bowls or baggies and place them around your refrigerator and freezer to eradicate bad smells.
Use Baking Soda to Get Odor Out of a Refrigerator
Baking soda has an impressive array of uses. However, it is perhaps best known for its exceptional ability to soak up odor. Eliminating food odor or foul smells from your freezer is as simple as setting up an open container of baking soda and leaving it to work.
Place the baking soda somewhere out of the way, at the back of a shelf, or in the door. Shake the container once a week and replace it once you notice bad smells returning.
Deep Clean to Eliminate Fridge Odor
A foul smell is a good sign that it's time to deep clean your refrigerator. Deep cleaning is an excellent first step for removing bad odors from the microwave and other kitchen appliances and makes an ideal addition to your house cleaning schedule. Empty your fridge and take out the shelves if possible.
Use a dish soap cleaner or white vinegar fridge cleaner spray and work with a clean sponge or cloth to methodically wipe all surfaces. Pay extra attention to the door seals and drip pan. Allow your fridge to dry before restocking it.
After following these cleaning tips, ensure food is stored in an airtight container to reduce food spoilage, avoid strong odor, and help keep your fridge and freezer fresh.
Essential Oil Bombs Eradicate Refrigerator Smell
Use tried and true odor destroyers like essential oils and baking soda to make DIY odor eater bombs for your fridge and freezer. These homemade bombs absorb a bad smell and emit a soft and clean fragrance.
Choose your favorite essential oil – lemon or lemongrass are popular for a light and clean scent. Mix the ingredients in a small basin until they start to clump, then press the mixture firmly into the molds or ice cube trays.
Let the formed molds sit in a dry location for 2-3 days until you can remove the bombs without crumbling. Place a bomb in your refrigerator and freezer to oust odor, and replace it as required. Use vanilla extract instead of essential oils, if desired.
Figuring out how to get rid of refrigerator odor doesn't have to be challenging. A smelly fridge is off-putting and gives your family and guests a poor impression of your food hygiene. Fridge odor becomes overpowering when left unchecked and may even pose a health risk if the bacteria or spoiled food responsible isn't addressed.
Skip expensive and harmful chemical cleaners and use simple home remedies with everyday items to clean your fridge and say goodbye to the bad smell. Use things already in your home and make your fridge a safe and pleasant place to store your food.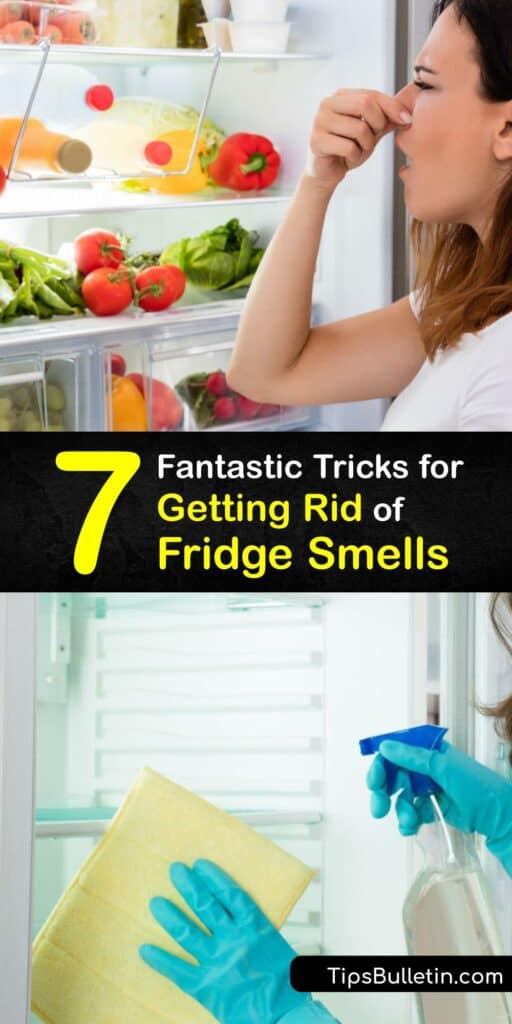 If you loved this article on how to make the fridge smell better, please share these brilliant ideas on how to deodorize a fridge with your friends and family with a stinky fridge on Pinterest and Facebook.