Home improvement projects involve a lot of muscle and brainpower, and re-doing your floors is an even bigger headache. Whether you're a do-it-yourselfer or a soon-to-be contractor, you might find yourself, at some point, in a situation where you need to know how to remove epoxy from concrete.
It's a daunting feeling when you find yourself standing in a garage or room that has epoxy flooring and knowing that its time to replace it. How hard will removing it be? Can you remove the epoxy flooring yourself, or will you have to hire a professional? Will it be worth it?
Unfortunately, there isn't an endless list of ways to remove epoxy from concrete, and most of the methods require harsh chemicals and heavy equipment. Hiring someone to strip the epoxy from concrete is an option, but saving money and putting in the work yourself is also doable. Before you decide what strategy to take, it's essential to understand the make-up of epoxy flooring.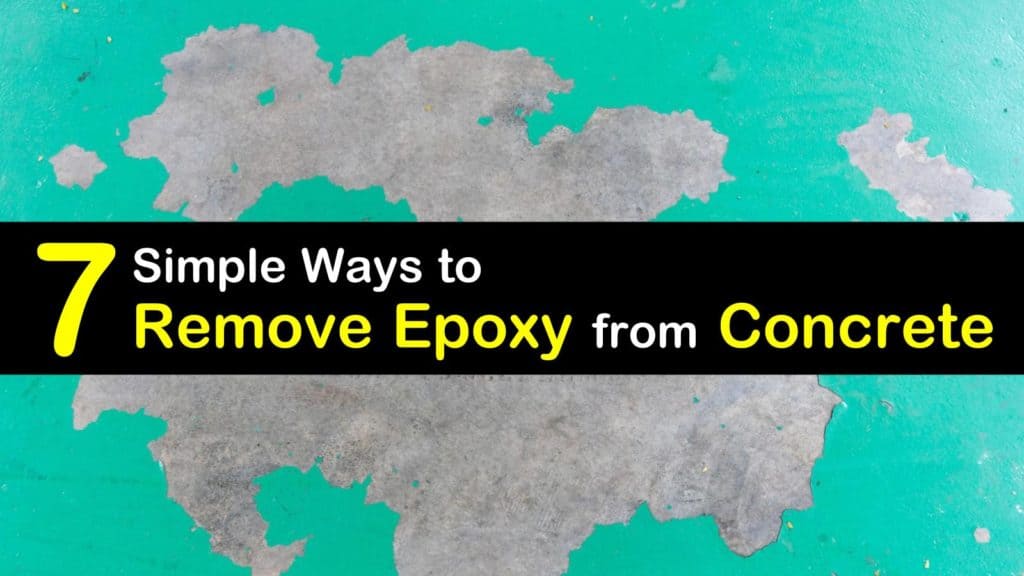 Understanding Epoxy
Epoxy consists of two liquid components: resin and hardener. Epoxy paint was trendy about a decade ago and offers reliable covering for basement, patio, and garage floors.
The hard lacquer adds a little bit of shine and comes in a variety of colors. The paint works as an excellent concrete sealer while remaining resistant to tire marks, oil stains, scuffs, cracks, peeling, and spills.
Epoxy is also as cheap as $30 a gallon, a drastic decrease in price compared to tile or wood flooring, and lasts up to 20 years. One of the only downsides to epoxy is that it may yellow over time.
The Simplest Ways to Remove Epoxy from Concrete
There are only two available paths to take when removing epoxy paint from concrete garage floor on your own. Either strip the epoxy paint with chemicals or use machinery to remove it. Either way, knowing how to remove epoxy from concrete takes a lot of planning, safety measures, and patience.
If you are dealing with epoxy grout instead, there is often a haze left behind on your tiles. Use an epoxy grout haze remover to bring back the shine to the tile.
Hiring a Professional
There is no shame in hiring a pro to remove the epoxy from your concrete floor. This is a challenging project and sometimes requires help.
However, that doesn't mean that you can't do it yourself. There are several other useful options to strip epoxy from concrete.
Safety Measures for Removing Epoxy Paint from Concrete Garage Floor
One of the ways to remove epoxy from concrete involves the use of strong chemicals. When using any chemical stripper, work in a well-ventilated area and continuously circulate the air by pointing a fan towards an open window or door.
Many of the chemicals found in paint strippers contain carcinogens. Wear a respirator to reduce the number of fumes you inhale. Purchase a respirator that covers your nose and mouth.
If you are unable to afford to purchase one, some stores allow you to rent them. A dust mask is not the same as a respirator and does not protect you from breathing in the chemicals.
Protecting your skin is as important as protecting your lungs. Always wear neoprene or rubber gloves when handling harsh chemicals. Protect the rest of your body with long sleeves, pants, eye goggles, and rubber boots in case of splashing.
How to Remove Epoxy from Concrete with Paint Strippers
Epoxy paint remover products often contain methyl ethyl ketone, or MEK, which helps to break down the epoxy and makes it easier to strip.
Standard paint thinner doesn't work as well, so finding a stripper with MEK is essential for the success of your project. There are several products to choose from before you begin the stripping process.
Methylene Chloride Stripper
Methylene chloride, sometimes called dichloromethane, contains MEK and is found at home improvement stores and online retailers. Read all instructions on the container to ensure safe use. This product is your most reliable ally in stripping away the thick lacquer.
Caustic Strippers
Caustic strippers are another option for you on your epoxy-removal journey. These strippers take longer to remove than the strippers with MEK, but they have fewer health risks.
Caustic strippers work well when there are several epoxy floor coatings or layers. Avoid using these strippers on wood because they break down and attract moisture.
Acetone
Acetone is another product used to lift epoxy coating. This solvent quickly dissolves and should not be used on large surfaces. Instead, use them to rub away small areas containing epoxy paint.
How to Use Paint Strippers to Remove Epoxy
Pour your paint stripper of choice into a large bucket or container. Use a mop or paintbrush to apply the paint stripper to the intended surface area. Leave the paint stripper on for the amount of time indicated on the packaging directions.
Leave the room while you wait to limit your exposure to chemicals. After the appropriate amount of time has passed, use a putty knife or paint scraper to test that the old epoxy lifts away from the surface.
Apply as many coats as necessary to entirely remove the paint. Hold the putty knife at an angle and use the metal blade to scrape carpet glue off subfloor or epoxy off concrete. Use a toothbrush or toothpick to remove the epoxy located in small dents and crannies.
Once you've successfully removed the epoxy paint, find a way to clean concrete garage floor. Some places suggest that the best way to clean a cement floor is with vinegar and water.
Homemade Concrete Cleaner
Concrete cleaners don't require a trip to the store. The best way to clean cement floor is to create your own cleaner.
In a large sprayer, combine equal parts bleach and cold water. Add dishwashing detergent. Spray the solution on the cemented area and let sit for five minutes. Power wash the area to rinse away the cleaner.
This recipe is the best concrete cleaner to use in both indoor and outdoor spaces. By reducing the overall amount of cleanser and adding baking soda, this recipe also makes an effective epoxy grout cleaner in areas with tiles.
Combine equal parts vinegar and clean water in a bucket. Use a mop to apply the solution to the flooring area. Power-wash to rinse.
Often, vinegar is ideal for all kinds of stains on concrete surfaces. Use it for grease stains on concrete, whether it's diesel, cooking grease from the grill, or some other unwanted and unwelcome stain. You'll likely be pleased with the results.
Machines for Removing Epoxy Paint from Concrete Garage Floor
If you know anything about how to remove epoxy from concrete, you know that your removal options are limited.
Aside from chemicals, using machinery is your next best option for an epoxy resin remover. Before you rent any machine, purchase earmuffs to protect your hearing.
Renting a Floor Grinder
A floor grinder uses an abrasive surface to scrape epoxy from a concrete surface. These machines are available for rent at your local home improvement store. Rent a bladed grinder attachment with your machine to help scuff the concrete more quickly.
Using a Steel Shot-Blast to Remove Epoxy
A shot-blast machine uses high pressure to chip away the paint with tiny steel balls. Shot blasting is beneficial in prepping the concrete floor's surface for new epoxy or paint. These machines are available for rent at larger hardware stores or hire a flooring company to do it.
Sand-Blasting Epoxy from Concrete
A sandblaster makes paint removal simple by using compressed air or steam to shoot sand particles over a surface area at high speeds. The tiny particles begin sanding away the thick epoxy coatings.
These machines are available for rent at your local hardware store. If you decide to use a machine to remove epoxy from your concrete, clean up any dust or remaining particles from the floor with a vacuum.
Wipe your finger on the ground and, if a white residue comes up, use one of the cleaners listed previously in this article to remove and sanitize your concrete correctly.
We applaud you if you've decided to tackle the tremendous task of removing epoxy paint from concrete.
This home renovation project is no small feat and requires a lot of preparation, safety, and dedication. Try out one of our ways to remove epoxy from concrete for high-quality results.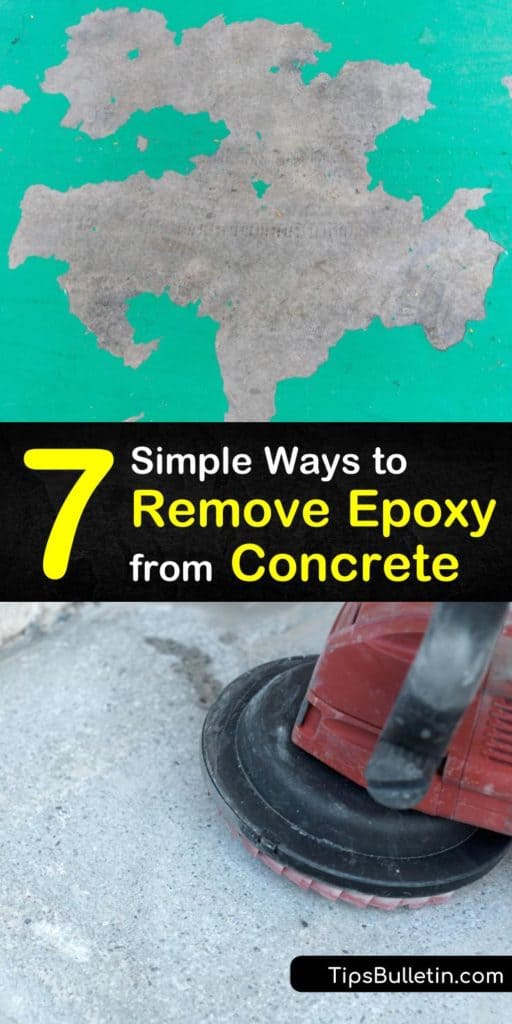 If you found our advice on how to remove epoxy from concrete beneficial during your home-improvement project, share our epoxy removal strategies on Facebook and Pinterest.