Are you struggling with how to remove frosted glass spray? Frosted glass adds style to many spaces, and options like frosting films and sprays make it attainable to every homeowner. Frosting your shower glass or bathroom windows gives you more privacy without reducing natural light.
Frosting spray is simple to use and goes on to clean glass like spray paint for an instant whimsical frosted look in any room. But what happens when you decide it's time for removing frosted glass spray? Though it holds up well to the daily rigors of coating your windows and the occasional cleaning, frosted glass spray paint is not particularly hard-wearing.
It comes away from the glass readily with the correct removal method. Some care is required to avoid accidentally scratching the glass surface beneath. Discover proven home remedies, such as using vinegar to clean windows at home, to get frosted glass off your window pane and lift the texture without damaging the glass.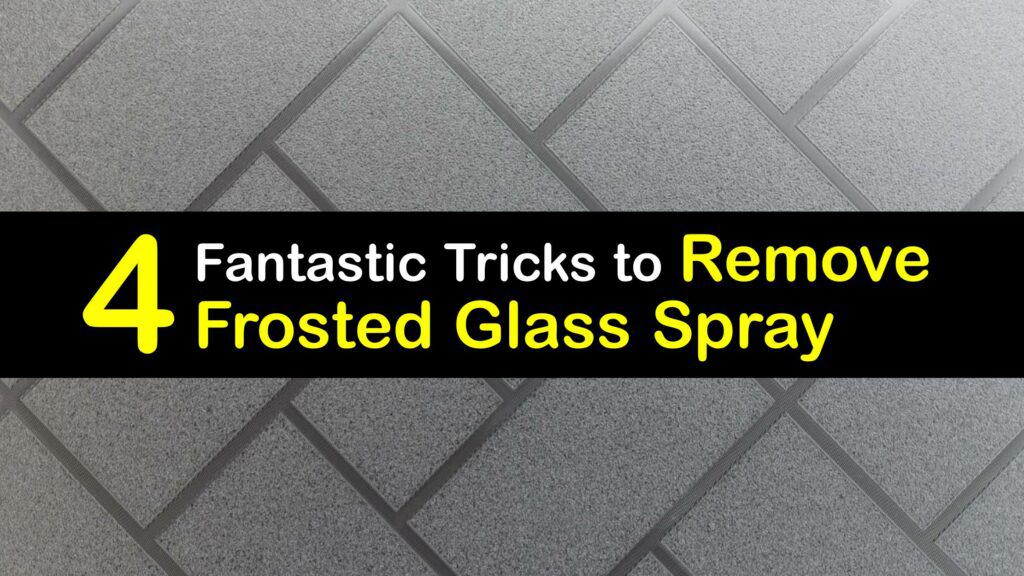 How to Get Frosted Glass Off
A frosted film or frosting spray gives your glass door or glass window a stylish finish. It increases privacy by creating a visual barrier.
If you frost glass in your home and change your mind, frosting film peels off readily, but removing frosted glass spray requires more effort. Find out how to take off stickers from mirrors and glass windows and remove frosted glass spray to take control of your interior design.
Getting Frosted Glass off Your Window Pane
Before converting your frosted bathroom window or shower door back to clean glass, it's vital to understand the differences between etching and frosting glass.
It's possible to return a frosted window to its original state. Restoring an etched or scratched window is much more challenging and sometimes impossible as scratches are carved into the glass pane.
Inspect your glass surface or consult your documents to ensure you have spray frosted window glass or window film, so you can remove it confidently.
How to Remove Frosted Glass Spray Paint
Begin by using soapy water or glass cleaner and a soft cloth to clean your frosted glass window. Soak a cloth or paper towel in distilled white vinegar and rub it over the frosted glass until the spray begins to lift.
Distilled white vinegar contains a mild acid known as acetic acid, a solvent to erase the frosting spray without damaging the glass surface.
Work slowly and methodically from one end of your frosted window to the other, swapping out the cloth when it becomes saturated in the spray. Wipe with a damp rag when finished, air dry, and clean to a shine with glass cleaner.
Use Lacquer Thinner for Removing Frosted Glass Spray
Can lacquer thinner remove frosted glass spray? Lacquer thinner is a solvent that removes many types of paint, including frosted glass spray paint. Visit your local hardware store to find an appropriate lacquer thinner and apply it per the directions, heeding the safety precautions.
After removing the spray, rinse the glass pane with warm water, air dry, and buff it with a glass cleaner for a shiny finish.
Get Frosted Glass Paint off With a Razor Blade
Frosted paint and spray paint are applied in a thin coat which is easy to peel away with a sharp tool like a razor blade. Gather your supplies and scrape spray paint off glass with a razor blade to restore your window to its original clear glass state.
Spray the frosted glass with glass cleaner to lubricate the surface and protect the glass from scratches. Start scraping the frosted glass off with your razor blade. Hold the edge at an angle to the spray and use gentle strokes to lift it.
If your blade becomes full of frosted paint, rinse it off, and change it out if you feel the edge is no longer sharp. A fresh, sharp blade makes the glass surface less likely to scratch. Wipe the glass with a soft cloth as you work to monitor your progress. Periodically reapply the window cleaner and move along the window until all the frosting spray disappears.
When changing your mind about your design choices, you want to know how to get frosted glass off window panes. If the frosted look isn't right for you, don't panic. Use straightforward at-home methods to remove frosted glass spray from your bathroom or window glass.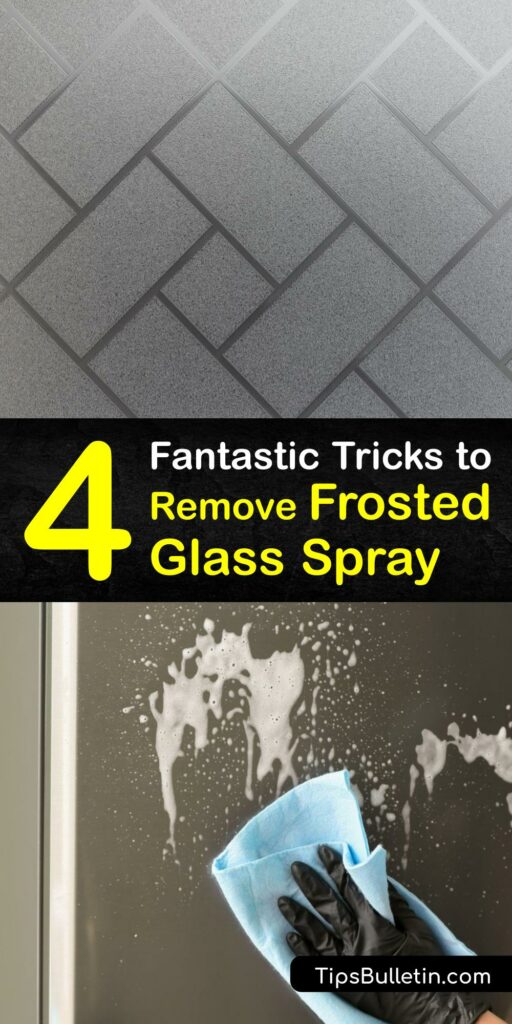 If you loved this article on how to remove frosted glass spray, please share these clever tips with your friends and family who are removing frosted glass spray from their windows on Pinterest and Facebook.