Discover how to start a compost bag and enjoy all the benefits of composting in any size space. It's straightforward to make a bag of compost, and unlike other methods, a bag requires minimal setup or construction.
Composting converts waste organic matter like food scraps and yard trimmings by breaking them down with the help of bacteria and microbes to produce finished compost. In addition to providing a valuable tool to feed your plants, composting helps in solid waste management and slashes your food waste by keeping kitchen scraps out of the landfill.
Some people interested in composting feel daunted by figuring out how to layer a compost bag, but composting in a bag is uncomplicated. Provided the correct ratio of nitrogen dense to carbon-rich materials is used, and the decaying substrate is kept damp, little effort is required. Like any form of composting, your system may slow or need to be rebalanced while using a composting bag, though this is simple to achieve.
How to Layer a Compost Bag
Discover many easy ways to start a composting bin at home and work on reusing your food scrap material and yard waste to produce finished compost. When you make a bag of compost, you prevent organics from being deposited into the landfill, reduce your home's footprint, and obtain free organic fertilizer for your garden and houseplants.
What Is Composting?
The composting process divides organics into green and brown material groups. Greens are nitrogen-rich items like kitchen waste or green grass clippings. Brown things like dried leaves, paper, and brown grass clippings are carbon-heavy.
Mix green and brown matter in a 1:3 ratio to create the ideal scenario for decomposition into finished compost. Carry out composting in several locations and vessels. A compost bin is the most common method that's used.
The organic matter is kept moist, and microbes speed its decomposition until, over time, it becomes finished compost. It's essential only to include food waste or other organic material in a compostable plastic bag.
A trash bag is inorganic, so it cannot be broken down in your compost bag – it prevents the material inside it from breaking down.
How to Start a Compost Bag – Bag Selection
Compost bags don't have to be expensive. While there are reusable compost bags intended to make compost, a garbage bag or old leaf bags work just as well. To strengthen your bags and ensure they don't rip or tear, double bag your organic matter and consider using a compostable liner.
Never use a compostable bag to house food scraps and yard trimmings to try to make compost. Though the biodegradable bags might hold your organics at first, as the matter breaks down, they will, too.
Make a Bag of Compost by Adding Layers
After selecting your bag, add some active compost from a friend's pile to the bottom or buy a microbial starter. Alternate green and brown composting material layers and dampen it with a hose or sprayer.
If you're uncertain about the degradation status of a product, check the Biodegradable Products Institute for more support. Never include plastic trash bags containing waste inside your compost bag, as they cannot break down.
Read on to discover more home items that you can add to your composter to balance the ratio and get rid of your kitchen waste.
Benefits of a Compost Sack
A compost sack is an affordable way to start composting. Unlike other techniques, no construction is required, and your bag is easily moved. Sacks are perfect for small spaces and avoid the need for unsightly piles or heaps.
Many different bags, like garbage and leaf bags, are perfect for upcycling into a composting bag. Begin composting without spending money on tools.
No matter how vast or small your space, compost as much as you like with composting bags. Find out how to layer a compost bag and save items in your green cart to make finished compost right at home. Store organic matter in compostable bags and add it to your composter for mess-free and uncomplicated composting.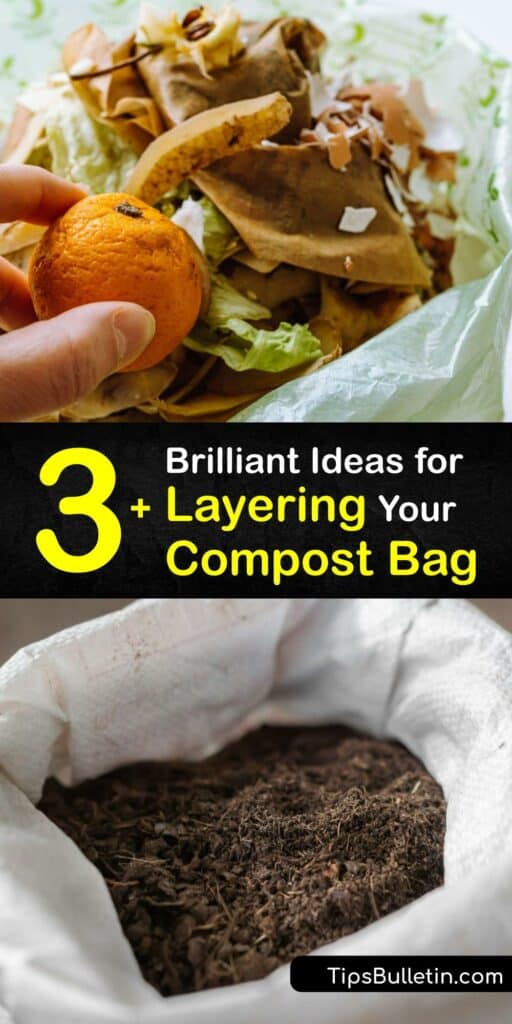 If you loved this article on how to start a compost bag, please share these brilliant ideas to make a bag of compost with your friends and family on Pinterest and Facebook.