What child doesn't like playing in the dirt? Why not let them get their hands dirty and teach them about nature through gardening? Help your child learn the benefits of growing a garden, indoors or out, with easy-to-grow plants for children.
Plants have much more to offer than pretty green leaves and flowers. Some varieties stimulate the senses with their soft, fuzzy leaves and vibrant colors.
Other plants play a vital role in the ecosystem and draw pollinators to the yard. Then, some provide healthy food for the table.
The time spent with your children in the garden teaches them how to grow their own plants and is a great way to create bonds. The fun thing about gardening is that there are so many choices.
Help your child grow a houseplant in their bedroom, potted flowers on the front porch, or grow vegetables. The possibilities are almost endless.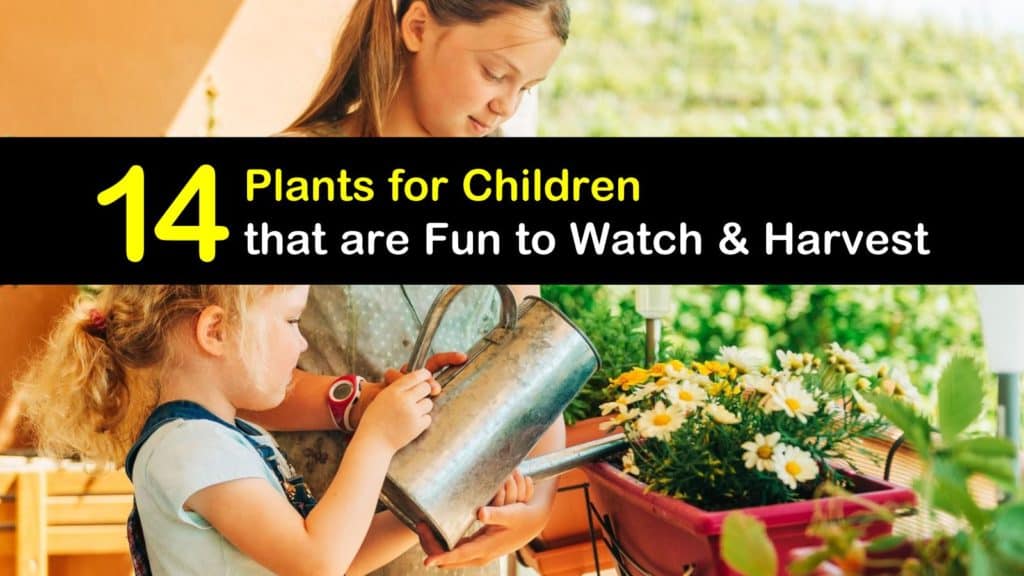 Fun and Easy Gardening for Children
While it does take responsibility and hard work to grow and maintain plants, some are easier to grow than others. Rather than trying to grow bonsai trees for beginners, these plants are perfect for teaching young children the benefits of a green thumb.
Is Gardening Safe for My Kids?
This question seems silly, but it has some merits. While most plants are perfectly safe for children to grow, some are dangerous. It's essential to research before allowing your child to choose their next favorite plant to ensure that they are safe for children.
Avoid toxic plants such as foxgloves, lily of the valley, and lantana, and keep your kids away from thorny plants such as roses and barberries.
Grow some indoor flowers for low light and create a garden just for your child outdoors if you have room. There are many varieties from which to choose.
What are the Benefits of Teaching Children to Garden?
Teaching your child how to grow and care for their own plants has so many positive aspects, it's hard to list them all.
Caring for a plant's life teaches them responsibility and rewards their hard work with natural beauty and sometimes a harvest. Growing plants boost a child's self-esteem as they see a plant flourish under their care.
Children learn about the importance of the ecosystem while watching bees, butterflies, and hummingbirds dance across their flowers. They learn how their actions impact the world around them and how to have patience.
Which Plants are Good for Kids to Grow?
There are many types of plants for children to grow, and they fall under different categories. Consider teaching your child to grow food by planting a vegetable garden.
Harvesting carrots, radishes, and snap peas teaches them that hard work is rewarding. They also get to snack on healthy veggies during the harvest.
If your child prefers growing nature in the house, offer them plants to grow in their bedroom. They get the fun of taking care of small indoor flowers or their pet plant in their own space which encourages self-discipline and responsibility.
Indoor plants that help clean the air purify the room while they sleep or play.
Have your child grow a sensory garden. Kids love looking and touching just about everything, and these types of gardens offer something for all of the senses, including sight, sound, touch, and smell.
How Can I Help My Child Maintain their Plants?
Maintenance is key to growing beautiful plants and is a great way to instill responsibility. Take your child to the garden center and help them choose their own gardening tools.
Child-size gardening gloves, a watering can, and hand tools go a long way in helping those little hands go to work. Create a watering schedule and teach your child how to keep their plants weed-free if necessary.
Nasturtiums (Tropaeolum)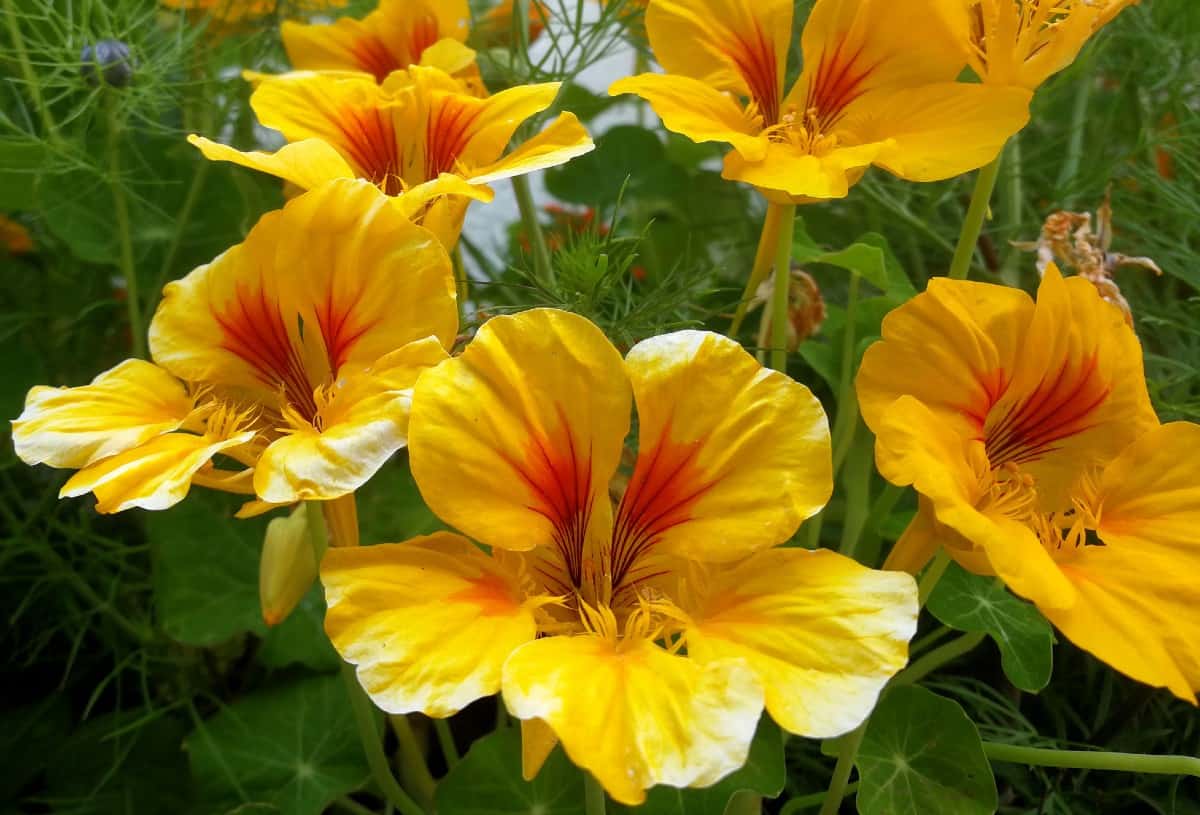 These plants are super easy for children to grow and attract bumblebees and hummingbirds to the garden. All parts of this plant are safe to eat, from the seeds to the leaves, and they grow red, orange, pink, and yellow flowers from May through September.
These fast-growing flowers are annuals that grow 1 to 10 feet tall and 1 to 3 feet wide, depending on the type. They are sun-loving plants, and their bright green leaves and funnel-shaped flowers are perfect for a child's garden.
Marigolds (Tagetes) – Easy Flowering Plants for Children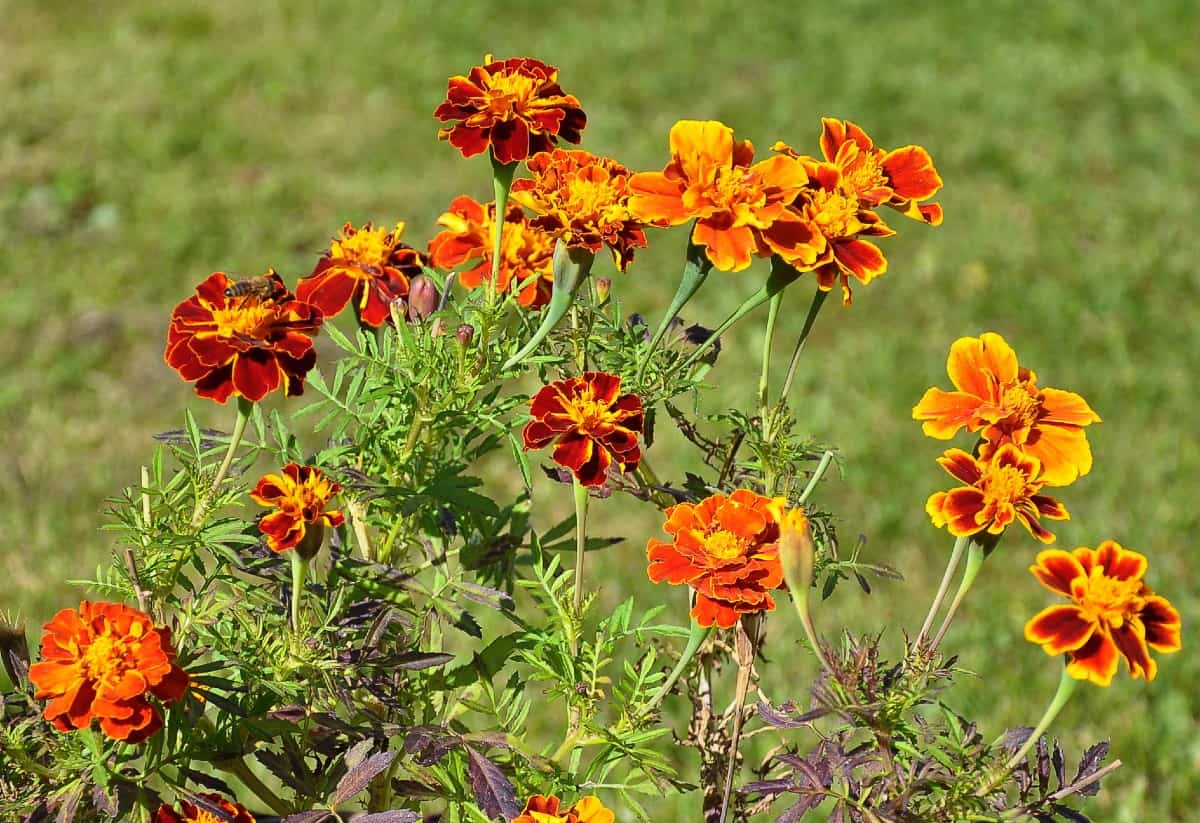 Marigolds are a bright and cheerful flower that brings smiles to children's faces. Their compact, orange, yellow, and burgundy blossoms resemble carnations, coreopsis, and daisies.
These annuals are one of the easiest to grow, and they don't get unusually large, growing 4 to 18 inches tall, depending on the variety. They are hardy flowers that bloom non-stop in full sun and are easy to start from seed.
Sunflowers (Helianthus)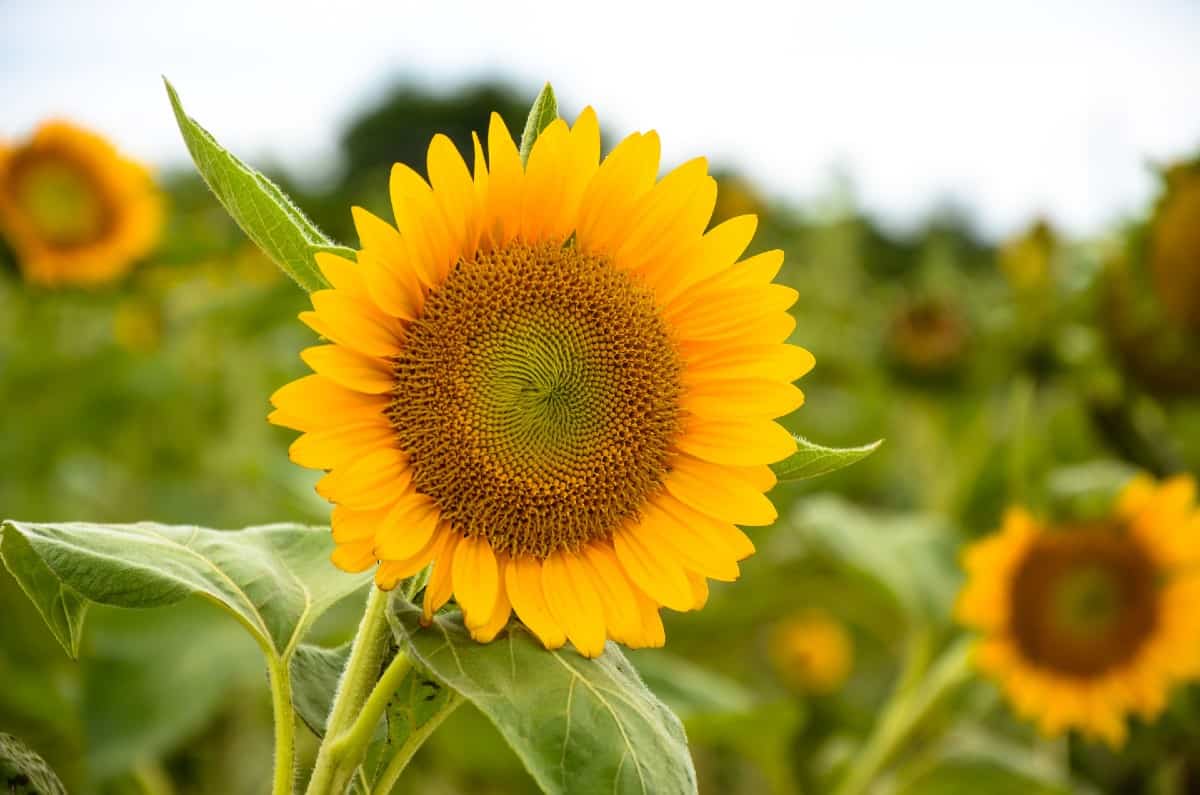 These nectar-producing flowers are large and cheerful with pollen-filled centers. The bright yellow flower petals surround a brown center with edible seeds in the fall that birds crave. They are very easy-to-grow from seeds, and children love their style.
Sunflowers have a sizeable mature height of 1 to 8 feet tall or more, growing well over a child gardener's head. They are low maintenance, drought tolerant, sun-loving plants ideal as a back border or container flower.
Lambs Ear (Stachys byzantina) – Plants for Sensory Gardens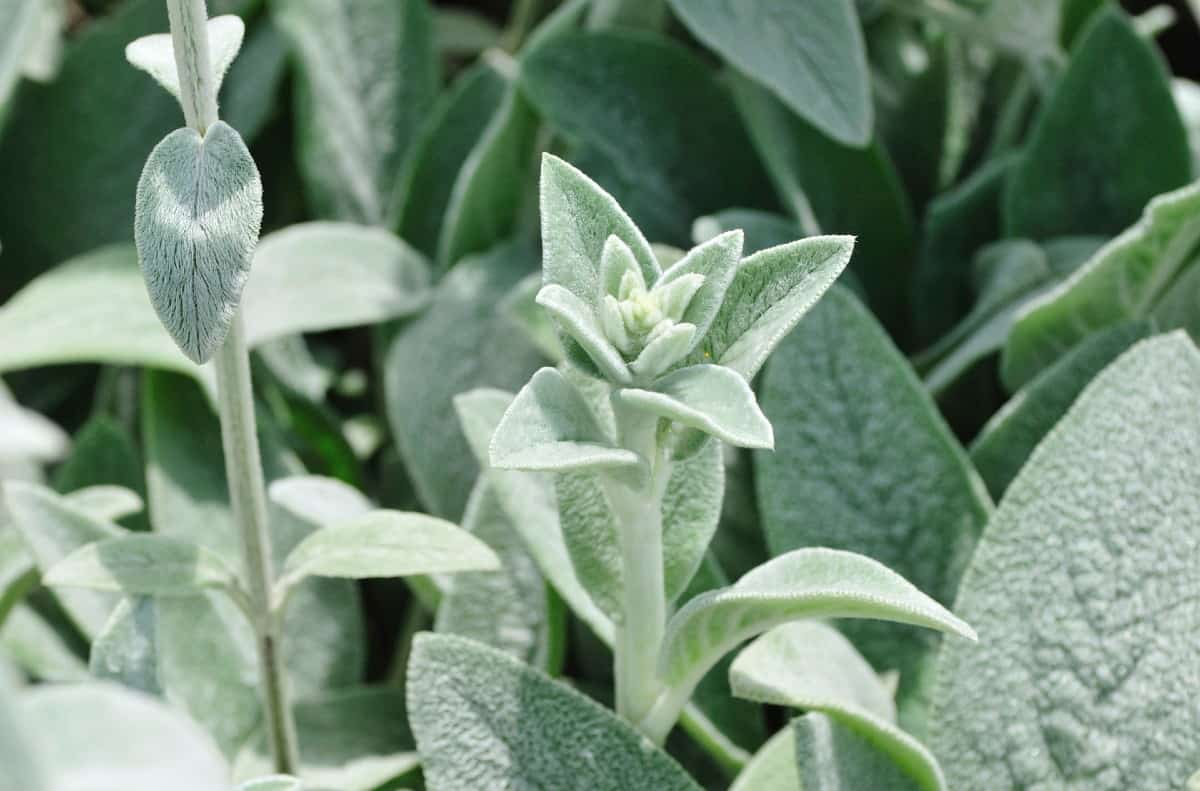 The soft and fuzzy leaves of the lamb's ear plant are irresistible to a child's hands. The stems and leaves have tiny white hairs that give them a silvery appearance and silky feel and are the perfect choice for a sensory garden.
Lamb's ears do grow colorful flowers but are more popular for their foliage. They stand 12 to 18 inches tall and serve as ground cover plants in sunny areas of zones 4 through 9. They are drought tolerant, deer resistant, and easy to grow.
Radishes (Raphanus sativus)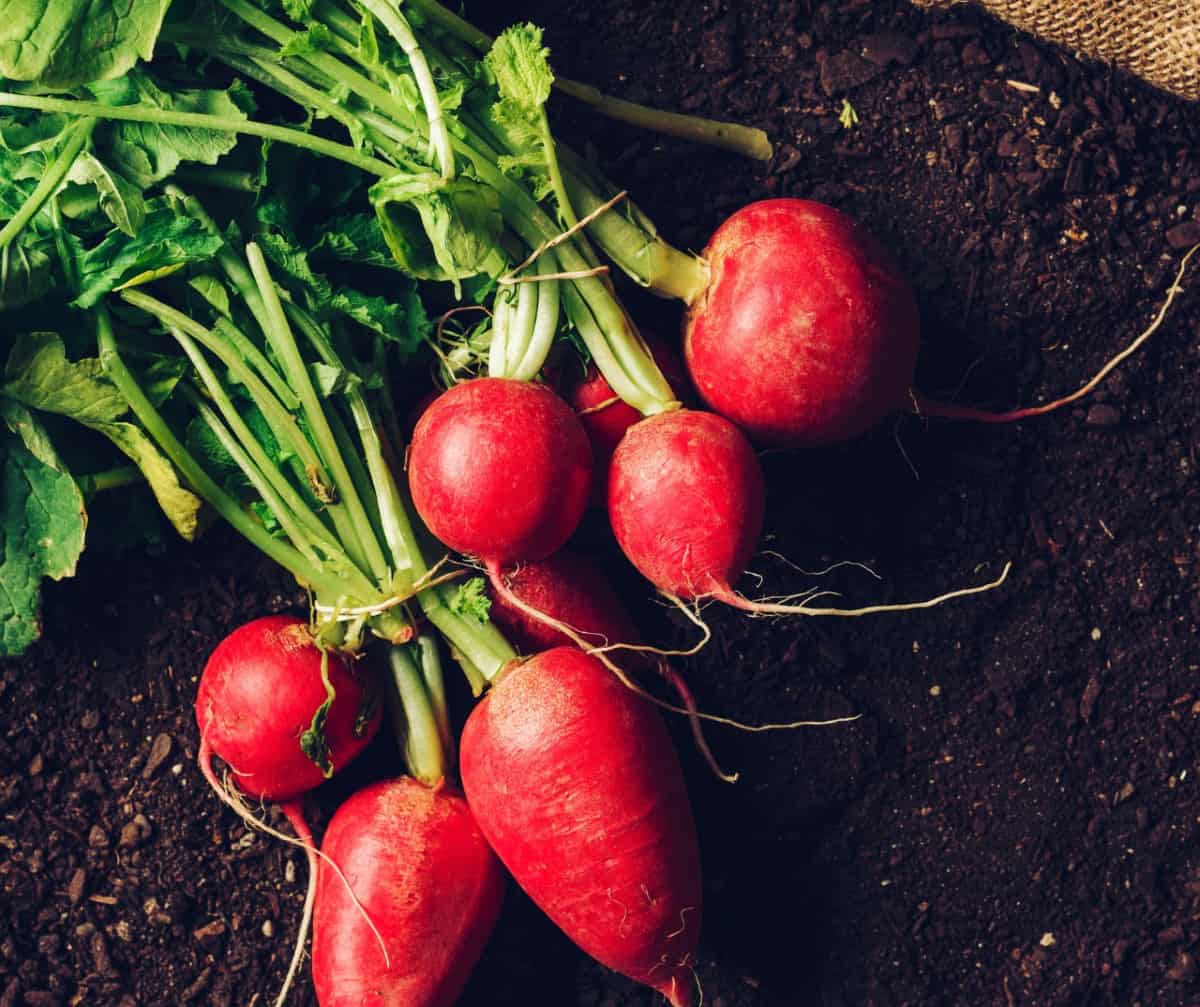 Radishes are an edible root that tastes great in a salad, dip, or fresh from the garden. It is an early spring crop that produces tasty snacks in as little as 30 days, making it an excellent veggie for impatient kids.
These veggies have large seeds that are easy to grow for small hands. They grow in many varieties, and the small, globe-shaped types are one-inch in diameter. These annuals grow best in part to full sun and thrive in a garden setting or container.
Radishes are some of the best vegetables to grow indoors for adults or kids. Give the radishes enough light and water and they are happy.
Pumpkins (Cucurbita) – Easy Growing Plants for Halloween Jack-O-Lanterns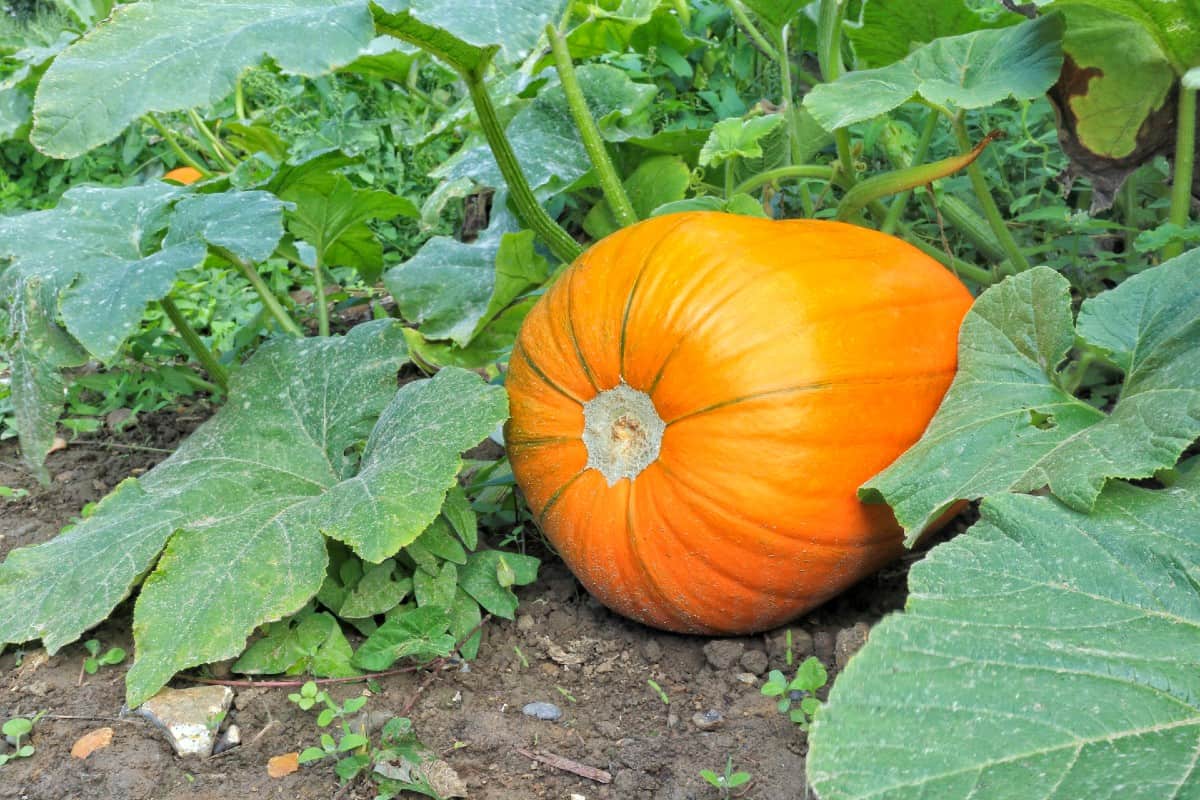 There is no need to take your kids to the local pumpkin patch this fall if they grow pumpkins of their own. Pumpkins grow in many sizes, from miniature gourds that fit a child's hand to 100-pounders.
Planting gourds like pumpkins is easy. Plant pumpkin seeds and give them plenty of space to grow. They are sun-lovers that are low maintenance and grow a yellow flower in the summer, slowly turning into a pumpkin by fall.
Growing birdhouse gourds is also a fun project. Help children nurture and harvest the plants and create birdhouses for even more enjoyment.
Snapdragon (Antirrhinum)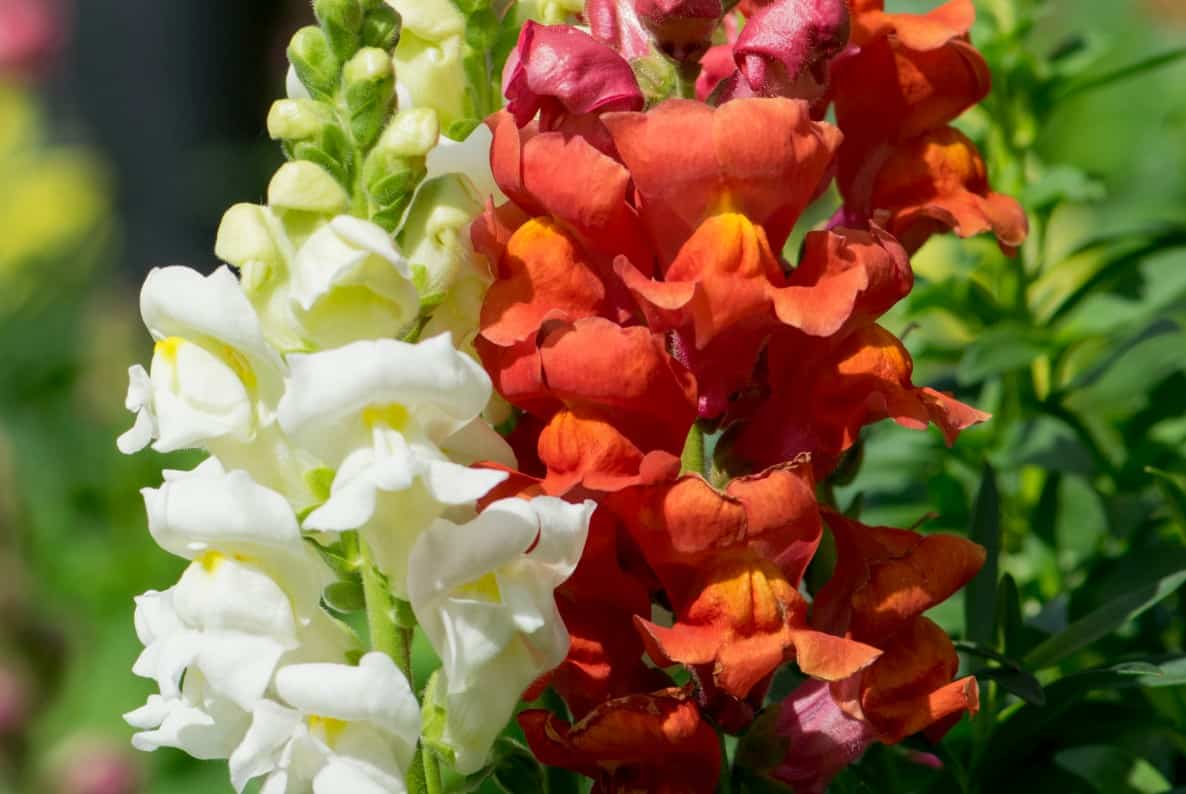 Snapdragons are a fun plant that grows small, cupped flowers up the base of their stem. The flowers resemble a dragon head with a snapping mouth in the imagination of a child and bloom in happy colors of white, red, yellow, pink, and purple all summer long.
They are an annual that grows as a tender perennial in zones 7 through 10 and like growing beneath a sunny sky. The flowers grow upright and reach 6 to 48 inches tall, depending on the type.
Sugar Snap Peas (Pisum sativum var. saccharatum) – Edible Plant that is Easy to Grow from Seed
It's easy to grow snap peas from seed and have a ten-day germination period, so kids don't have to wait long before seeing the seedlings emerge. These veggies are a cold-weather plant, giving your little gardener a head start in the season.
These peas are crisp and tasty right off the vine and grow best in part to full sun. They have an easy growing nature and grow well in both containers or a veggie garden.
Milkweed (Asclepias)
If you have a child intrigued by butterflies, consider having them plant milkweed in their garden. These plants are a favorite with monarchs and have seed-bearing pods of fluffy cotton that kids can't resist chasing on the breeze.
Milkweed plants are easy perennials that bloom all summer and thrive in USDA hardiness zones 3 through 9. They require full sun and produce purple, pink, orange, green, and white flowers. They are low maintenance and grow an average of 3 feet tall.
Venus Flytrap (Dionaea muscipula) – Fun Bug-Eating Houseplant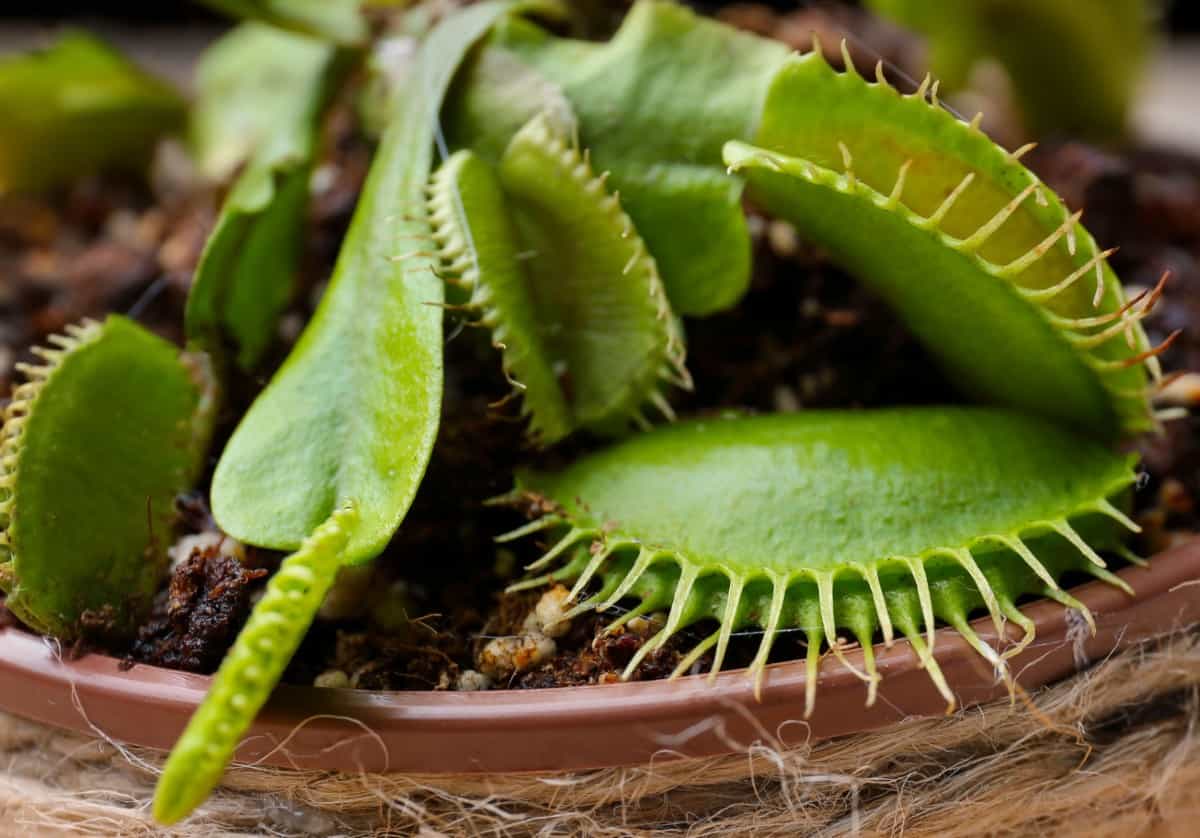 Kids are fascinated by the Venus flytrap. This exotic plant has two lip-like lobes that snap shut when a fly or other insect lands on them, trapping the bug inside while it dines. After the meal is complete in about four to ten days, the trap reopens.
This carnivorous plant grows 6 to 12 inches tall and 6 to 9 inches wide. It prefers part to full sun, similar to a succulent, and is easy to grow as a houseplant, but requires more watering than traditional plants.
Elephant Ears (Colocasia)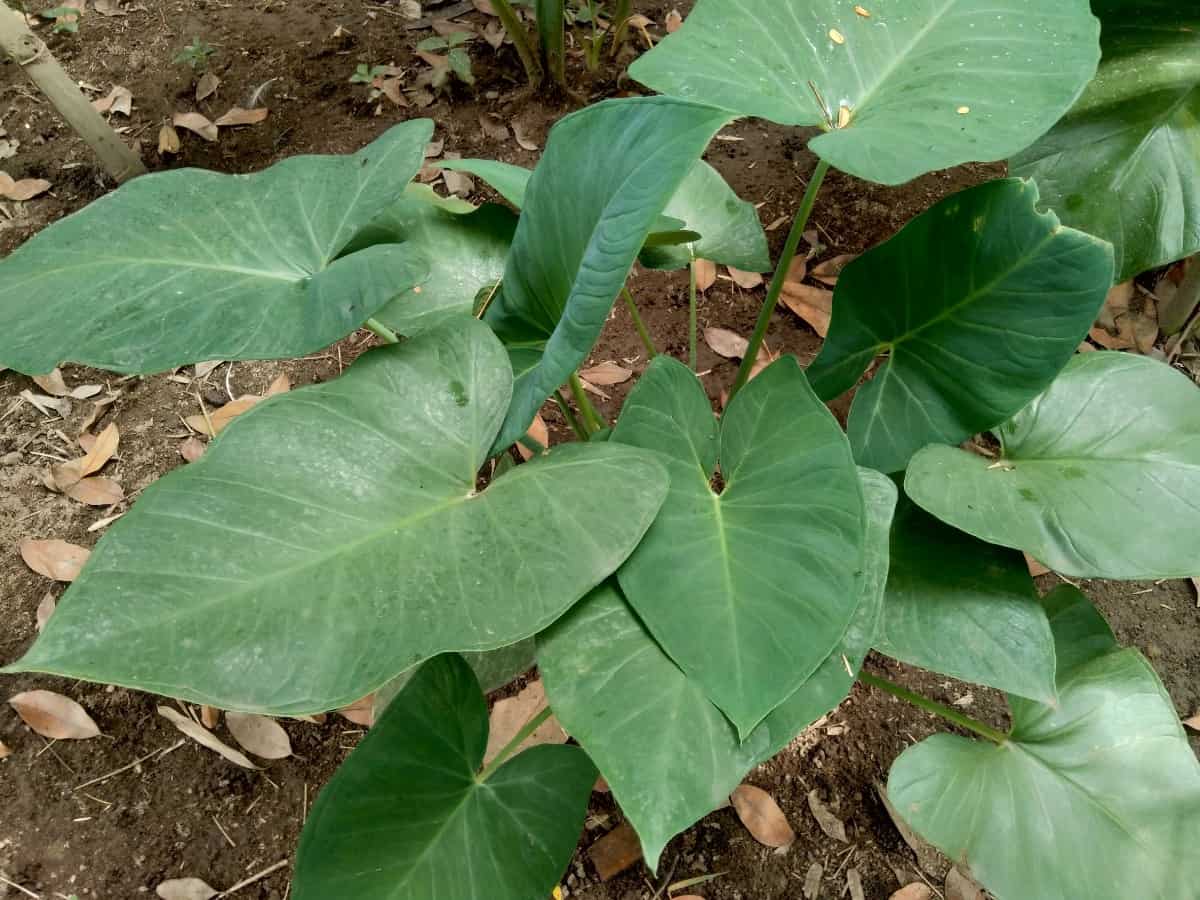 These plants captivate a child's imagination with their large, bright green leaves that resemble elephant ears. They have a bold vein pattern and a tropical appearance that is fun in any garden.
These 2 to 3 feet tall plants are easy to grow outdoors in hardiness zones 10 and 11 and indoors as a houseplant. Elephant ears are a low maintenance plant that requires part sun and moderately moist soil.
Catnip (Nepeta cataria) – Fun Plants for Kids and Cats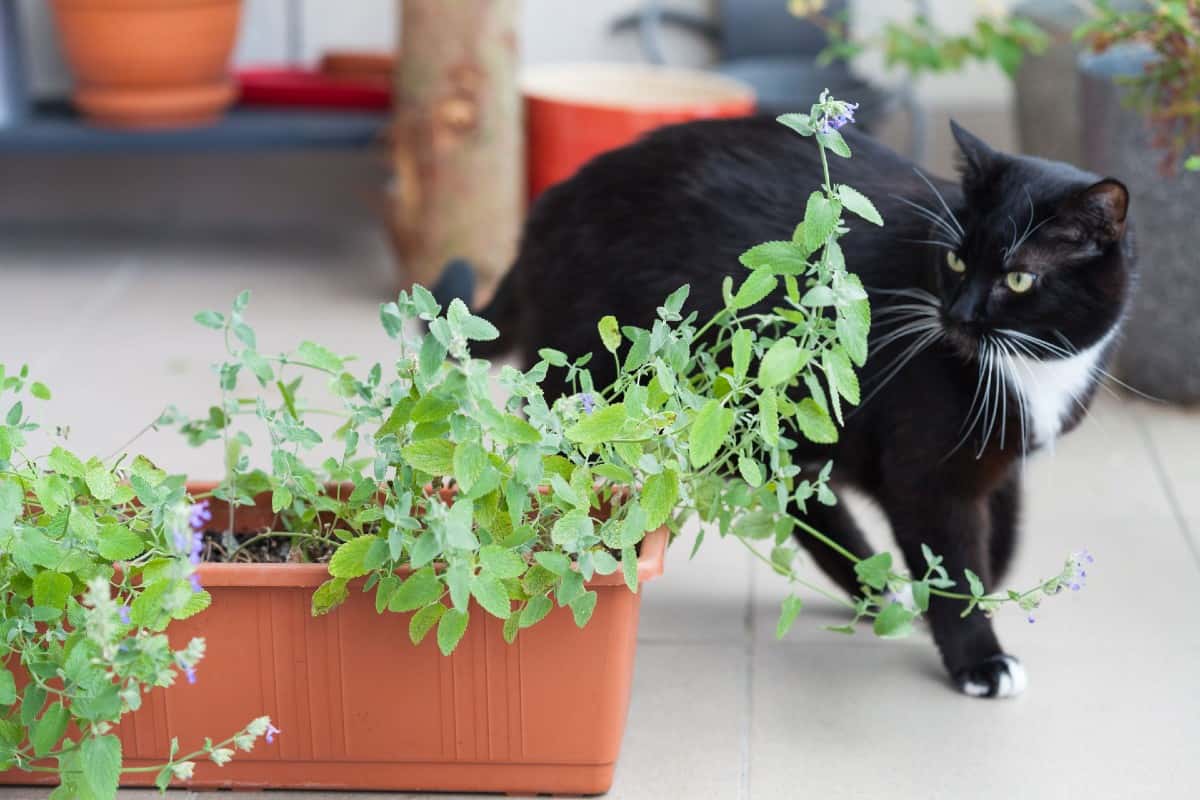 If your child has a pet cat, then catnip is the best plant for them to grow. This plant has a scent that appeals to the senses, and children find it humorous that cats like it more than people. It is an herb and is simple to grow from seed or new plants.
Catnip is an easy-going plant that reaches a height of 3 feet tall. It is not picky about the growing conditions and loves both partial shade or full sun. This herbal plant is hardy in zones 3 through 9.
Zinnias (Zinnia Elegans)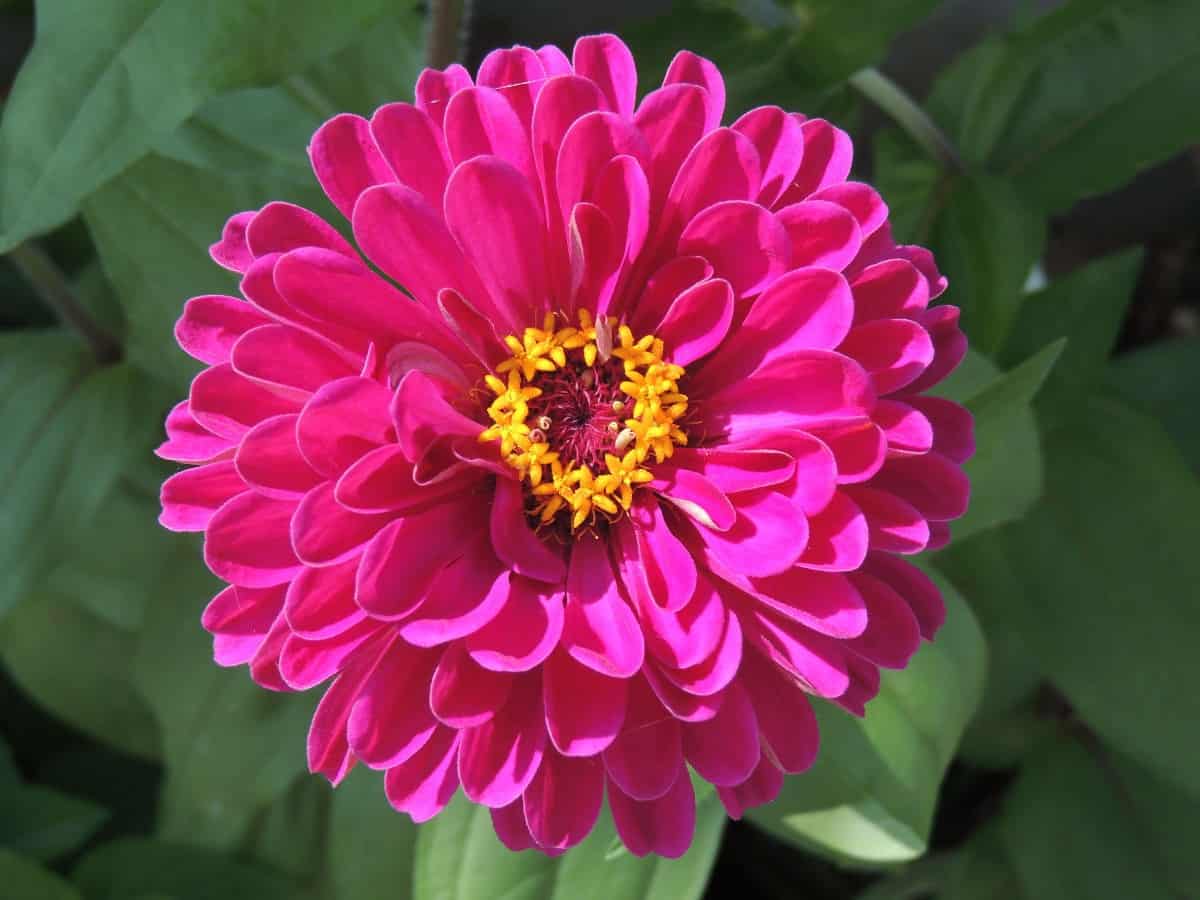 Zinnias add a burst of bright colors to a garden or patio and are a thrill for flower-loving children. The bold colors of the rounded flowers range from hot pink, orange, and yellow, to purple, red, and white, and they bloom continuously from summer through fall.
These low maintenance flowers attract birds to the garden, and deer resist eating them. They are an annual that enjoys full sun and make an excellent cut flower for teaching your child safe pruning.
Silver Dollar Plant (Lunaria annua) – Fascinating Plants with Unusual Pods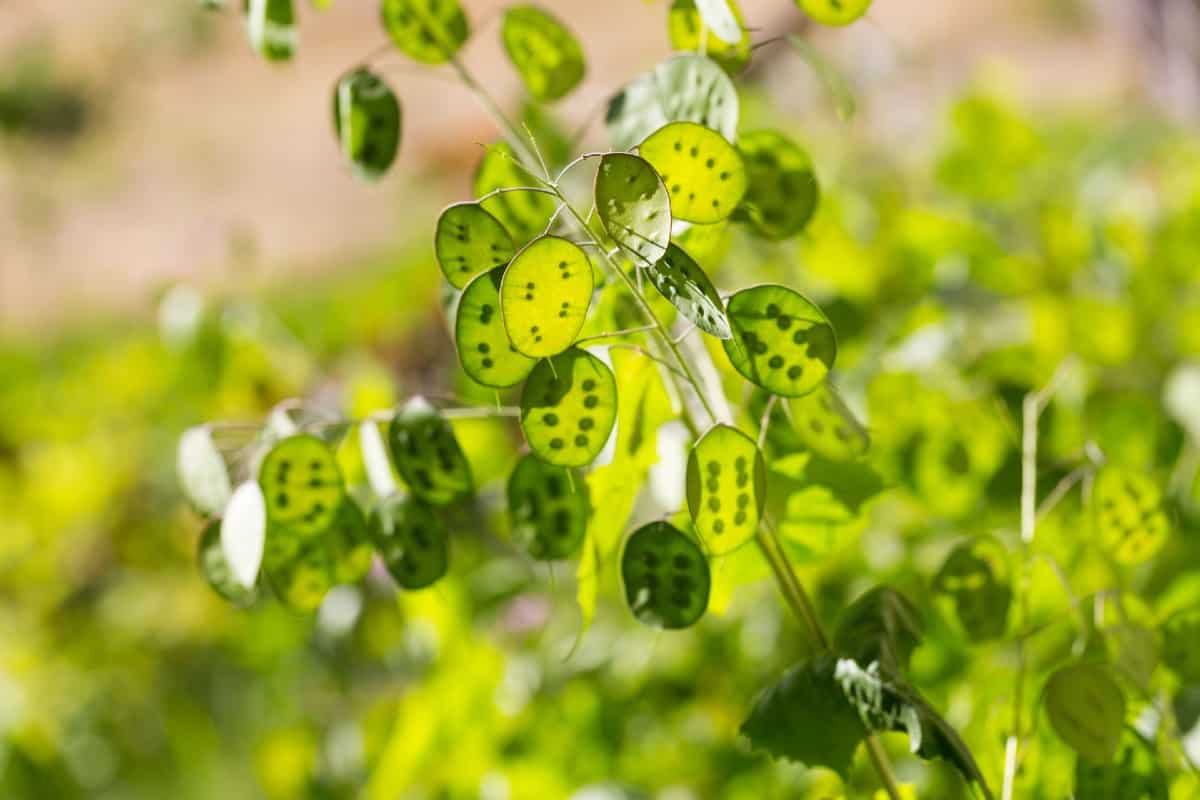 This biennial plant produces unusual pods that resemble silver dollars. These plants are easy to grow, and kids are fascinated by the ornamental shapes. They have heart-shaped foliage and purple flowers that give way to shiny, coin-shaped pods.
Silver dollar plants are invasive but easy to control by removing the pods to prevent seed dropping. They are not fussy growers and grow 2 to 3 feet in height. They prefer partial sun, and the pods are ideal for dry flower arrangements.
Growing plants is reasonably basic at face value, but many surprising benefits come from teaching a child how to nurture nature.
They gain knowledge of a healthy ecosystem, get to enjoy watching their handiwork mature and flourish, and even reap a tasty harvest at the end of the growing season.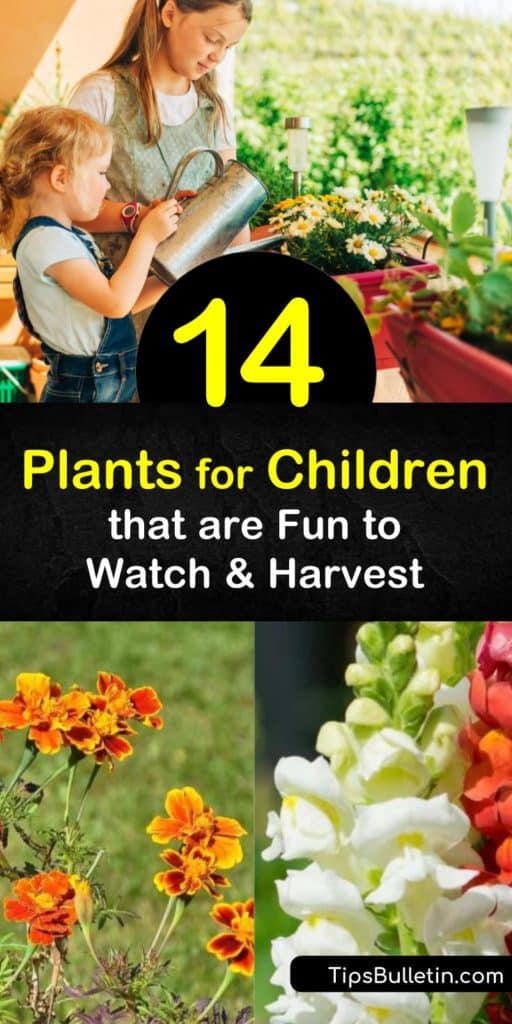 There is a wide variety of easy to grow plants for children that are not only rewarding but fun to grow, so why not share our children-friendly plant guide with your family and friends on Facebook and Pinterest?