Moths are notorious for fluttering aimlessly around your front door light during the summer months. Their dusty wings flutter while deciding if they want to be near or away from the lightbulb. While watching their indecisive behavior, have you ever wondered to yourself, what do moths eat?
While there are some exceptions, moths have a general diet that consists of liquids from flower nectar, sap, and rotting fruit. Some adult moths do not even have much of an appetite and spend time getting their fluids from mud and wet sand.
It's a common misconception that moths are voracious eaters of clothing. The fact is, they do most of their destruction while in the larvae stage. Clothes moth larvae eat just about any form of natural and animal fibers. Moth caterpillars enjoy munching on the flowers and leaves of plants.
What Do Moths Like to Eat and What Eats Moths?
There are so many questions when it comes to moths. How long do moths live? Unfortunately for the moth, they have a relatively short life cycle.
Rarely seen during the day, these nocturnal pollinators spend their time fluttering about in the evenings and are usually spotted resting on the side of your home near a light source. If you have a moth problem in and around your home, you're probably wondering, what kills moths?
While they have plenty of natural predators, this is not going to stop them from entering your home. There are a few natural solutions that are quite effective at eliminating a moth and larvae infestation.
What are Moths Exactly?
We commonly look upon moths as the underdog to the grand and colorful butterfly. While they both flutter gracefully on the wing, they have many characteristics that separate them. So, what is a moth, and how does it differ from a butterfly?
The Common Moth
The polyphyletic group of insects, known as the moth, includes all members of the order Lepidoptera, and there are roughly 160,000 species of moths. The fungus moth is from the family Tineidae, which feeds on fungus rather than plants, and the webbing clothes moth are two common North American moths.
Moths are slightly different than butterflies for a few reasons. Moths rest with their wings open while the butterfly sleeps with theirs closed. Moths have short and feathery antennae while the butterfly's are long and thin. A butterfly feeds during the day and moths are nocturnal, for the most part.
You may be wondering, what do moths do anyhow? They are beneficial to the environment in several ways. They pollinate flowers and help seed production. Unfortunately for the moths, they are also food for many species of insects, frogs, birds, bats, and other wildlife.
How Long Do Moths Live?
What causes moths in the house and how long do moths live are common questions homeowners ask. While there are many reasons, the main culprit for clothing moths in the home is outdoor lighting.
They are drawn to the light source and then trapped indoors when you shut the door. There are four stages of growth a moth may experience while trapped within your home.
A Moth's Life-Span
Moths are diverse in the areas where they thrive. They live everywhere from marshlands and gardens to sand dunes and mountain tops, so it's hard to believe that they have such a short life cycle.
The first life cycle a moth goes through is the embryonic stage when the embryo develops inside the eggs of the female moth. The female then looks for a place to lay eggs, usually in an area that provides food for the larvae, such as in plant matter or clothing fiber. A female can lay up to 50 eggs in two weeks, and shortly afterward, she dies.
The second cycle in a moth's development is the larvae or caterpillar stage. The first thing they eat upon breaking out of their shell is the shell itself, which contains protein and nutrients. During this period, a caterpillar consumes over 2,700 times its body weight.
The third cycle is called the pupal stage. During this stage, pupae transform from a caterpillar into an adult moth while inside a cocoon. It is during this time that the larvae use the energy from all the food it ate to make its final transformation.
Finally, the moth makes its way to the final cycle called the imaginal stage. The adult moths emerge from their cocoons.
The moth is unable to fly for several hours after the complicated process. Depending on the species, if the moth is lucky and does not get eaten by a hungry predator, they live anywhere from a few weeks to several months.
What Do Moths Eat?
While it is quite apparent what spiders, ants, and other insects eat, it's kind of hard to tell what moths enjoy eating. You see them flutter here and flutter there, and that's about it. Here is what attracts moths to feed.
A Moth's Appetite
There are many types of moths, and most species drink nectar from flowers that bloom at night. In adulthood, these nocturnal insects develop a tube-like apparatus called a proboscis, which enables them to pump the fluid from flower nectar, tree sap, animal dung, keratin, and droppings as a food source.
Do moths eat clothes? There are a few varieties you may discover munching on the natural fibers found in woolen clothing and soft cashmere. The Tineola bisselliella, or clothes moths, and the Tinea pellionella, or casemaking clothes moth, are two such species.
Adult moths lack the mouthparts needed to eat your clothing lint. Instead, it is the voracious appetite of the moth larvae doing the feeding.
What Kills Moths Naturally?
There are a few ways to kill moths instantly in the closet before they have a chance to lay their eggs in your clothing. The same thing that kills flying insects and mice is what kills moths naturally to keep them from causing havoc in your closet.
If you discover evidence that moths are spending time in your closet, dab a small amount of fish oil onto a sheet of flypaper and hang it in the closet in an area that isn't in your way. Another alternative is to apply some fish oil to a sticky mouse trap and secure it to a clothes hanger with clothespins.
How to Make a Moth Repellent Spray
Make a homemade moth repellent spray to keep moths out of your clothing closet, or anywhere in your home. The spray uses the power of essential oils to not only chase the moths away but make your clothing smell good as well. Essential oils are also a natural remedy for silverfish.
Pour the water into a glass bottle sprayer and add ten drops each of the lavender and lemon essential oils. Shake the bottle vigorously to mix and label for future use.
Lightly mist the spray onto your clothing once a week to keep moths out of your closet. Instead of using a spray solution, sprinkle a few drops of the essential oils directly on your clothing and closet carpeting.
You can also use this spray to eliminate other types of bugs you may find in the house. Spritz the soil around your plants for spider mite control and occasionally spray the pantry to keep out ants.
It's also a great way to prevent spiders from hiding in the corners of any room indoors or to keep them off the patio or deck. If you have a problem with sink gnats, they require a little different attention, but there are home remedies that can take care of them, too.
How to Prevent Moths in the House
The best step in moth pest control is to perform tasks that make your closet undesirable to moths. Keeping a clean closet, using proper storage, and utilizing natural repellents go a long way in preventing a moth infestation.
Moth Prevention
Wash your clothing regularly and keep your closet tidy with routine vacuuming. While moths are still attracted to clothing such as wool, they are even more attracted to clothing stained with food. Moths enjoy humid areas, so keep your closet well ventilated and cool.
If you have particular items of clothing that you wear seasonally, store them in airtight plastic bags or storage bins after washing and drying them. Freshen your clothing regularly by hanging them outside in the sunshine and fresh air.
Moths cannot stand cedar, so using cedar hangers for hanging your wool clothing and cedar scented decor in the closet space keeps moths at bay. For extreme moth infestations, use mothballs to eliminate them. Take caution, however, because mothballs have a strong scent and are toxic to humans.
Instead of using mothballs, use natural repellents to deter moths. Hang sachets filled with dried cloves, lavender, rosemary, bay leaves, and thyme in the closet.
The moth is a curious insect that has always taken a back seat to the majestic butterfly. As with any insect, they play an essential role in nature.
Unfortunately, a moth infestation in your home is a problem. The good news is that it's easy to remove this household pest before it becomes a problem by following a few simple steps.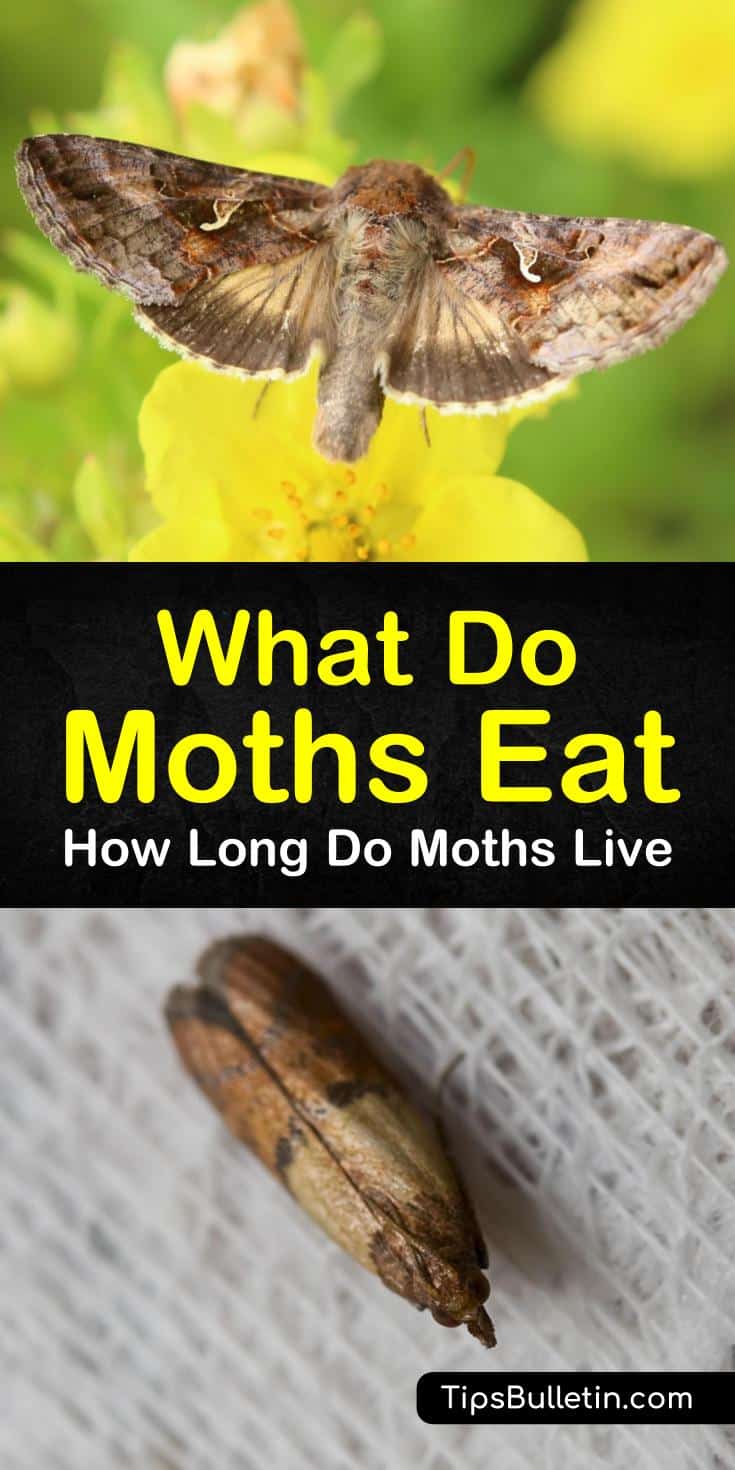 We are happy that we could answer your question on what do moths eat, and we'd love it if you'd share our moth information with your friends and family on Facebook and Pinterest.