Whether dry, sandy soil or tight clay soils, all home gardeners struggle with inhospitable conditions. That's where cotton burr compost comes in, but what is cotton burr compost? This fantastic organic matter is next-level in the soil amendment department, and we've got the best tips and tricks to use it.
Composting is all about giving your garden soil the tools required to thrive. Compost isn't a fertilizer but more of an organic stimulant for your soil and the microorganisms that live in it. Compost allows you to reintroduce valuable nutritional components into your soil after a long growing season and invites beneficial organisms to help feed your plants.
A bit of strategizing goes a long way in the gardening world. Integrating composted cotton burr is a step toward the best garden you've ever grown. Learn where to get it, how to use it, and what to expect this growing season. Lush, rich garden greens are only an application away with cotton burr compost.
Discover How to Use Cotton Burr Compost
Did you know that cotton is compostable? If you're eager to avoid chemical fertilizers or are tired of peat moss, composting cardboard and other natural materials is a great way to improve soil health. Encourage beneficial organisms to turn the compost into fuel for your plants.
Cotton burr is an excellent compost booster; add it to compost to speed up the process and add beneficial nutrients.
What is Cotton Burr Compost?
Cotton is one of the world's biggest agricultural crops, and that production level comes with a lot of organic waste. What is cotton burr compost, exactly? Cotton burr is the byproduct of cotton production.
Cotton farmers separate the leaves, hulls, and seeds from the cotton fiber through ginning. The cotton plant fiber goes to the textile industry, and the rest becomes material for cotton burr composting.
Many home gardeners claim cotton burr compost is the gold standard for its excellent moisture retention characteristics and unparalleled success as a soil amendment. This incredible compost helps introduce beneficial soil organisms and vital organic matter, improving your soil condition over time.
Cotton plants are known to be heavy-feeding, and the compost retains those nutrient-dense and nitrogen-rich characteristics. Composting cotton burr is a fantastic way to recycle that nitrogen back into the soil and keep organic waste out of landfills.
How to Use Cotton Burr Compost
Farmers and gardeners know how to use cotton burr compost for the best results. Cotton and shredded paper are dry materials that work well to amend existing soil. Sandy soils, dense soil, or heavy clay soil types are all excellent candidates for regular cotton burr compost.
Many arborists buy cotton burr compost when planting a new tree or shrubs to help with moisture retention. Composted cotton burr is very coarse and helps with aeration and water drainage around the delicate root ball. Cotton burr is also a magnificent slow-release mulch.
Mixing Cotton Burr Compost
Unless you have access to cotton burr, it's not possible to make your own compost. However, many home gardeners highly recommend Natures Blend and Back to Nature cotton burr compost if you're keen to get started.
Knowing how to use cotton burr compost before application is essential to avoid burning your plants with acidified compost or too many nutrients.
Mix cotton burr compost with some organic material like mushroom compost or your kitchen compost pile. Measure your garden space, and calculate how much organic compost and natural product you need to topdress the area.
Spread the compost out to allow even nutrient penetration into the soil. For heavy clay soil, use 2 to 3 inches on the topsoil; for sandy soils, amend with about 3.5 inches. Be aware that, over time, composted cotton burr neutralizes the soil pH. Keep that in mind for plants that thrive in extreme growing conditions.
Can You Use Cotton Burr Compost for Lawns?
Bare patches on the lawn are just begging for weed seeds to move in and take over. Consider cotton burr compost for lawns suffering from dry, dead growth.
Nitrogen is responsible for lush green top growth. Fortunately, cotton burr contains a decent dose and works well when applied at a rate of ¼ inch per month. Try cotton burr compost for lawns that need some TLC.
What is cotton burr compost, and why does it work so well? We hope you enjoyed discovering this unique soil amendment and feel inspired to try it out in your home garden. Healthy soil helps deter harmful organisms, creates a continuous cycle of nutrients, and keeps your plants growing strong and tall.
Don't forget about the amazing amendment abilities of cotton burr, either. Say goodbye to sandy soils and inhospitable hard clay. Cotton burr compost is the soil health hero you didn't know you needed.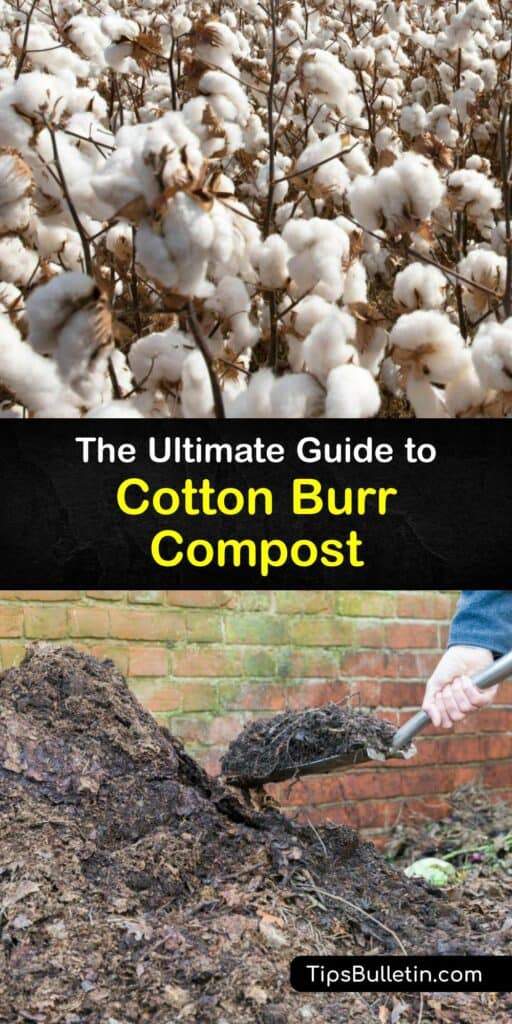 What is cotton burr compost, and how can it help your garden? If you loved learning about cotton burr compost, share this article with a friend on Pinterest or Facebook who loves organic gardening solutions.