It's tempting to grow all types of plants in a sunny yard, but not all are sun-lovers. In fact, many of them wilt and wither if they receive too much sun in one day, and eventually die. Luckily there is a wide selection of amazing plants for full sun that thrive in the hottest conditions.
The sun is a powerful and essential aspect of growing plants. Its rays give plants the energy needed for photosynthesis, enabling them to convert energy into food. However, some absorb more energy from the sun than is tolerable, leading to the plant's destruction, and are not suitable for growing in sunny areas. Having a yard full of sunshine is both a blessing and a curse for gardeners.
While many plants and flowers flourish in the hot summer sun, some cringe from it. Therefore, it's vital to know your flowers before planting their feet in a sunny spot of a rock garden or planter.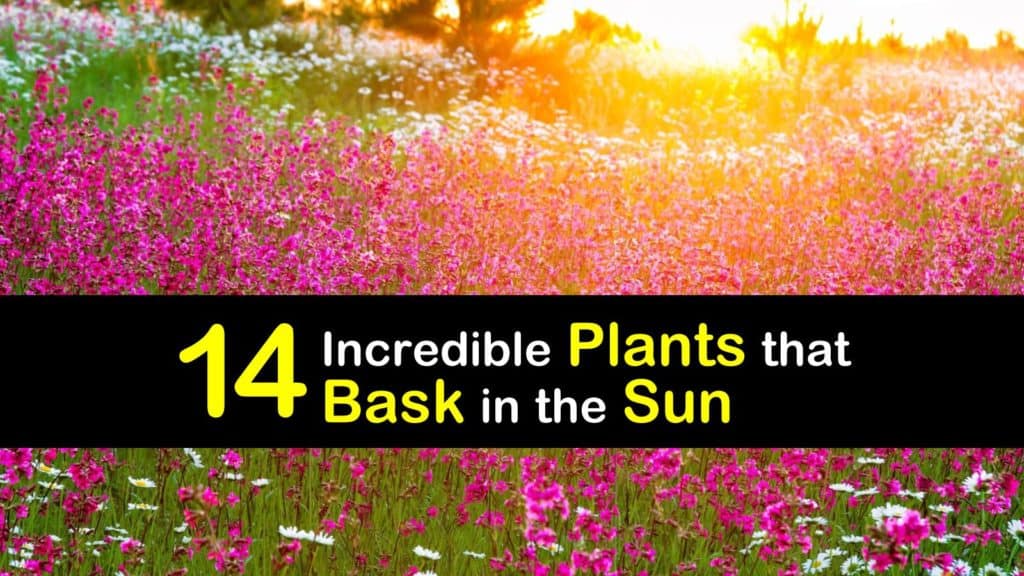 Create a Sunshine Garden of Sun Loving Plants
A sunny patch of bright flowers and green foliage is a stunning sight to see, but this type of garden is doomed to fail if it's full of shade-loving plants. Understanding your plant's needs, growth habits, and tolerances are vital to growing a beautiful landscape.
Which Plants Grow Best in Full Sun?
While all plants desire sun to some extent, some crave the sunshine more than others. Full sun perennials, such as black-eyed Susan, coneflowers, and peonies, are great options for cut flowers.
Ground cover plants like creeping thyme and sedum and are a good choice for a low-growing garden. Many annuals are sun tolerant plants.
Petunias, zinnias, and marigolds are easy-growing plants that produce vibrant blue, orange, pink, yellow, and white flowers throughout the season.
You can even find some ferns that like sun, as well as grasses, shrubs, and trees to add variety to your yard all year.
Do Full Sun Plants Grow Back Every Year?
Not all plants grow back each year, but you could add some full sun evergreen shrubs to your landscape for year-round color. Annuals put most of their energy into developing flowers from spring or early summer through fall and die away at the end of the growing season, never to return.
On the other hand, perennials use their energy to promote healthy roots to survive the winter. These plants emerge year after year, usually with more growth than the year before.
What Should I Consider when Choosing Sunny Plants?
There are a few questions to ask yourself when planning a garden. Do you desire a space full of fragrant flowers, or are you looking to enjoy varying foliage shades?
Some plants grow tall, with colorful cut flowers that attract hummingbirds and pollinators, while others are famous for foliage with variegated leaves of gold and green. Are you a low maintenance gardener who prefers the easiest growing plants?
If so, look for drought and heat-tolerant plants that are disease and deer resistant, and grow in all soil types. These are some of the easiest varieties to grow and require very little care from you.
Are these Plants Hard to Maintain?
Most plants are relatively simple to grow, depending on the type. Annuals require planting each spring, while perennials take care of themselves for the most part. Some flowering plants need deadheading to encourage floral display and healthy growth.
It's essential to spread a good layer of mulch around plants to prevent them from drying out under the hot sun. The mulch also stops weeds from taking over the garden. Water them regularly and remove damaged or dead stems and leaves as needed.
Sedum (Hylotelephium spectabile)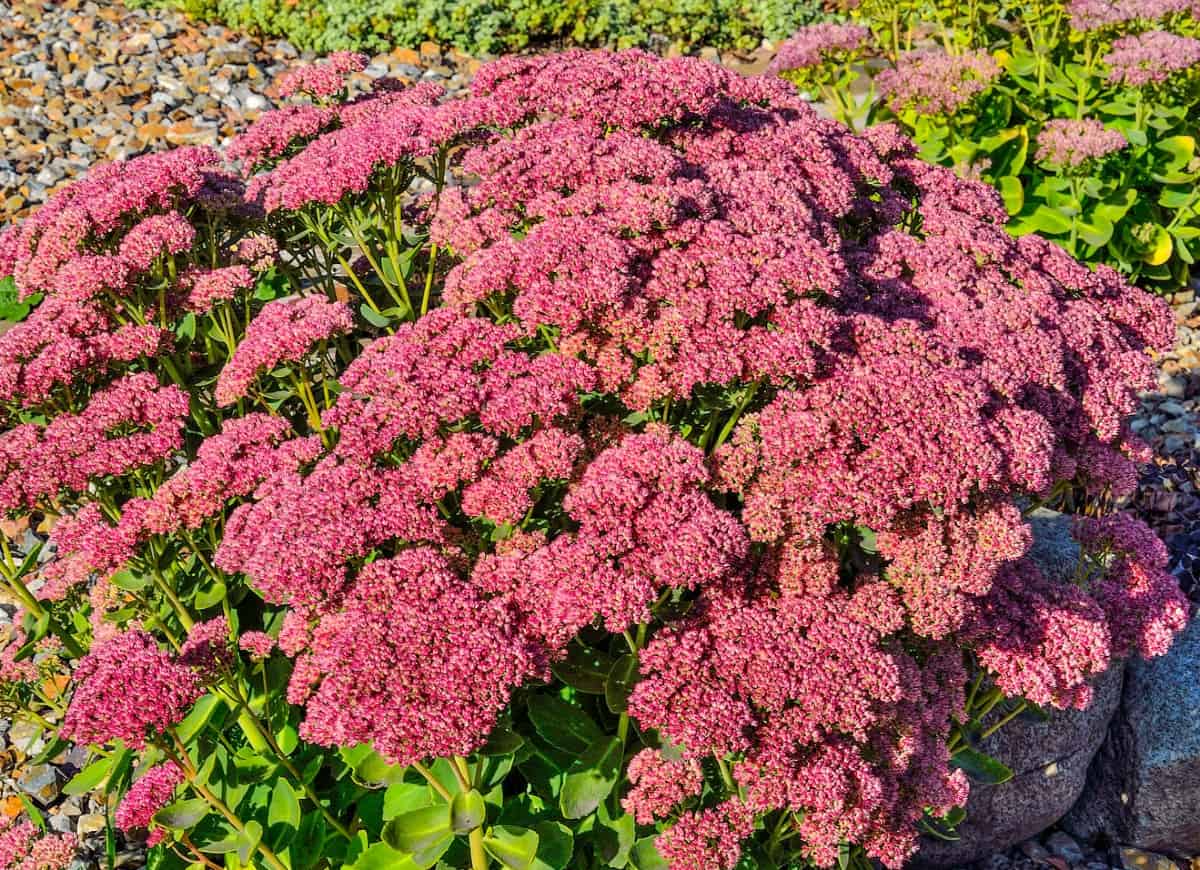 Sedum is a group of plants often called stonecrops that grow 2 inches to 3 feet tall. While they all flower, they are famous for their foliage and look stunning in a sunny rock garden. They are non-invasive and simple to propagate.
This ground cover succulent stores moisture in its leaves, making it an excellent plant for hot and arid areas. Sedums tolerate dry and rocky soil, are both annual and perennial, and hardy up to zone 3.
Verbena (Verbena officinalis) – Amazing Plants for Full Sun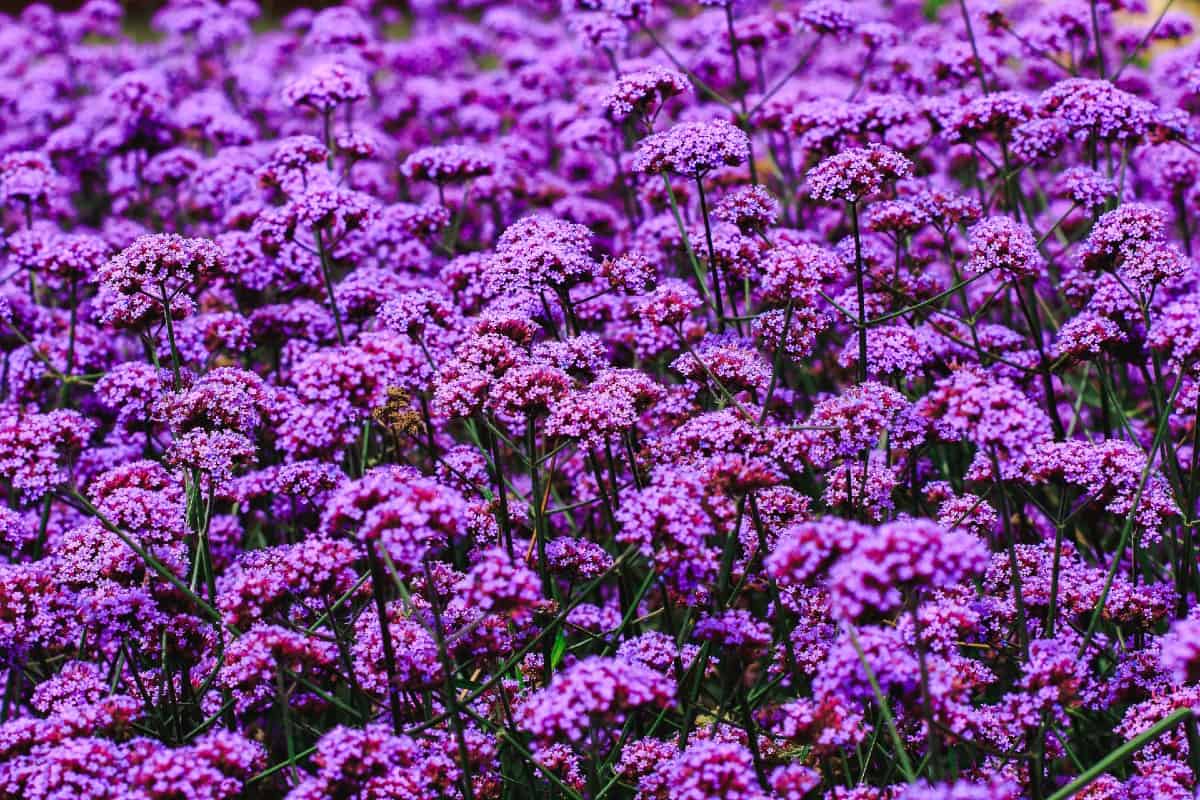 Verbena grows as a perennial and annual, depending on your location. It is a drought tolerant plant that produces white, pink, purple, red, and blue flowers with a cascading growth, ideal for retaining walls and baskets.
This flowering plant grows 6 inches to 3 feet tall and blooms from spring through late summer. Verbena is deer resistant, low maintenance, fairly disease resistant, and requires no deadheading to flourish.
If you live in a cooler climate, trailing verbena is one of the zone 6 plants that does well in the area.
Shasta Daisy (Leucanthemum × superbum)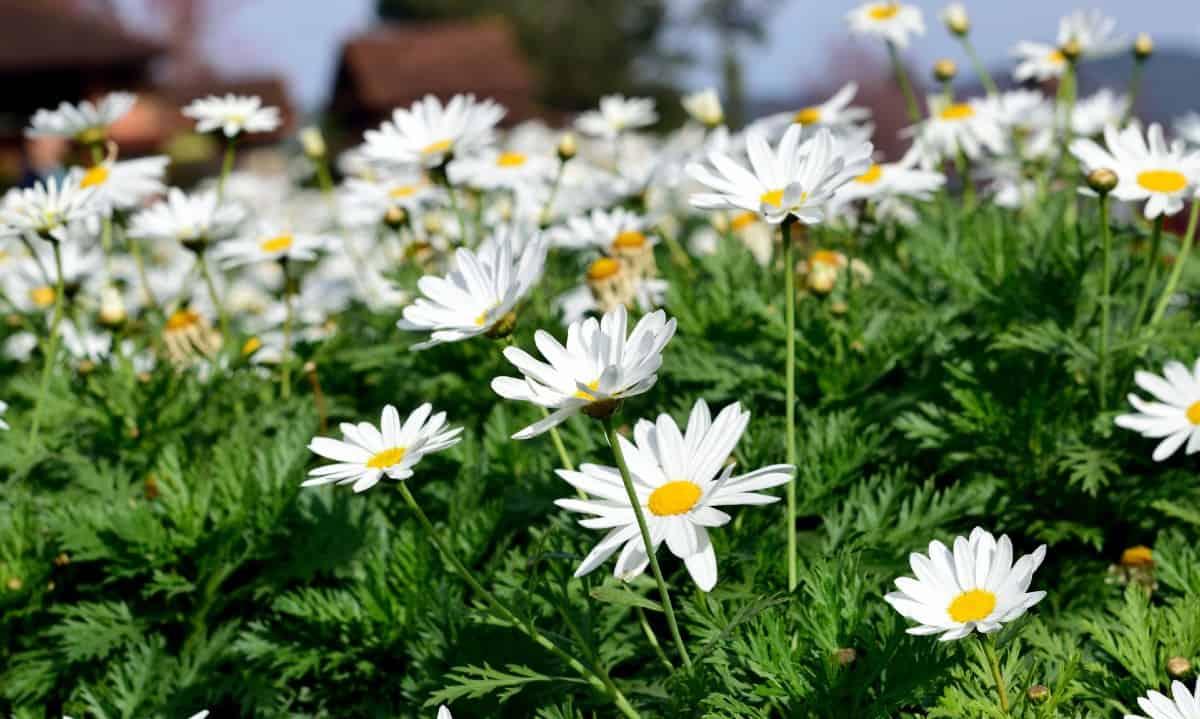 Shasta daisies have dark green foliage with a prominent floral display of white or creamy petaled flowers with yellow centers. These cheerful plants are excellent for long-lasting cut flowers and naturalizing meadows.
They grow in upright clumps with stems reaching 2 to 4 feet tall. They are low maintenance, deer resistant, drought tolerant, and disease-free. The Shasta daisy is a perennial that thrives in USDA hardiness zones 4 through 9.
Lavender (Lavandula) – Fragrant Sun-Loving Plants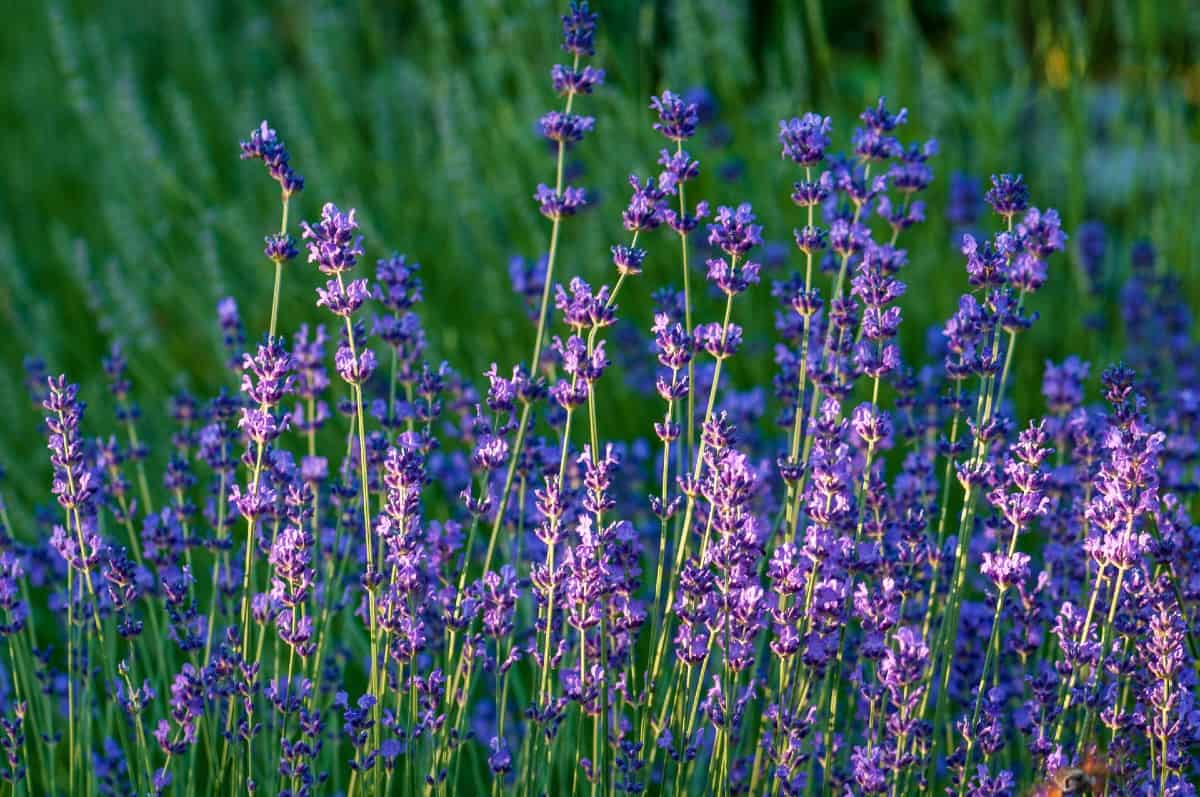 This perennial has purple-toned flowers that grow in upright spikes with attractive gray-green foliage. It has a compact shrub form and fills the air with an aromatic scent that deer avoid.
Lavender is drought tolerant and performs well in hardiness zones 5 through 10. It attracts birds to the area and is the perfect cut flower for containers or a garden setting. This herbal flower grows 1 to 3 feet tall and wide.
Yarrow (Achillea millefolium)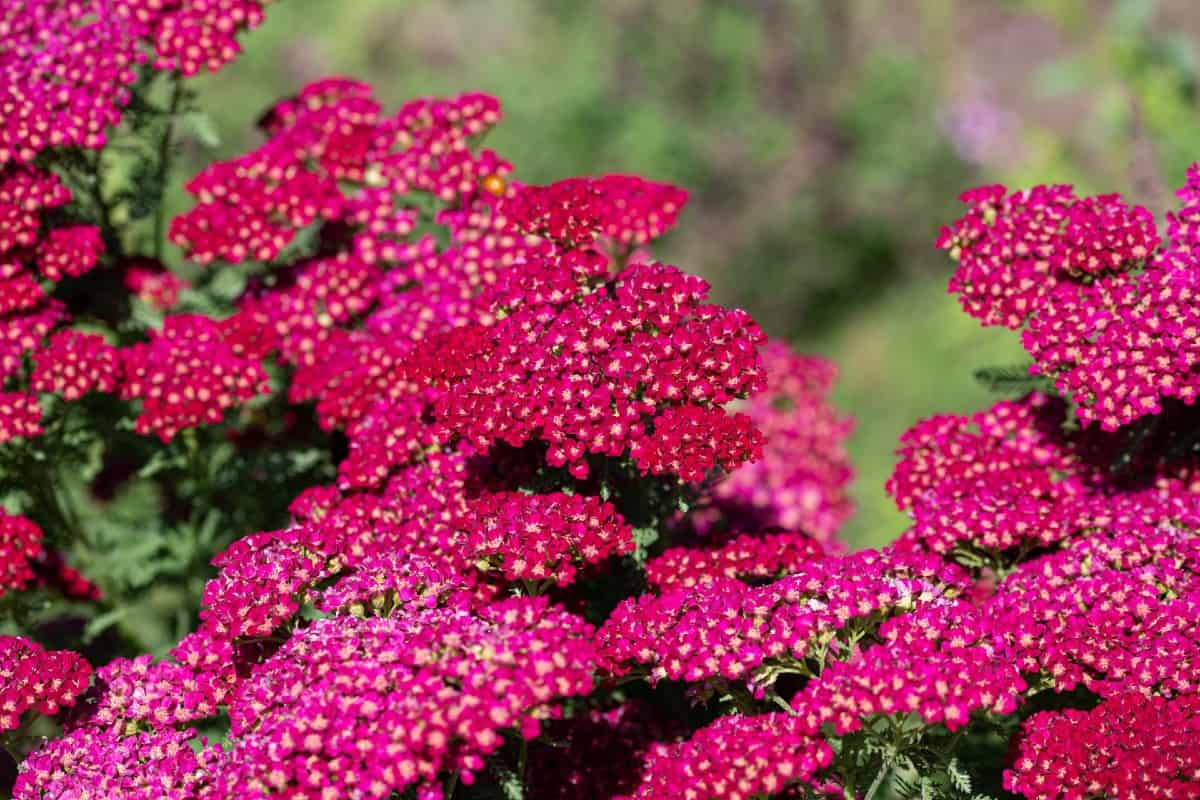 Common yarrow is a perennial plant with white, yellow, orange, red, or pink flowers and fern-like foliage. It is tough and fights off cold, heat, and drought without any problems.
These herbal plants flower from June through September and are hardy in zones 3 through 9. Yarrow is low maintenance, deer resistant, grows 6 inches to 3 feet tall, and looks fabulous in a wildflower garden.
Purple Coneflower (Echinacea purpurea) – Daisy-Like Flowers for Sunny Locations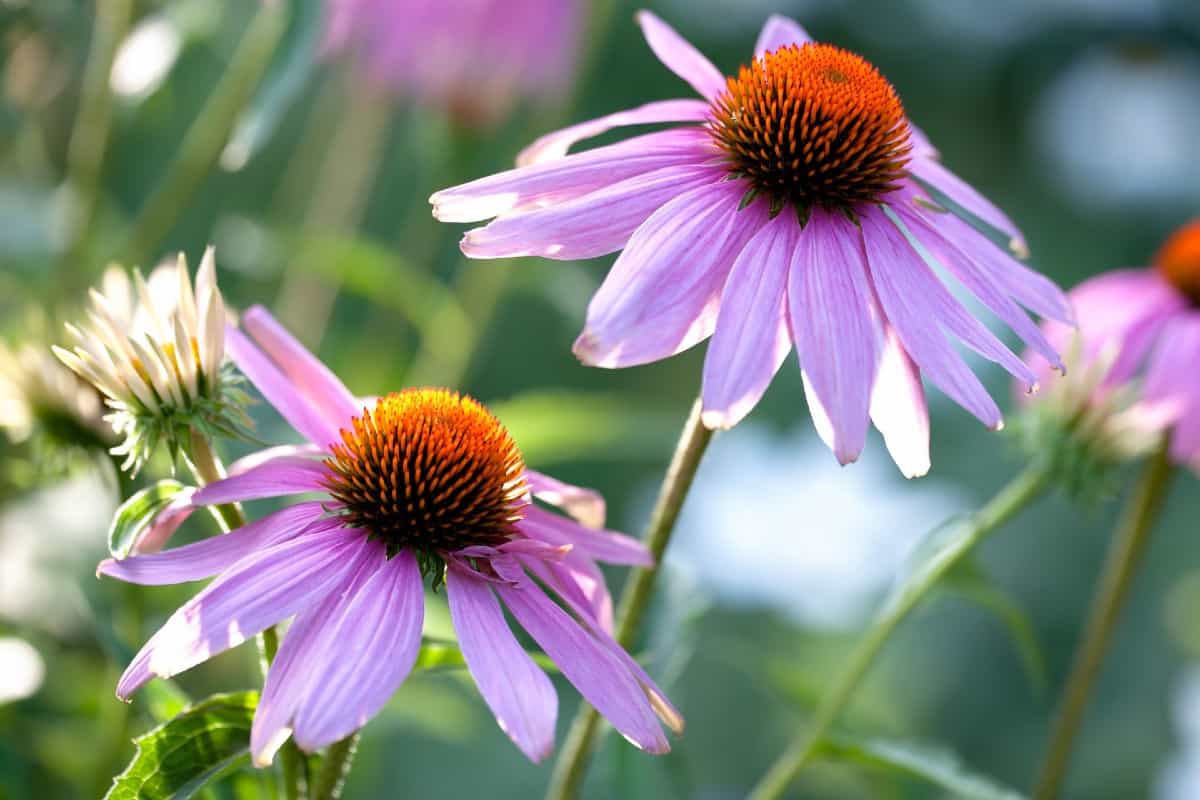 This coneflower is one of the most popular in the echinacea group. It has delicate-looking but hardy purple petals and an orange-brown center rich in nectar, drawing hummingbirds and pollinators to the garden.
Purple cornflowers are long-lasting, drought tolerant, and tough in zones 3 through 9. They are a low maintenance perennial with fragrant cut flowers that grow 1 to 3 feet in height.
Catmint (Nepeta)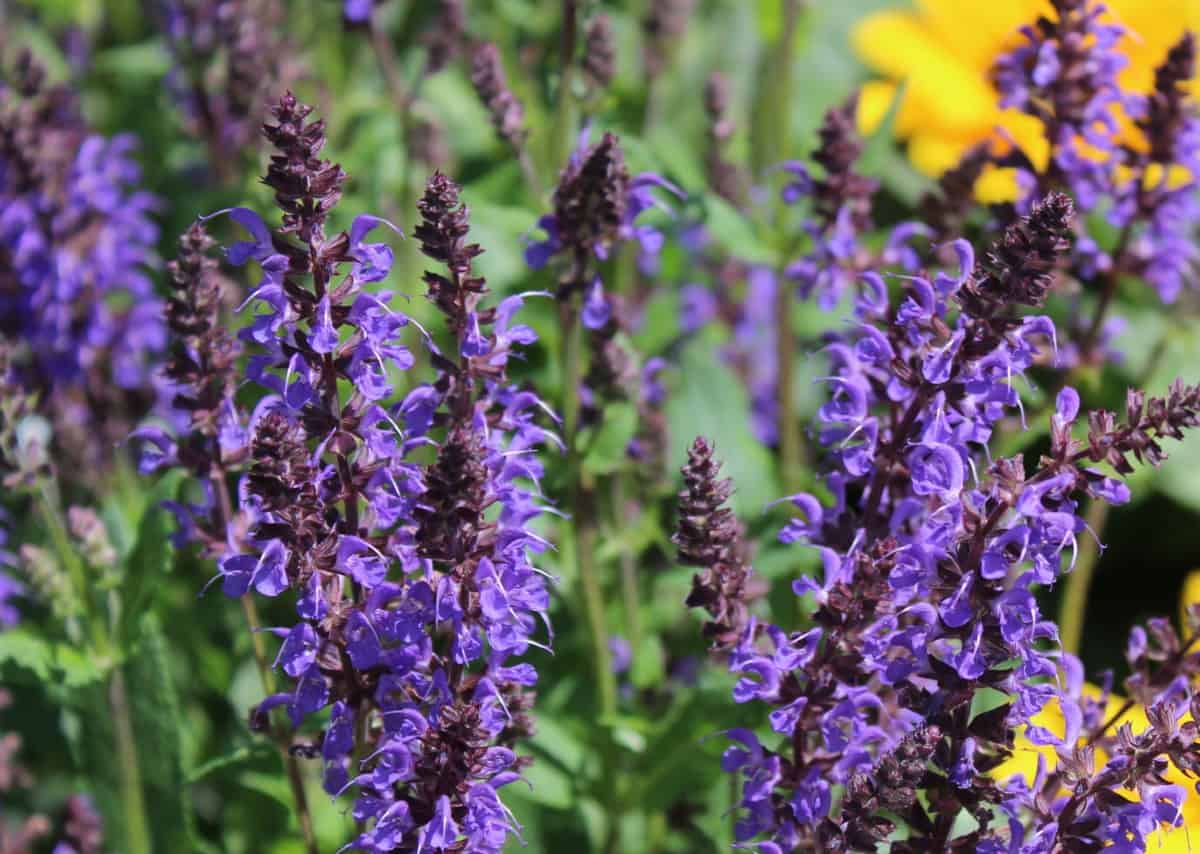 Catmint is from the mint family and is extremely easy to grow. It is a perennial herb with gray-green lacy foliage, topped with spikes of pink, lavender-blue, or white flowers in late spring through summer.
This plant thrives in full sun, but it tolerates partial shade. Catmint is hardy in zones 4 through 8 and has a mature size of 2 feet tall and wide. It prefers well-drained, slightly acidic soil.
Peonies (Paeonia) – Flowering Plant with a Strong Fragrance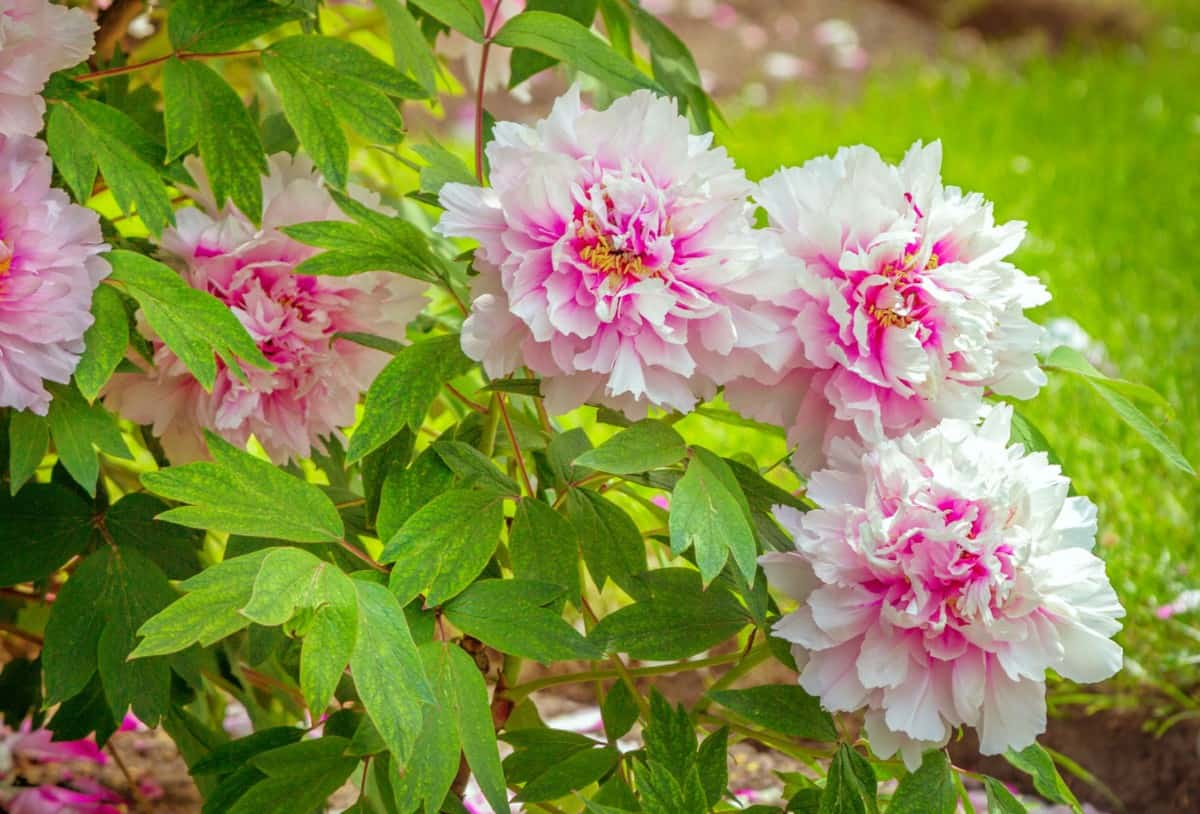 If you love beautiful flowers in your home, peonies are the plant for you. These white, pink, red, orange, and white flowers are showy and highly fragrant.
While ants adore climbing through their ruffled petals, a few good shakes set them free before bringing the flowers indoors.
Peonies are a perennial that grows 1 to 8 feet tall, depending on the type, and are hardy in zones 3 through 8. Their spring-time flowers for sun are deer resistant and low maintenance and a show-stopper in a garden setting.
Geranium (Pelargonium)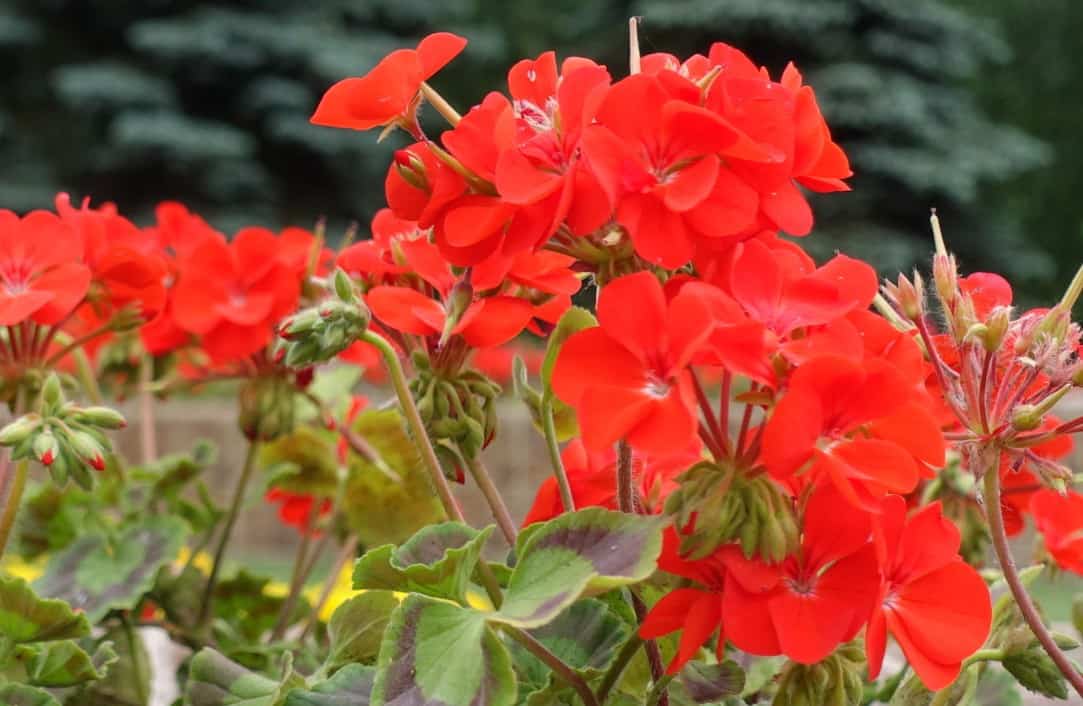 Geraniums are available as both an annual and a perennial, and both types have tall spikes of red, purple, pink, white, and orange flowers that blossom throughout the summer. These classic garden plants are ideal for containers or flowerbeds.
The perennial version is hardy in zones 3 through 9. Geraniums have an average size of 1 to 3 feet and are drought tolerant, deer resistant, and low maintenance. Deadheading is necessary to encourage this plant to flourish.
Common Sage (Salvia officinalis) – Drought Tolerant Perennial Herb
Common sage is an herb garden staple that produces edible leaves and purple, blue, white, or pink mid-summer flowers. The tender foliage has a textured appearance with a delicate aroma.
This evergreen perennial has a mature size of 1 to 3 feet tall and 2 to 3 feet wide. These low maintenance plants grow best in hardiness zones 4 through 10. Sage is a tough plant that is drought tolerant and deer resistant.
Black-Eyed Susan (Rudbeckia hirta)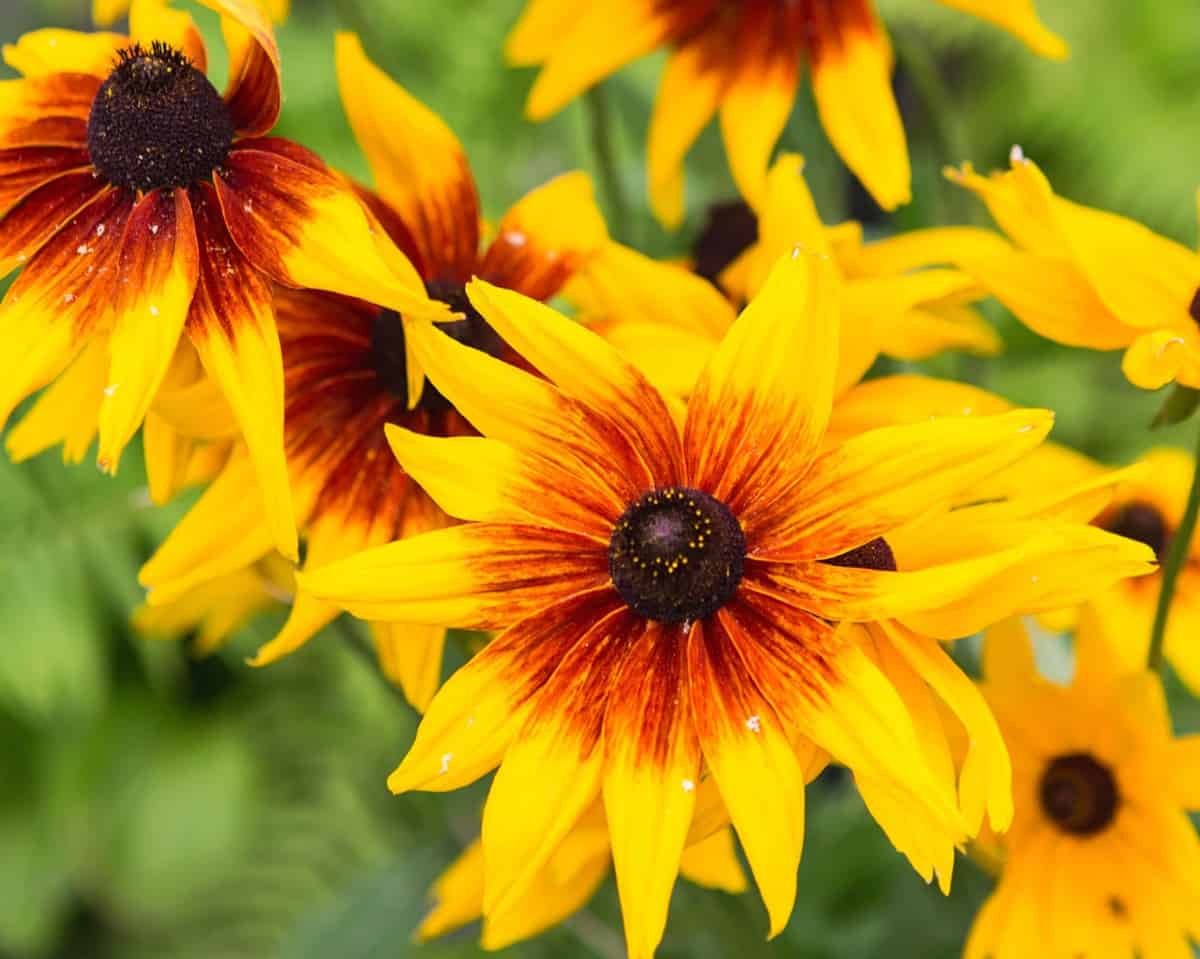 These cheerful-looking plants have brilliant daisy-style flowers with a dark chocolate center surrounded by bright yellow petals. They are attractive to butterflies, pollinators, and birds and have an extensive season.
Black-eyed Susans grow up to 3 feet tall and 2 feet wide in hardiness zones 3 through 7. They are effortless to grow and have no serious pest or disease issues. These perennials are drought and heat tolerant.
Lantana (Lantana Camara) – Cascading Plant with Bright Flower Clusters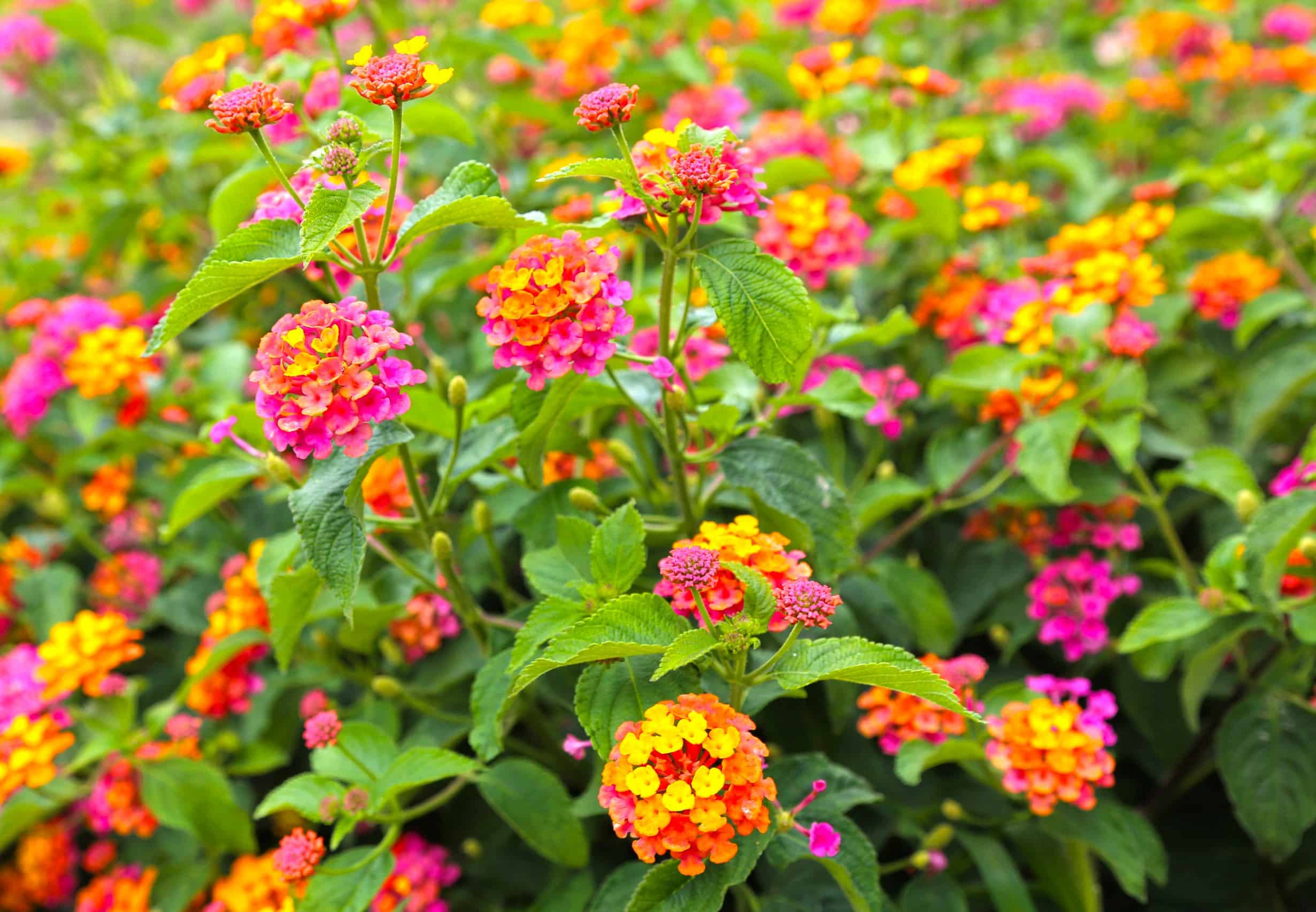 Lantana plants have branches with a vine-like appearance amidst rounded clusters of yellow, red, orange, white, and purple flowers, sometimes mixed within the same blossom.
They look striking spilling over hanging baskets and containers, and their leaves have a citrus scent. This plant is perennial in zones 8 through 11, but annual everywhere else.
Lantana grows 1 to 3 feet or more and is an attraction for birds. They are drought tolerant, deer resistant, and low maintenance.
Daylily (Hemerocallis)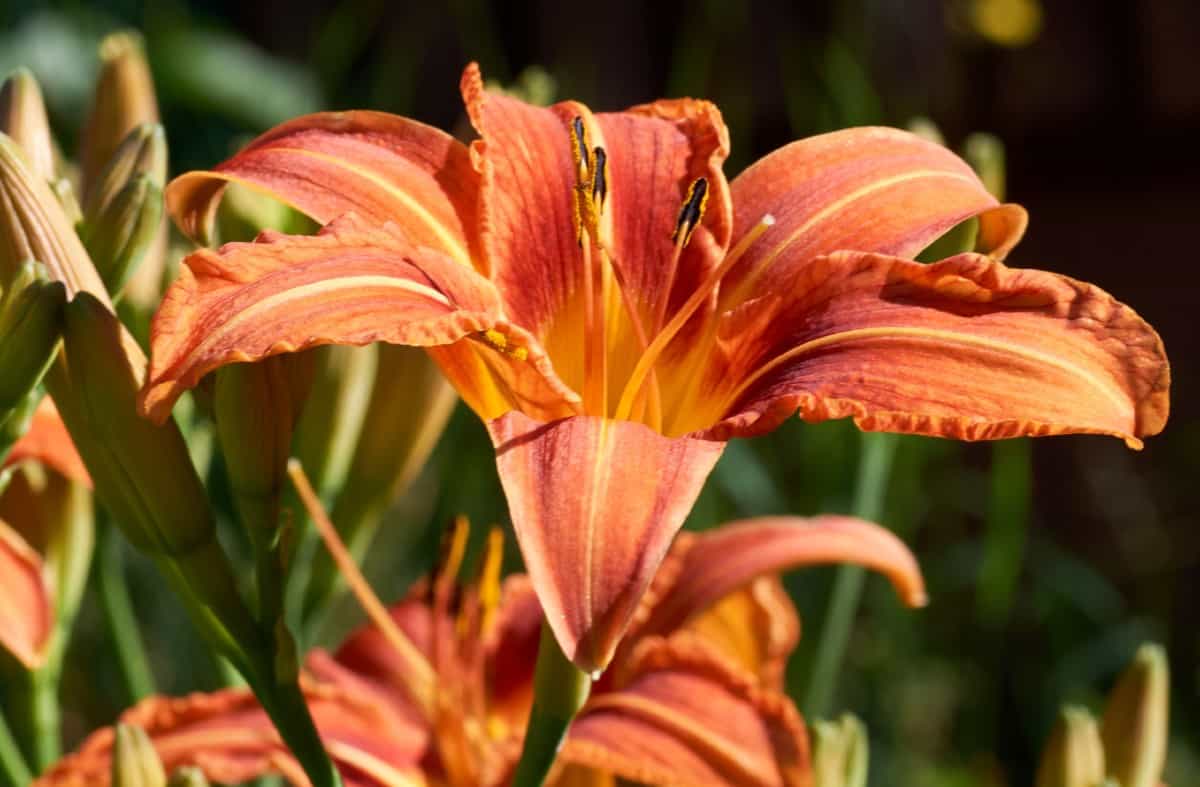 Daylilies grow in various sizes, shapes, and colors, ranging from orange, red, and purple to pink, white, and yellow. These tough plants have vibrant flowers that last one day but continue flowering from summer through fall.
The daylily is a perennial that thrives in hardiness zones 3 through 10. It grows to a height of 1 to 8 feet, depending on the species. This low maintenance plant is fragrant, drought tolerant, and captivating in any growing situation.
Tickseed (Coreopsis) – Dainty Flower with a Long Blooming Season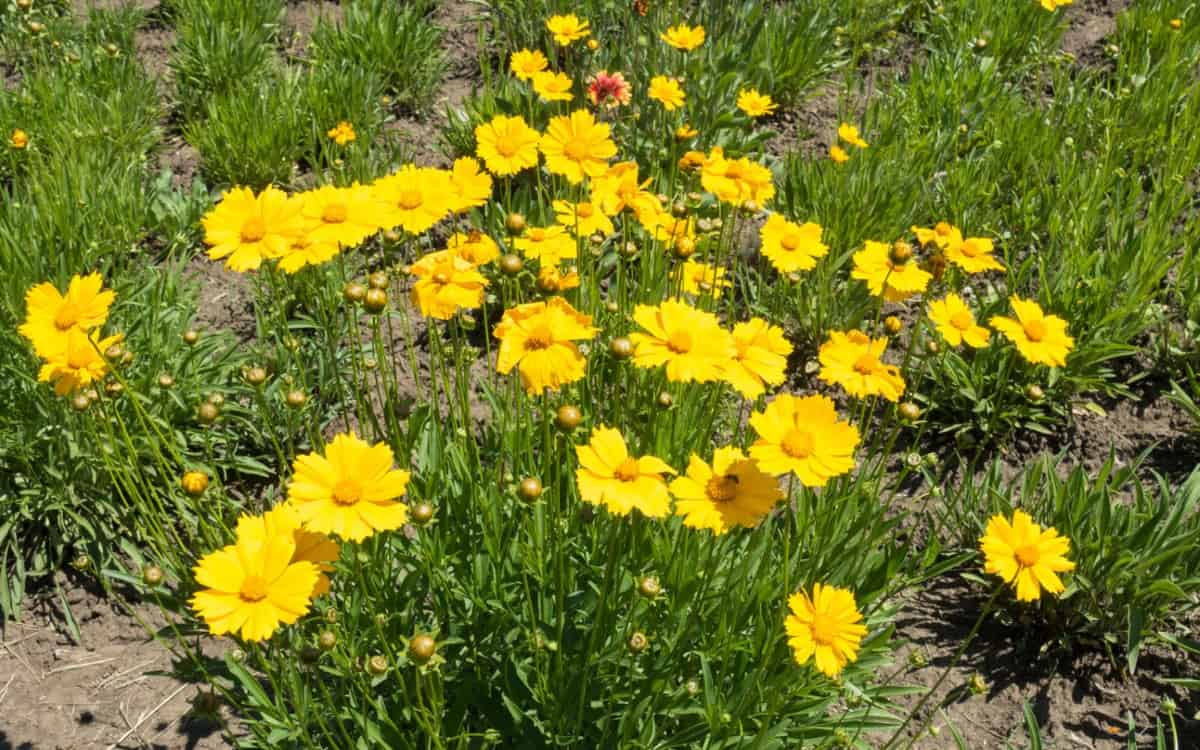 These plants are long bloomers with dainty, bright flowers in yellow, orange, or red tones, some with single blossoms and others with double. They have mounds of low-growing leaves with a fine texture that form an upright clump.
Tickseed is a perennial that grows well in zones 3 through 10. Butterflies love the nectar of its flowers, and birds feast on its seeds. It is low maintenance, drought tolerant, and grows 6 to 48 inches in height.
Browsing your local nursery, filling a basket with a range of plants, and planting them in full sun only to have them die within days is a common mistake.
That's why it's crucial to get to know each plant before placing it in your garden to ensure that it loves the sun as much as you do.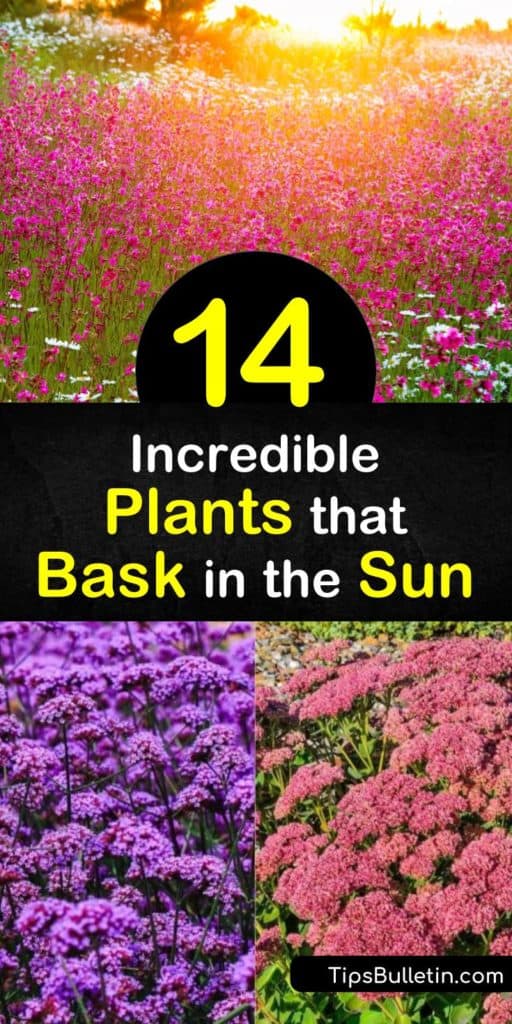 A garden filled with amazing plants for full sun is both enjoyable and easy to grow, so why not share our sun-tolerant plant guide with your family and friends on Pinterest and Facebook?