When space is limited, there are only so many options for making your yard more appealing. The most amazing small trees for front yard areas are those that offer beauty throughout the entire year and fit into your space without overcrowding it.
There are tons of benefits to planting smaller trees as opposed to large ones. Little trees are often short enough that they won't grow into power lines. For those that do, they require far less pruning.
They also take up less space, which allows you to utilize as much of your small yard as possible. Amazing small trees for front yard locations is one of the smartest purchases you can make for landscape design.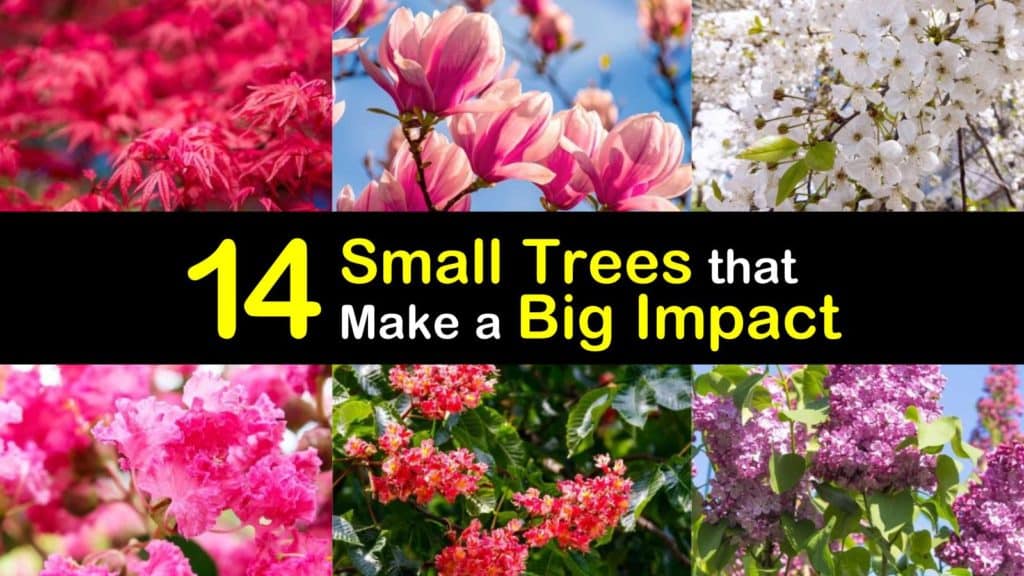 How to Plant a Tree
Before you get overly excited about planting a new tree in your small yards and gardens, make sure you know how to plant and care for them properly.
Even though it seems self-explanatory, trees are lifelong investments, and getting them off to a healthy start is the best way to ensure their success in their new home, whether you are planting the fastest growing evergreens or one that flowers.
The best time to plant a small tree in your front yard is after the leaves fall in autumn or before buds open in the spring. Make sure your small pine trees for landscaping have enough space so that they don't interfere with surrounding buildings or concrete.
Dig a hole two or three times the size of the root ball. Place the tree of your choice in the hole, fill it, pack it with soil, and deeply water it for the first week.
Tree Care
Of course, after you plant your trees, you can't just leave and forget about them. You may need to schedule fertilizer, pruning, and some creative ways to keep squirrels from digging beneath your new trees.
If you have problems with stray or neighbor cats, squirrels, and chipmunks, you may need to set up a sprinkler on a timer to keep cats out of my yard and send them elsewhere.
Japanese Maple (Acer palmatum) – Amazing Small Trees for Front Yard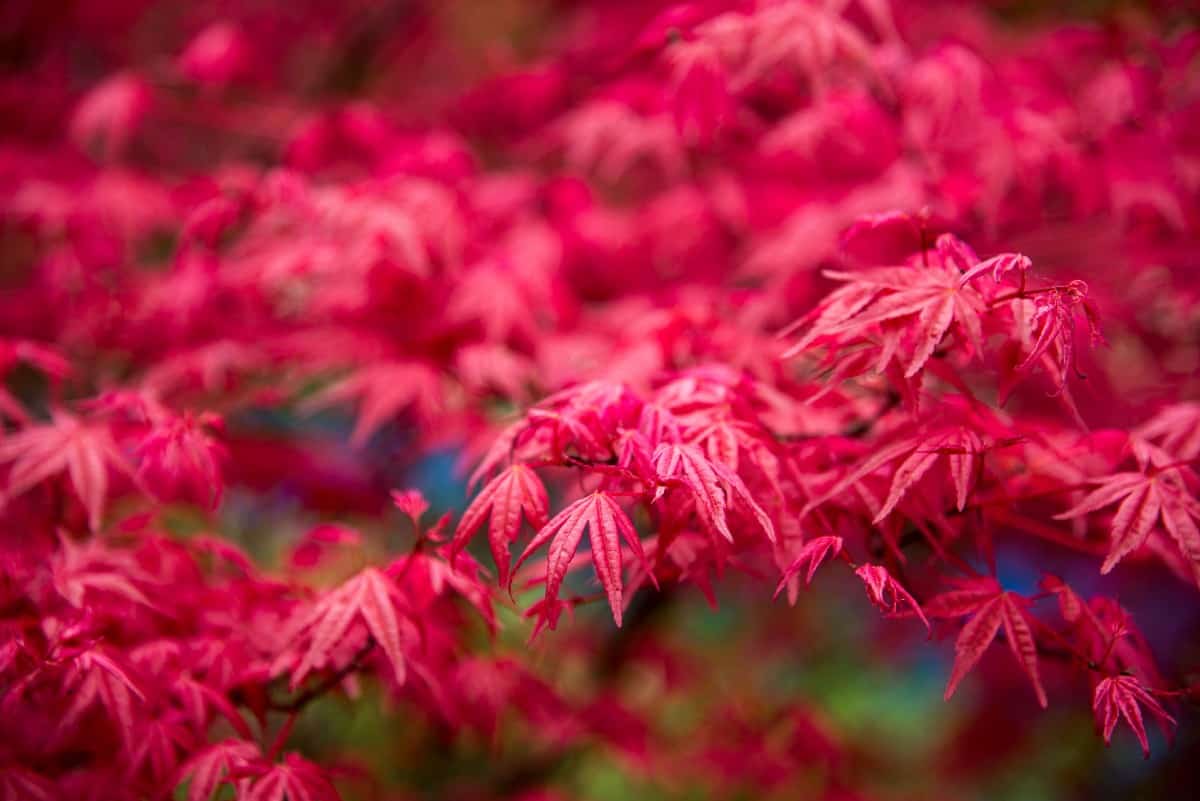 If you're looking for amazing small trees for front yard or trees for small spaces, there is no better choice than a Japanese maple tree. This species varies in size, color, and leaf shape, and they all fit perfectly into small spaces.
This tree's standout feature is the lacy red foliage and purple flowers that pop open in the early spring. You can plant small trees that turn red in the fall by growing Japanese maples as specimen plants or lawn trees for an immediate boost in curb appeal.
Plant them in a location that gets partial shade and deeply water them when there is little rain during the growing season. Add several inches of mulch around the trunk to help the soil maintain moisture and prevent weed growth.
Crabapple (Malus domestica)
Crabapple trees are some of the best trees for a front yard because they have visual beauty during all four seasons. Pink flowers burst open from early to late spring. Their bright green leaves shine during the summer and become red fall foliage.
Once winter makes an appearance, bright red berries stand out on their snow-covered branches for birds and squirrels to feast on.
Plan crabapple trees in an area that receives full sun. Locations with more shade have a less dense canopy and fewer fruits and flowers. Give these trees well-draining soil and water them regularly for the first year.
Crape Myrtle (Lagerstroemia indica)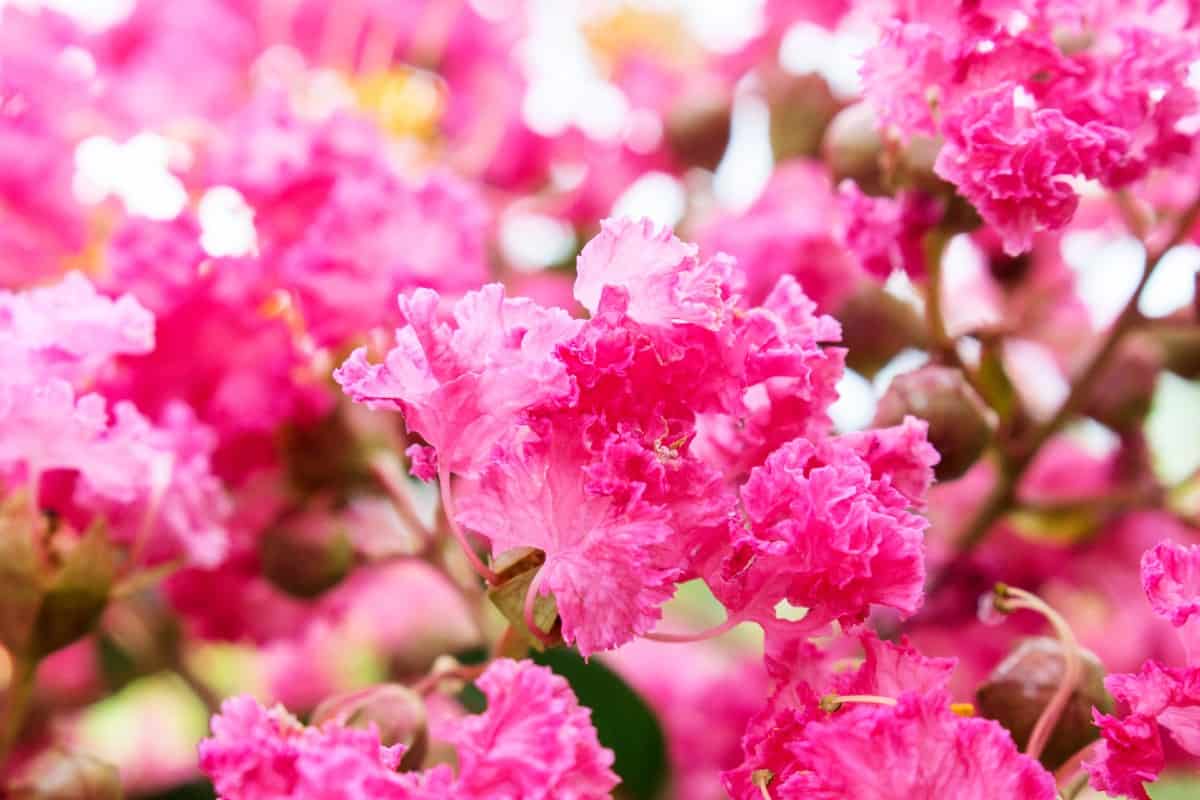 It's common to find crape myrtle trees in southern landscapes where the weather is warm and humid. These trees have fluffy pink flowers and peeling bark that adds something special to small gardens.
As long as the crape myrtles are in the right location, these plants are low maintenance and easy to grow. Make sure crape myrtle trees get placed in a sunny area. They adapt to most soil types as long as it isn't soggy.
These trees prefer well-draining soil and regular watering until the roots establish themselves. Once settled, crape myrtles are drought tolerant and require no fertilizer.
Little Trees for Little Spaces: Serviceberry (Amelanchier arborea)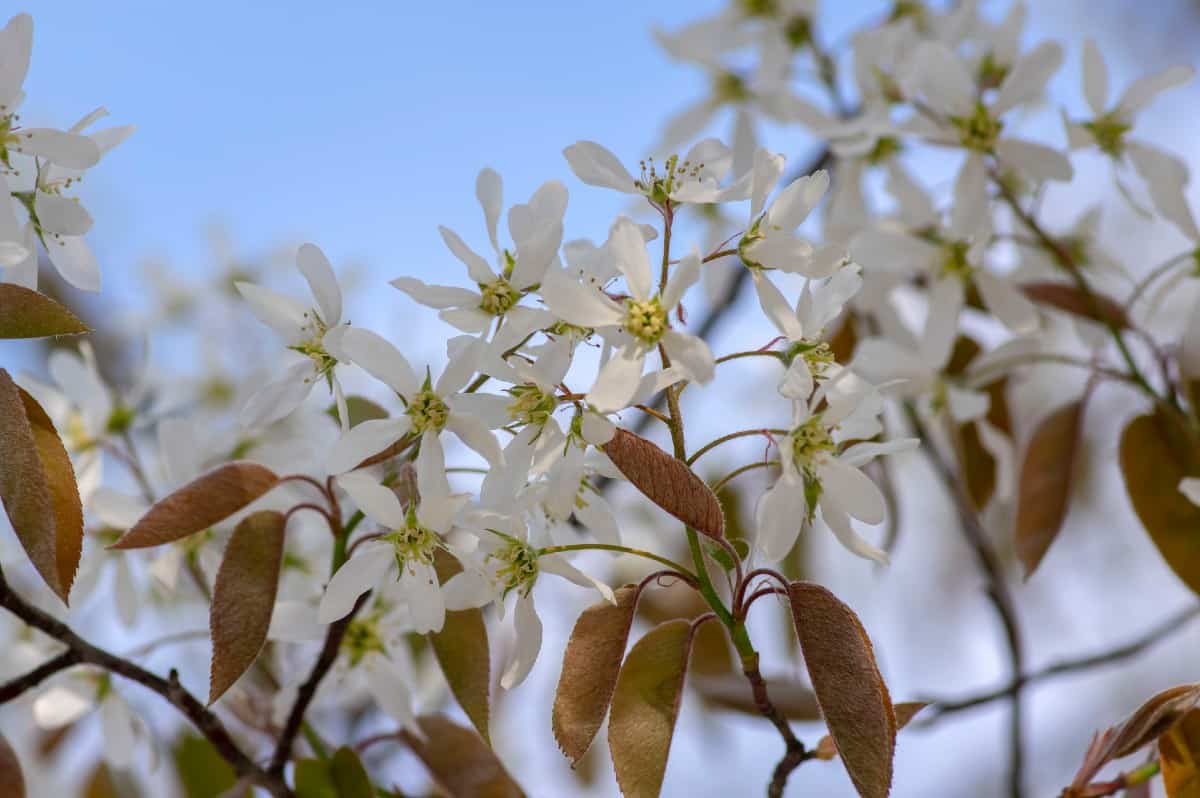 Homeowners purchase serviceberries as small trees, but there are dwarf varieties that look more like a large shrub and fit into smaller spaces. White flowers appear in the spring and contrast against the dark green foliage.
They also have gray bark and black, edible berries that humans and wildlife love. Serviceberry trees are hardy from zones two through nine.
These trees do best in clay-free soils with a pH range from 6.0 to 7.8. They grow well in both part shade and full sun, although more sun is better for a larger fruit harvest. Look out for aphids, spider mites, powdery mildew, and rust.
Eastern Redbud (Cercis canadensis)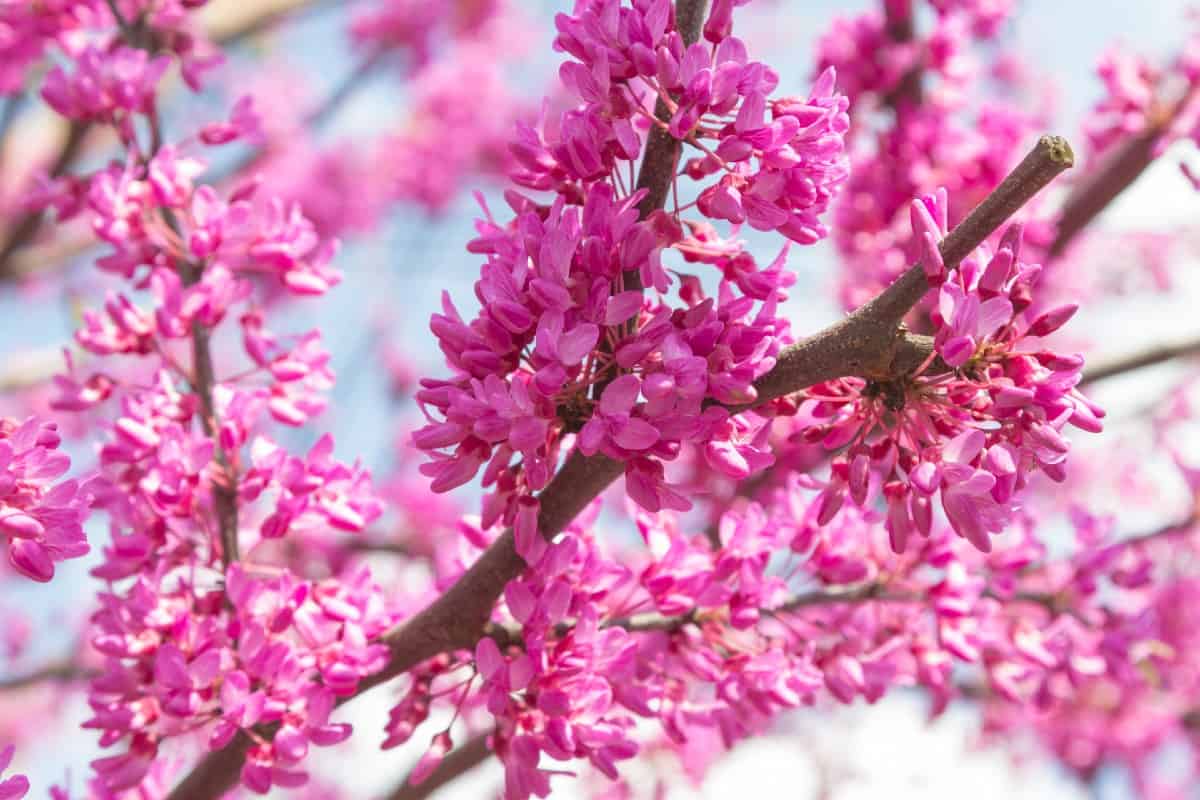 Some great flowering trees for your yard are Eastern redbud trees. These trees showcase spring flowers that light up your yard with bright pink blooms that last up to three weeks. They have heart-shaped leaves and long stems.
Plant Eastern redbuds in the early spring, just after the last frost. Place them in a partly shaded location that has fertile and well-draining soil. With good care, getting a healthy couple of decades of beauty is possible.
Lilac (Syringa vulgaris)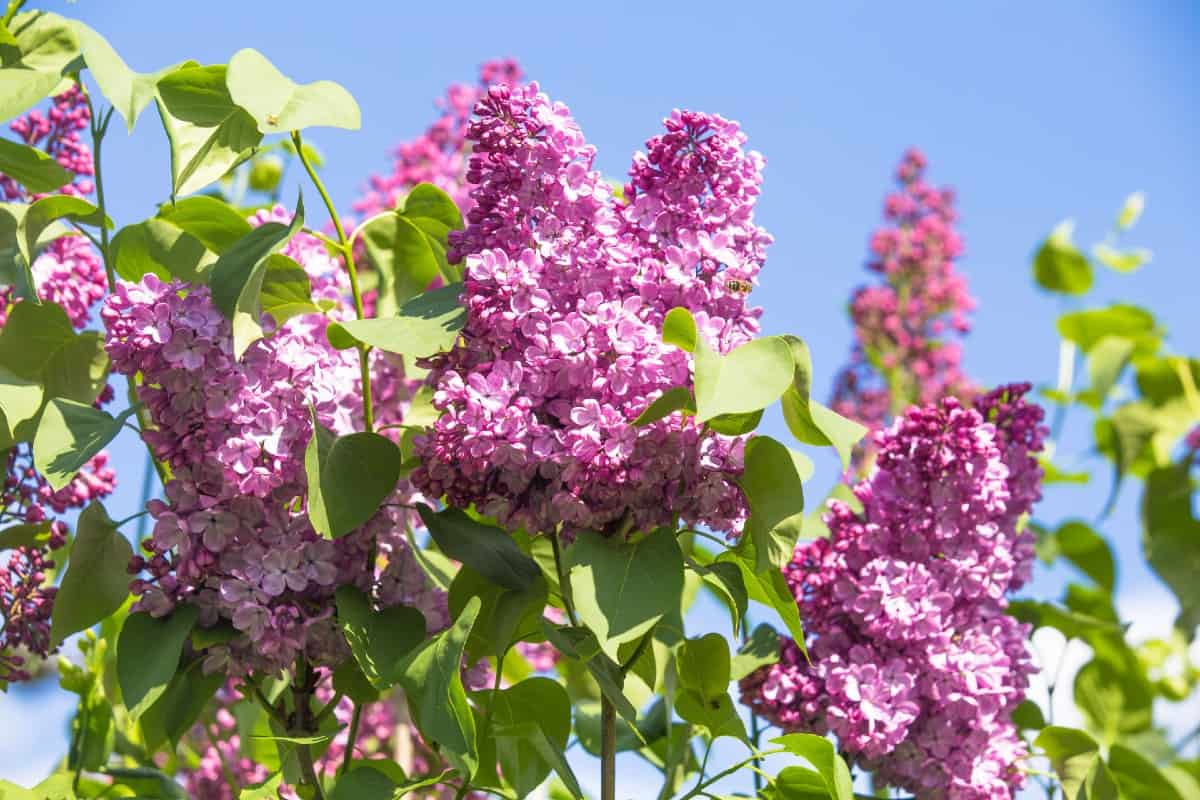 Lilacs are some of the most amazing small trees for front yard areas. These plants are highly aromatic in the spring and have clusters of tiny flowers ranging from purple to pink to blue that hummingbirds love.
There are various sizes to fit small gardens, with some reaching only eight feet tall. Lilac roots spread vertically, so dig a hole deep and wide that accommodates the tree's mature size and allows it to spread comfortably.
Humus-rich soil is best for these plants, and yearly pruning helps them keep their shape and size under control.
Cherry Trees (Prunus avium) – Fruit Trees for the Front Yard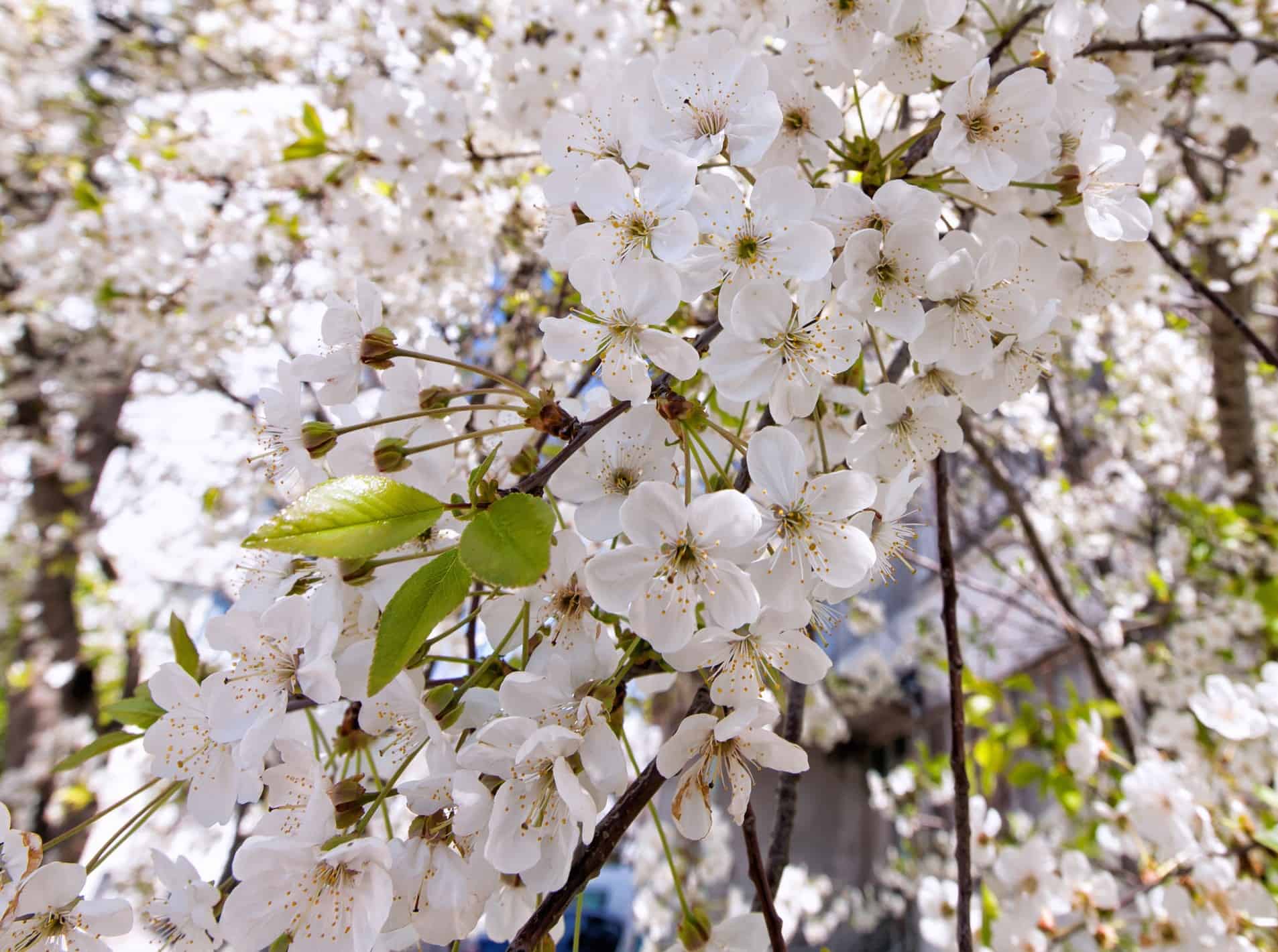 Most people don't consider planting fruit trees in their front yards, but sweet cherry trees are attractive, and the fruit is fun to munch on in the summer.
The white flowers have a pleasing scent every spring, followed by sweet, red fruits from mid to late summer. Cherry trees do best in full sun and fertile, moist soil.
Most of these plants take five to six years before they produce fruit, but a mature tree yields 50 to 100 pounds of cherries every year. If you'd like to keep all the cherries to yourself, protect them with nets to keep bugs and birds away.
Dogwood (Cornus florida)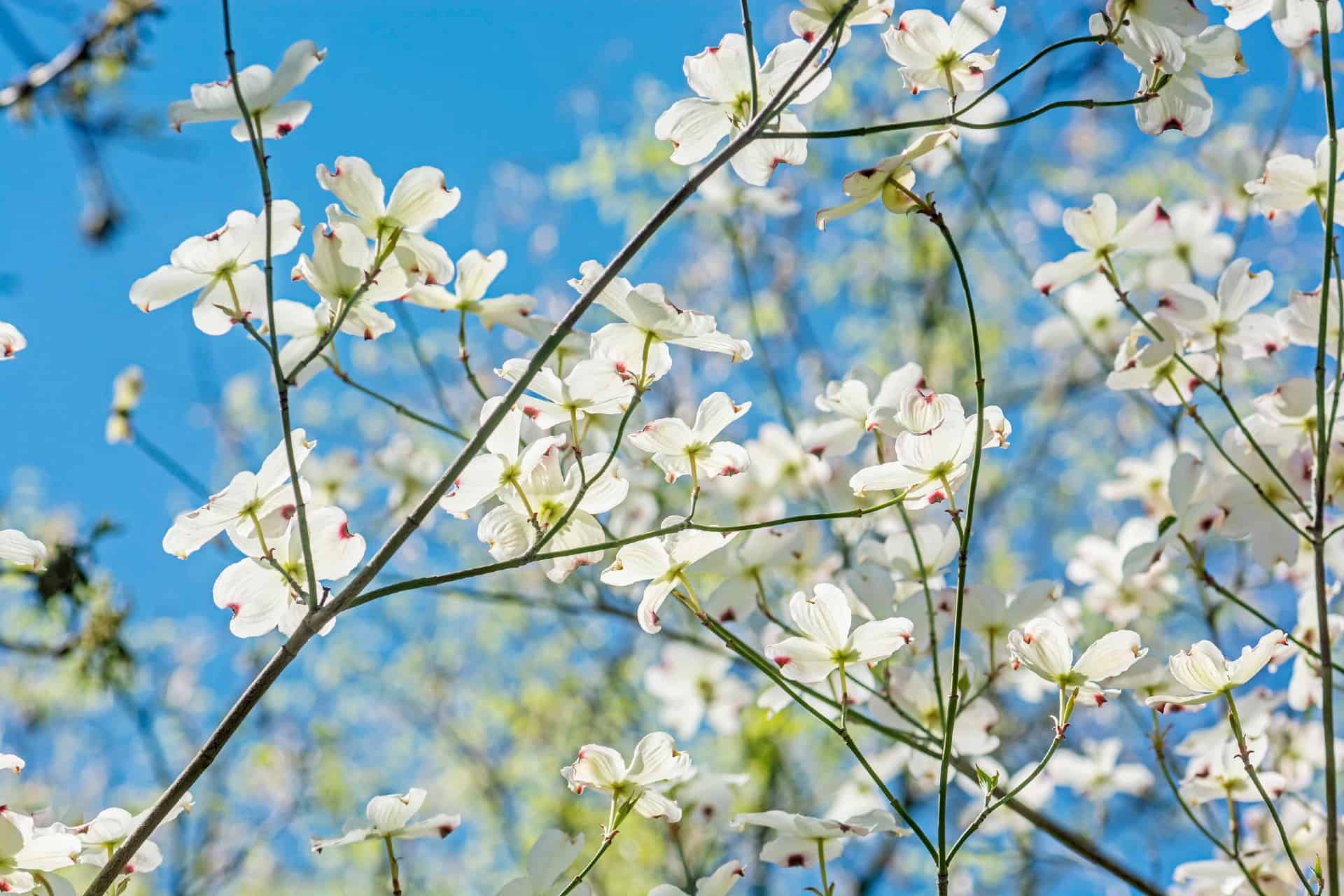 Dogwoods are some of the most popular and magnificent trees for a front yard. These trees are native to the Eastern United States and offer year-round visuals.
Dogwoods typically have white or yellow flowers, but there are also types with pink and red blossoms. The leaves are rich green in the summer and have purple and red fall color. Grow flowering dogwoods in partial shade.
If you decide to plant the tree in full sun, you'll be stuck watering them far more than if you plant them in a darker, cooler location. Add a slow-release fertilizer once every spring for optimal growth and prune them only as often as you feel is necessary.
Magnolia (Magnolia grandiflora)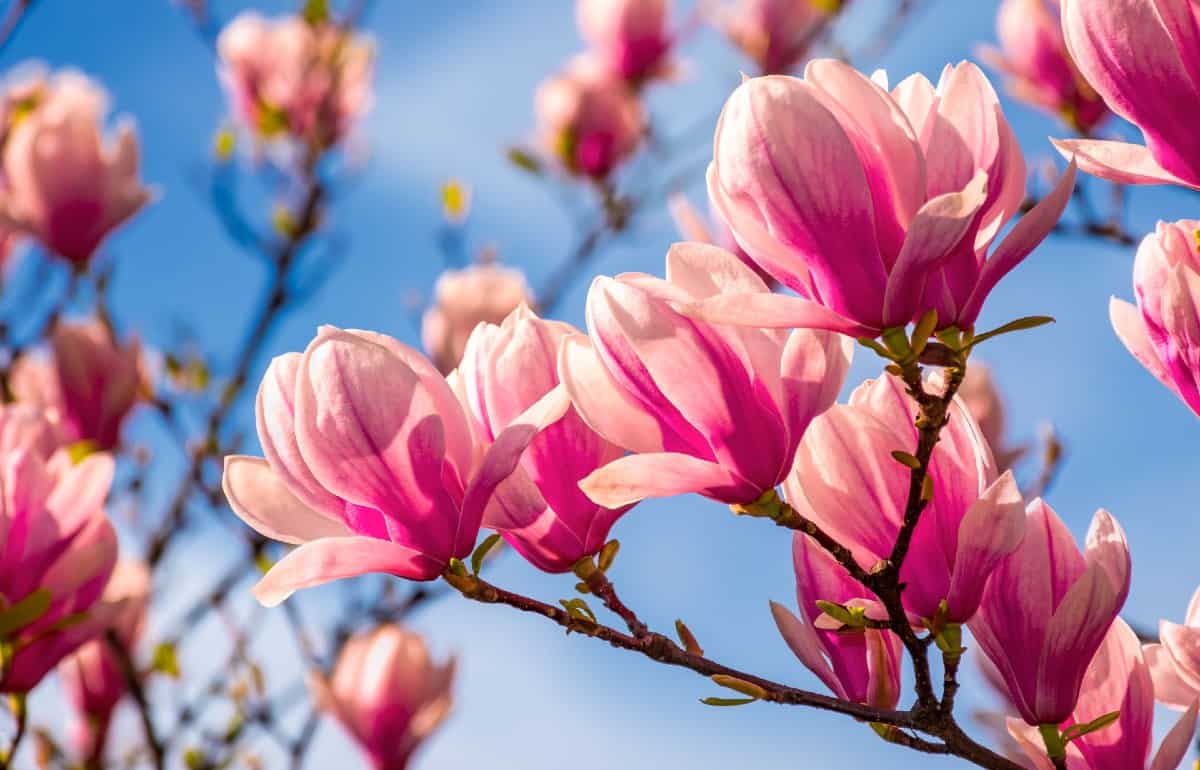 Magnolias have large, fragrant, pink, and white blossoms that make your home stand out in the neighborhood. Their glossy green leaves are lush during the summer, and some varieties have pods that reveal orange berries in the fall.
Although there are many species of magnolias, smaller types grow around 30 feet tall and wide. Magnolia trees are hardy from zones four through nine.
They like having slightly acidic soil and tolerate wet locations when established. Amend areas of low fertility with organic compost and keep the trees well-watered.
Unique Small Trees – Japanese Stewartia (Stewartia pseudocamellia)
Japanese Stewartia trees may not be the most well-known on this list, but they are beautiful during all four seasons of the year. It has a dense crown filled with oval-shaped leaves and reaches a maximum of 40 feet tall.
Japanese Stewartia closely resemble camellia plants with peeling bark and white blooms in the spring that last for months. Grow these trees in acidic soil with a pH of 4.5 to 6.5.
Adding compost to the ground helps it retain moisture, but they also grow in more deficient soils when they have to. With the right care, these trees outlive you and last up to 150 years.
Japanese Camellia (Camellia japonica)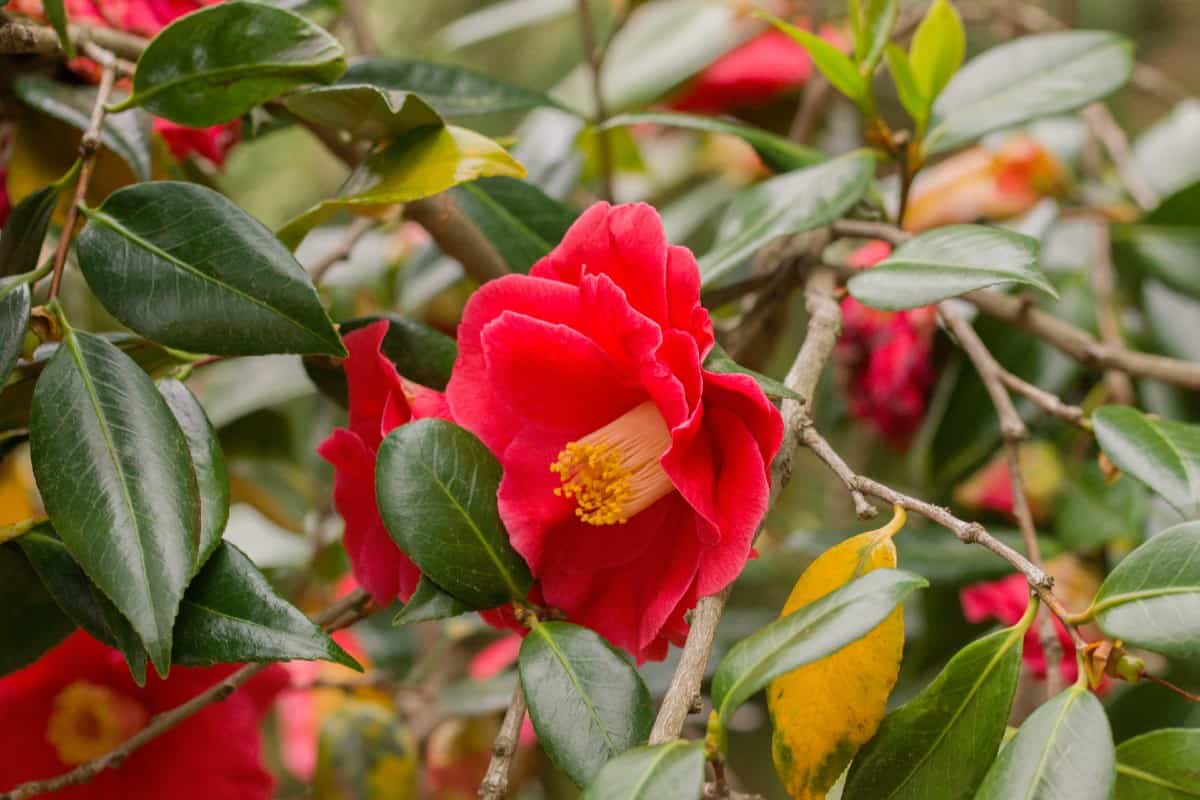 If large shrubs are more your speed, Japanese camellias are some of the most stunning in your front yard and garden beds. Camellias have flowers with tons of shapes and colors that stand out from their glossy green foliage.
Better yet, some of them live for over 500 years. Most camellias grow to 25 feet tall and 12 feet wide.
They are lovers of partial shade and do best in moist, acidic, and well-draining soils. Keep them protected from the hot afternoon sun when they're young.
Red Buckeye (Aesculus pavia)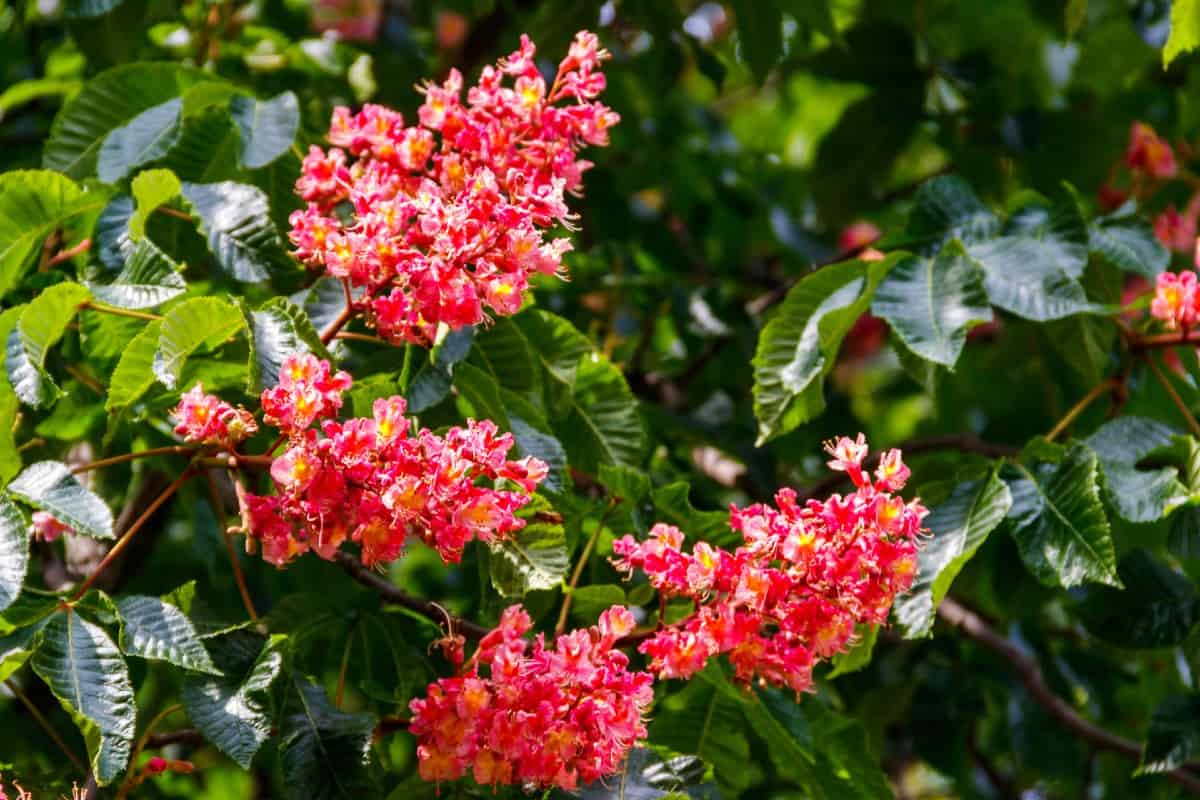 Red buckeye trees only grow 15 feet tall, making them perfect for small yards and gardens. These trees form dense canopies, and every spring, rich, scarlet red flowers appear for hummingbirds to visit.
The blossoms disappear and smooth, brown seed pods appear for wildlife to eat. Red buckeye trees like average soil with lots of drainage.
Buckeyes do best in full sun or part shade and need a moderate amount of water. They are prone to canker, leaf spot, and scale.
Cockspur Hawthorn (Crataegus crus-galli) – Native Trees for Front Yards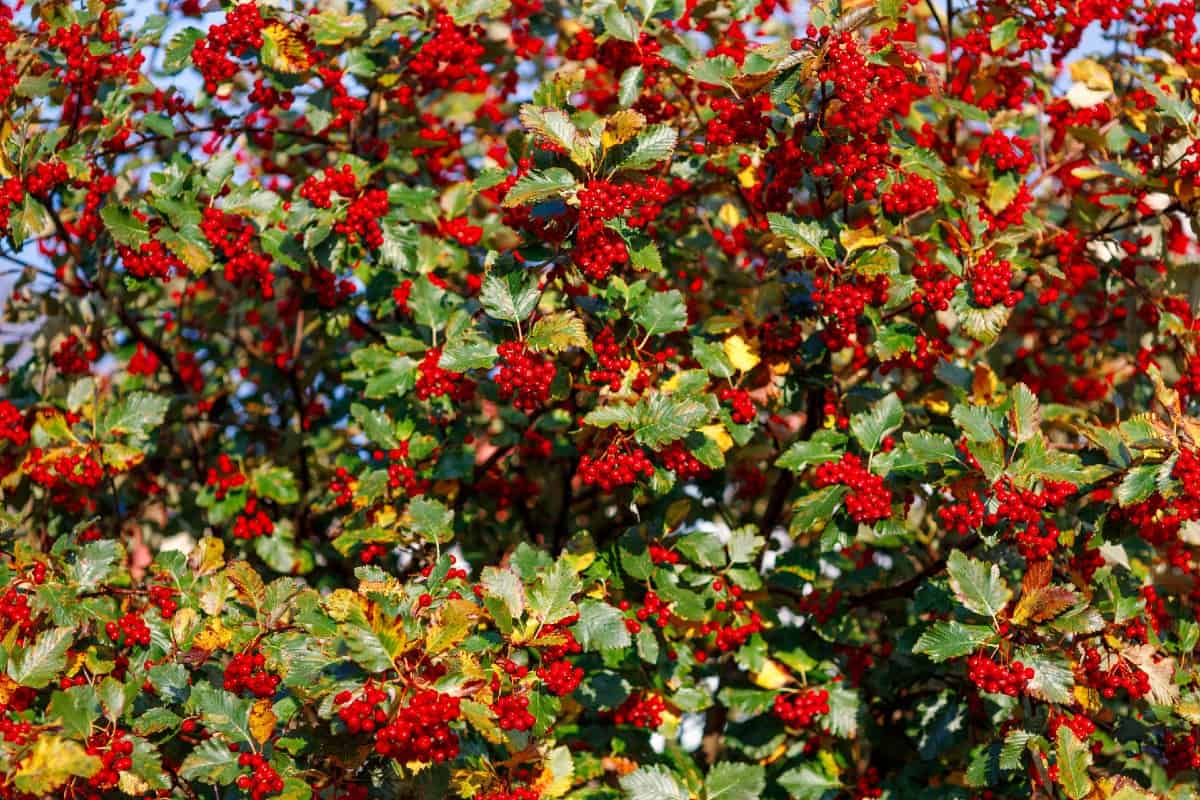 Cockspur hawthorn trees are native to the Eastern United States and Canada. These are perfect for homeowners in colder regions because they're hardy in zones four through eight.
They have large thorns that grow on the stems but don't let that turn you away. These trees reach 20 to 30 feet high, have lovely white flowers, and red fruits in the fall and winter.
Cockspur hawthorn trees look best when planted in sunny locations that get at least six hours of direct light. All they need is moist, well-draining soil with regular watering to reach their full potential.
Persian Silk Tree (Albizia julibrissin)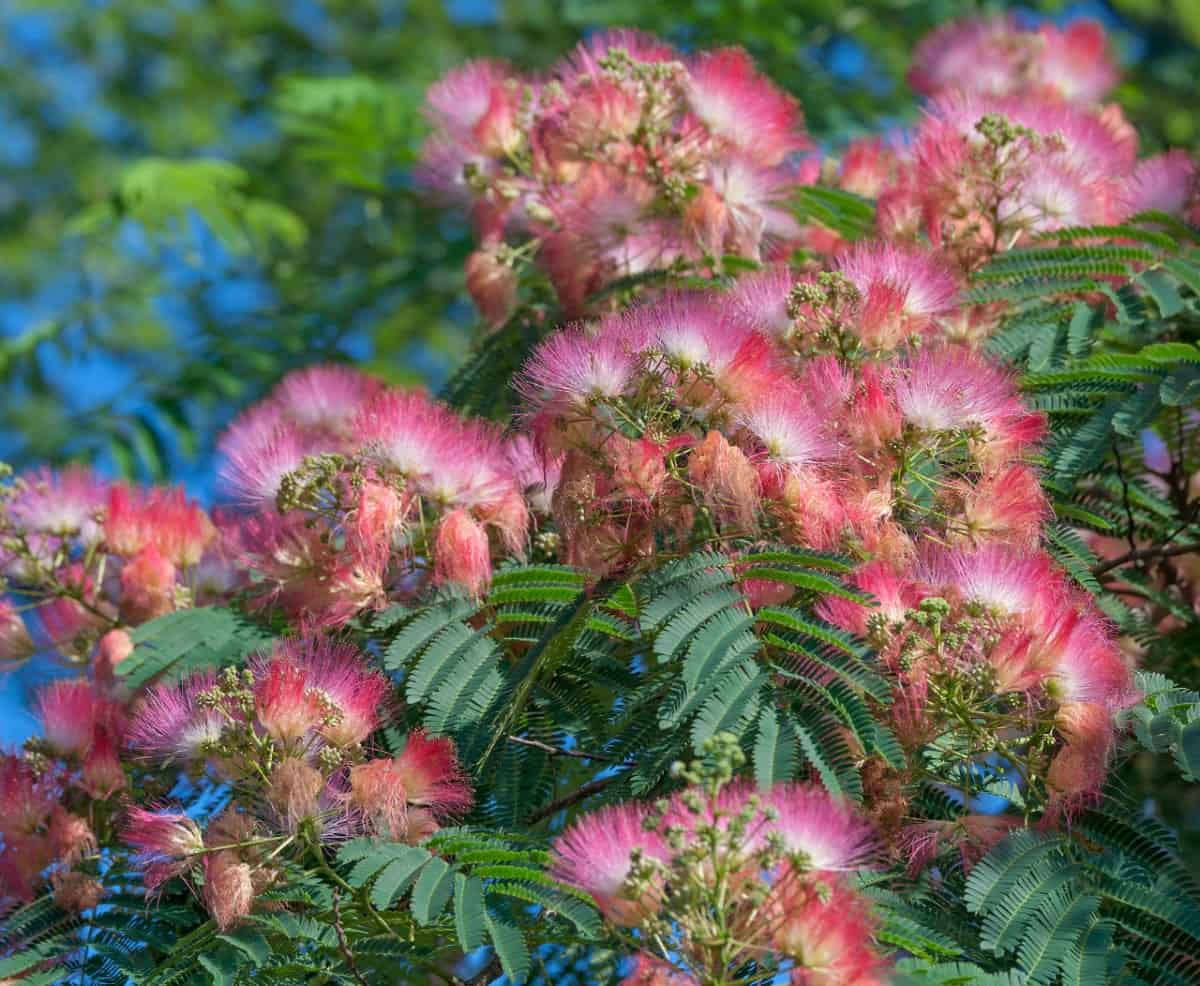 The Persian silk tree is one of the most memorable and amazing small trees for front yard on this list. Otherwise known as the mimosa tree, these plants have silky blooms that resemble fringe and are a one-of-a-kind feature in a landscape.
The foliage is fern-like, and they are hardy in USDA hardiness zones six through nine. Although they tolerate short periods of drought, make sure they have enough water to keep the soil moist.
Fertilize the ground with compost or fertilizer in the early spring before the foliage appears.
There are so many choices for landscaping with trees. Choose from one of the types of citrus trees or one of the varieties here. Or, use several different species to add to the look of your yard.
Don't let their smaller size fool you – little trees have tremendous benefits that boost your home's curb appeal and put a smile on your face every time you pull in the driveway. They are full of life and color and allow you to use your limited space wisely.
If this list of amazing small trees for front yard made a big impact around your home, share these little trees on Facebook and Pinterest.