When choosing the perfect inhabitants for our gardens, we tend to start with the best and brightest flowers first. There is so much more to creating a flawless garden than coordinating flower petals. Dwarf trees are a spectacular addition to any outdoor garden, and can even be used on small porches or balconies by apartment owners.
Many also produce flowers or fruit, making them perfect for both ornamental trees and practical gardening. If you've ever seen a row of spruce trees lining someone's property, they were most likely dwarf trees. Or maybe you noticed a miniature palm tree blissfully waving in the breeze on someone's balcony.
If you love the idea of plucking fruit from your backyard, then dwarf fruit trees such as Meyers Lemon trees and dwarf apple trees will be the perfect residents for your outdoor or indoor gardens. There are also plenty of dwarf flowering trees to choose from, like Crape Myrtle and redbud trees. The possibilities for what style gardens you can create with your own dwarf trees are as endless as your imagination.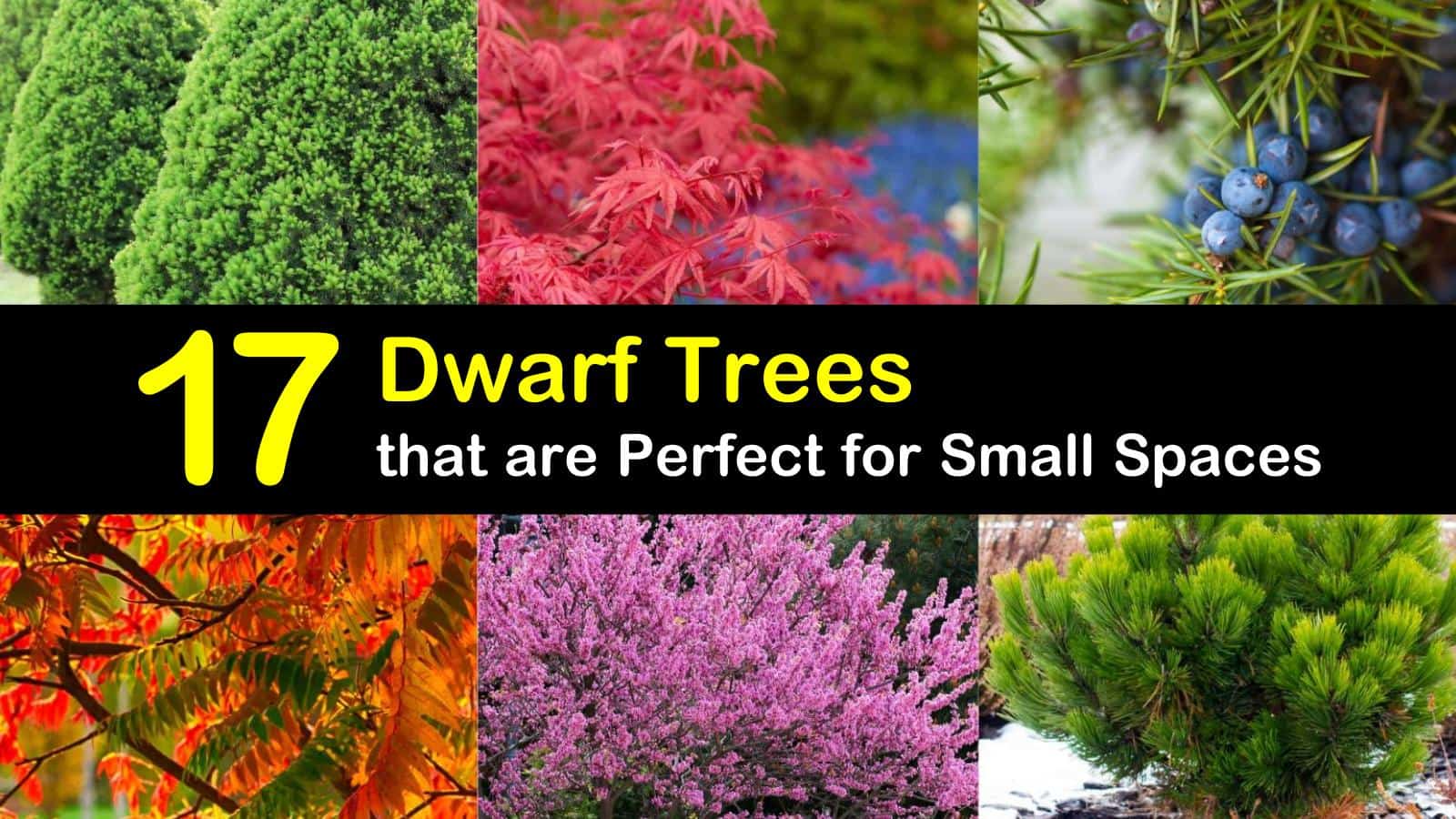 What are dwarf trees?
A dwarf tree is a smaller-sized tree, typically used in ornamental gardening. The compact size of dwarf trees makes them the perfect choice for patios and smaller backyards. Some species grow into very small trees and can even be grown in containers indoors.
A dwarf tree will measure anywhere between one-third to one-half of the size of its regular-sized counterpart. However, it usually does not extend past 10 feet tall.
Why should you plant dwarf evergreen trees or dwarf flowering trees in your garden?
There are many benefits to planting dwarf trees over their full-sized versions. The smaller size of dwarf flowering trees means they are perfect for small gardens or even apartment balconies that cannot accommodate massive trees. Their brilliant leaves and flowers provide much-needed color to small spaces without as much maintenance as most flowers.
Dwarf evergreen trees are also perfect for hedging along the side of your home. They are typically used as privacy screens since they can be planted closer together than larger trees.
Dwarf fruit trees are especially great to have in a garden, especially when it comes to harvest time. Because the root system and size of dwarf fruit trees is significantly smaller than full-sized trees, more trees can be planted in a small space to maximize production.
Amazing Dwarf Trees Perfect for Your Home
Where most full-sized apple and citrus trees require about 30 feet of spacing between planting, dwarf trees only need about 8 feet of distance. The dwarf trees produce the same size fruit as the larger trees. They are also much lower to the ground, and much more accessible when it comes time to harvest them.
Dwarf Cherry Tree (Prunus): Beautiful Dwarf Trees that Bear Fruit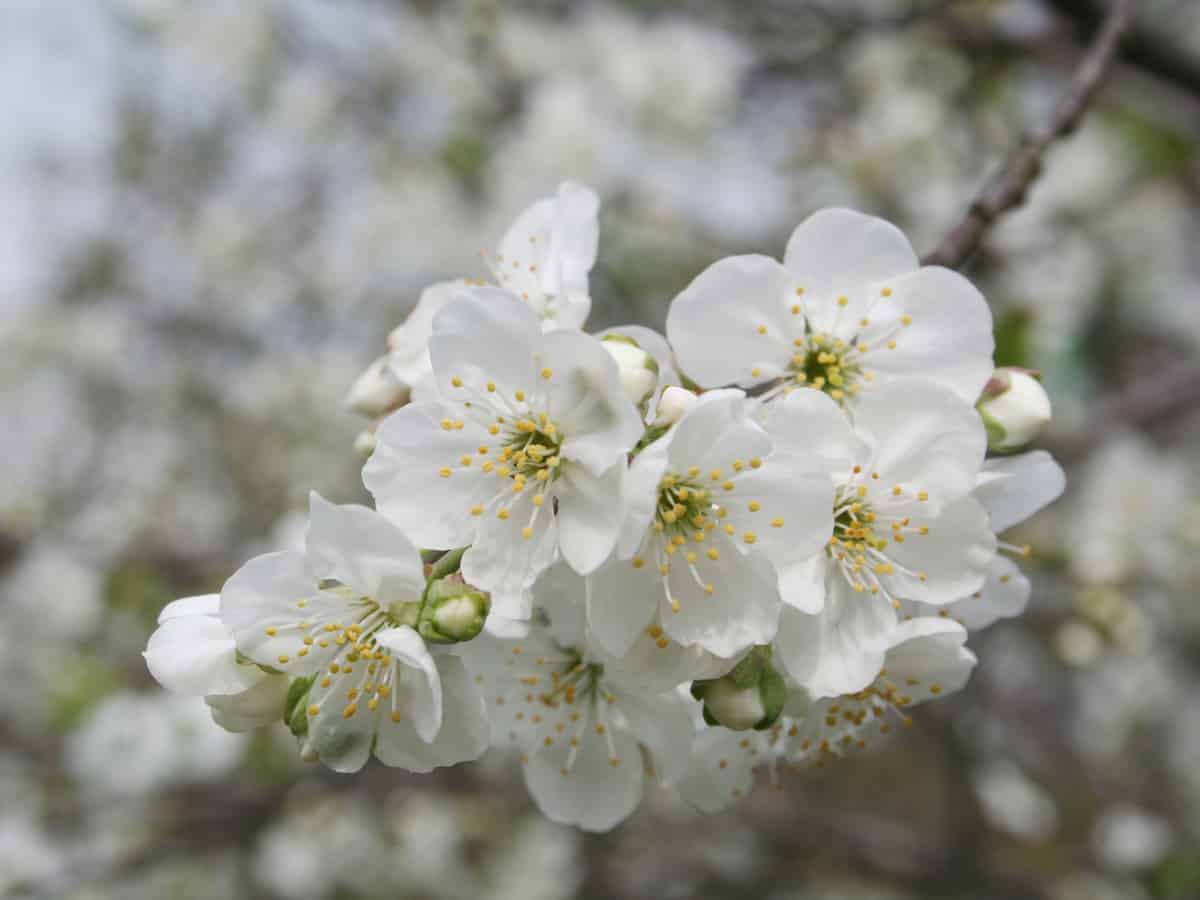 Dwarf Cherry trees come in two different variations, Sweet Cherries (Prunus avium) and Sour Cherries (Prunus cerasus). While we all know what sweet cherries are used for, it may be difficult to see the benefits of sour cherries at first.
These cherries were once used in traditional medicines to soothe laryngitis. Nowadays, we use them to make brandy and as an excellent source of melatonin.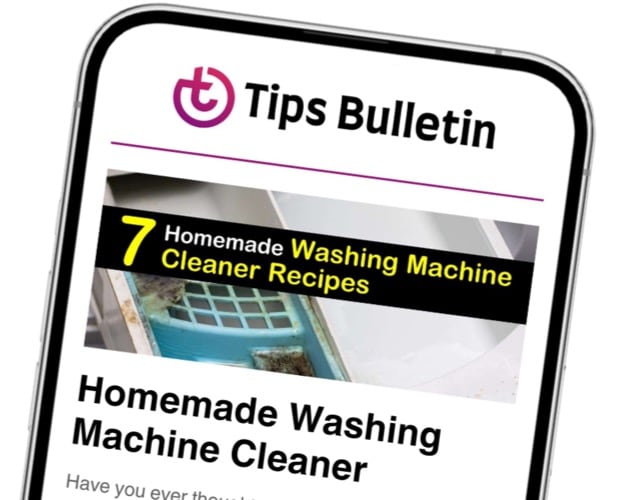 Finally, an email that Transforms Your Home.
Get the latest home and garden tips from our experts, delivered straight to your inbox.
Dwarf Cherry trees sprout beautiful white flowers in the springtime and produce fruit in the midsummer. Cherry trees do not require much maintenance either, so long as moisture remains in the soil.
Dwarf trees take up significantly less space than their larger counterparts, needing only 5-10 feet of space in between planting versus 25-40 feet. Just think of all the space that will save!
Hinoki Cypress (Chamaecyparis obtusa)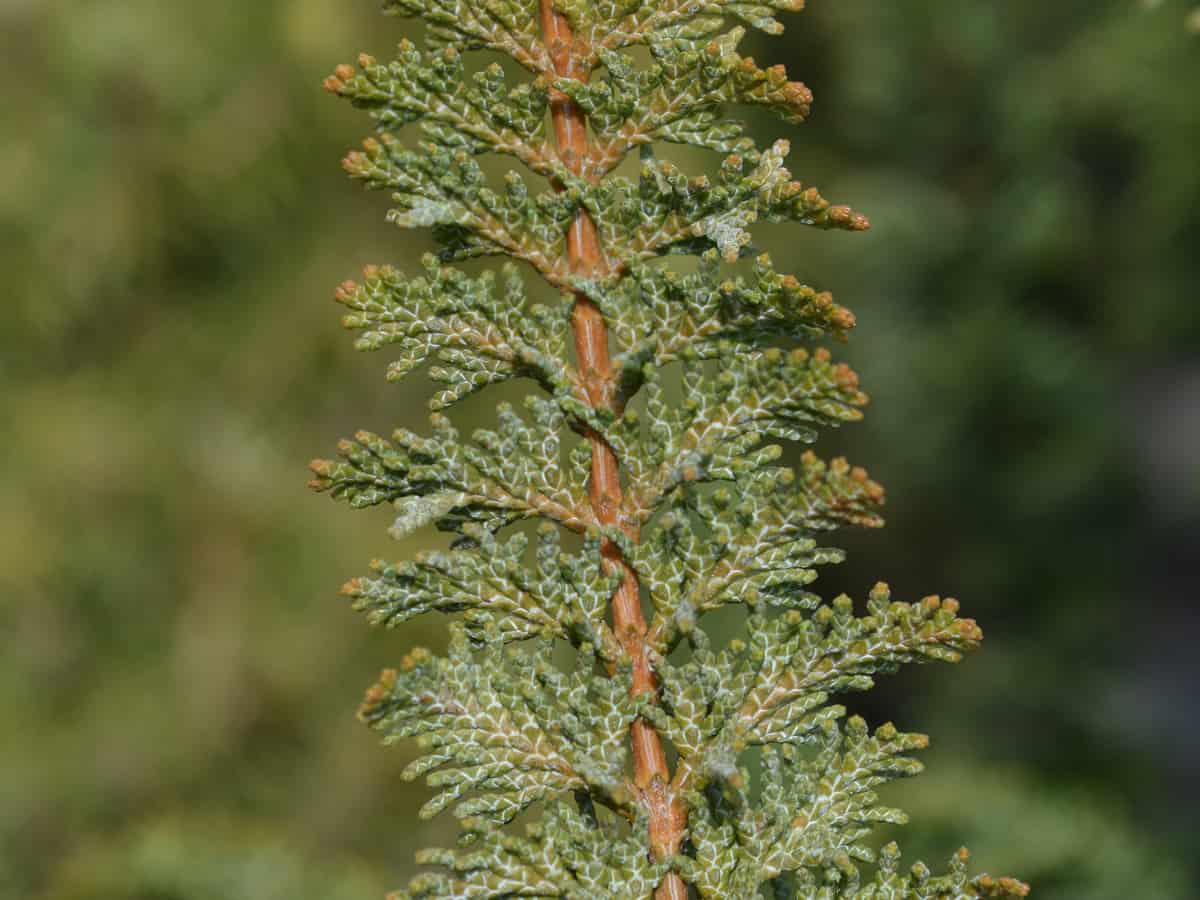 Hinoki Cypress is a Japanese native plant that can grow up to 100 feet tall as full-scale trees. Its compact version, however, develops in the form of beautiful dwarf shrubs and rises anywhere from 6 to 9 feet tall. Hinoki Cypress needs at least six hours of full sun each day and well-drained, moist soil.
While Hinoki Cypress doesn't produce flowers, it is a spectacular evergreen plant typically grown in a pyramid or cone shape. This shape makes it a perfect corner piece in gardens or as a unique border. Some dwarf versions, such as the Reis Dwarf can also be grown indoors as a bonsai tree.
Crape Myrtle (Lagerstroemia): Exquisite Dwarf Flowering Trees that Withstand those Hot Summer Months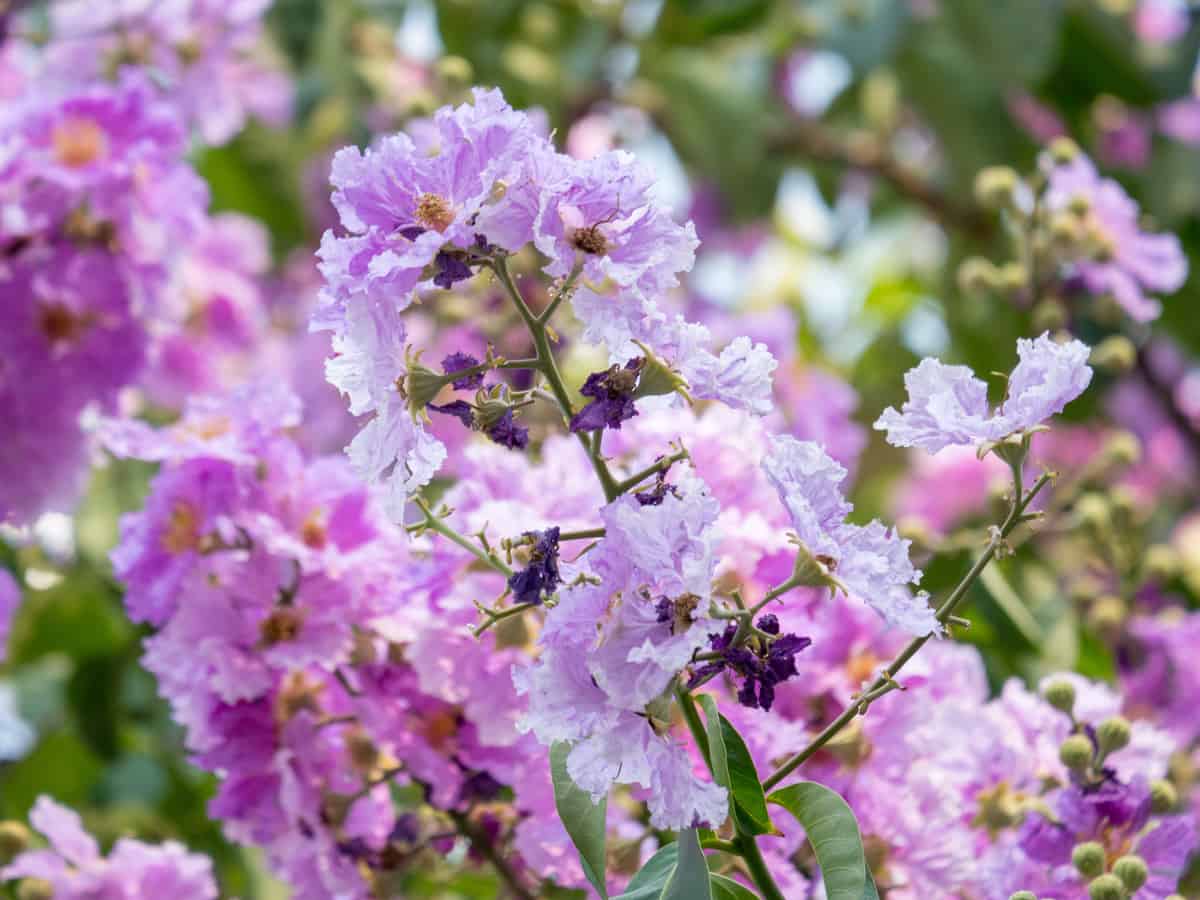 Crape Myrtle is a lovely tree often found in Southern gardens due to its ability to thrive in hot, humid climates. The Crape Myrtle blooms from summer through autumn and can withstand even some of the hottest late summer months. In fact, after being brought over from China and introduced in England, the Crape Myrtle did not go over well due to its inability to bloom in the colder weather.
While other plants have stopped blooming or started to wilt, Crape Myrtle brings shades of pink, white, and purple into your garden. The full-size versions of Crape Myrtle generally grow just over 20 feet tall, but some have grown to heights as tall as 100 feet. The miniature versions only average around 6 feet tall.
Japanese Maple (Acer palmatum)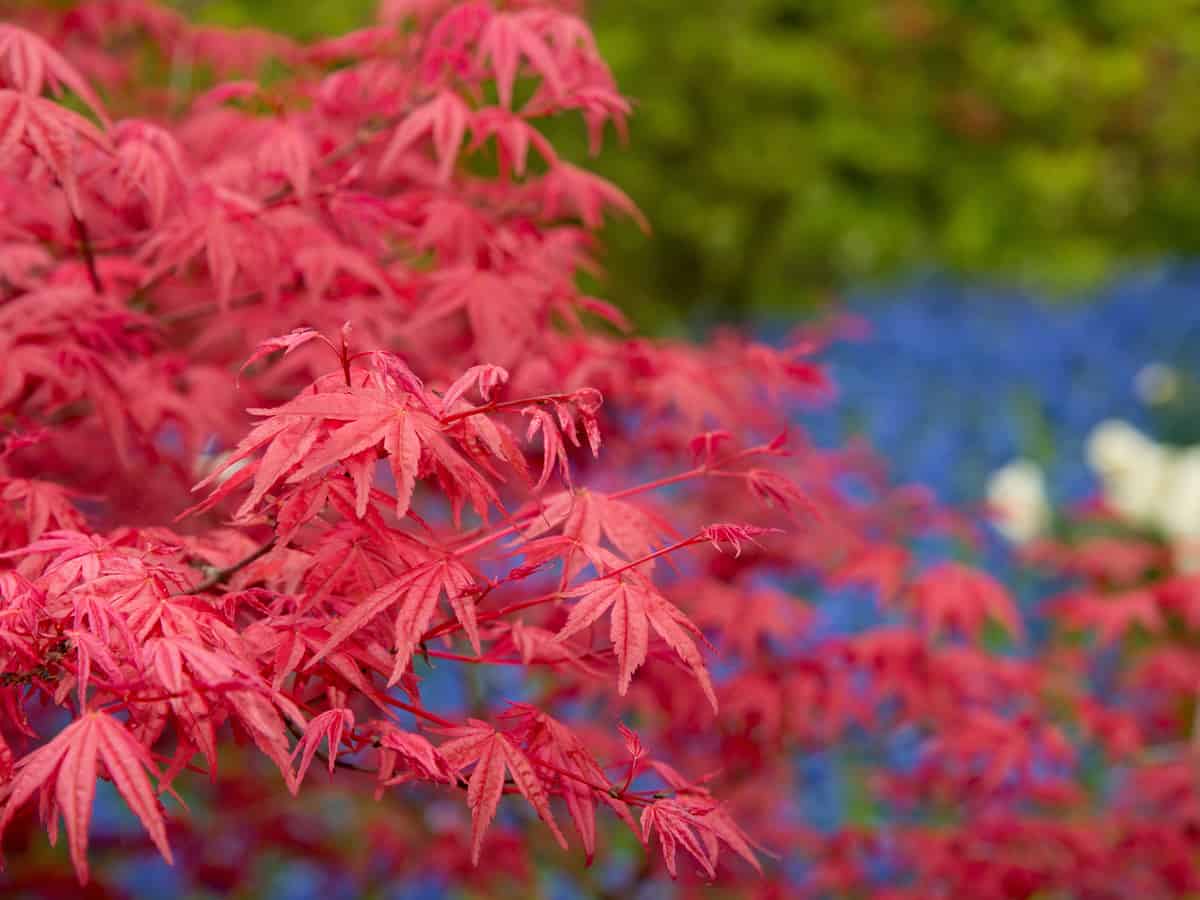 The Japanese Maple tree is wonderfully diverse in the range of style and size. Dwarf sizes of the plant can be as small as two feet tall and make excellent container plants indoors. Their brilliant foliage even comes in shades of red, orange, and purple that shifts colors throughout the seasons.
The Japanese Maple adapts to most soil conditions and climates and is relatively easy to care for, too. All pruning should take place in late winter, right before the leaf buds begin to grow back in spring. Its deep and exotic leaves make it stand out as an excellent specimen tree for your garden.
Bonanza Dwarf Peach Tree (Prunus persica)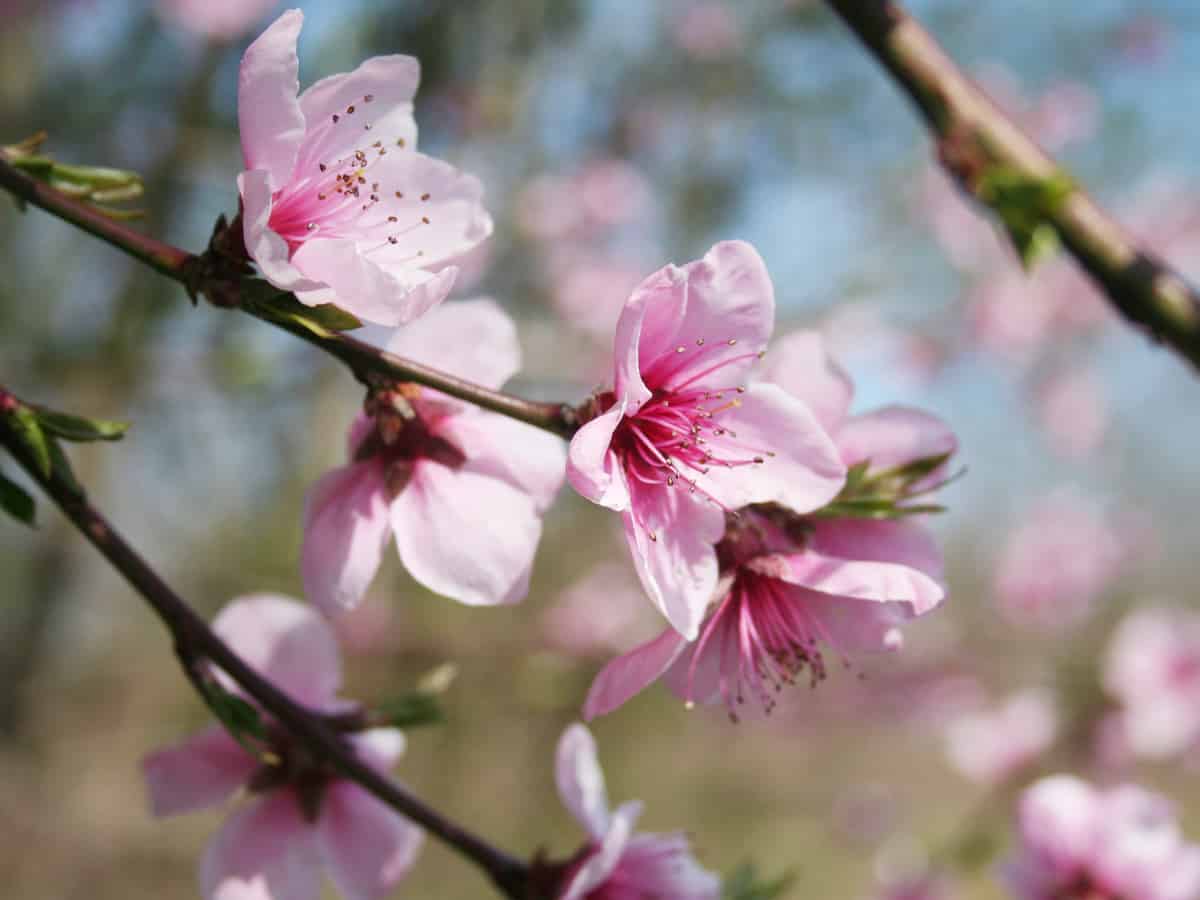 If you are a fan of dwarf fruit trees and stone fruit, cherry trees are not your only option. Peaches also come in miniature versions that reach a dainty 4-6 feet tall on average. These easy to manage fruit trees produce full-sized fruit in the summer months, whose entrance is announced only by the delicate pink flowers that precede it in spring.
These delicious dwarf fruit trees do well indoors, too. If the climate in your area is susceptible to long periods of drought or cold weather, grow your peach trees in containers to protect them. Peaches do best in full sun and moist soil. If you do decide to harbor them indoors part of the year, make sure to situate them near a nice bright window.
Dwarf Orange Trees (Citrus sinensis): Citrus Trees Perfect for Small Gardens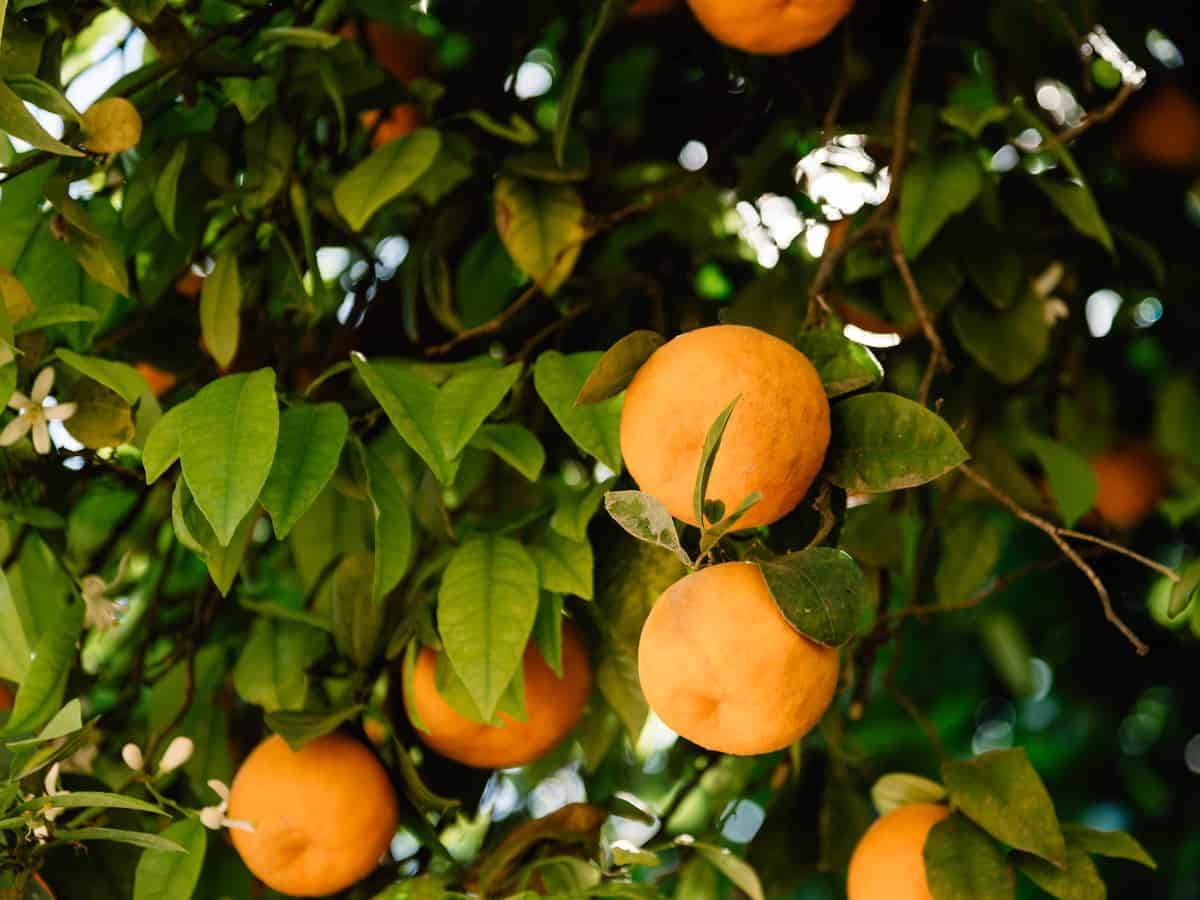 If stone fruit isn't your jam, then dwarf citrus trees might be more for you. We have all heard the bountiful benefits available to us by eating oranges, including a boost to immune systems and lowering cholesterol. So if you could grow a miniature version of the massive grove trees in the convenience of your backyard, why wouldn't you?
A Dwarf Orange tree only grows to about 10 feet high, a tiny alternative compared to full-sized citrus trees, which grow to over 30 feet tall. Fruit usually appears within a few years after planting, but typically produces fruit faster when grown as smaller trees. Avoid excess moisture in the soil by letting it dry out a little in between waterings, and sprinkle a little bit of nitrogen fertilizer over it throughout the year for best results.
Dwarf Alberta Spruce (Picea glauca)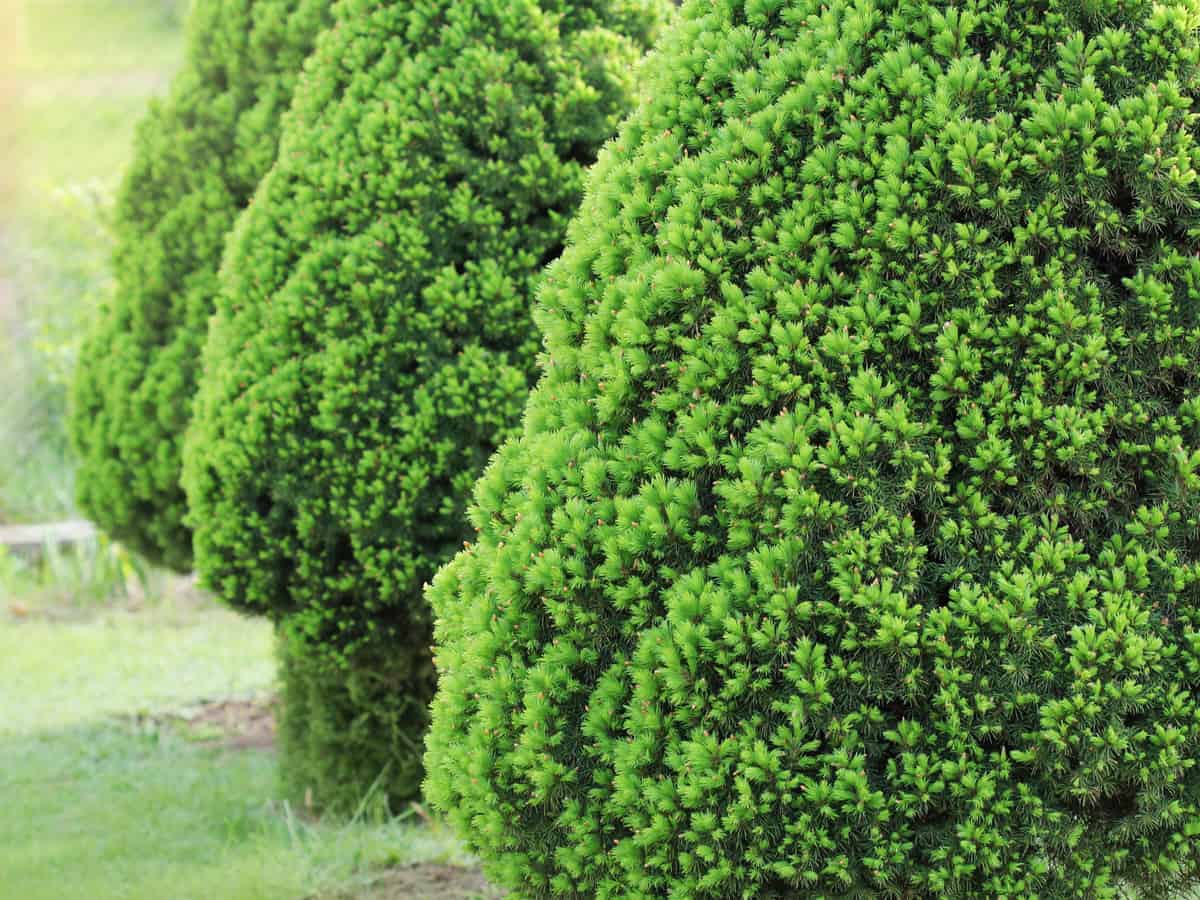 Dwarf Alberta Spruce is commonly known as Black Hills Spruce and is another excellent dwarf evergreen tree. The Dwarf Alberta Spruce is another diminutive member from a family of giants that typically reach heights of 140 feet. While the mini version is a little taller than most dwarf trees, its tiny stature of 12 feet is a dramatic difference when compared to other Alberta Spruce species.
Highly regarded for its Christmas-tree like shape and style, it typically appears in gardens as a specimen plant. Unlike Christmas trees, however, Dwarf Alberta Spruce trees look furry rather than spiny due to their dense bundle of branches and leaves. Alberta Spruces thrive in moist, well-drained soil with just a little bit of organic compost to keep them happy.
Mugo Pine (Pinus mugo): Spectacular Dwarf Evergreen Trees in Varied Shapes and Sizes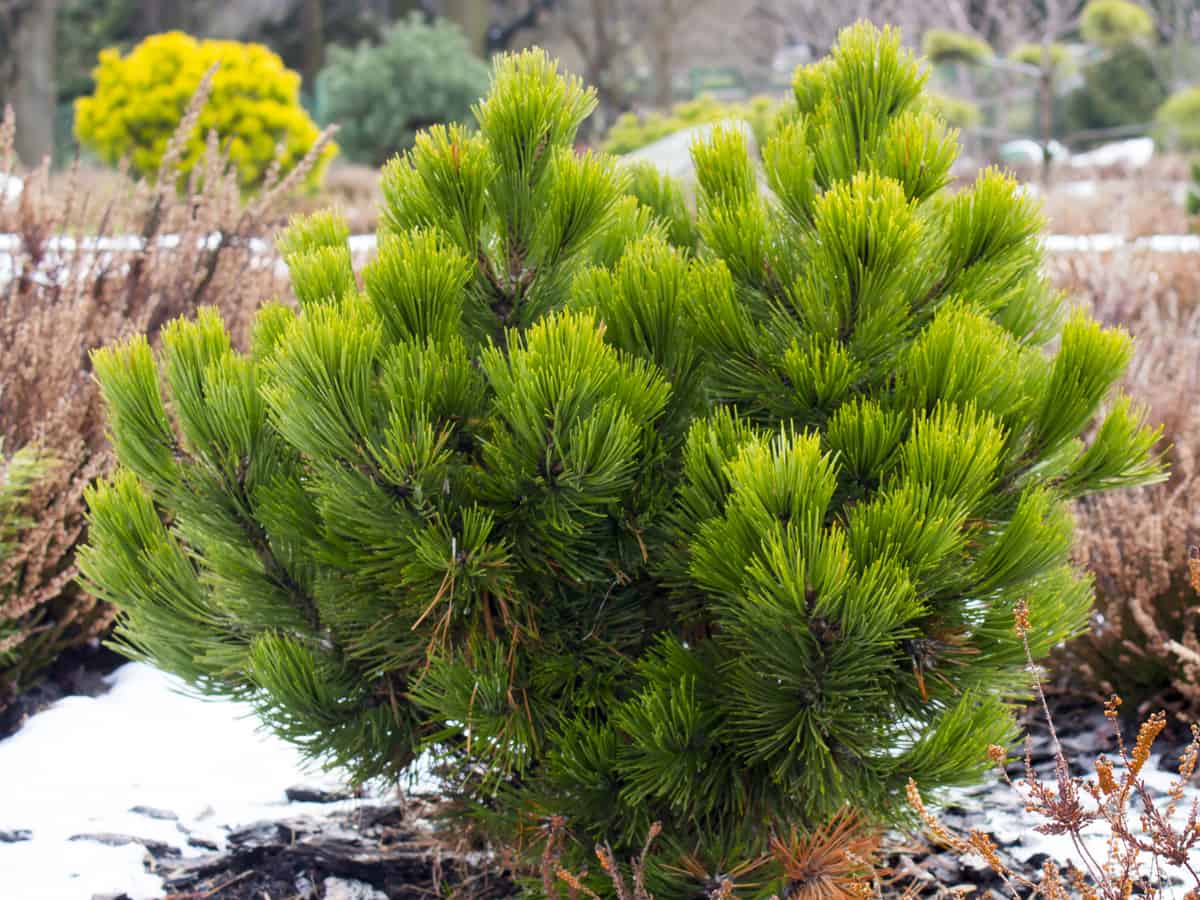 Mugo Pine grows in a variety of species with sizes ranging from 2 to 5 feet tall. Larger versions grow to about 20 feet, all produced with rich, dark green foliage. These evergreen trees are typically used as an alternative to junipers, giving off the same fresh pine scent as their cousins.
Most use these dwarf trees for landscaping, especially as barriers or privacy screens. Shorter varieties are excellent as ground cover plants since they look like small, rounded shrubs. Mugo Pine is relatively easy to maintain and can even resist drought if you miss a watering or two. The most crucial part of keeping your pine healthy is to provide it with plenty of sunshine and space to grow.
Lavender Twist Redbud (Cercis canadensis)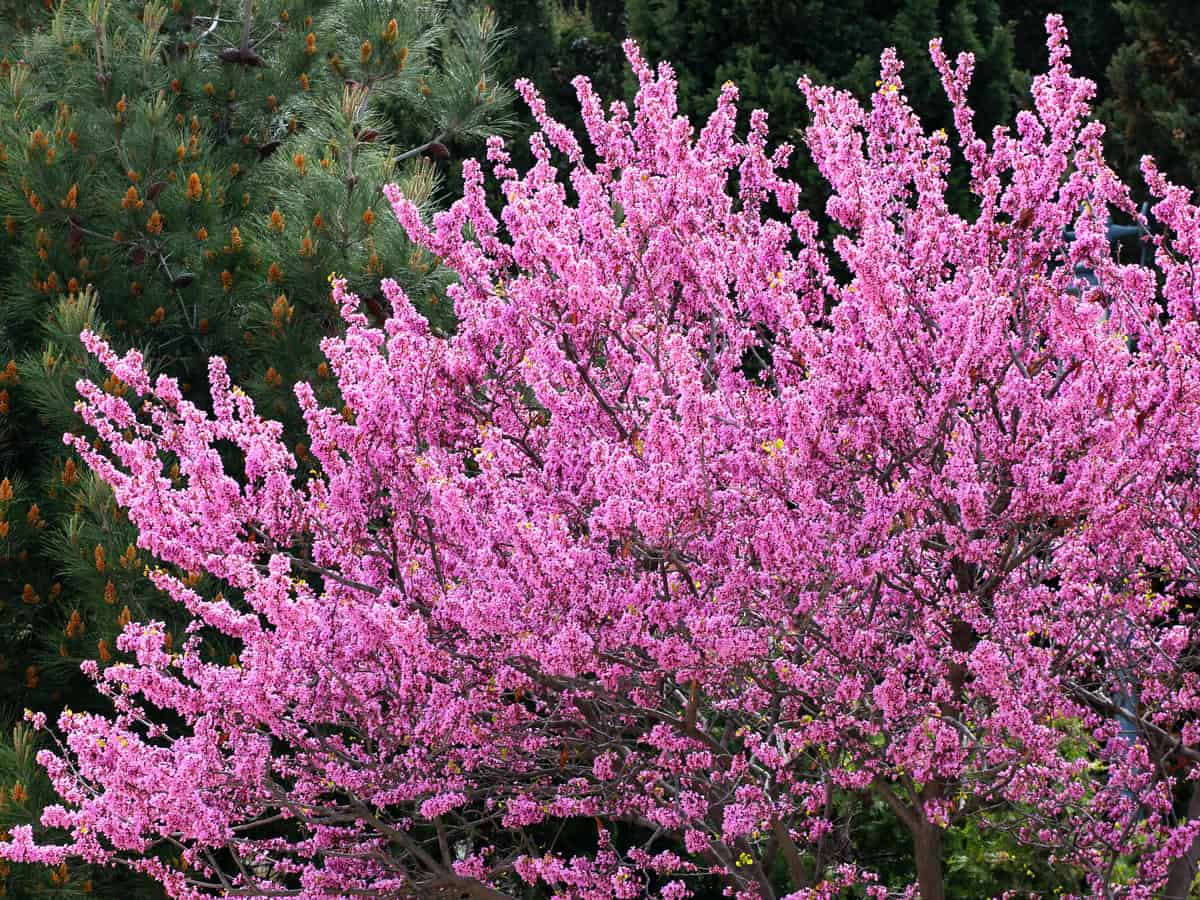 Another example of dwarf trees with flowers is redbud trees. These dwarf flowering trees produce lovely cascading petals of purple that form an umbrella-like dome over the top of the tree. This weeping style dwarf tree attracts butterflies and hummingbirds when it blooms in early spring and is a striking centerpiece for any garden.
The Lavender Twist Redbud grows in most climates and withstands temperatures as low as 20°. It also thrives in the lower southern states, though it may need light shade to keep it from wilting in hotter temperatures. These small trees reach about 5 or 6 feet in height but branch out further to approximately 8 feet wide.
Dwarf Lemon Tree (Citrus meyeri)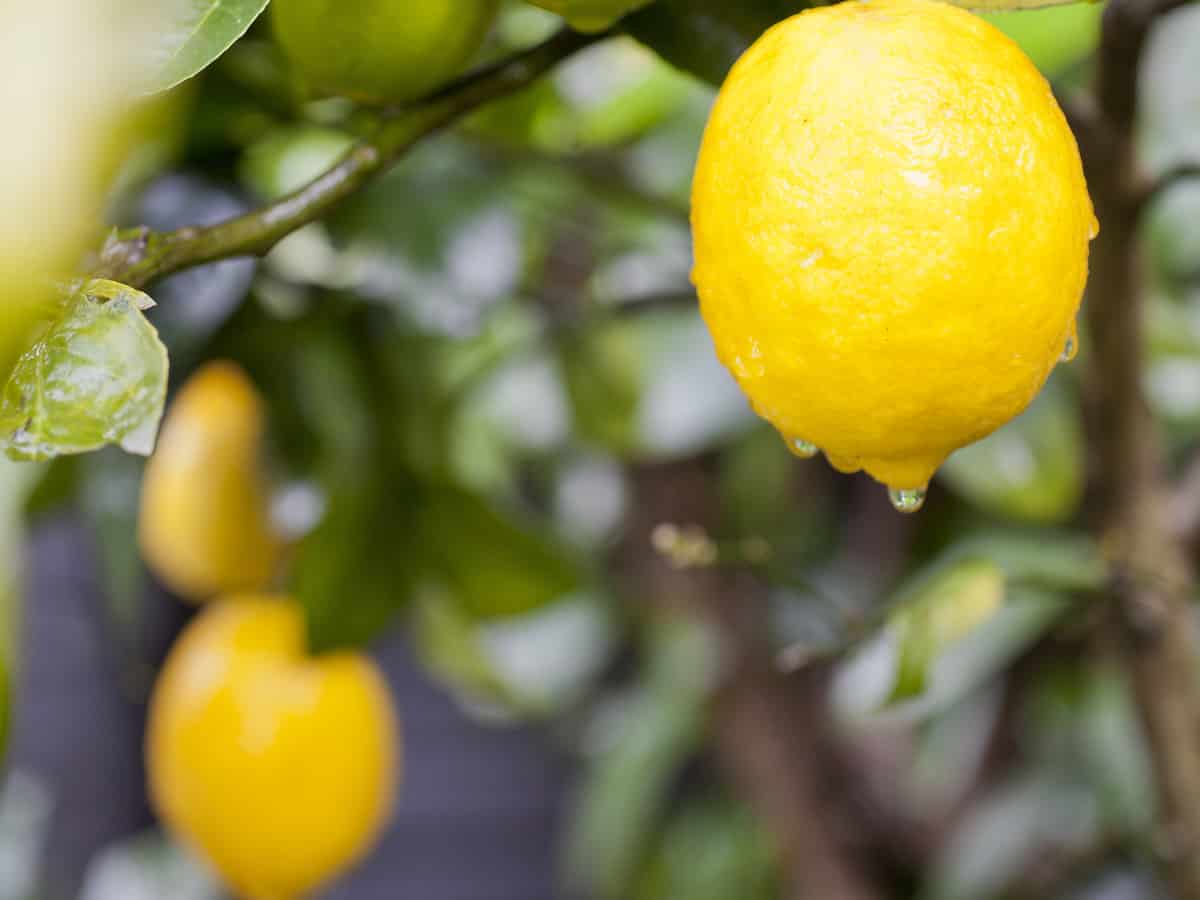 If you are still looking for a fruit tree, we aren't entirely done with all of your citrus options yet. For those who want a tree that also doubles as a small produce stand in the comfort of your backyard, the Dwarf Meyer Lemon tree is the perfect option.
Not only does the lemon tree produce year-round fruit, but it also blooms with fragrant flowers all year long, too. Just think of all those glasses of lemonade you'll sell!
This dwarf lemon tree does best in warmer climates and grows approximately 10 feet tall. It is ideal for small yards and can even be used as a specimen tree since its green leaves last year-round. Dwarf Lemon trees can also be grown indoors, which is preferable if you live in colder regions.
European Fan Palm Tree (Chamaerops humilis): A Perfect Plant for Growing Indoor Palm Trees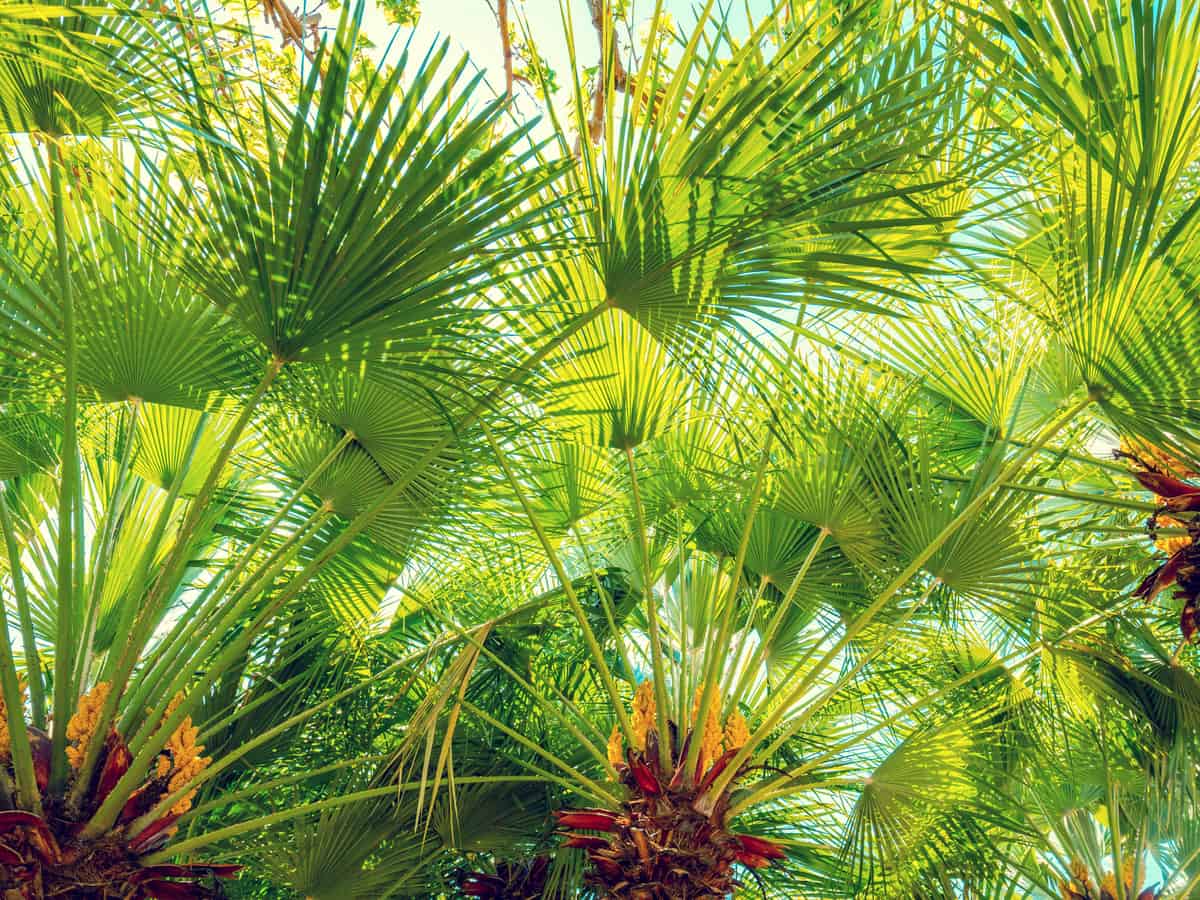 If you want to add something a little more tropical to your gardens, start with the European Fan Palm tree. Utterly different in shape and style from your spruces and fruit trees, this palm tree adds texture and a unique splash to a garden. This tree also makes an excellent indoor palm tree since it grows slowly and rarely stretches past 5-10 feet in height.
Not surprisingly, the European Fan Palm tree does best in warmer climates and is drought resistant. However, it is also cold hardy, tolerating temperatures as low as 20°. It is also one of the flowering trees and produces yellow flowers in late spring.
Pygmy Date Palm Tree (Phoenix roebelenii)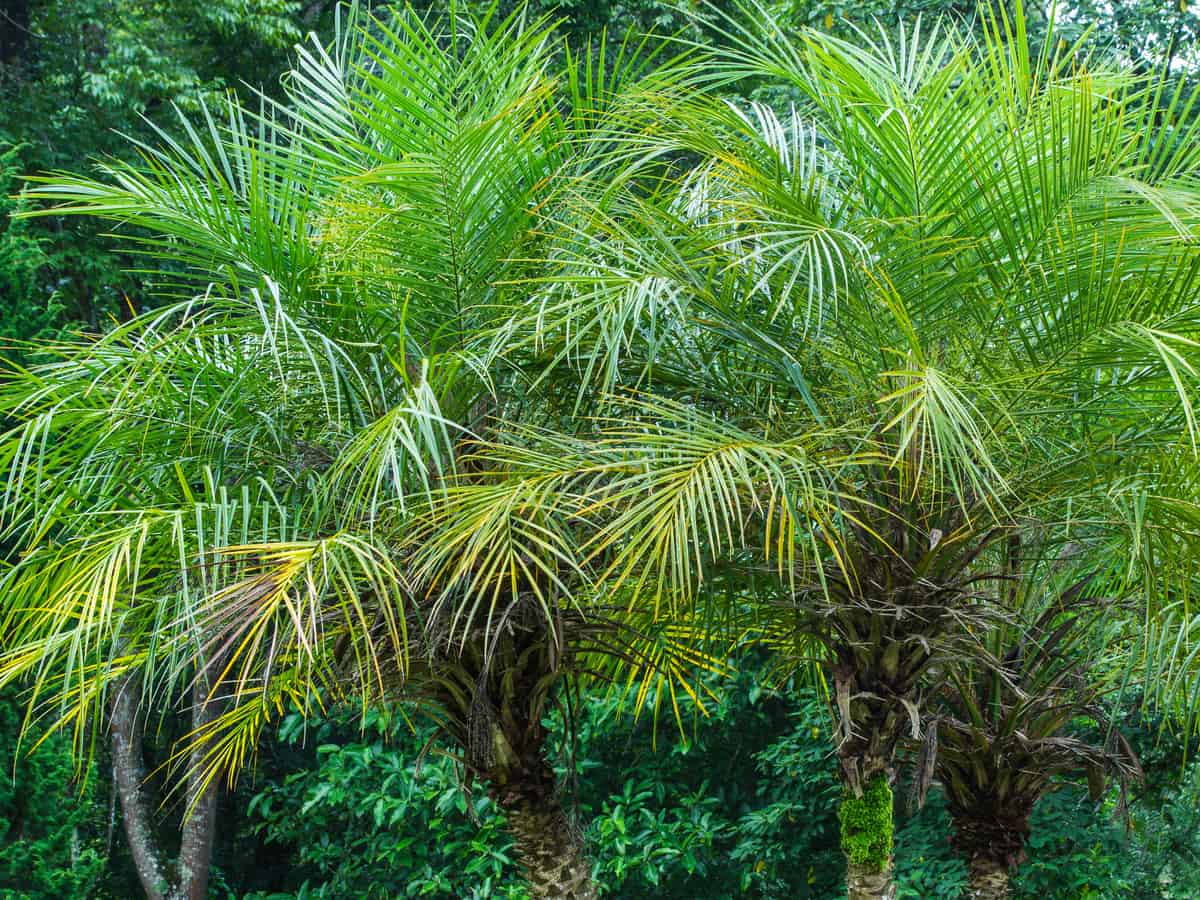 The Pygmy Date Palm tree is another excellent option for small tropical plants, especially if you want to grow them indoors or on a balcony. Originating in Southeast Asia, this palm tree prefers moderate temperatures of around 65-75°. On average, it grows up to 10 feet tall outdoors but only reaches about 4-6 feet in height inside.
If you still need some convincing that this plant is one of the best indoor palm trees out there, the tree also does best in indirect sunlight. While it still needs bright light to thrive, this is particularly great for indoor plants that only receive light through a windowpane. The palm tree is also non-toxic to animals, so you don't have to worry about your pets getting sick if they accidentally brush up against it.
Tiger Eyes Sumac (Rhus typhina): Dwarf Trees that Produce Rich Fall Color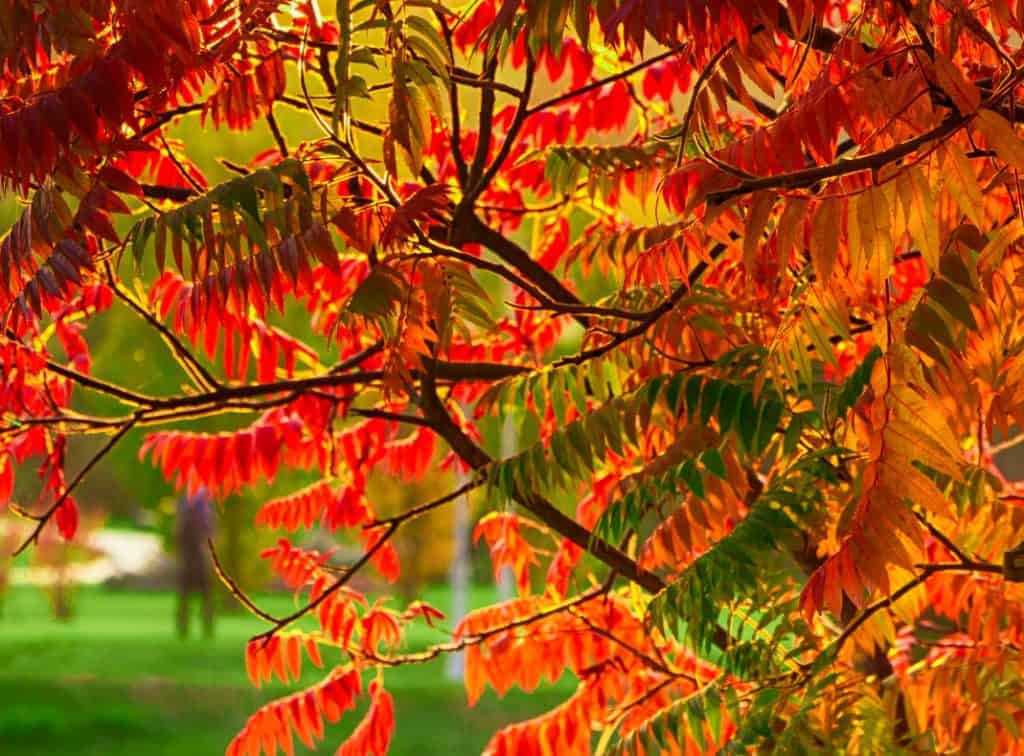 If you are a big fan of fall color, then the Tiger Eyes Sumac is the perfect tree to add to your garden. The lime green plant foliage moves to a bright yellow color in late summer.
During the fall, however, it transitions into beautiful shades of orange and red. To unleash these fall colors, grow the Sumac tree in full sun and well-drained soil.
While the tree is drought-tolerant and will handle dry soil well, the vibrant reds and oranges will be at their best under ideal conditions. The Tiger Eyes Sumac only grows to about 6 feet tall and spreads to a similar distance, making it a superb statement piece in your backyard.
Green Spire Euonymus (Euonymus japonicus)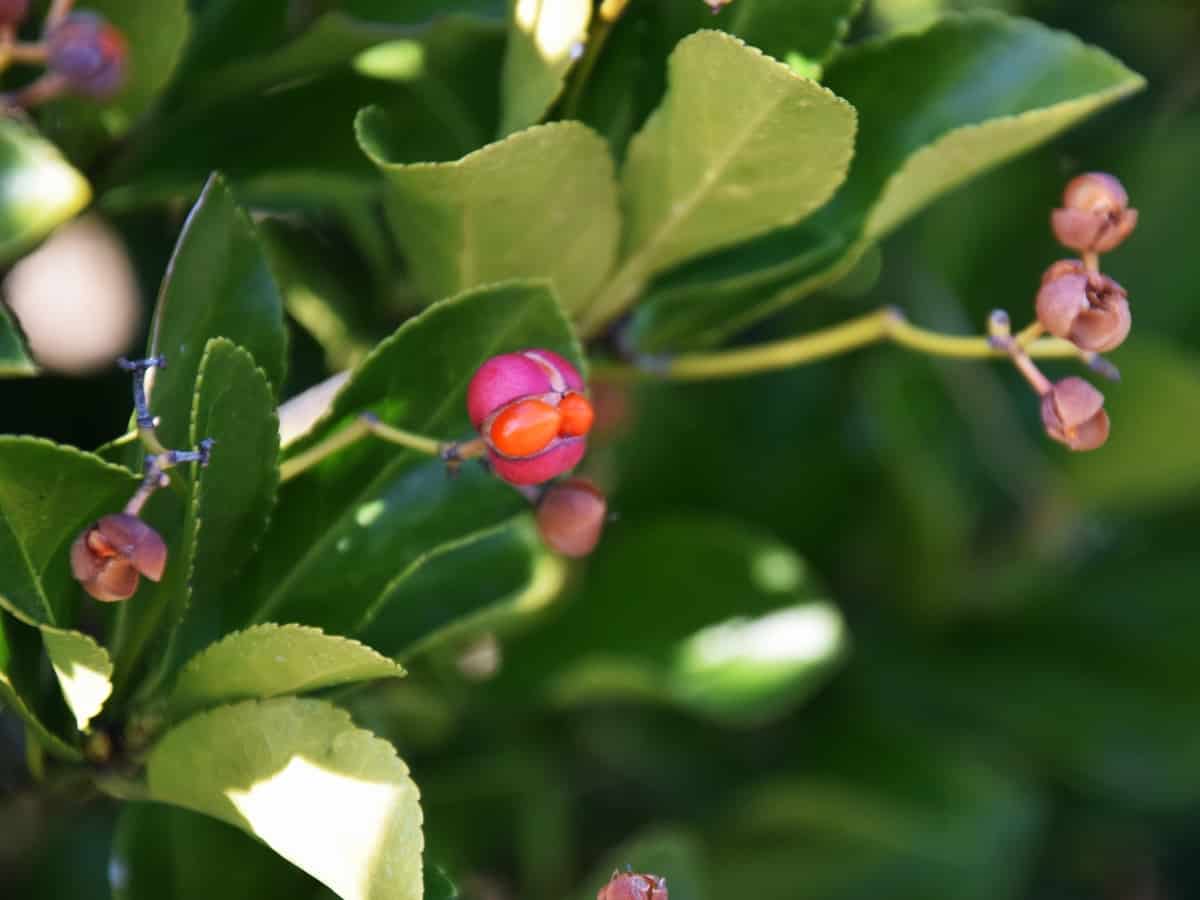 Another dwarf evergreen tree is the Green Spire Euonymus, also known as Japanese Spindle. These easy-to-care-for plants need regular watering and partial to full sun but don't require much more maintenance than that. The Green Spire grows to approximately 6 to 8 feet in small gardens but will grow up to 25 feet in the wild.
The dense branches and foliage on these trees make them marvelous as hedging or privacy screen. They are also deer-resistant, so using them as a border is the perfect way to keep deer out of your gardens.
Dwarf Apple Trees (Malus domestica)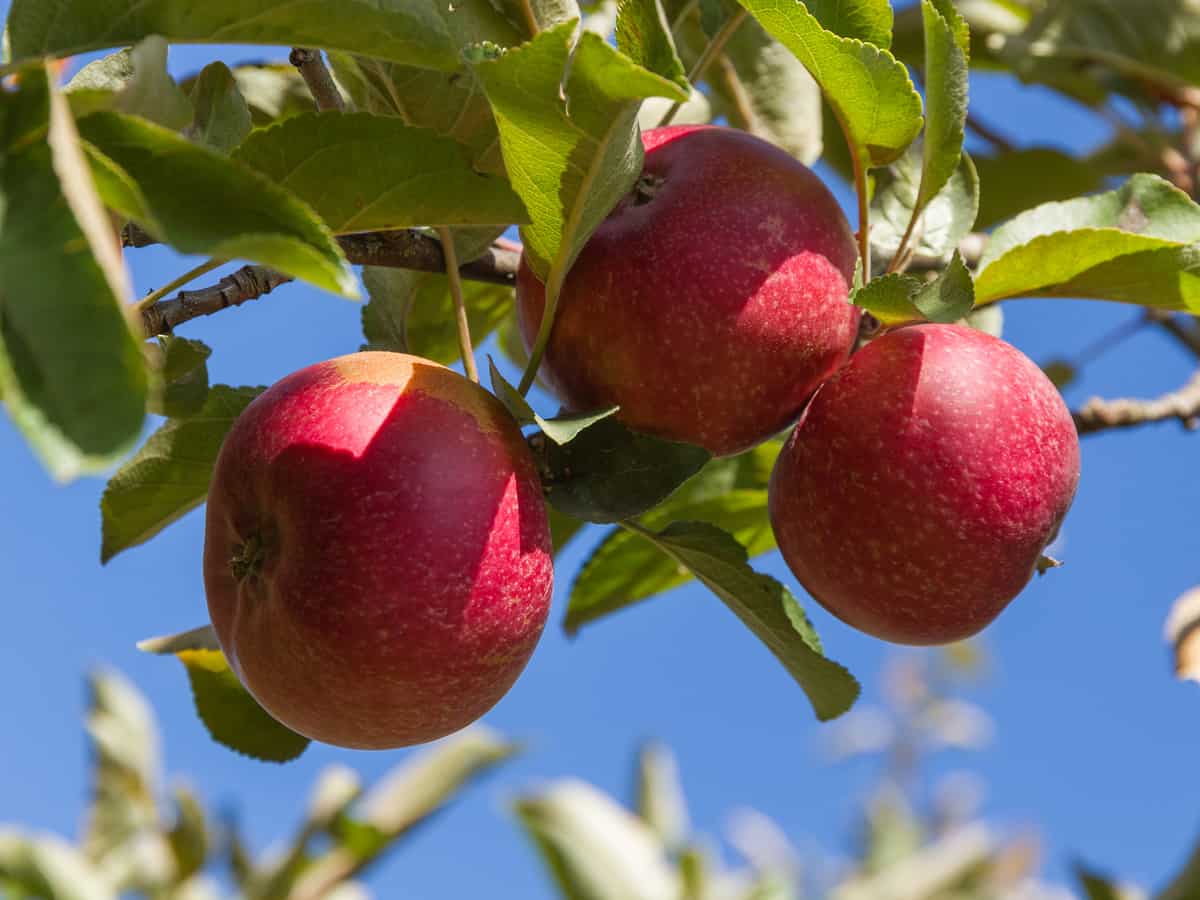 While there are plenty of dwarf citrus trees to go around, there are also many different dwarf apple trees to satisfy your tastebuds. Dwarf apple trees come in a variety of species from Arkansas Black Dwarf to Dwarf Gold Rush apple trees to Granny Smith.
These trees can also prosper in most of the USDA hardiness zones, which puts its success at thriving anywhere between New York and Florida. One of the most significant advantages to growing the dwarf form of apple trees is that they produce fruit faster than full-sized versions.
Where it may take a full-sized apple tree 4-6 years before they start to bear fruit, the dwarf trees will produce fruit in approximately 2-3 years. Dwarf apple trees grow anywhere from 6-12 feet in height, which is about 10 feet shorter than full-sized trees.
Serbian Spruce (Picea omorika 'Nana'): A Low-Maintenance Evergreen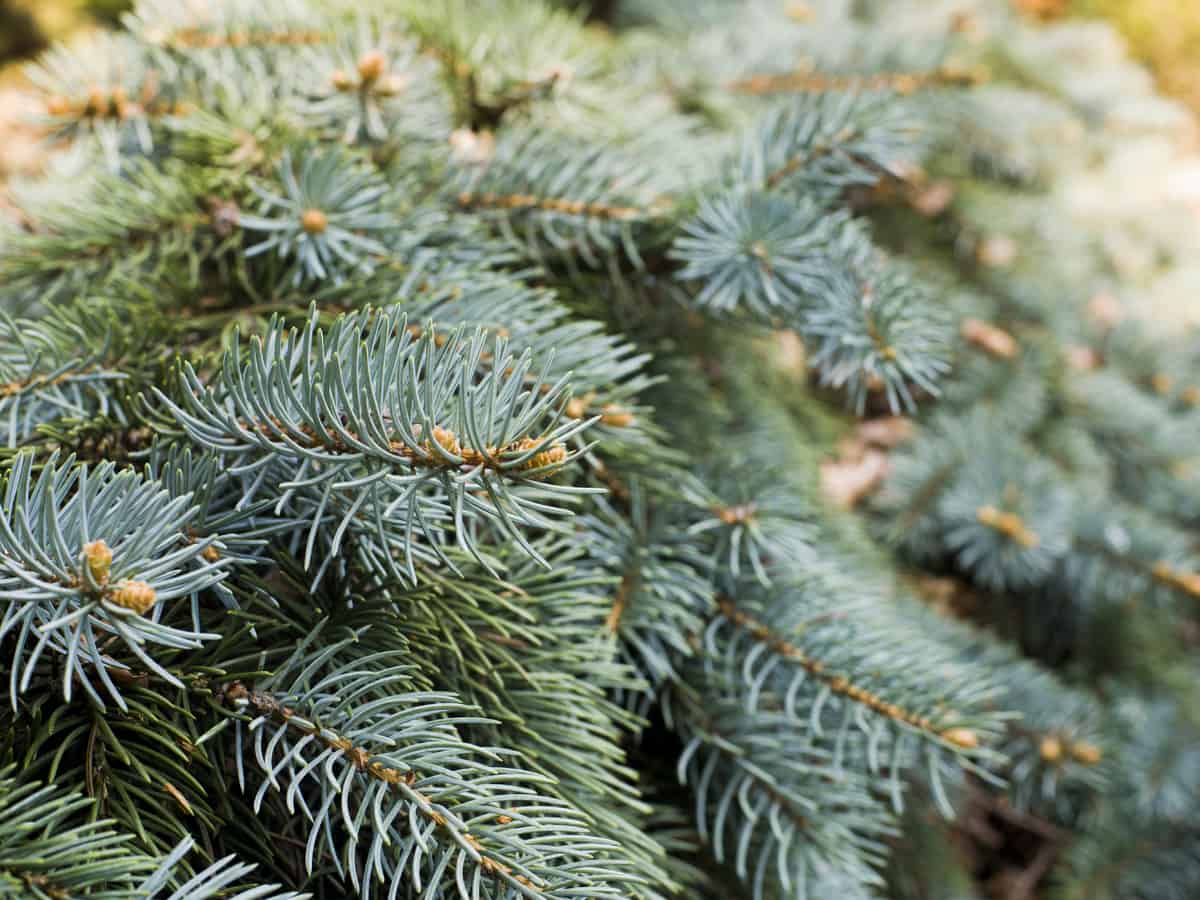 The Dwarf Serbian Spruce is an ornamental evergreen commonly used as a specimen plant in most gardens. Many gardeners also use them as borders and hedges. Noted for its lovely blue-green foliage and low-maintenance qualities, this plant provides year-round interest with a wintery feel.
Larger specimens grow up to 60 feet tall, but these little beauties will stand no more than 8 feet tall. The Dwarf Serbian Spruce prefers cool climates and dry soil conditions.
The Dwarf Pencil Point Juniper (Juniperus communis 'Compressa')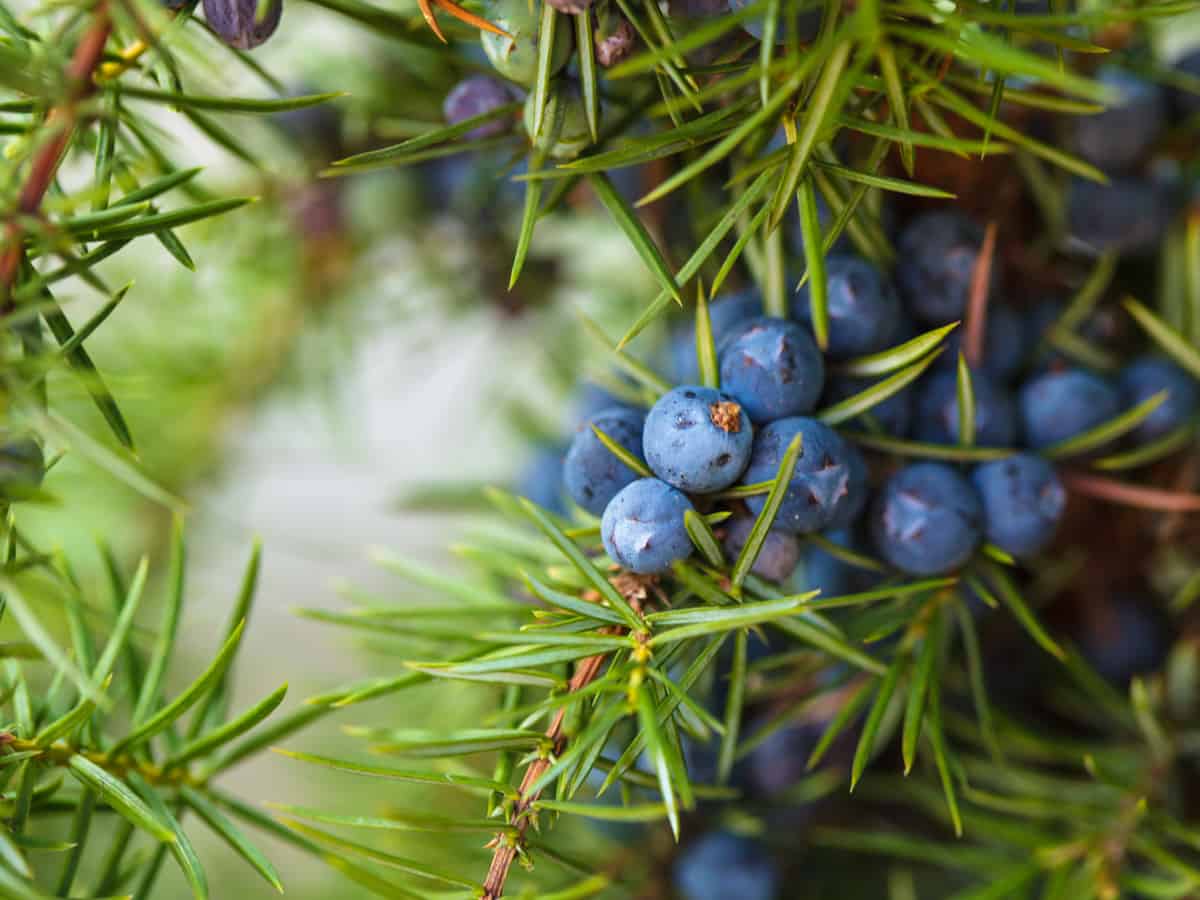 Another superb winter interest dwarf tree is the Pencil Point Juniper. The Pencil Point Juniper gets its name from the long, slender formation it makes, much like a pencil. But don't worry!
This neat a trim appearance does not require a ton of maintenance. The plant will generally retain its shape without any trimming necessary.
This winter hardy evergreen is less than 5 feet tall and can withstand temperatures as low as -50°. While it loves the cold, the Pencil Point Juniper is not one of your shade trees. It should receive plenty of sunlight to thrive. As a bonus, the long prickly needles of the juniper's branches also make it deer-resistant.
With this selection of dwarf flowering trees, fruit trees, and evergreen trees, choosing the right tree for your garden could not be easier. There are plenty of options that will suit your garden-style and what you want to get out of planting these magnificent, miniature giants. All that's left is to head out to your nearest garden center and get digging.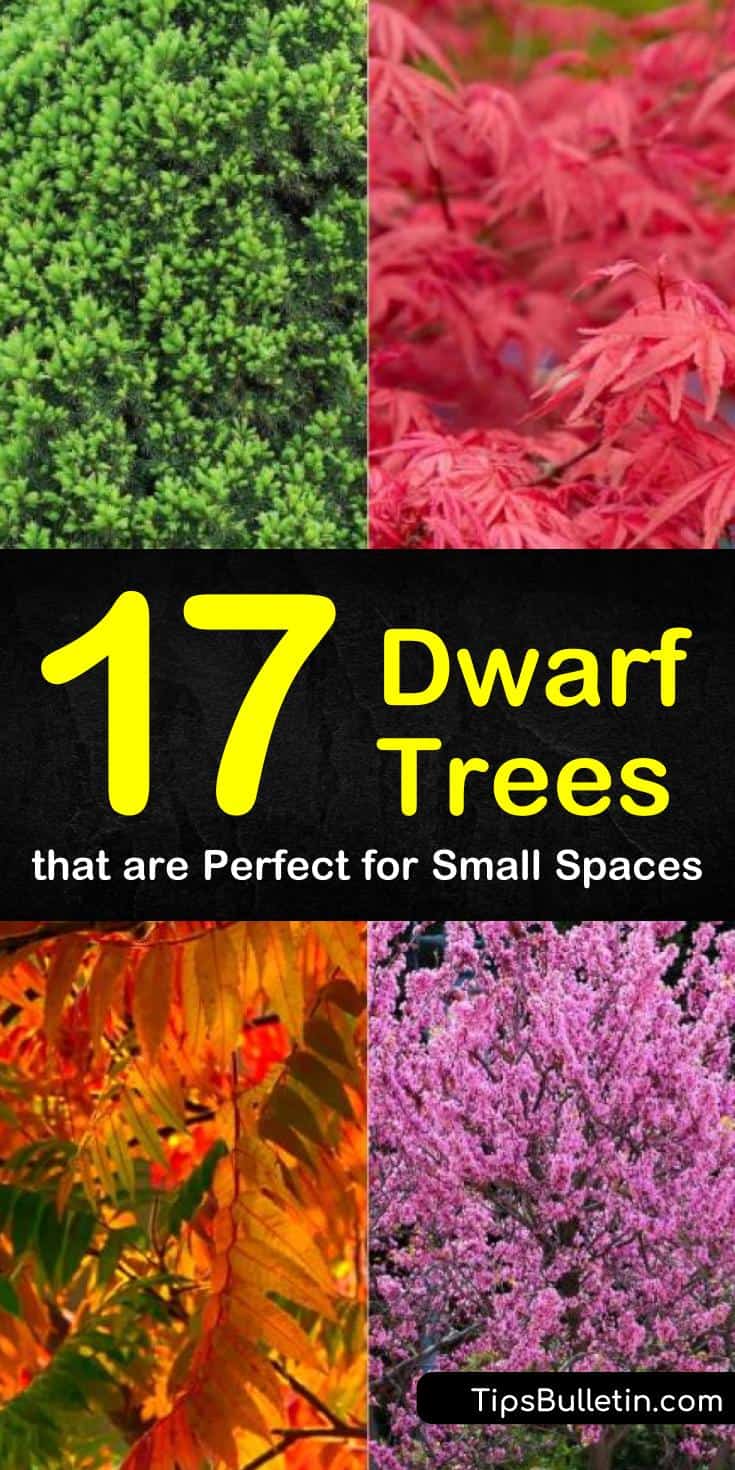 We hope this collection of beautiful dwarf trees for landscaping brought you inspiration for your own garden. Now don't forget to share these mighty dwarf trees with the rest of your gardening crew on Facebook and Pinterest.