Composting is an excellent way to transform kitchen scraps and yard material into mulch and soil amendment. It reduces waste while enriching the lawn and garden, ensuring you grow lush grass, trees, shrubs, fruits, vegetables, and ornamental plants. Can you compost weeds, or are weeds bad for the composting process?
As you perform spring and fall clean-up, you usually have piles of lawn clippings, leaves, twigs, plant debris, and other yard waste. These items are all great additions to the compost pile. However, you may notice perennial and annual weeds in the mix and wonder if you should separate the weed plants or toss them into the heap with everything else.
While some weeds are safe for composting, others create problems when you apply the finished compost tainted with weed seeds to your yard. A stray impatiens flower seedling unexpectedly popping up may be cute, but couch grass, Canadian thistle, and dandelion weed seedlings are a gardener's nightmare.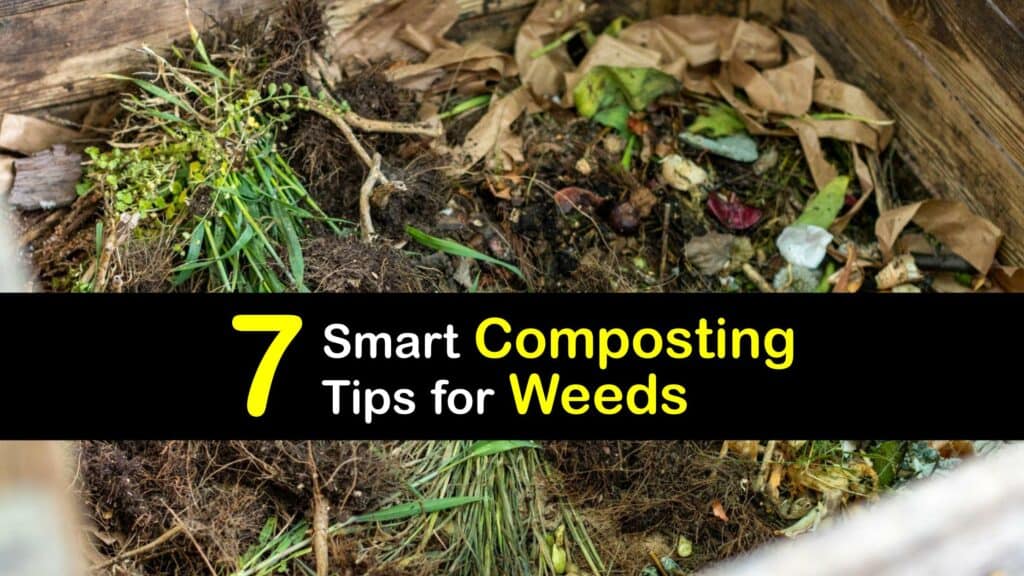 Safe Weed Composting
As tempting as it is to throw every bit of plant material into the compost bin, it's wise to understand the difference between garden weeds before adding them to the pile. Learn effective ways of composting rotten tomatoes and weeds, as well as which plants to avoid, and how to compost weeds with varying methods.
Can You Compost Weeds?
Nature creates compost on its own as fallen leaves, plant debris, and organic matter gradually break down and decay on the forest floor. If you can toss grass clipping material and other yard waste into the compost bin, can weeds be composted, too?
Weed Composting
Are weeds good for compost? Weeds are just as useful for composting as any other yard waste. Yet, it's vital to quickly compost grass clippings and yard waste correctly and monitor the system as the compost breaks down to ensure the compost heats up enough to kill the seed head and root material. Otherwise, you risk spreading weeds throughout your yard and taking over a vegetable or flower bed.
What's the Best Method for Composting Weeds?
Hot composting speeds up the composting process and creates temperatures that kill weed seeds and roots. It's the best technique for composting weeds. Follow some composting tips to help you get the most out of a hot compost pile.
Hot composting is a classic composting method where you create an environment to heat the compost up to 145°F. Turn the pile every three days to disperse the heat and allow air circulation, and water it to keep it moist like a damp sponge. Add equal amounts of compostable brown paper and egg cartons as well as greens, then shred the organic material for faster composting.
How to Compost Weeds by Cool Composting
Cold composting is a long process and takes less effort. Nevertheless, it's vital to keep the compost heap free from weeds. Find out how to compost weeds in a cold compost pile.
Cool Composting
Cold composting is a passive style of composting that doesn't involve turning and temperature monitoring. All you have to do is add fresh material to the pile as the lower levels decompose.
Unfortunately, this technique is not effective at killing seeds and roots from weeds. Don't be tempted to compost weeds that have gone to seed, and prebake weeds before placing them in a pile by putting them in a black plastic bag in direct sun for a few days or spreading them on a sheet of metal until they're crisp.
Weeds to Avoid Adding to the Compost Heap
Knowing the difference between plants before throwing weeds into the compost tumbler is crucial since some weeds are unsuitable for composting, especially in cold compost.
Never place weeds treated with weed killer and other chemicals in the compost heap. Avoid composting diseased plants to prevent contaminating the pile.
Don't add perennial weeds or noxious weeds that require high temperatures to kill them. These include buttercups, morning glory, oxalis, Bermuda grass, crabgrass, and quackgrass.
Keep runners out of the heap, like raspberries, strawberries, and mint. If you're unsure whether the plants are weeds or which type of weeds they are, consider checking the Weed Science Society for weed identification.
What Materials Should You Compost With Weeds?
Many types of green and brown materials are suitable for composting, and some may surprise you. Add other materials to the pile when composting weeds.
Greens are a source of nitrogen, and browns provide carbon. It's necessary to add nearly equal amounts of these materials when composting to be effective.
Put weeds in compost with green materials, like fresh grass clippings, fruit and vegetable scraps, coffee grounds, tea bags, and plant debris. Add layers of shredded cardboard, dry leaves, twigs, straw, paper, and other brown material.
How Long Does Weed Composting Take?
Once you know how to compost weeds, you're probably wondering how long you must wait for the final product. Discover how long it takes to compost depending on whether you are cold or hot composting.
Cold composting is the slowest form – it takes roughly six months to one year, depending on the bin size, location, and other conditions. In contrast, hot composting can take only three weeks if you check on it daily, turning and watering as needed.
Ways to Use Composted Weeds
Finished compost is rich with just the right amount of nutrients and minerals. There are several ways to utilize this material around the yard. Follow these tips for using compost for your lawn, garden, and plants.
The most straightforward way to use compost is to apply it around your plants as mulch. This feeds your plants while keeping the soil from drying out. Fresh compost is rich in nutrients, and it's better to apply compost to the garden after you remove all the weeds. Otherwise, you're feeding the weeds along with the plants.
Use compost as a top dressing in raised beds and gardens to retain moisture, reduce runoff, and protect the soil from erosion. Or, make compost tea by steeping compost in water and feeding your plants with natural liquid fertilizer.
Another way to reap the benefits after composting weeds is to make potting soil for a container garden. Mix one part vermiculite with one part topsoil and one part compost before planting to give your new plants a boost of nutrients.
There is something satisfying about using nature to turn grass clippings, weeds, and other yard waste into useful material. However, it's vital to compost the right weeds and use the proper composting technique to ensure you don't spread the weed seed over the garden soil when you use the compost.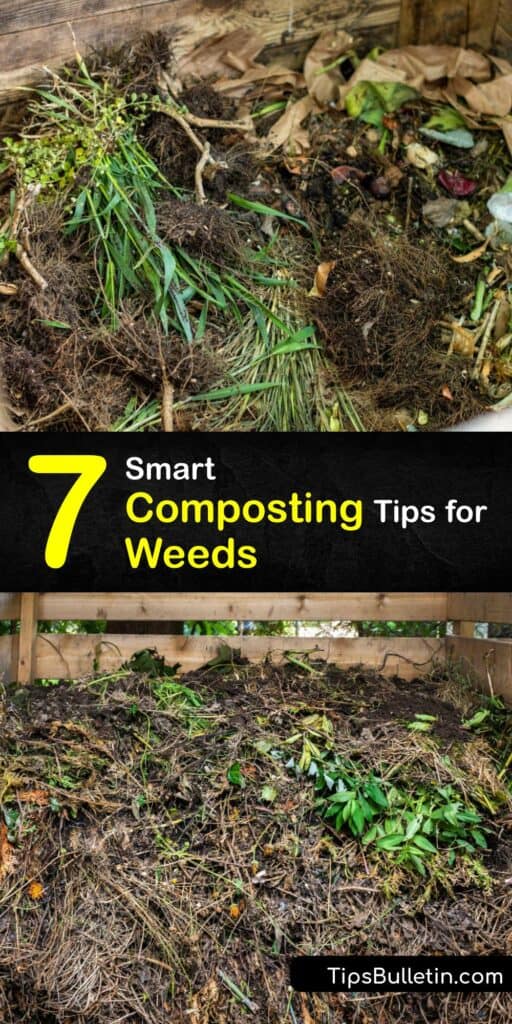 Can you compost weeds is a common question among gardeners, and we'd love it if you'd share the answer and our weed composting guide and tips with your friend and family circle on Pinterest and Facebook.