There are times when we have too much milk that we cannot possibly use up before it spoils, especially after finding a great sale at the local market. While the freezer is a great place to store foods, milk takes up quite a lot of space. Canning milk is a common practice when homesteading; it extends its shelf life and prevents food waste.
Ask any homesteader, and they will tell you that learning food preservation is a must for storing food, and home canning is one of the greatest ways to do this.
It's safe to can some dairy products, whether you're canning goat's milk and cow's milk or canning butter.
However, it's vital to use the right canning process to avoid botulism caused by a germ called Clostridium botulinum. While we commonly use a water bath canner to can many types of foods, pressure canning is the best way to can milk for long-term storage.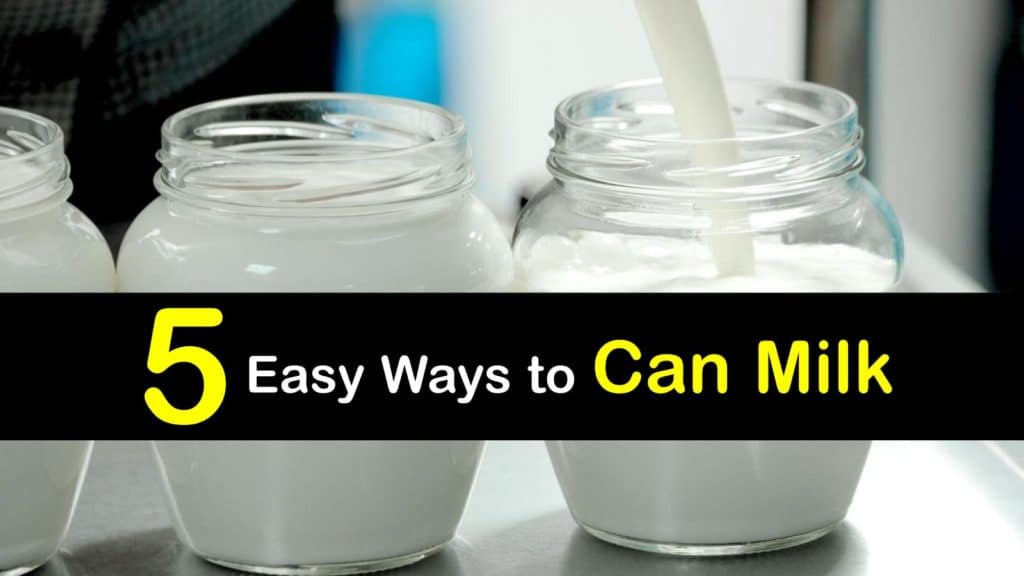 Easy Ways to Can Milk for the Pantry
There are several methods of preserving milk. Whether you want to know about freezing or defrosting frozen milk or canning it, it's easy. Learn how to can milk step by step, whether it's raw milk or grocery store milk. We also explain things to know about canning milk, how to prepare for the process, and how long canned milk lasts.
Things to Know before Canning Milk
If you pull out a canning book, you'll discover many canning recipes for high and low acid foods for a water bath canner or pressure canner. However, there are a few vital things to know when canning milk to ensure it is safe for consumption.
Canning Milk
The FDA and USDA do not recognize or approve water bath canning milk and other low-acid products since this process does not reach temperatures high enough to prevent Clostridium botulinum growth.
While acidic foods, such as pickles, jelly, jam, and most fruits, are safe to can in a hot water bath, canning whole milk requires a pressure cooker with the right processing time.
Preparing to Can Milk
Learning how to can milk also means understanding which tools to use and how to prepare for canning. Here is all the equipment required for the process and the preparations to take before canning.
Before canning, take the milk out of the fridge and let it sit on the counter to warm up a bit. Wash the canning jars with dish soap and water, place them on a baking sheet, and heat them in the oven at 320°F for 15 minutes to sterilize them.
Do not touch the jar rims when you remove the hot jars from the oven and allow them to cool. Set the jars' bands and rings in a pot of boiling water for five minutes to sanitize them.
Prepare to can your milk by setting the pressure cooker on the stovetop and filling it with three quarts or two and a half inches of water. Place a canning funnel, ladle, jars, lids, and kitchen towel within easy reach of the canner.
How to Can Milk in a Pressure Canner
Pressure canning is the best way to can low acid foods such as milk to ensure safe drinking. While it takes a bit more time than using a water bath canner, the ending result is worth it. Here is how to can milk using a pressure canner.
Use a proper canning funnel and ladle to fill the jars with milk, leaving a half-inch of headspace at the top. Wipe the jar rims with paper toweling and position the lids in place. Finger tighten the bands on the jars and set them on the pressure cooker rack.
Close the canner lid and turn the heat to high, but do not weight the vent. When the vent begins steaming, allow it to continue for ten minutes before applying the weight on the vent.
Turn off the heat once the canner reaches eleven psi and let it cool completely. Once the pressure reaches zero, open the lid and let the jars sit in the canner for a few minutes before removing them.
Allow the canned milk to sit on a kitchen towel overnight and then check their seals before storing them in the pantry.
How Long does Canned Milk Last?
Having a bunch of canned milk is wonderful, but what is the milk shelf life after canning it? Discover the best place to store your canned milk, how long it lasts, and ways to tell if it's gone bad.
Canned Milk Storage
It's safe to store home canned milk in the pantry for a year or two. If you notice that the cream separates from the milk or it gets yellowish in color, don't worry, this is normal.
Make sure to store it in the fridge after opening a can and keeping it there for no more than a few days.
If you are unsure if your milk is still good, use your senses. Look at the color and texture and discard it if it has a yellow color and is lumpy. Smell the milk for freshness and dump it down the drain if it has a sour odor.
How to Make Evaporated Milk
While canned milk is ideal for everyday meal prep, there are other ways to can your milk for use in favorite recipes. Here is how to make evaporated milk to sweeten coffee, add to smoothies, or make creamy soups.
Pour the desired amount of milk into a medium saucepan. Turn the heat to medium-low and simmer without bringing it to a boil to evaporate the right amount of water. Stir the liquid frequently and remove it from the heat after 25 minutes.
Allow the evaporated milk to cool and pour it through a strainer into a container. Put the lid in place, and store it in the refrigerator. If you want to store evaporated milk long-term, use the proper milk canning method with a pressure cooker.
Canning is not reserved solely for the Amish or homesteaders. It is a form of food preservation that anyone can do with the right technique and equipment. Not only is milk easy to can, but canned milk tastes almost as good as fresh and is perfect for cooking and baking.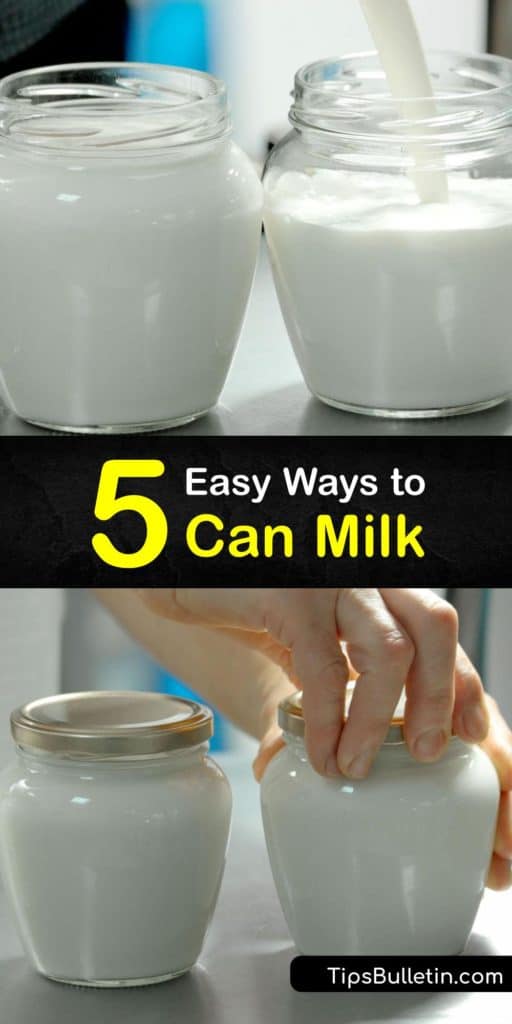 Canning milk not only prevents food waste but keeps your pantry well-stocked for the future, so why not share our milk canning guide and tips with your circle of family and friends on Facebook and Pinterest?