Sometimes it is challenging to use up an entire gallon of milk before the expiration date. If this is a frequent issue for your household, you might be wondering, "Can you freeze milk?"
In this article, you will discover precisely how to freeze milk safely, how to defrost frozen milk, and what recipes to use it with after thawing. As long as you freeze milk before the expiration date, you never have to worry about wasting unused milk again.
It is also possible to freeze non-dairy milk products, such as coconut milk, almond milk, or oat milk. Low-fat and skim milk tend to have a better texture when thawed than whole milk does.
If you like to use frozen milk in your breakfast smoothies, try freezing it in serving-size portions using ice cube trays. This way, it is easy to remove the exact amount you will be using.
Whether you are freezing plant-based beverages or dairy milk, try to use it within a month or so of freezing for the best results.
Can You Freeze Milk?
Milk is one of the drinks almost everyone loves. You may wonder about the best way to store it so you can have a sip whenever you want it. How long can milk last unrefrigerated? This is an important question since milk does not last long at higher temperatures. The fridge and freezer can help.
You need to keep in mind a few things before freezing milk to increase its shelf life. It is essential to use airtight containers. The safest method is to refrigerate milk while it is defrosting.
Thawing frozen milk at room temperature runs the risk of potential bacterial contamination. The texture of milk changes significantly after freezing.
It is best to use thawed milk in recipes like baked goods, lasagna, smoothies, or even your morning breakfast cereal or oatmeal. Many people do not enjoy the texture of milk after freezing for drinking by itself.
If you plan to freeze milk for drinking later, try a small amount first as a test batch before committing to a larger quantity.
Knowing how to tell when milk is gone bad is important. Drinking spoiled milk leads to food poisoning. Bad milk has an unpleasant smell and is often chunky.
How to Freeze Milk
It is crucial to freeze milk before the "best by" or expiration date listed on the package. Trying to salvage spoiled milk by freezing it is merely a waste of valuable freezer space.
The safest and best way to freeze milk is to start by removing about one cup of milk from the gallon milk jugs.
If you are using smaller containers, leave roughly an inch and a half of space at the top of the jug to allow room for the milk to expand during the freezing process. Doing so helps to keep the container from breaking and spilling in the freezer.
Avoid storing milk next to fish, meat, and other foods with strong odors and flavors. When stored for extended periods, milk can absorb different flavors through plastic containers. For this reason, it is advantageous to try to use milk as soon as possible after freezing.
The best way to store condensed milk that has been opened is by freezing. Make milk cubes or use other airtight containers.
Freezing lemon juice is also easy in ice cube trays or other sealable bottles and containers.
Choosing the Right Container
Selecting the proper vessel for freezing milk is imperative for preserving the quality of your milk. Make sure to use an airtight container. Paper milk cartons are not sufficient.
Plastic jugs work best because the sides are flexible to allow for expansion. Half gallon jugs are useful because they allow you to defrost a smaller amount at a time. Smaller volumes also defrost faster.
If you do not have appropriate plastic containers, try freezing milk in gallon-size freezer bags. Fill the bag three-quarters full. Try to remove as much of the extra air as you can from the plastic bags before sealing them.
Avoid freezing milk in glass containers or Mason jars. They are likely to crack or shatter in the freezer.
What Kind of Milk Freezes Best?
During the freezing process, milk tends to separate and has a different consistency when thawed. This goes for both plant-based and dairy products.
When the fat separates from the water content, it stays separated after thawing, and the milk tends to have a grainy texture. For this reason, many people prefer low-fat and skim milk as the best way to preserve milk in the freezer because there is less fat content to separate.
The answer to the question of, "Can you freeze whole milk?" is yes. Just be aware that it will likely have a grittier consistency because of the higher fat content.
Freezing Milk Alternatives
Similar to dairy milk, the fats in plant-based beverages also separate from the water content when frozen. Almond and oat milk tend to have an especially grainy texture once thawed.
However, this difference in the texture is not overly noticeable when using frozen milk in recipes mixed with other ingredients.
Be sure to transfer canned products like coconut milk and condensed milk into freezer-safe containers. Otherwise, the metal cans could split open as the liquid inside expands in the freezer.
Follow the same procedure to freeze fresh coconut milk, freezing condensed milk, and other milks for the best results.
How to Thaw Frozen Milk
When you are ready to defrost frozen milk, it is best to do so in the refrigerator. Just like any other dairy products, refrigerate milk as it is thawing to avoid the risk of harmful bacteria development.
If you need to hurry the thawing time and leave it at room temperature, place the frozen milk in the kitchen sink filled with cold water. As the water warms to room temperature, roughly every 30 minutes, replace it with cold water or add ice cubes to the sink.
Ways Milk Changes after Freezing
Frozen milk retains all of its nutrients once defrosted. The main difference between fresh milk and thawed milk is the slightly granular texture when the fat separates from the water during freezing.
When cooking with frozen milk for recipes in an instant pot or skillet, the milk does not need defrosting. Simply place the desired amount of frozen milk directly into the pot. Freeze milk in ice cube trays for easy measurements.
To thaw milk for drinking, try using an immersion blender or food processor to mix the fats back into the milk. If you do not have a blender at home, try shaking the milk vigorously before each use to integrate the separated parts.
What to Do with Thawed Milk
Use previously frozen milk in the same way you would use fresh milk. Some people do not find the texture of thawed milk appealing, but it improves by using the techniques described above.
If you do not enjoy the grainy texture of defrosted milk for drinking, use it in your favorite recipes. Previously frozen milk is perfect for baked goods. It is also an excellent addition to breakfast foods like smoothies, oatmeal, and cereal.
Note that you can freeze products made from milk, too, but the texture does change. Can you freeze shredded mozzarella cheese? Yes. Freeze basket cheese and all types of cheese in a zippered bag with the excess air removed or a hard-sided airtight container.
The answer to the question of, "Can I freeze milk?" is yes. Whether you are trying to stock up or merely bought too much milk at the grocery store, freezing is a fantastic way to extend the shelf life of milk and avoid letting it spoil.
Freeze milk in an airtight container, and leave enough extra room to allow for some expansion of the milk as it freezes. Cook with previously frozen milk in your favorite recipes, or use an immersion blender to improve the milk's texture for drinking.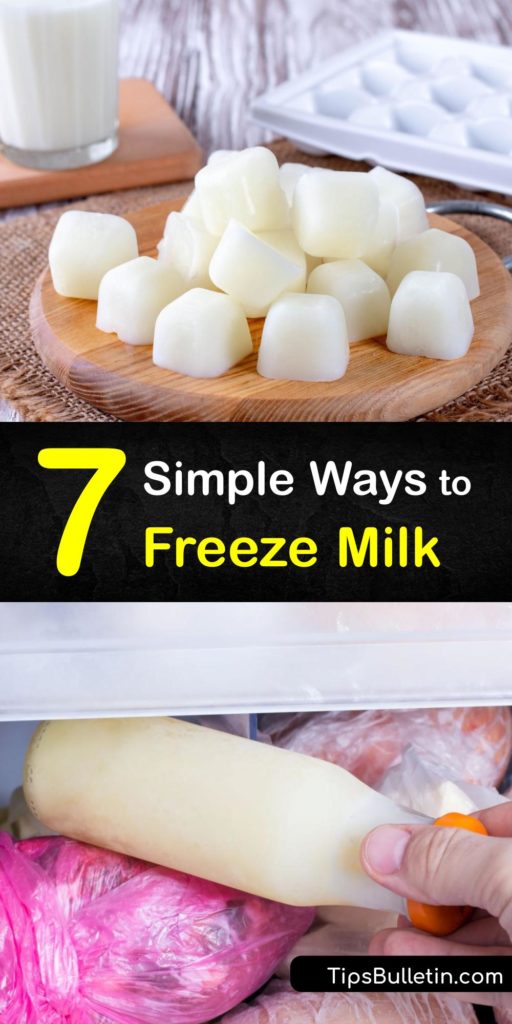 If you found these tips about how to freeze milk helpful, please share this article about freezing milk on Pinterest and Facebook with your friends and family who may be wondering, "Can you freeze milk?"