Whoever the first brave person was that decided to dig up a potato and eat it, we thank you. This discovery led us down a world of deliciousness with mashed potatoes, French fries, tater tots, and potato chips. However, spuds don't last as long as we'd like, and do potatoes go bad when they sprout?
Potatoes are root vegetables native to the Americas, and the plant itself is a member of the nightshade family. These starchy tubers now grow in cool climates worldwide and are the fourth most important crop. The versatility of the potato makes it one of the more popular veggies for cooking.
It's easy to buy a ten-pound bag of potatoes from the grocery store and forget about them while they sit in the corner of the kitchen or pantry. It's when you decide to add potatoes to a dinner that you realize your spuds have begun sprouting. Now you're left wondering if they are still safe to eat or are they better off in the trash can.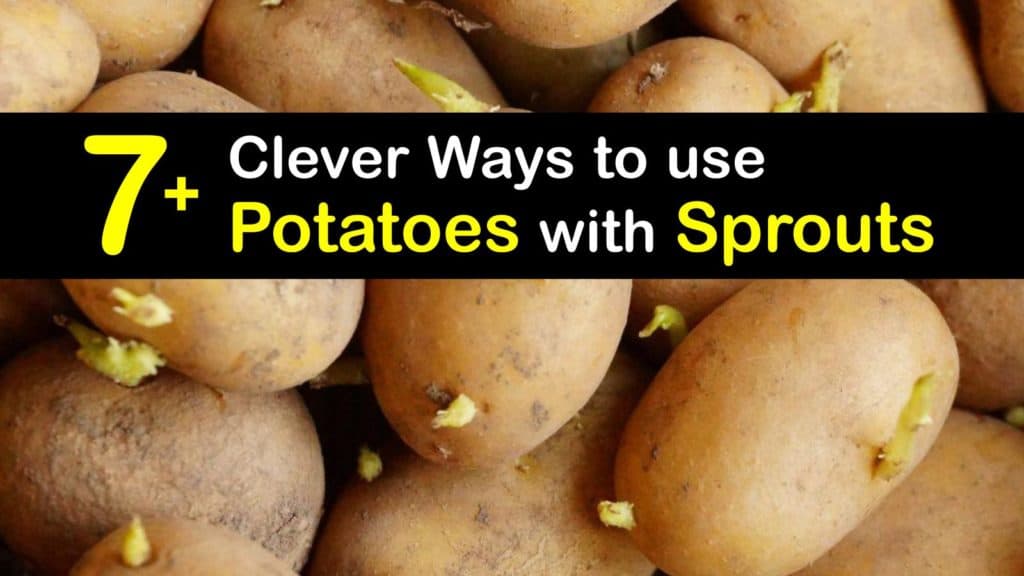 What to do with Sprouted Potatoes
A basket of potatoes with odd-looking sprouts protruding from their skins is unappealing. The same applies to parsnip vs potato or another type of veggie. However, don't throw away your old potatoes yet. There are ways to use up sprouting spuds, and some of them may surprise you.
Can You Use Potatoes that Have Started to Sprout?
I don't know how many times we've purchased a large bag of potatoes on sale, intending to eat them and then forget about them until they began sprouting. Can you use potatoes that have started to sprout? Yes, but it depends on how far along they are in the aging process.
Don't use them if you find mold on potatoes. They should be tossed in the garbage, as they are not good to eat or plant.
While we think that all plants need soil to grow, this isn't always true, especially with potatoes. Sometimes, all a spud wants for sprouting is darkness, moisture, and a little time.
Potato sprouts contain high concentrations of glycoalkaloids, similar to green potatoes, and are considered toxic. A potato with green skin means the spud was exposed to sunlight while growing, causing an increase in solanine, chaconine, and chlorophyll.
While these chemicals are naturally present in potatoes, high levels cause potatoes to have a bitter taste and lead to solanine poisoning, resulting in abdominal pain, vomiting, and other symptoms.
However, the potato itself is still safe to eat as long as it is not shriveled and soft or mushy, you remove all sprouts from the skin and cut off the green area.
To prepare sprouted potatoes for eating, use your fingers to pluck away the sprouts. Use the scoop end of a vegetable peeler to dig out the eyes and any remaining sprout sections.
Make sure there are no green spots and remove them with a sharp knife if needed. Make whatever your heart desires with the potatoes, from baked potatoes and French fries to scalloped potatoes and hash browns.
If Potatoes Sprout, are They Bad? How to Stop Sprouting
While sprouted potatoes are usually still edible, they taste better when fresh. If potatoes sprout are they bad? Learn how to store potatoes to keep them from sprouting.
Potatoes require air circulation and cool, dry conditions to prevent spoilage. Place the spuds in a breathable bag, such as a paper bag or mesh bag, or set them in a cardboard box. Do not leave them in the grocery store plastic bag or keep them in the fridge, which triggers the starches to convert into sugars.
Instead, the best way to keep potatoes is in a dry place like the basement. While we tend to store food in the pantry or kitchen, room temperature is probably too warm for potato storage. Avoid setting the taters in a damp, dark place that encourages sprouting.
Do Potatoes Go Bad When They Sprout, and Are They Still Good for You?
You reach into the potato bin to grab a couple of potatoes for your favorite recipe, only to discover they are growing sprouts. Are sprouting potatoes edible, and are they as good for you as fresh potatoes?
Potatoes are a source of B vitamins and minerals like phosphorus, potassium, and magnesium. In addition, they contain pantothenic acid, folate, riboflavin, dietary antioxidants, and fiber.
Unfortunately, they lose some of their nutritional value as they age. When potatoes grow sprouts, the potato's starch converts into sugar. However, if the potato is not wrinkly and still firm, it still has most nutrients.
Using Sprouting Potatoes to Grow New Potatoes
Can you use potatoes that have started to sprout? These spuds are still safe to eat most of the time, but one of our favorite ways to use up old potatoes is to regrow them in the garden or grow potatoes in straw bales. This technique is easy and a great way to turn one old potato into many new potatoes.
To plant potatoes from potatoes, cut a sprouted potato into two-inch sections so that each part has a sprout. Set the pieces in a clean, dark area overnight to dry the exposed areas. Do you plant potatoes eyes up or down? Plant them four inches deep in a prepared garden bed with the cut area down and the eyes facing upward.
Water them right after planting and keep them damp to encourage growth. Once green stems appear out of the ground, give your potatoes one to two inches of water each week.
As the stems grow taller, hill the plant by pushing soil up around the base. In the fall, when the plant dies, harvest your new potatoes by gently digging them from the ground with your hands or a small garden shovel.
Growing Sprouted Potatoes in a Bucket
If potatoes sprout are they bad? Unless the potatoes are sunken and wrinkly, they are generally still good to eat. However, if you still feel uncomfortable about eating sprouted potatoes, consider regrowing them. All you need is a bucket, some dirt, and an old potato.
Slice a potato in half, make sure that each section has eyes, and set them in a dark kitchen area overnight to dry. Fill a ten-gallon bucket with drainage holes a third of the way with potting soil and place four to six potato sections into the dirt with the cut side down.
Space them six inches apart and cover them with six inches of dirt. Water them immediately, and each time the top two inches of soil is dry.
Once green shoots appear, add more soil and periodically add dirt as they grow so that only one inch of the plant is above ground. After eighteen to twenty weeks, the potatoes are ready to harvest by digging them gently out of the dirt.
How to Care for Garden Potatoes
Potatoes are one of the easiest garden veggies to grow. However, they do require a little attention as they mature. Learn how to care for your potatoes after planting them in the garden or bucket.
Potatoes require an inch or two of water each week and a 5-10-10 fertilizer for fast-growing, healthy plants. Feed them two weeks after planting and every four weeks after that. Consider spreading mulch over the dirt after the plants emerge to stop weed growth and hold in moisture.
Some common pests to watch for while your new potatoes grow are Colorado potato beetles, flea beetles, and leafhoppers. The larvae of these insects eat the leaves, which cause wounds that lead to disease. Remove these bugs from the plants as soon as you spot them and use insecticidal soap to eliminate them.
Using Sprouted Spuds to Make Homemade Twice Baked Potatoes
Making twice-baked potatoes is a great way to use sprouted potatoes rather than throwing them in the trash. This recipe is easy to prepare, serves six, and any leftovers last up to five days in an airtight container in the refrigerator.
Remove the sprouts from the potatoes with the end of a vegetable peeler and scrub them clean. Poke holes in the potatoes with a fork and then place them directly on the oven rack preheated to 400°F for one hour.
Remove the potatoes and put them aside until they are cooled enough to handle. Slice a thin layer off the top of each potato by cutting lengthwise and scoop out the inside, leaving a half-inch border.
Mix the potato insides in a bowl with butter, milk, and sour cream and mash them until they reach the desired consistency. Mix in the green onion and one cup of cheese, season with salt and pepper, and spoon the filling back into the skins.
Place the spuds on a large baking sheet, sprinkle the tops with the remaining cheese, and bake them for fifteen minutes.
How to Use New Garden Potatoes to Make Au Gratin
Now that you know how to turn a potato with sprouts into a new potato crop, it's time to harvest those spuds and prepare a meal. One of our favorite ways to use taters is to make a large batch of creamy au gratin potatoes.
Peel and cut the potatoes into quarter-inch slices and layer half of them on the bottom of a buttered casserole dish. Place the sliced onions over the top, add the remaining potatoes, and sprinkle with salt and pepper to taste.
Melt the tablespoons of butter in a pot on medium heat and whisk in the salt and flour. Cook for one minute before adding the milk and continue cooking until the mixture thickens. Add the cheddar cheese, stir until it melts, and pour the cheese sauce over the potatoes. Cover the top with foil and bake at 400°F for an hour and a half.
Potatoes and sweet potatoes are some of the most versatile vegetables. While they have a relatively long shelf life, they still begin sprouting over time. Fortunately, you don't have to throw away sprouted potatoes. In most cases, they are still suitable for potato recipes or for growing potato plants for a new crop of spuds.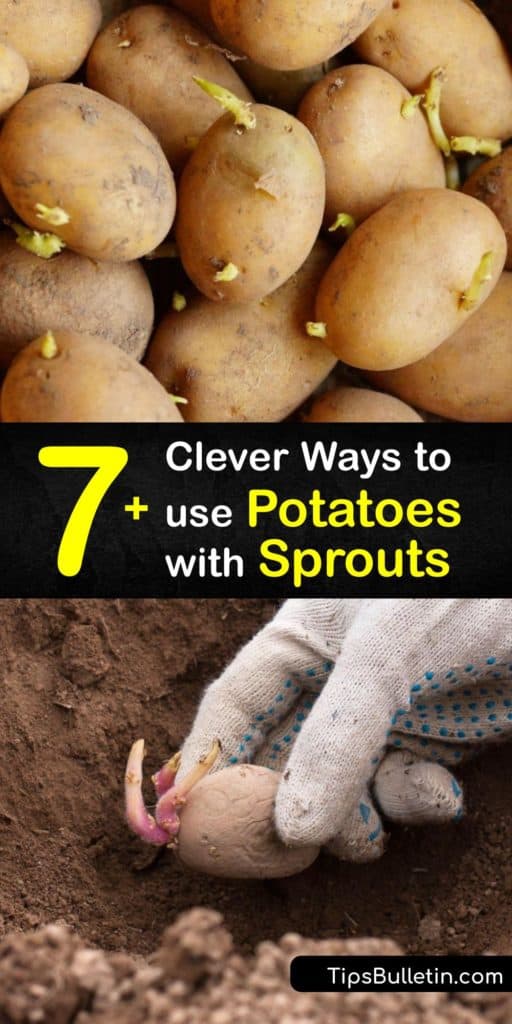 Do potatoes go bad when they sprout is a question we get asked often, and knowing how to use up these spuds prevents food waste, so why not share our sprouting potato guide and growing tips with your social circle on Pinterest and Facebook?