If you love cooking at home, you probably already know of the magic of lemon juice. The citric acid in the liquid is often the finishing touch on a dish, but most of us only use a teaspoon or two at a time. Does lemon juice go bad? Unfortunately, lemon juice doesn't last as long as most of us would like.
Whether you're buying bottles of lemon juice or using fresh lemon juice, knowing how to tell if lemon juice is gone bad is often the difference between eating a delicious meal and getting food poisoning from bacterial growth.
Home cooks often find themselves asking, can lemon juice go bad? Like most other foods, it does go bad after a certain amount of time. The easiest strategy to prevent spoilage is to know what signs to look for and store it safely through refrigeration and freezing.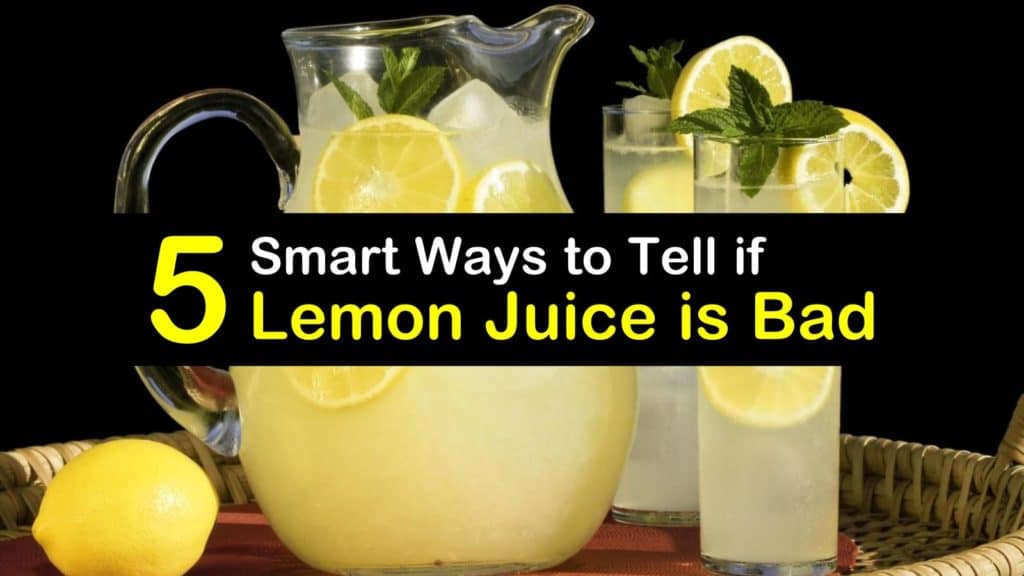 Benefits of Lemon Juice
Some of the most significant benefits of lemon juice are high levels of vitamin C and fiber.
Juicing fresh lemons to create lemon water has become a recent health trend because the acidity in fruit juices like lime juice and orange juice support heart and digestive health while aiding in weight loss.
The best quality lemon juice comes from fresh lemons. Bottles of lemon juice brands, like ReaLemon and Jif, are popular because you can store them for more extended periods, but the trade-off is that they get packed with preservatives that aren't as healthy as the real fruit.
However, an Amazon services LLC associates program sells bottles free from artificial colors and preservatives.
Regardless of whether you're using fresh lemons or bottled, make sure you know how to tell if lemon juice is gone bad, so you're not consuming spoiled food.
How to Tell if Lemon Juice is Gone Bad
The bottom line is that lemon juice goes bad if you don't know the proper way to store it, just like many other fruits and vegetables and their juices.
There are a few signs to look out for before putting the juice into your food, so make sure you go through each one to ensure you're giving your family and yourself the best ingredients possible.
When Does Lemon Juice Go Bad?
Freshly squeezed lemon juice usually lasts a couple of days when stored in the fridge. The most prominent question people have regarding juice often pertains to bottled lemon juice.
Unopened bottles last much longer than bottles that are opened. If your lemon juice bottle has already been used, make sure to check the expiration date or best before date.
These dates are often found somewhere on the bottle or the cap and indicate when to throw the bottle out. If your lemon juice is nearing those dates, it's usually safer to toss it out and buy new than to use it in your cooking.
Smell Lemon Juice to Determine Freshness
With most foods, how they smell is a significant indicator of freshness. Lemon juice, either bottled or fresh, should have a bright, citrusy smell.
Don't be afraid to put your nose up close and take a big whiff to ensure that you avoid consuming the spoiling juice. If it smells even a little off, err on the side of caution and throw the bottle out.
Take a Small Taste
A taste test may seem unappetizing, but this is often one of the best ways to answer the question, does lemon juice go bad? The shelf life of lemon juice varies based on the brand that you buy.
Put a few drops of the juice on your tongue. It should taste a little sour and sweet, while bad lemon juice is bitter. If you get any notes of bitterness, it's time to buy a new bottle.
Check the Color of Lemon Juice
Can lemon juice go bad, and if so, what does it look like? When all else fails, the color is another way to determine if lemon juice has gone bad. Lemon juice is on its way to spoiling if it is no longer whitish-clear in color.
Can ginger go bad? Of course. Look at your ginger to determine its freshness and usability.
Spoiled juice turns dark yellow. On the other hand, if using fresh lemons, look out for dark or brown spots, like you may see on spoiled ginger. These colors indicate that they may not be as fresh as you'd like.
Can Lemon Juice Go Bad if You Store it Properly?
Fresh lemon juice left at room temperature spoils within a few hours. Because bottles of juice have preservatives, this timeline is extended.
However, that doesn't mean you should leave them out. It's possible to make lemon juice last for as long as a year, depending on the method you use.
How to Refrigerate Lemon Juice
If you want to store juice from fresh lemons, squeeze the juice into a small bowl and cover it with plastic wrap. To preserve lemon juice, refrigerate the bowl at temperatures between 32°F and 40°F. Store lemon juice this way for two to three days before using it.
For bottled lemon juice, make sure that you never leave it at room temperature once it is opened. After opening, it lasts in the refrigerator for around six months. Always check the expiration date before using it again.
Add fresh lemons and peppers to your crisper drawer if you plan to eat them soon. Do peppers go bad? Just like lemons, check your peppers before eating or cooking with them to ensure that they are safe and tasty to eat.
How to Freeze Lemon Juice
The freezer is the safest method for storing lemon juice for long periods and it's the best way to store lemons. Putting lemons in the freezer keeps them safe for six to twelve months.
You can either freeze the lemons themselves and thaw them or freeze only the juice. One of our favorite freezing methods is to turn it into ice cubes.
Cut your fresh lemons in half and use a lemon juicer to squeeze as much juice out as possible. Combine the lemon juice with equal parts water and stir to combine.
Pour the lemon juice mixture into ice cube trays and then set the trays in the freezer overnight. Once frozen, remove the lemon cubes from the trays and put them into freezer bags.
Place the freezer bags in the freezer for up to one year. Remove individual ice cubes as necessary and throw them into hot dishes while they cook on the stove, or let the cubes melt before pouring them over food.
Citrus is a staple in many cuisines and is one of the easiest ways to brighten up a dish that lacks flavor. It doesn't matter if you choose to use fresh lemon juice or bottled; both are equally tasty and have many health benefits that we can't get anywhere else.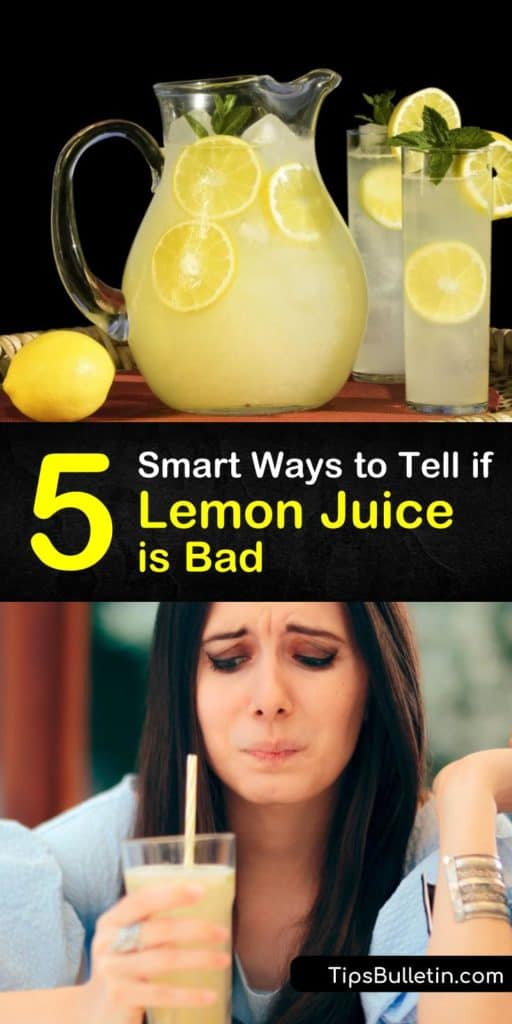 If this article helped stop you from wondering, does lemon juice go bad, share these tips for how to tell if lemon juice is gone bad on Facebook and Pinterest.