Stainless steel is an impressive metal used across a vast number of products, mainly for its shiny, attractive appearance. There are stainless steel appliances and stainless steel jewelry; skyscrapers like the Chrysler Building are noted for using stainless steel in their construction. With a material so widely used for its aesthetic value, it begs the question: does stainless steel tarnish?
Stainless steel often bears the title of a tarnish-free metal. However, stainless steel is like any other metal and can tarnish eventually.
The good news is that it doesn't tarnish as easily as other metals and nowhere near as quickly. Stainless steel is prone to many issues that may look similar to tarnishing, however, which is why it often seems discolored or dull.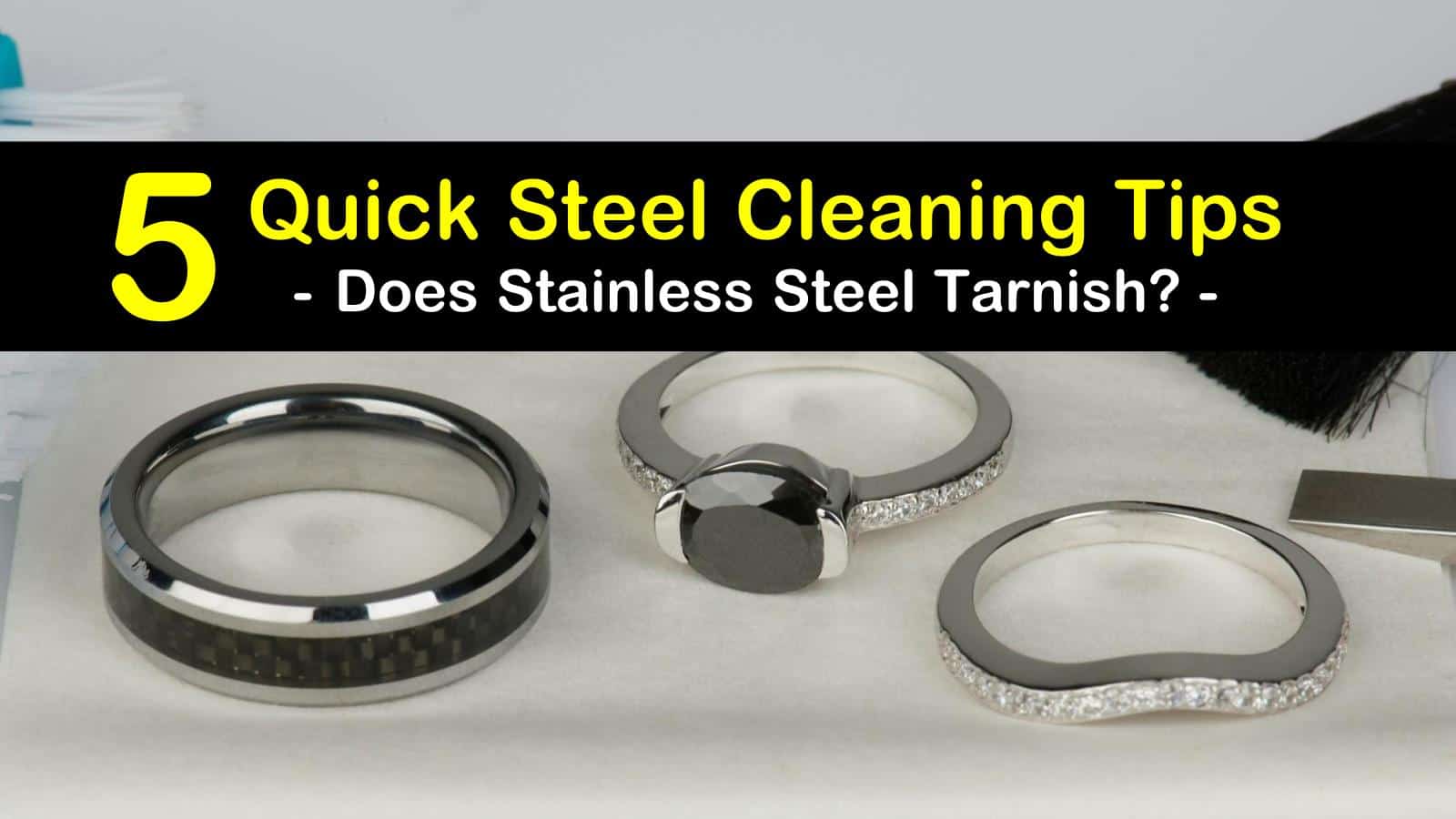 Does Stainless Steel Get Tarnished?
Being corrosion-resistant and armed with scratch resistance, stainless steel is the ideal metal for making wedding rings and any other type of jewelry you can imagine. By using these five easy cleaning tips, you will learn how to care for stainless steel jewelry and keep it looking shiny and new.
How to Care for Stainless Steel Jewelry
Whether your stainless jewelry is dirty from grime or sweat or you need to know about cleaning tarnished stainless steel jewelry, we have answers for you. Discover some great recipes here.
How to Clean Stainless Steel Jewelry with Gemstones
Stainless steel rings have been growing in popularity in recent years. Many wedding bands have even begun to use the material since they are shiny and durable. Cleaning these jewelry pieces is especially important and requires a gentle jewellery cleaning recipe to get the job done.
For wedding bands or an engagement ring with gemstones, it's crucial not to loosen any of the gems from their settings when cleaning. Mix the two ingredients and lightly rub the surface of the ring with the solution. Rinse it off afterward, and dry thoroughly.
While stainless steel rings are standard, they are not for everyone. Stainless steel is not hypoallergenic, and some people may have an allergic reaction since they are mixed with base metals like nickel.
The same thing happens with jewelry not made with pure gold or pure silver. If you are allergic to nickel, or even gold with a low karat rating due to nickel being added, sterling silver jewelry is not for you.
How to Polish for Stainless Steel Jewelry
For those who can use stainless steel, keeping it shiny is one of the main ways to prevent it from tarnishing. One solution is to use olive oil. Add a dab or two to a soft cloth and gently smooth it over the surface of the stainless steel item.
Buff the towel over the jewelry until there is no longer an oily residue. This will quickly restore the jewelry's shiny luster.
Using linseed oil is also an excellent way to not only shine your jewelry but to give it an added layer of protection. Rubbing linseed oil over the surface of your jewelry the same way you would with olive oil seals it with a protective coating. This same method can be used to clean pewter items.
Take Care of Discoloration with Lemon Juice
From time to time, you will see some faint discoloration in your stainless steel items. This doesn't mean that the stainless steel has tarnished. This discoloration generally occurs due to too much exposure to heat.
This problem develops in steel items like cookware and stainless steel utensils. Using lemon juice removes this discoloration and is perfect on other metals, as well. If you need to clean badly tarnished copper, then lemon juice is a useful option, too.
There are two ways to use lemon juice. The first is to soak the item in a bowl of lemon juice for 30 minutes. Rinse the item afterward and then thoroughly dry. The other is to use a cloth dampened with the lemon juice and use it to scrub it clean.
Clean Tarnish Using Vinegar No Matter the Metal
Despite its reputation, stainless steel is far from corrosion free, especially if exposed to highly corrosive elements over time. However, what's even more confusing in the debate of does stainless steel tarnish or not is when items are not entirely made out of stainless steel.
Many silver rings use plating with stainless steel due to how lightweight sterling silver is compared to steel. You may see tarnishing on jewelry if the stainless steel plating is worn or chipped off.
The best solution for how to clean tarnished silver is vinegar, either pure or mixed with equal parts water. Vinegar is an excellent cleaner and tarnish remover that works on most precious metals, including platinum, white gold coated with rhodium, and titanium rings.
To clean your stainless steel plated silver jewelry either scrub the item using vinegar and a warm cloth or drop the piece in a bowl of vinegar. After 15 minutes, remove the jewelry from the bowl, rinse with warm water and dry.
Prevent Scratches by Using Soft Materials to Clean
One of the widespread issues for why stainless steel does begin to tarnish or why does stainless steel rust is when the surface of the stainless steel item is repeatedly damaged. Using abrasive materials to clean stainless steel jewelry scratches the surface over time and makes the metal more susceptible to rusting.
When cleaning stainless steel, use soft sponges, microfiber cloths, or even a soft-bristle toothbrush. Avoid using items like steel wool or other harsh materials for cleaning, especially on plated items, which are even more susceptible to problems.
Worrying about how to polish for stainless steel shouldn't have you seeing red. Understanding what tarnish-like stains might be on your stainless steel will save you a trip to the jeweler's and give you a better idea of how to manage them. Soon, identifying these stains and how to clean them will be as familiar to you as your ring size.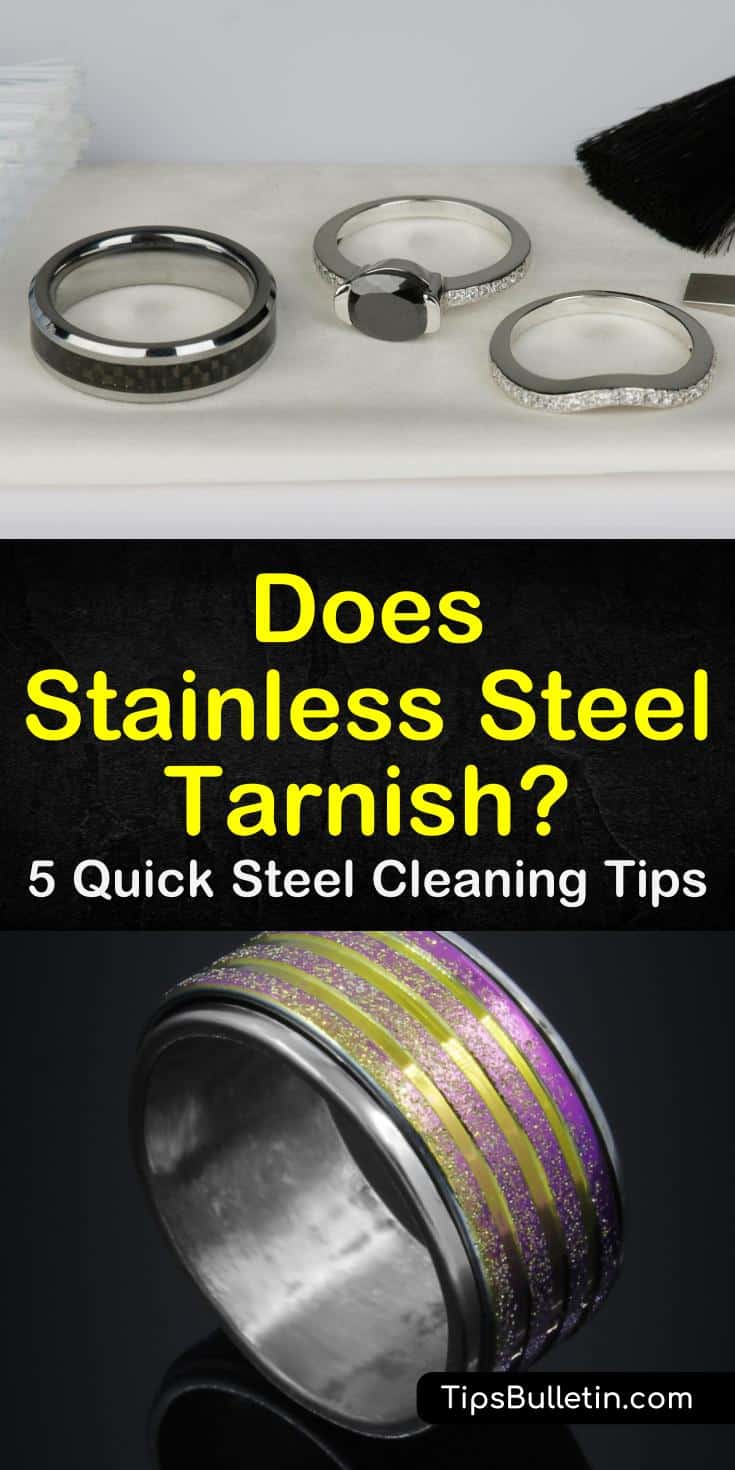 Hopefully, you enjoyed these cleaning tips for stainless steel as much as we did. Answer your friends' questions of "does stainless steel tarnish" by sharing this information on Facebook and Pinterest.