Do you ever look at enormous trees in awe and think that you could never grow that? Although some trees are fussy, many are happy with the occasional watering and perhaps fertilizer. Easy to grow trees allow you to enjoy trees' ecological and landscape benefits without tearing your hair out.
These tree species tend to have few demands related to growing conditions and care. They also grow quickly. Sometimes, their rapid growth rate comes at a cost, however.
An overly vigorous grower might spread larger than you would like, have aggressive roots, or release numerous seeds. Fast-growing trees may suffer from weak wood, susceptibility to pests and diseases, or a short life span.
Low-Maintenance Trees
With trees, it's often a case of six of one and half a dozen of the other. Although a tree is easy to plant, you may need to prune its fast-growing limbs. Pick the species that seems most appropriate for your yard and gardening habits.
Some shrubs grow as high as trees, too. Pick from fast growing holly trees and lilacs, as well as traditional trees for more variety.
Where to Plant Easy to Grow Trees
A tree growing in a suitable location is easier to look after. Consider more than aesthetics when choosing a site. Read up on the tree's requirements for hardiness zone, soil type, and sun exposure.
Check the tree's mature height and width to avoid placing it too close to your house, a fence, or the sidewalk. Septic tanks and utility lines are other things to avoid. In the United States, call 811 before digging.
How to Plant Trees
Dig a hole that has the same depth as the tree's root ball but is two to three times wider. Carefully place your tree in the hole, first removing it from its pot if it's container-grown.
Ensure that the tree is vertical and facing your desired direction, and take off any burlap covering.
Fill the hole with removed soil, pausing partway to pack down the earth and add water. Make a rim for retaining water out of extra dirt. Water your tree well, and distribute mulch.
Weeping Willow (Salix babylonica)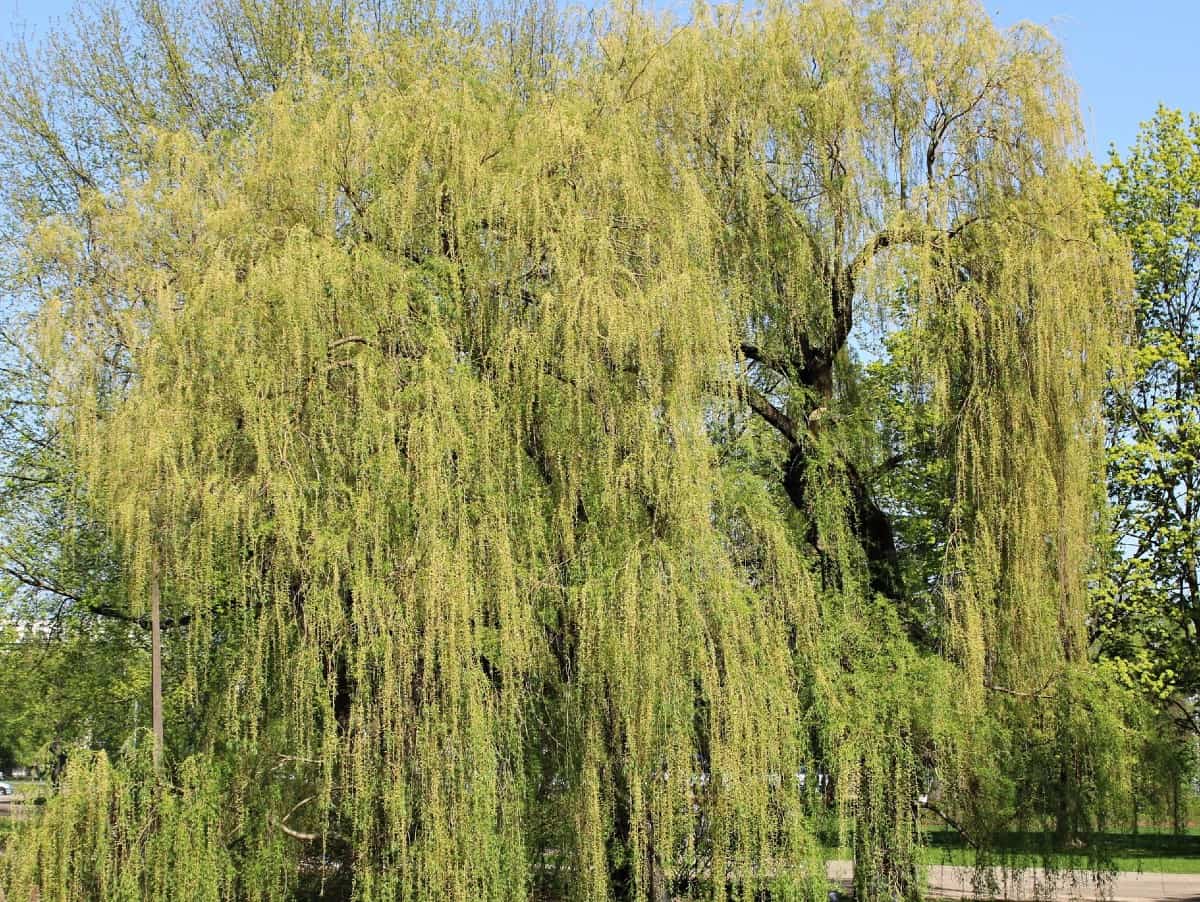 This willow has distinctive drooping branches, lance-shaped leaves that turn yellow in the fall, and yellow catkins in late winter or spring. When choosing its site, keep in mind its falling leaves and twigs, and aggressive roots.
This tree does best in full or part sun and moist, fertile, well-drained, slightly acidic soil. It even survives in standing water.
To propagate this willow, take stem cuttings in late fall. Balanced fertilizer promotes lush growth, and mulch is beneficial. Water young trees two or three times per week, then switch to weekly.
Silver Maple (Acer saccharinum)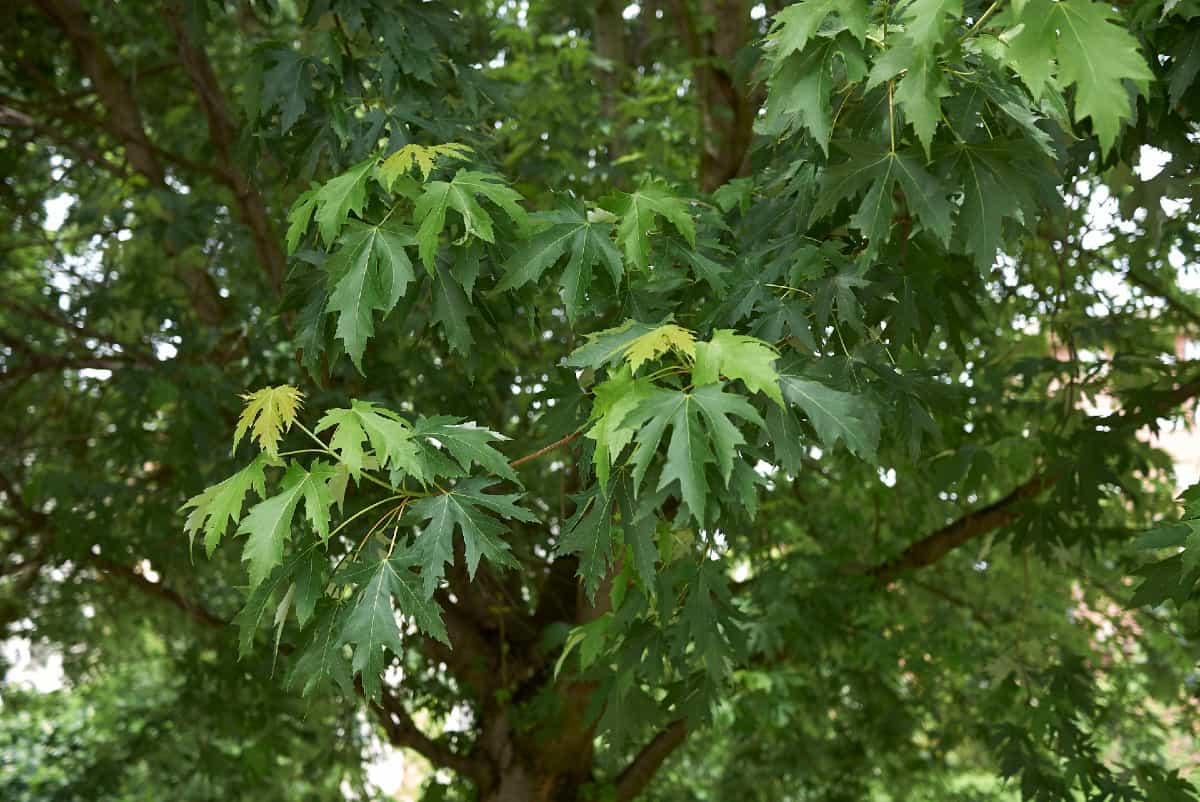 This popular shade tree's leaves are silvery on the bottom and turn yellow in the fall. It also boasts clusters of red, yellow, and silver flowers in early spring.
Though its root system is vigorous, its brittle branches break in strong winds and under heavy snow or ice. The silver maple is easy to raise from seed. Place it in moist, slightly acidic soil and full or part sun.
Keep the soil moist until the tree has settled; it tolerates both drought and standing water afterward. Apply complete fertilizer in early spring.
Southern Magnolia (Magnolia grandiflora) – A Flowering Low-Maintenance Tree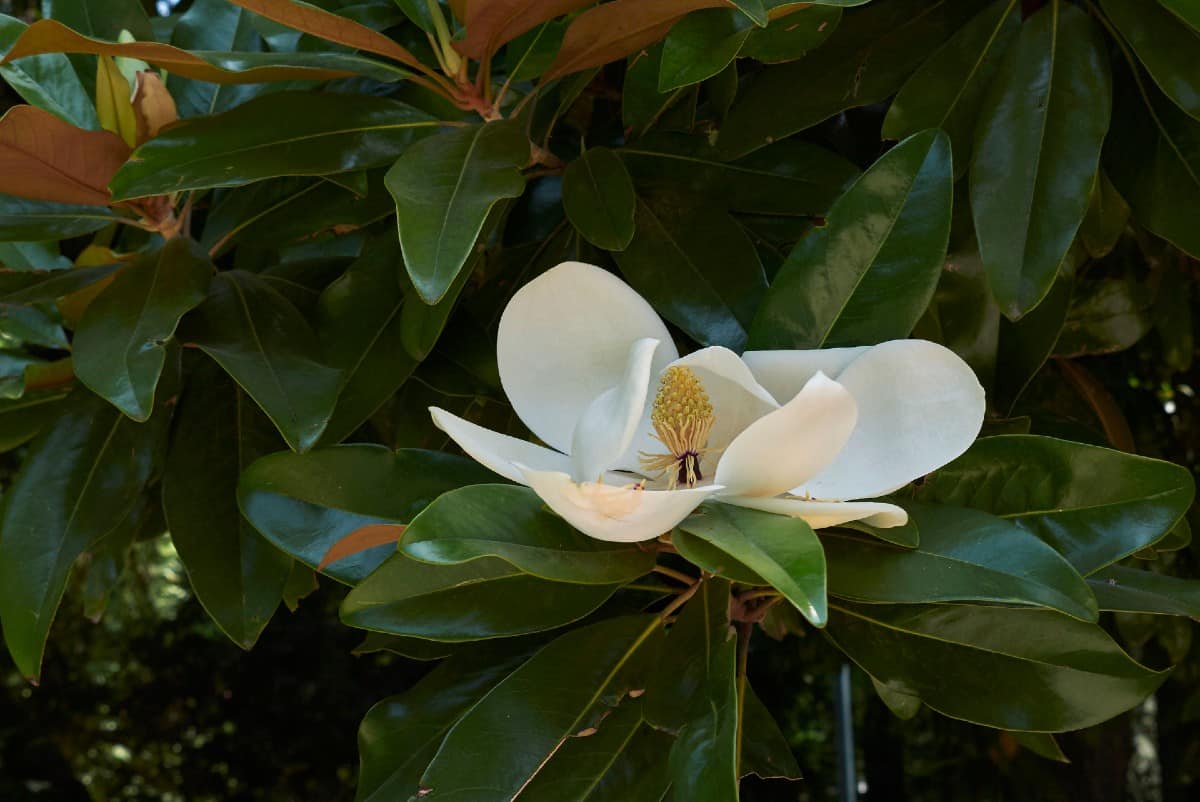 This fast grower bears long, leathery evergreen leaves and enormous, fragrant white flowers. After flowering, it produces brown cones and bright-red seeds. Plant the Southern magnolia in spring or fall.
It prefers full sun but also handles part shade and requires protection from winter sun in northern states. Find a site with deep, well-draining, acidic or neutral, loam, or sand.
Water your magnolia well, but don't get the soil soggy. Feed this tall tree slow-release fertilizer in the spring.
Emerald Green Arborvitae (Thuja occidentalis 'Emerald Green')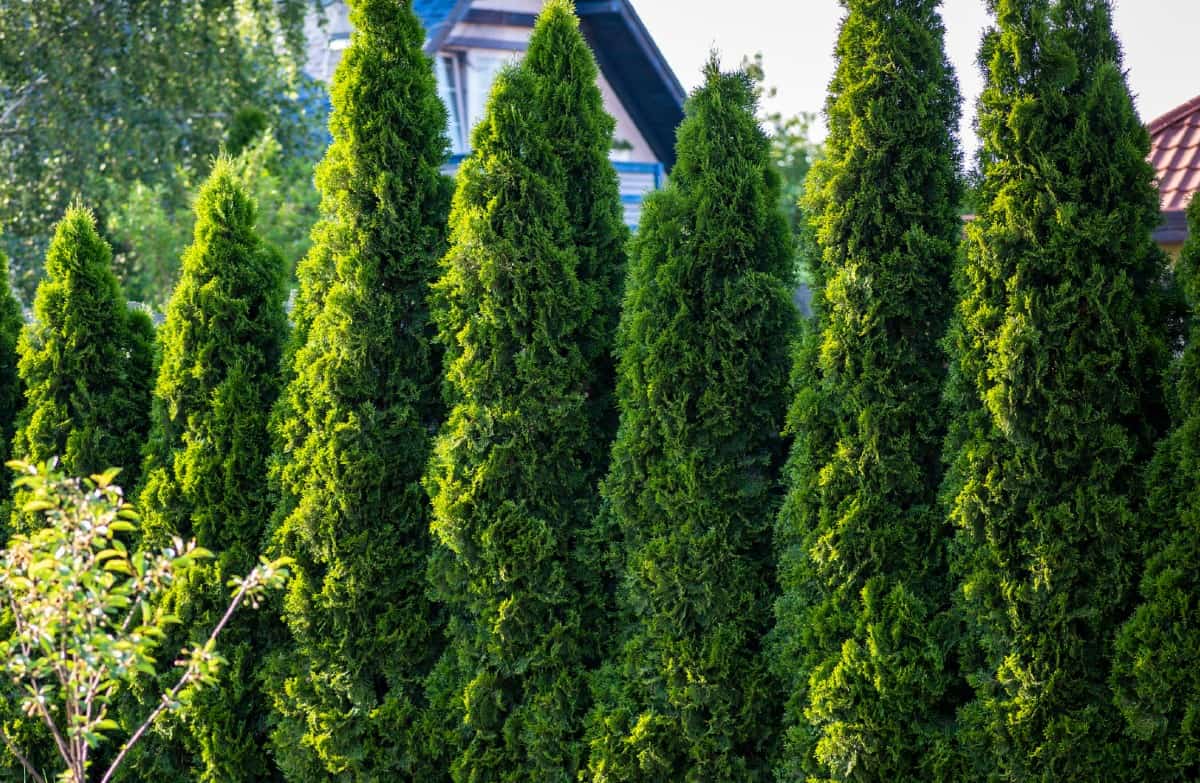 These fast growing evergreen trees for privacy have bright-green needles, funky cones that turn reddish-brown in the fall, brittle branches, and a pyramidal shape. Employ arborvitae trees as foundation or specimen plants, hedges, or a privacy screen.
Start this species in the fall in moist, fast-draining, neutral to alkaline loam protected from the wind. This arborvitae does best in full sun or part shade in warmer regions.
Water these easy and fast growing evergreen trees twice a week for the first few months, then weekly. Feed this evergreen balanced fertilizer if new growth is weak. Distribute compost or mulch annually.
Tulip Tree (Liriodendron tulipifera)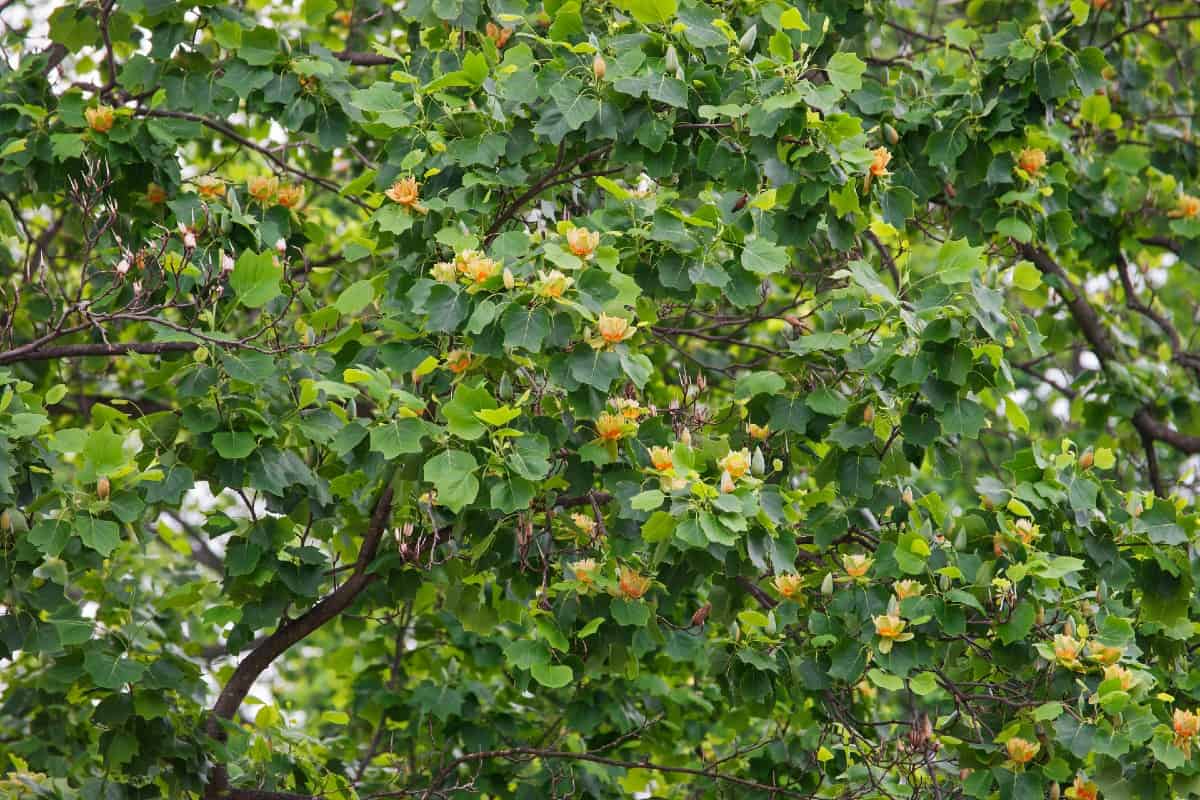 In late spring to early summer, mature tulip trees boast tulip-shaped, yellow-green flowers with an orange band near their base. These tall trees also produce cone-like fruit and four-lobed leaves that turn golden-yellow in the fall.
Propagate the tulip tree via seeds or grafting. Use it as a specimen or shade tree for a large landscape. Find a site with full sun and moist, acidic, well-drained soil that's rich in organic matter.
Give newly planted trees granular, liquid, or stake fertilizer. Water them regularly during hot, dry spells or if their leaves drop before early fall.
Leyland Cypress (x Cuprocyparis leylandii) – A Low-Maintenance Evergreen Tree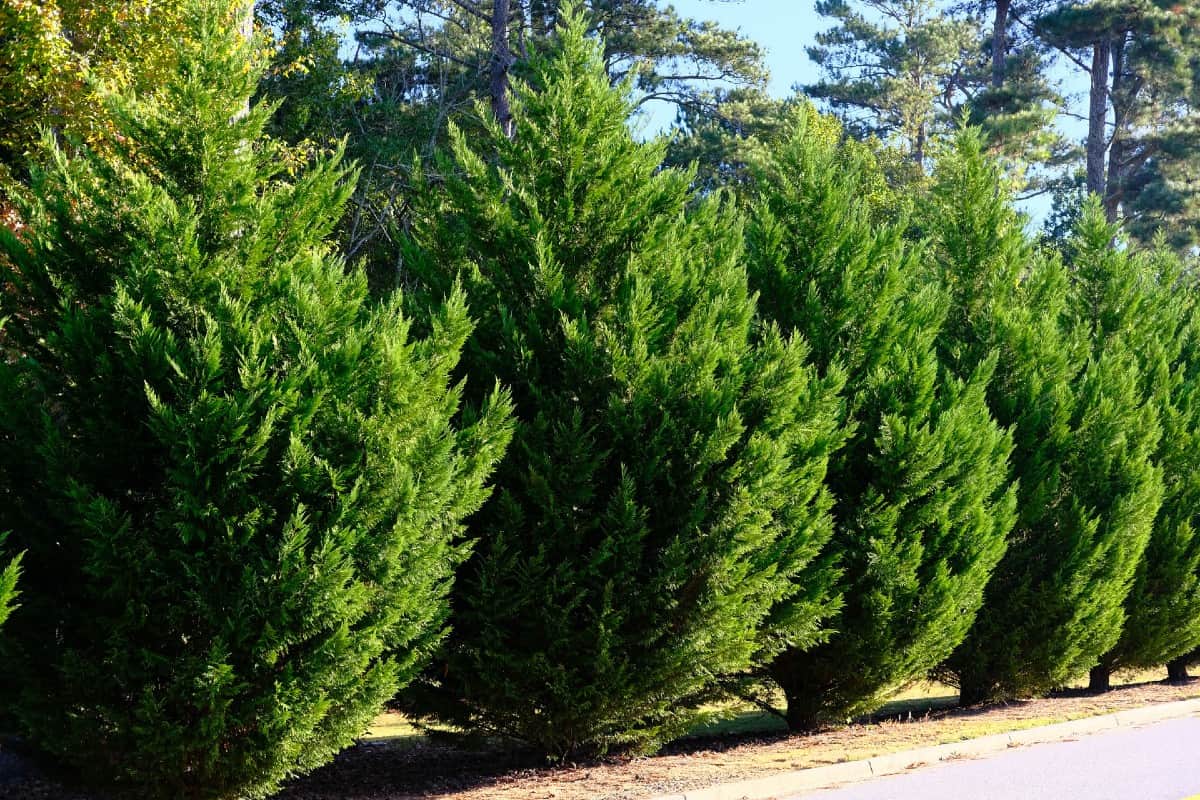 This evergreen conifer is a cross between the Monterey cypress and the Nootka false cypress. These attractive types of green trees have dull-green needles on upright branches, scaly, dark-brown cones, and flaking, reddish-brown bark.
Use the Leyland cypress as a windbreak or Christmas tree, prune it into a formal hedge, or place several close together for quick growing privacy trees. Insert a nursery specimen in the spring or summer, or propagate this cypress using springtime cuttings.
It favors full or part sun and fertile, moist, well-draining soil. Water your tree regularly after planting, particularly in the spring. Distribute all-purpose 10-10-10 fertilizer in early spring.
Eastern Redbud (Cercis canadensis)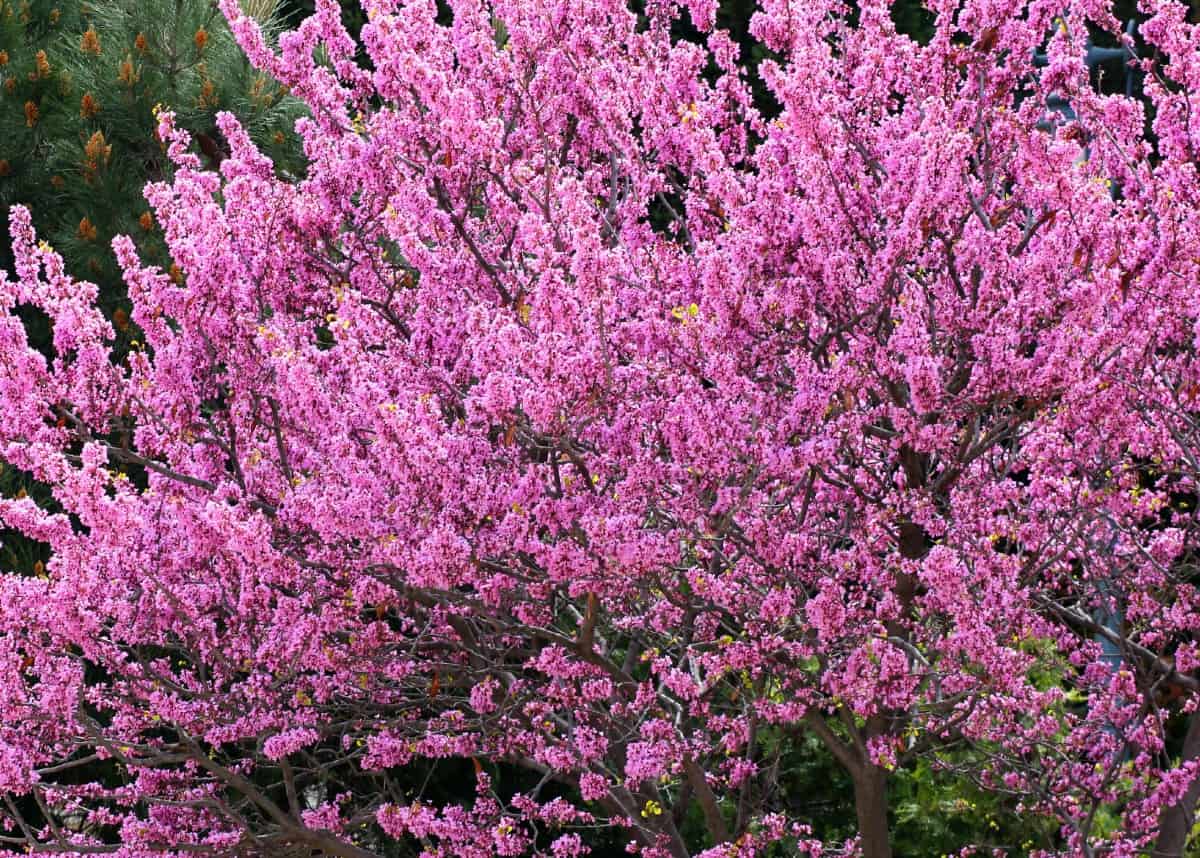 This small ornamental tree boasts short-lived pink springtime blossoms, heart-shaped leaves, and prominent seed pods. It excels as a specimen plant or in a naturalized or woodland environment or shrub border.
Start this tree in early spring in fast-draining, alkaline soil, and partial shade. Keep the soil moist but not soggy while your redbud is getting settled.
Spread mulch, but no additional fertilizer is needed. In the fall, prune any trunks that are developing close together and any branches forming a V-shape.
Dawn Redwood (Metasequoia glyptostroboides)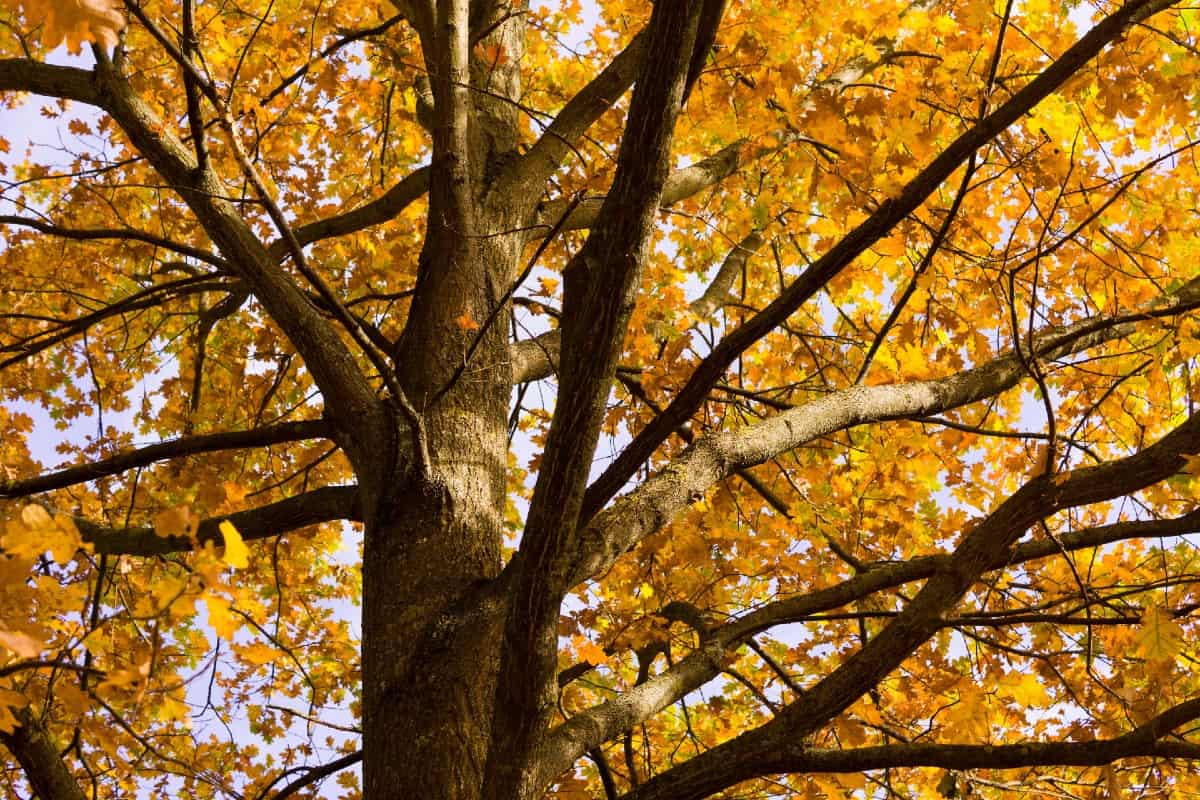 This tall, wide-based tree suits a large space. As one of the only deciduous conifers, it bears oval cones and feathery needles that turn red and brown in the fall, then drop off. Propagate the dawn redwood in the fall with hardwood cuttings.
It flourishes in full sun and well-drained, moist, acidic to neutral, loamy soil. Add at least one inch of water weekly to any ground that's under the canopy. If the soil is humus-poor, feed iron-rich fertilizer annually.
American Sycamore (Platanus occidentalis) – A Large Low-Maintenance Tree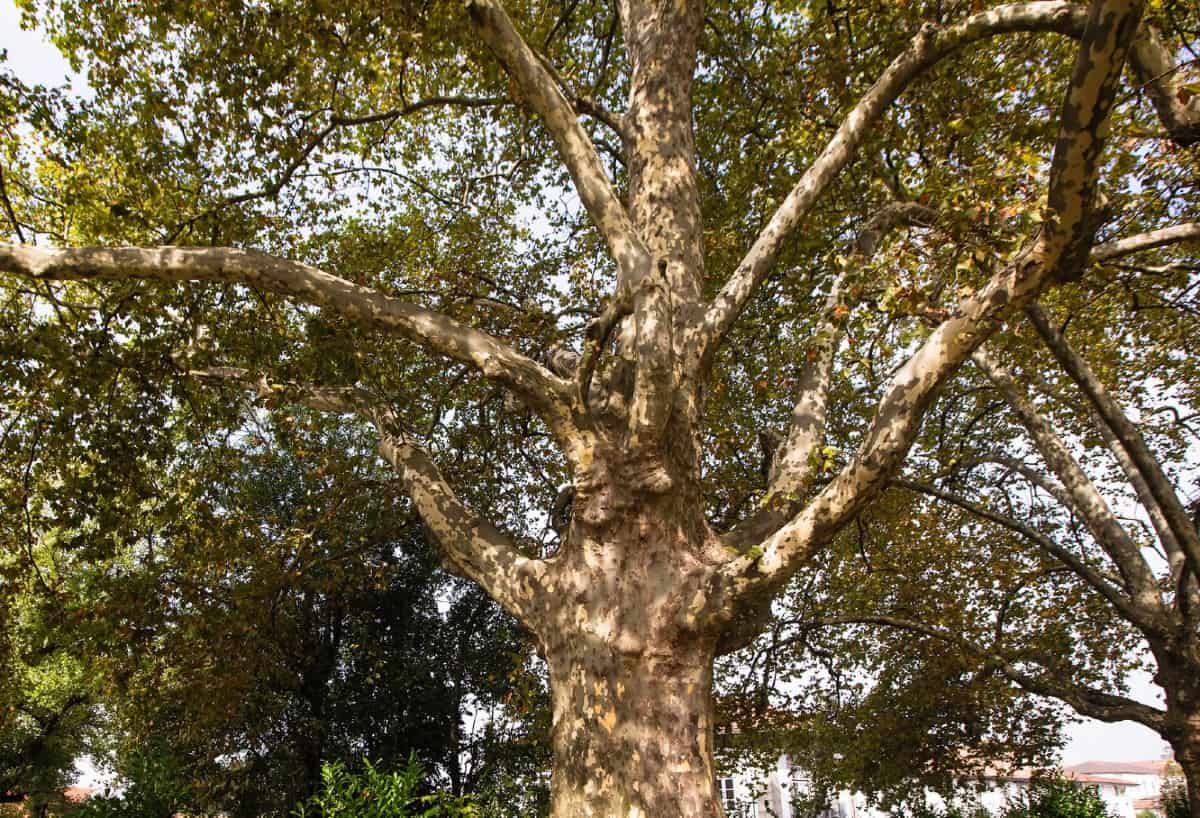 This tree has camouflage-patterned gray bark and aggressive roots. Its falling seed balls, leaves, twigs, and bark strips make a mess. Note that the seed balls and leaves are covered in tiny hairs that can irritate the skin, respiratory tract, and eyes.
Use the sycamore as a shade tree in an open area. Install a container-grown tree anytime or a balled-and-burlapped one in spring or fall. This tree favors partial or full sun and deep, fertile, moist, well-draining soil.
Water young trees deeply; the mature trees are drought tolerant and make perfect trees in the desert. Fertilize your sycamore every other year if it's growing slowly or its leaves are pale.
Red Maple (Acer Rubrum)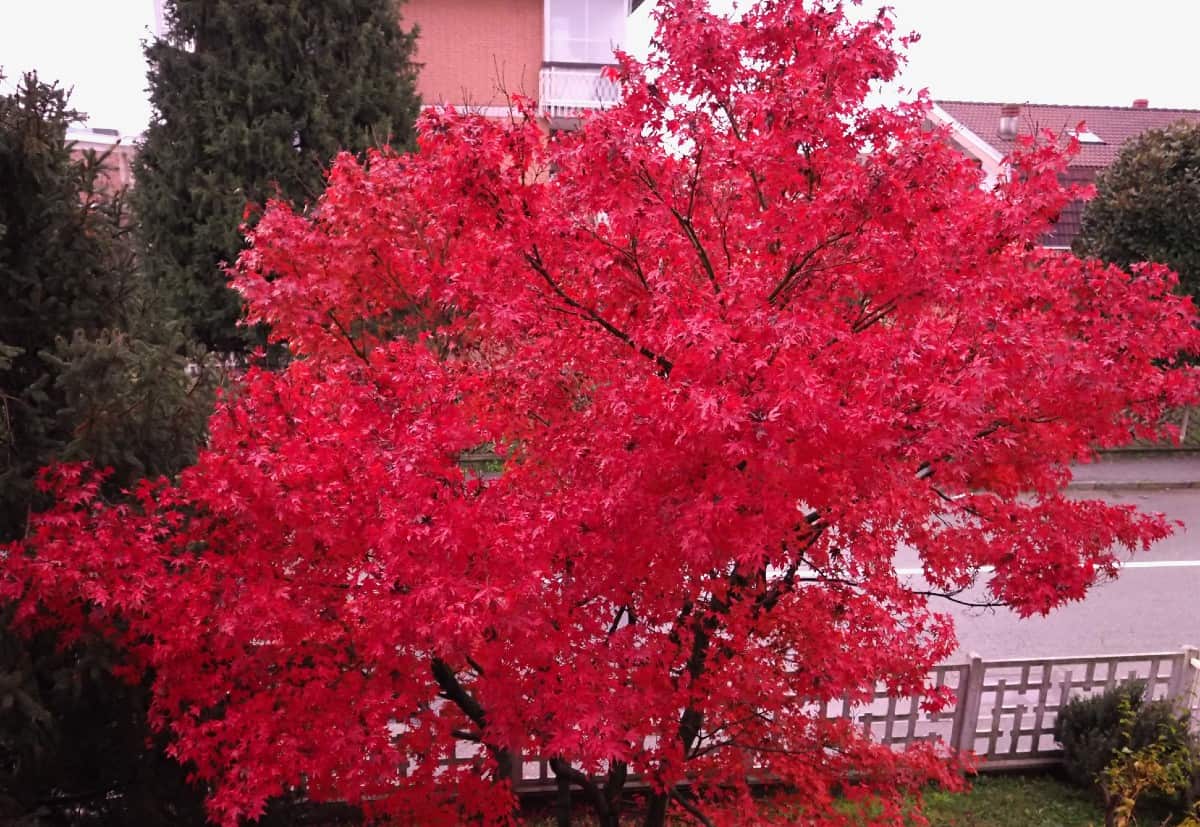 This appropriately named maple has reddish stems in the winter, reddish seed pods in early spring, red spring flowers, and bright crimson fall leaves.
Note that some varieties have orange or yellow fall foliage, so buy and plant your tree in the fall to confirm its fall color. The red maple, popular in eastern North America, grows fairly quickly but slower than the silver maple.
It prefers full to part sun and acidic to neutral, moist soil. Water regularly and deeply, even once the tree is mature. Apply organic mulch, and add all-purpose fertilizer in the spring if necessary.
Hybrid Poplar (Populus deltoides x Populus nigra)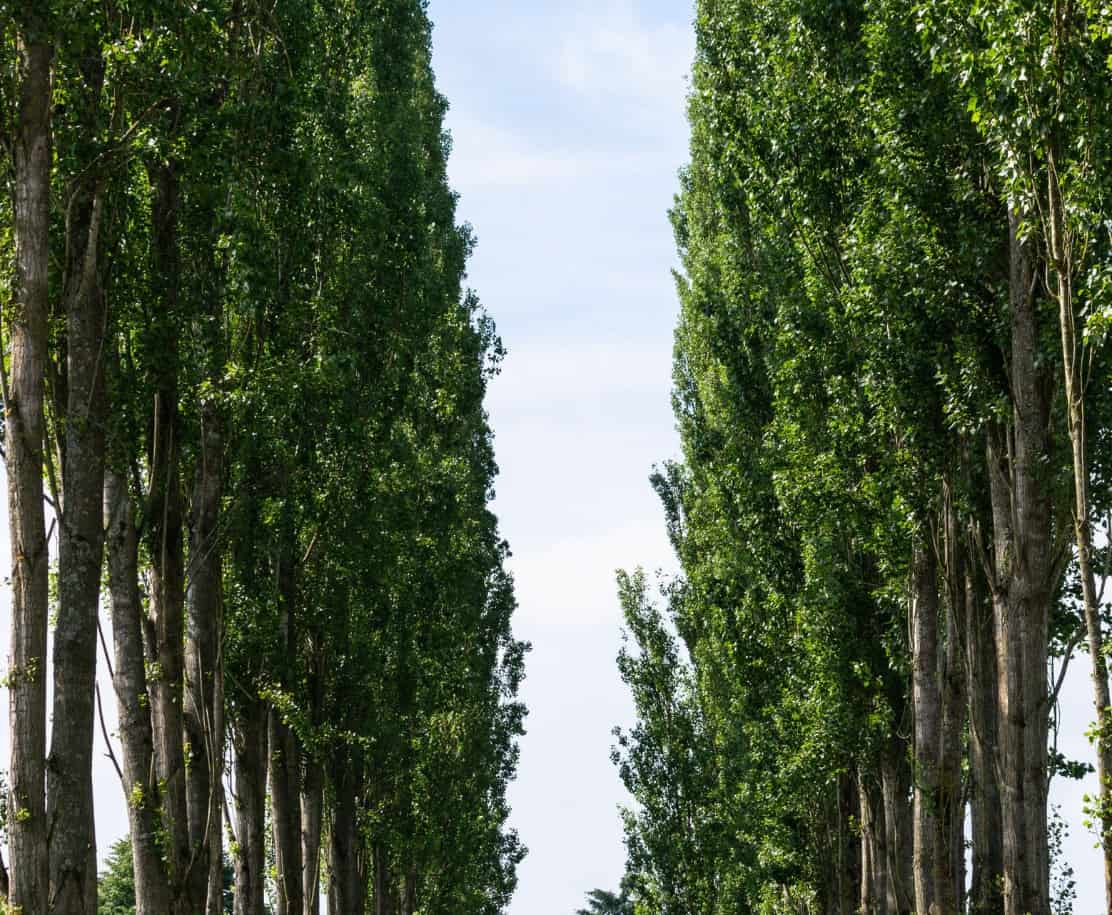 This extremely fast-growing tree excels as a shade tree or privacy screen. Its leaves are lighter underneath and turn brilliant yellow in the fall. Start this poplar in the spring or fall in wet soil and full sun, or part shade if necessary.
Distribute a mulch layer. This tree requires one inch of water per week, either through rainfall or irrigation, but more during hot, dry spells in the summer. Fertilize your tree every fall except for its first year.
Flowering Dogwood (Cornus florida) – A Showy Low-Maintenance Tree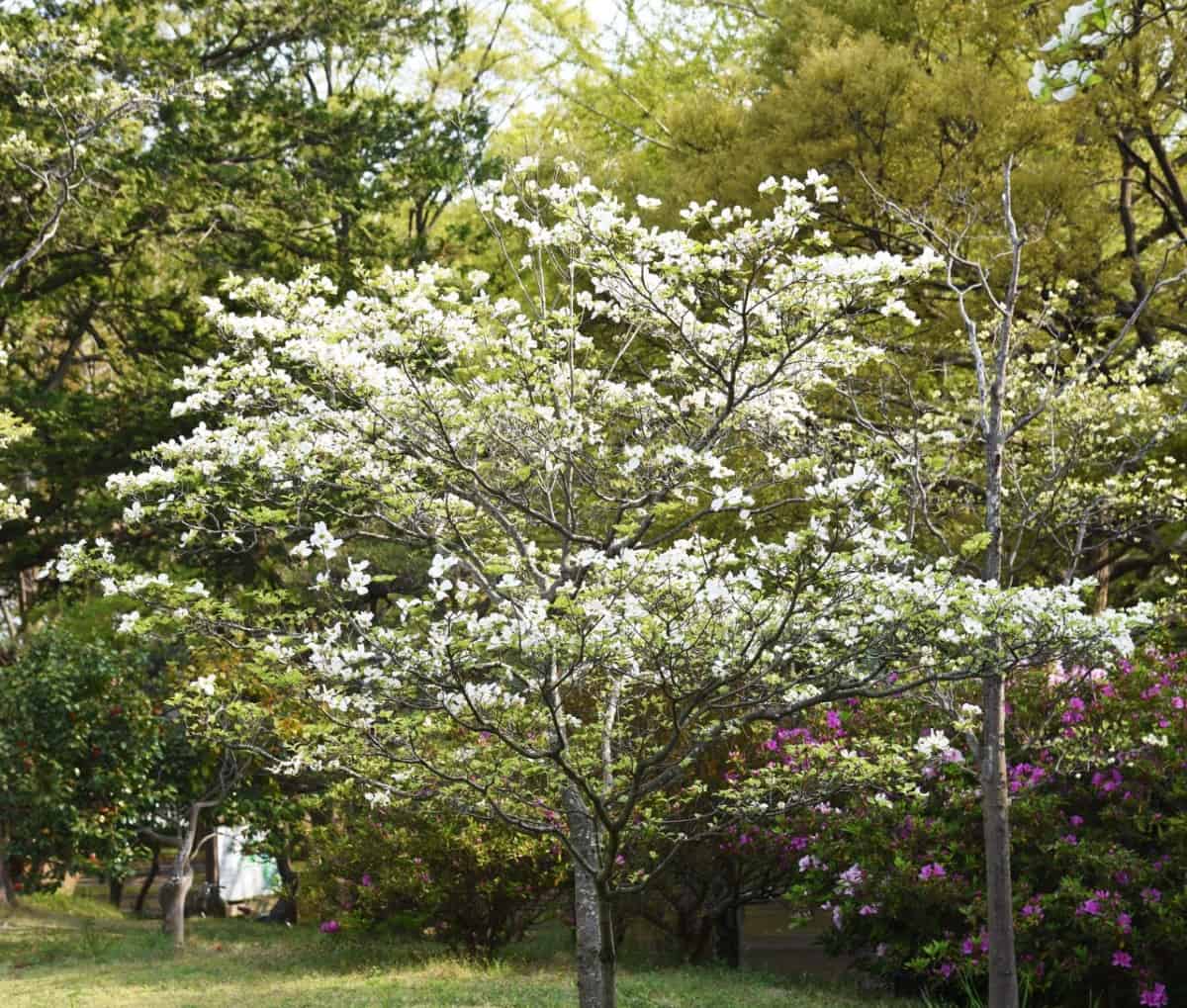 This shrub or small tree has springtime star-like blooms that consist of pointed white bracts around clusters of tiny green flowers. This dogwood also bears round, orange-red fruit in the summer and scarlet and purple fall foliage.
It excels as a specimen plant or in a shrub border or a naturalized or woodland area. Propagate this tree using summertime softwood cuttings.
Partial shade is ideal, but it tolerates full sun. The site should have protection from the wind and fertile, moist, fast-draining, acidic to neutral soil.
During its first two growing seasons, water your dogwood once or twice a week in hot, dry spells. Apply all-purpose fertilizer in March and July. Distribute mulch in the summer.
River Birch (Betula nigra)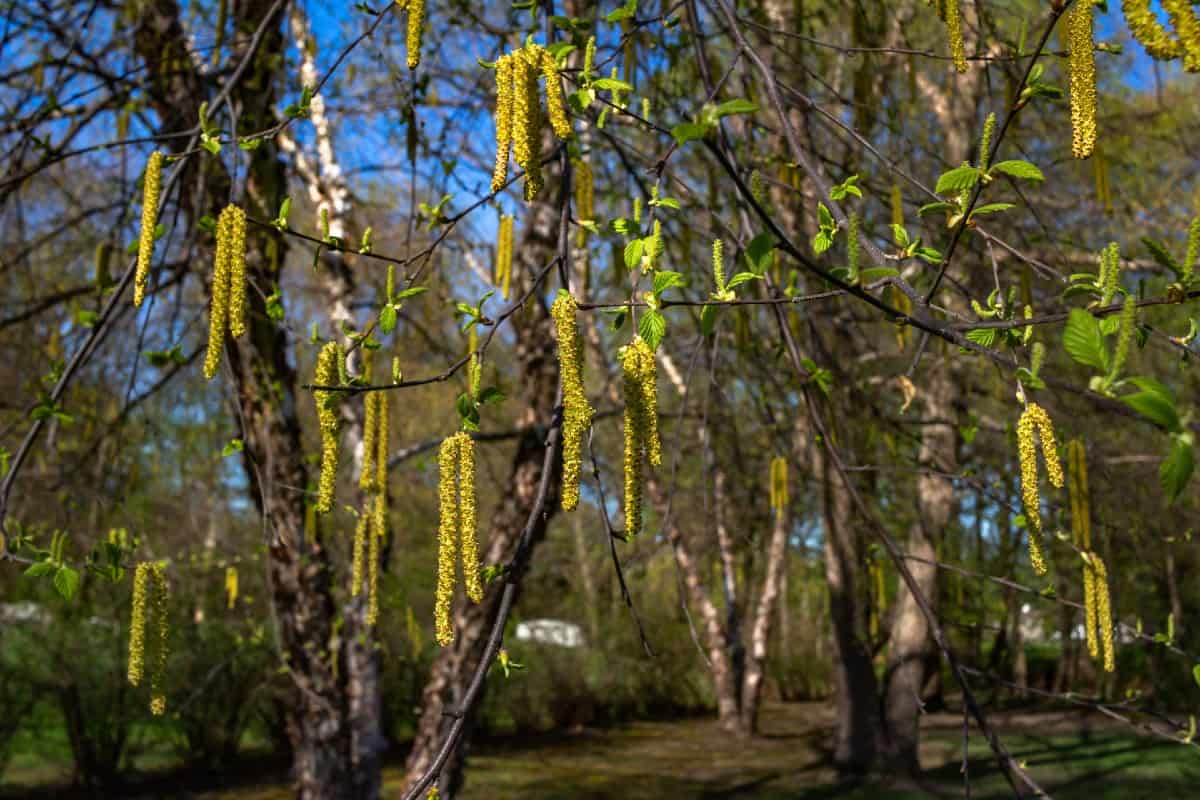 This multi-stemmed tree has peeling white bark, brown or green catkins, and small, winged fruit clusters in the spring. It's native to swamps and the floodplains around rivers and bogs, so try placing it next to a pond or river. Plant this birch in the spring or fall.
It does best in full or part sun and well-drained, acidic to neutral, consistently moist soil. Water your birch deeply once a week, and spread mulch. If the tree is weak or distressed, give it slow-release granular fertilizer in the spring.
Pin Oak (Quercus palustris)
One of the fastest-growing oak trees, this tree has yellow-green catkins in the spring and dark-green leaves that turn deep-red or bronze in the fall but remain in place over the winter.
Its lower branches hang down, its middle branches extend horizontally, and its highest ones reach upward. This oak does not grow in elevated areas or on slopes, preferring damp lowlands.
Propagate it with seeds or grafting. It thrives in full sun and moist, fertile, acidic soil. Fertilize your tree regularly, and water it during dry weather.
Although it's easy to pass by trees without giving them much thought, these magnificent plants have a lot to offer. Large trees and fast-growing shade trees create refreshing patches of shade, while flowering trees are always lovely.
Look out for trees with brilliant fall color, eye-catching bark, and ornamental seed pods. Easy to grow trees allow you to sit back and enjoy all these features without putting in much effort.
If you found these tree tips inspiring, please share these low-maintenance plant suggestions with your friends on Pinterest and Facebook.