Every home garden needs a few show-stopping pepper plants. They're flavorful and eye-catching, but honestly, a little fussy. Discover how to incorporate Epsom salt for bell peppers and other nightshade family members with these tips and tricks.
Pepper plants are native to Mexico and South America, and fossil records show a history of cultivation stretching back at least 6,500 years. In their homeland, peppers are called chilis, and there are hundreds of varieties, from semi-sweet to incredibly spicy. In culinary terms, bell peppers are vegetables. However, they are indeed fruits because they grow from a flowering plant containing seeds.
Historical accounts show pepper seeds being imported to Europe as early as 1493. The mild and meaty bell pepper we know today wasn't cultivated until the 1920s. Sometimes called "traffic light peppers," it's common to see red, yellow, and green peppers sold together at the grocery store.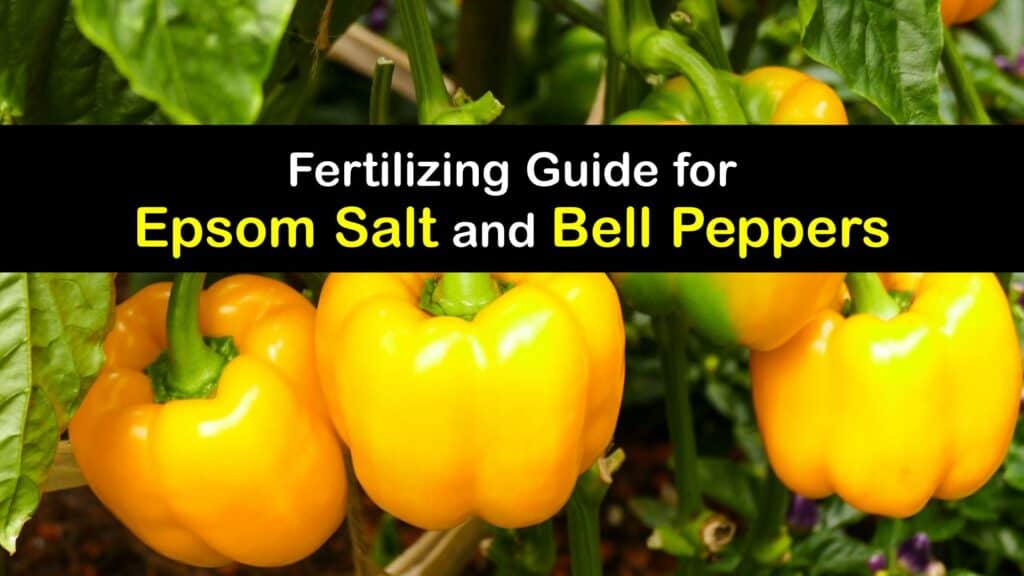 Is Epsom Salt Good for Bell Peppers?
Why not try your hand at cultivating some beautiful bell peppers this season? Learn all about using Epsom salt for bell pepper plants. Discover helpful hints for how to apply Epsom salt successfully and safely in your home garden.
What is Epsom Salt?
Epsom salts are crystal-like minerals that occur naturally in water. Epsom salts come from magnesium, sulfate, oxygen, and water. Also known as magnesium sulfate, using Epsom salts for medicinal and therapeutic purposes is common.
Is Epsom salt good for bell peppers? Natural Epsom salt helps with a magnesium deficiency in peppers. The National Gardeners Association tested Epsom salt and bell peppers, and some American farmers reported positive results. In cooperation with the National Gardening Association, the Epsom Salt Council claims that adding Epsom salt to your plant care routine encourages greener plant growth, more prominent blooms, and higher yields for specific plants.
Epsom Salts and Seed Germination
Is Epsom salt good for bell pepper plants when germinating seeds? The National Gardening Association says yes and advises integrating Epsom salts into your gardening routine to help with pepper seed germination and nutrient absorption during those first few vulnerable days.
Epsom Salts for Blossom-End Rot
Tender members of the Solanaceae family, such as the bell pepper and tomato plant, are particularly vulnerable to a disease called blossom end rot. This physiological disease causes large, leathery rot spots on the bottom of the fruit or the blossom end.
We don't recommend using Epsom salt for bell pepper plants or a tomato suffering from blossom-end rot because it's simply ineffective. Calcium deficiency and inconsistent watering are the culprits behind blossom-end rot.
Epsom salts are mostly magnesium and sulfur and don't address the nutrient deficiently effectively. Water your nightshades thoroughly and consistently to avoid blossom-end rot. Ensure the garden soil or potting mix is well-draining, and try a bit of mulch on top to help trap much-needed moisture.
Fertilizer and Epsom Salt for Bell Peppers
If you're wondering how to use Epsom salt for bell peppers as a fertilizer, keep in mind that outdoor and indoor plants love balance. The best fertilizer for your precious peppers is a slow-release, balanced fertilizer with an NPK reading of 5-5-5.
If used as the only form of fertilizer, Epsom salts for bell peppers won't get you the results you want. However, an Epsom salt solution used monthly with an application of granular organic fertilizer at the start of the season ensures a hardy yield and a worry-free harvest.
To add more calcium to the soil, you can use eggshells to fertilize pepper plants. Eggshells are a great way to fertilize your plants with items from home.
How to use Epsom Salt for Bell Pepper Plants
Is Epsom salt good for bell peppers? Yes, in moderation and in cooperation with other organic fertilizer strategies. Whether you're growing a scorching hot pepper like the ghost pepper, or a sweeter cousin like the bell pepper, this DIY Epson salt solution foliar spray is for you.
Get a clean, repurposed spray bottle, and mix one tablespoon of Epsom salt with a gallon of clean water. Spray your pepper plant at bloom time, and continue monthly.
Use the spray on every leaf, and see if it genuinely does make a difference in plant height and fruit production. This is great for your potted plant, but take care with garden soil as Epsom salts are very water soluble and wash through to the water table sometimes.
We hope you loved learning how to grow the perfect pepper plant. Pepper plants are versatile; they offer flavor, nutrients, and eye-catching color to every dish. Growing bell peppers indoors is much easier with the right kind of help.
Spacing and placement are crucial in the garden. Peppers readily cross-pollinate, and proper distance is essential to preserve the integrity and flavor of your pepper variety. Remember to get a soil test every three years or monitor your soil pH with an inexpensive test kit. Incorporate Epsom salt for bell peppers if you want them big, bushy, and beautiful.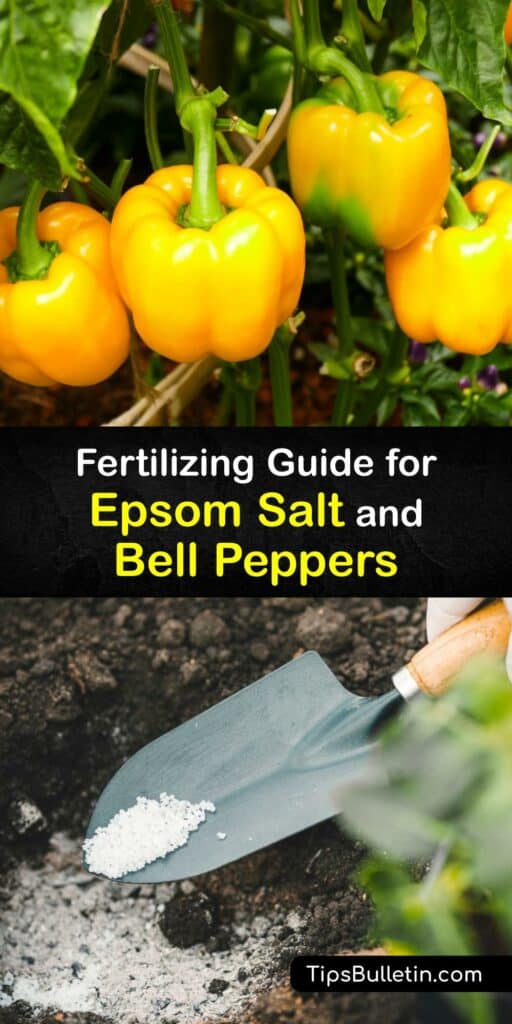 If you enjoyed learning these fascinating facts about Epsom salt for bell peppers, share this article with a friend on Pinterest or Facebook who loves organic gardening ideas.