Like other flowering plants, a rose plant desires an occasional pick-me-up now and then, whether from nitrogen, phosphorus, or potassium. However, a rose plant tends to suffer from magnesium deficiency while it goes through the blooming process. Find out how to use Epsom salt for roses to give your plants exactly what they need through the growing season.
We used to think growing the perfect rose bush was only something a gifted gardener could do. However, many types of roses are simple to grow, even if you're a beginner. They come in many sizes and colors, and some are disease-resistant.
As easy-growing as some plants are, they still require some attention to flourish. The key to producing plant growth in roses, tomatoes, pepper plants, or other potted plants is to ensure they grow in the correct soil pH and fertilize them with the proper nutrients. Soil nutrition and foliar feeding encourage seed germination, healthy foliage and blooms, and plant height.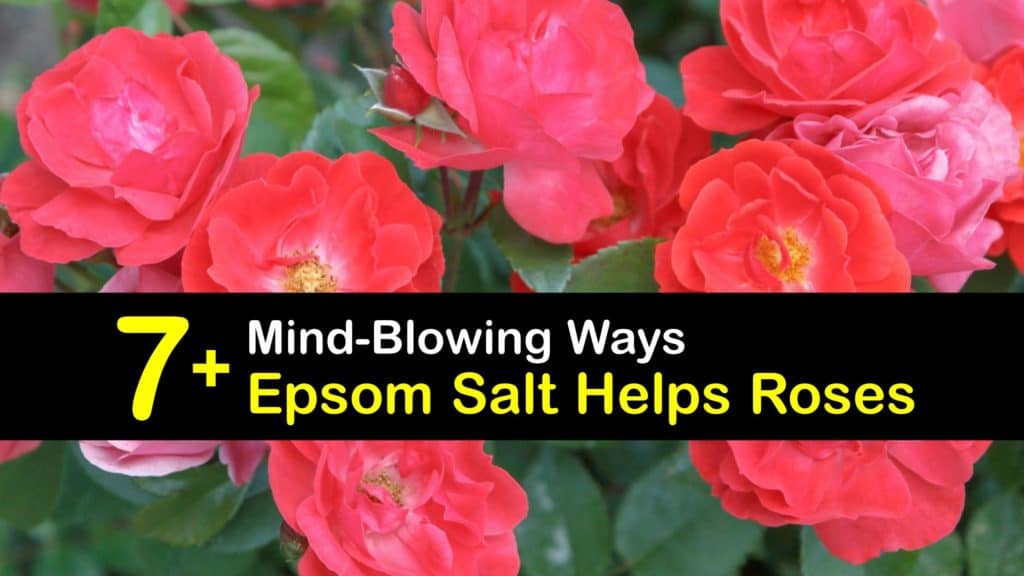 Using Epsom Salt to Feed Roses
Is Epsom salt good for plants? As strange as it may seem, this mineral salt is quite useful for promoting growth in many plants, from tomato plants to rose bushes. Learn how to feed your roses with Epsom salt to give your plants a boost and keep pests at bay.
Is Epsom Salt Good for Roses?
Epsom salt is common for easing sore muscles and aching feet, but is Epsom salt good for roses? Discover how this bath salt is beneficial to your rose plants and which nutrients it provides.
While it is strange to think of Epsom salt and roses together, this mineral salt is a form of magnesium sulfate, adding magnesium and sulfur to plants. Magnesium helps chlorophyll production, and sulfur is necessary for proteins – these trace nutrients promote greener foliage, faster growth, and more roses.
Using Epsom Salt for Rose Bushes in the Soil
Magnesium sulfate is the ideal fertilizer supplement for promoting healthy plant leaves and flowers on your roses. Use Epsom salt for rose bushes by adding it to the garden soil.
Is Epsom salt good for rose bushes? Yes, it is, and the simplest way to use it is to add it to the soil. However, it's helpful to perform a soil test first to determine if you have alkaline, neutral, or acidic soil. To feed your roses, work a half cup of Epson salt into the dirt around the base of each rose plant every spring and water it as usual.
How to Make a Foliar Spray with Epsom Salt for Roses
While adding fertilizers to the soil is common, another way to feed your plants is to prepare a foliar spray that you apply directly to the stems and leaves. Here is how to use Epsom salt for roses by making a leaf spray.
Swirl a tablespoon of Epsom salt with a gallon of water and pour it into a sprayer or watering can. Avoid using too much salt to prevent leaf scorching. Spray your plants with the foliar spray or apply it with a watering can to give your roses a boost of nutrients.
Combining Epsom Salt with Essential Oils to Keep Pests Off Roses
Using Epsom salt for rose bushes is an excellent way to give your plants magnesium. While you can use Neem oil on roses for insect problems and as a natural treatment for mildew on roses, this pest spray works well too. Adding essential oils to the salt helps deter aphids and other pests that like to destroy rose leaves, stems, and flower buds.
Fill a sprayer with a gallon of water, add the Epsom salt and essential oils, and shake the container well to mix. Spray the liquid on and around your roses to feed them a mild dose of magnesium and sulfur and deter harmful insects from the rose garden. Get rid of bugs on roses naturally with this essential oil and Epsom salt spray.
Making a Rose Food with Epsom Salt and Coffee Grounds
Is Epsom salt good for roses? This mineral is great for rose plants, and combining it with coffee grounds makes it even better. The salt adds magnesium and the coffee lowers the soil pH while repelling harmful insects from your plants.
There are two ways to feed your roses with Epsom salt and coffee grounds. Either work the dry ingredients into the dirt around your plants or combine them with a gallon of water and water the plant's base. Try this solution of Epsom salt for indoor palm trees and other houseplants as well.
The Epsom salt gives your plants magnesium and sulfur, while the coffee provides them with small amounts of nitrogen and potassium and keeps insects away.
Using Epsom Salt to Encourage Rose Blooming
While using Epsom salt is usually enough to give your plants a kick-start, adding other ingredients creates balance in the garden. This homemade fertilizer supplies roses with nutrients to promote foliage and flower growth.
Pour the water into a watering can and add the Epsom salt, molasses, apple cider vinegar, and powdered fish. Stir the liquid to combine and apply the fertilizer to your roses once during the summer in the evening. Repeat the application near the end of summer to encourage additional blooming through the fall.
Combining Epsom Salt with Kitchen Scraps to Fertilize Roses
Epsom salt is not the only thing in your home that works wonders for feeding rose bushes. Leftover scraps, like banana peels and eggshells, are rich in nutrients, and combining them with Epsom salt keeps your roses looking their best.
Bury leftover banana peels four to six inches beneath the soil around your roses, then work Epsom salt and crushed or powdered eggshells into the top layer of dirt. Finish by watering your plants as usual to help the nutrients make their way to the roots.
The eggshells prevent blossom end rot in a tomato plant and provide calcium to roses, the banana peels offer potassium, and the salt adds magnesium.
How Can You Tell If Your Roses Need Fertilizer?
Are your roses getting enough water, sun, and plant food? Sometimes it's challenging to tell if a plant is getting everything it needs to thrive. There are some common signs that your roses lack nutrients.
According to the National Gardening Association, there are three main ingredients in fertilizers; nitrogen, phosphorus, and potassium. Nitrogen promotes new plant growth throughout the season, phosphorus supports root growth, and potassium keeps the entire plant strong while protecting it from heat, drought, and insect stress.
In addition, roses enjoy other forms of nutrition, like magnesium for healthy leaves and flowers and calcium for overall plant strength, along with zinc, sulfur, iron, and other nutrients.
Roses are hungry feeders since many bloom throughout the entire season, and fertilizer is essential to help them fight various diseases. One of the best ways to see if your rose bush is getting enough food is to check how many times it blooms. While some roses bloom only once a year, many types, like the hybrid rose tea, are repeat bloomers.
Another sign that your shrubs are low in nutrients is when the leaves turn yellow. Yellow leaves may indicate that the soil pH is too high or lacks iron. However, this is also a sign of overwatering or poor-draining soil.
There are many ways and times to fertilize your rose plant. Roses like loam soil with a pH between 6 and 6.5. If you have poor dirt, it's wise to amend it with organic matter before planting your rose. Give your new plant a dose of fertilizer right after planting and feed it every five to six weeks.
Fertilize your roses after the first year of growth as soon as you can work the ground, and continue feeding them with a slow-release fertilizer throughout the season.
Gardening with roses is fun and rewarding; however, magnesium levels drop in the soil as your beautiful roses produce flowers, and it's essential to feed them the right nutrient for continual growth. Adding Epsom salt to the soil or water solves the problem and gives your plants precisely what they want to thrive.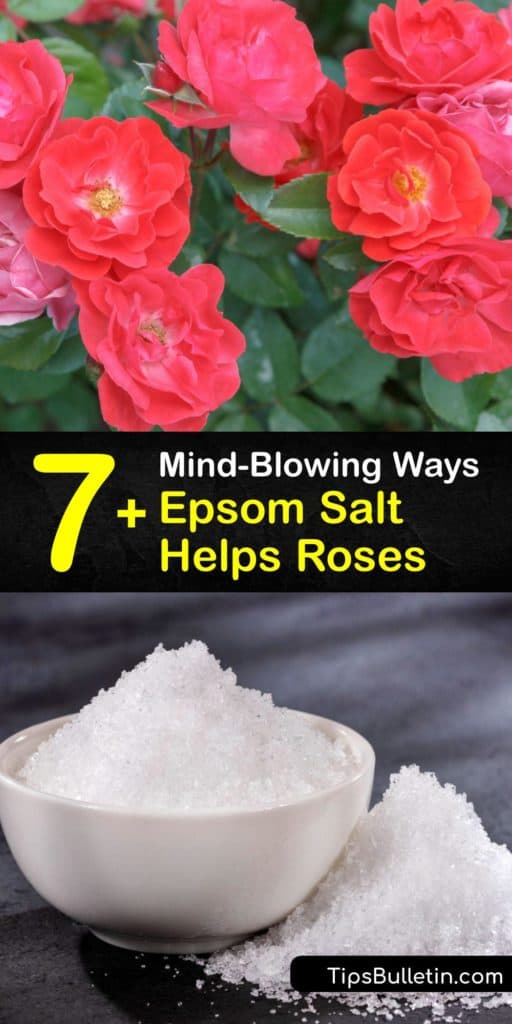 Now that you know how to use Epsom salt for roses, why not share our guide for using Epsom salt to feed rose plants with your family and friends on Pinterest and Facebook?