Has a frank look at your gardening budget left you considering trying a homemade fertilizer for cilantro? Whether you grow cilantro as a cover crop for weed control or plan to harvest this herb for fresh cilantro leaves, an organic cilantro plant fertilizer is helpful. Fertilizing cilantro plants gives them the nutrition they need to produce more leaves and resist harmful pests and diseases.
Cilantro plants are easy to care for. Harvest these hardy plants continuously throughout the growing season so you have fresh cilantro every time you make salsa or salad. Store-bought fertilizer is expensive and contains harmful compounds.
Cilantro, also known as coriander, thrives if fertilized once or twice during the growing season. Discover how to fertilize cilantro to keep your plants healthy, increase production, and save money. You can make a fertilizer for your indoor herb garden to give you total peace of mind and control over the substances introduced into your garden and your food.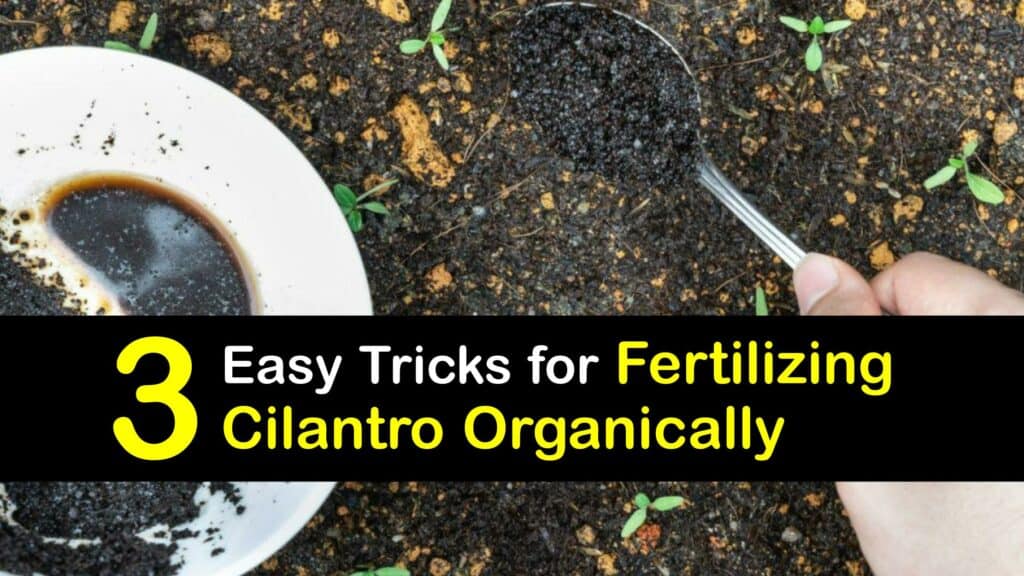 DIY Organic Cilantro Plant Fertilizer
Discover how to fertilize cilantro to add nutrition to native or potting soil for growing cilantro. Skip synthetic fertilizers to save money and encourage plant growth without chemicals. It's true that cilantro and coriander both need nutrients in their soil. So you can use a homemade fertilizer for cilantro and other herbs, like coffee grounds, compost, or seed meal, to enjoy a massive harvest of delicious coriander leaves.
Homemade Fertilizer for Cilantro With Coffee Grounds
Make a DIY fertilizer for cilantro and reduce waste using coffee grounds. Though we consider them waste, coffee grounds contain nutrients like nitrogen, magnesium, phosphorus, and potassium. The most basic method for fertilizing cilantro with coffee grounds is using it as granular fertilizer.
Sprinkle a thin layer of coffee grinds around the bottom of your cilantro plant or in the planting hole with coriander seed. Water your cilantro, as usual, to help nutrients reach the roots. Alternatively, prepare liquid cilantro fertilizer by combining leftover coffee grounds and water.
Combine the grounds and water and leave it to steep at least overnight. Strain and use the liquid as foliar feed to distribute directly onto the leaves or apply it as a soil fertilizer around the base of cilantro plants.
How to Fertilize Cilantro With Compost
Compost is a natural fertilizer made of degraded organic matter. Composting turns waste items such as grass clippings, food scraps, manure, and leaf litter into finished compost – an organic cilantro plant food.
When planting cilantro seed heads, use compost in the holes or side-dress it into older plants to provide the best nutrients for growing cilantro at home and improve soil structure. Mix compost into compost tea if you prefer a liquid fertilizer.
Fill the bucket halfway with finished compost and add enough water to cover it by a few inches. Stir the bucket daily and let the tea steep for a few days. Strain out solids with the cheesecloth and use the compost tea in place of water to feed cilantro plants.
Compost promotes greater air space in the soil, which helps to keep roots strong and reduces root rot and fungal concerns.
Seed Meal Is a Natural Cilantro Fertilizer
Seed meal is the best fertilizer for cilantro plants and ideal for anyone practicing organic gardening. Use seed meal when you plant cilantro or throughout the season as you care for your growing coriander plant.
Cottonseed meal is a standard gardening tool and a byproduct of the cotton industry. Cottonseed meal fertilizer contains slow-release nitrogen, potassium, and phosphate. Since soil bacteria must process proteins before plants use them, cottonseed meal is applied in larger quantities because of its delayed release.
As there is no risk of fertilizer burn, it is a safe and long-term solution for fertilizing cilantro. A decent rule of thumb is to add two to four pounds of seed meal per 100 square feet of earth before planting. Go as high as eight pounds if your soil is inferior. Take care when using high quantities of seed meal as it lowers soil pH.
Whether you're starting some cilantro seed or have a thriving crop, an organic cilantro plant fertilizer keeps your plants in optimum shape.
Though fertilizer is essential, it's not the only requirement for growing your cilantro leaves. Don't let your cilantro bolt, keep the soil moist, and be vigilant against issues like powdery mildew to ensure a high yield of fresh citrusy herbs.
If you loved this illuminating article on homemade fertilizer for cilantro, please share it with your friends and family who wonder how to fertilize cilantro on Pinterest and Facebook.