Have you ever wondered what exactly hummingbirds eat to maintain their busy and active flight? A hummingbird's food sources include tiny spiders and insects, but they love the natural nectar found in flowers due to its high sugar content. We've created an extensive list of homemade hummingbird nectar recipes to help you draw hummingbirds to your yard.
Hummingbirds are a bird lovers' delight with their colorful display of feathers, tiny bodies, and gentle fluttering of wings. Due to their activity and high metabolism, these little birds of North America need to eat continually throughout the day to survive. They are also fiercely territorial and will guard their feeder and flowers from other hummingbirds.
Feeding hummingbirds can bring joy to anyone who enjoys nature. After putting out a hummingbird feeder, these quick and tiny birds will empty the nectar in no time at all. To keep your neighborhood hummingbirds happy, keep a steady supply of sweet nectar.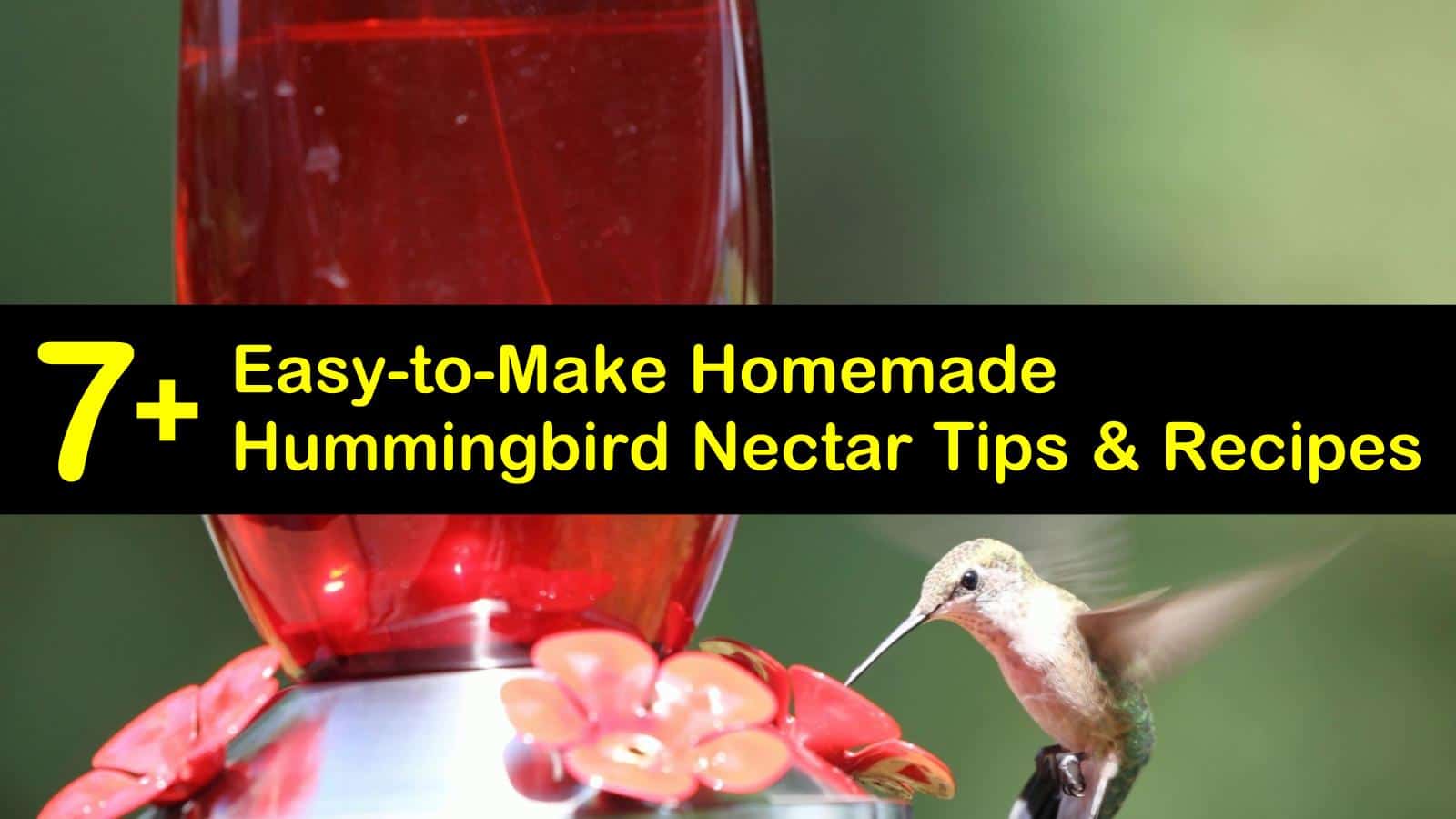 Attracting Hummingbirds with Homemade Nectar
Making homemade hummingbird nectar is a satisfying way to provide a sweet treat to your local hummingbirds and the insects and tiny spiders they consume.
We'll show you how to make your hummingbird nectar for your feathered friends in a few simple steps. We'll also show you how to attract those busy little birds to your new feeders.
How to Make Hummingbird Nectar without using Boiling Water
Hummingbirds have to feed every 15 minutes to maintain their metabolism. Here is how to make hummingbird nectar to give those hummingbirds the energy they need to keep going.
Pour four cups of water in a container and add a cup of sugar. Use filtered water rather than tap water to prevent the birds from ingesting chlorine and fluoride. Use plain white sugar.
Do not use brown sugar, organic sugar, artificial sweeteners, flavored syrups, or any other sweetener as a substitute. Many of these different sugars contain iron, which is toxic to hummingbirds. Mix the sugar water until the sugar dissolves and let it sit until it cools.
Adding red food coloring to the solution is unnecessary and can be harmful to the tiny birds. Pour the sugar solution into a hummingbird feeder and place it in a designated area of your yard. Change the solution every few days during hot weather to prevent mold.
Hummingbird Sugar Water with Boiling Water
Many people believe that using boiling water to remove impurities is the best way to make hummingbird nectar. Here is how to make hummingbird sugar water using boiled water.
To make hummingbird sugar water, you need four parts water and one part sugar, or four cups water to one cup sugar. Use distilled water to prevent contaminating the sugar water. Do not use any brown sugars, sugar substitute, or sweeteners such as fruit juice or syrup as a substitute for the white table sugar.
Bring a pot of water to boil, remove from the heat, and pour in the sugar. Mix the sugar solution until the sugar dissolves. Allow the hummingbird nectar to cool until it reaches room temperature.
Do not add any food coloring such as red dye to the solution. The solution does not need to be red to attract hummingbirds. Pour the homemade nectar into a feeder and place it in the yard for the hummers. Empty, clean, and refill the feeder every few days when the temperatures are high.
Preventing Hummingbird Bullies
These tiny birds consume half their body weight in food by eating insects, spiders, and nectar. Their high metabolism keeps them going and going. As a result, they can be downright bullies when it comes to protecting their hummingbird food and territory. There are some things you can do to remedy the situation.
If you have a male hummingbird hoarding and protecting one feeder in your yard, place several feeders at opposite sides of the yard, out of sight from the first feeder to separate the male bullies from each other.
Another solution is to add a few more feeders in the same area as the first one to attract several hummingbirds to the same location. Fill these new feeders with hummingbird nectar using one of our recipes. The first bully will not be able to fight off more than one bird, forcing them all to get along and share.
Creating a Hummingbird Nectar Hand Feeder
Did you know you can feed hummingbirds from your hands? Hummingbirds are quite social when it comes to humans if they know they will be receiving sweet nectar. Make a hand feeder to entice those cute little birds to come to you for their food.
Take a spice jar that has a red lid to draw the birds in and wash it with soap and water. Make sure that you clean it thoroughly to prevent contaminating the hummingbird food. Make nectar using one of our recipes and pour it into the jar.
Either hang the jar from a tree or sit in an area that you have spotted hummingbirds feeding and hold the jar outward in your hand. Doing this takes patience and routine, but eventually, the hummingbirds will get used to your presence and happily eat nectar from the palm of your hand.
Homemade Hummingbird Nectar Bottle Feeder
Hummingbird feeders can be expensive, especially if you buy a lot of them. If you're the crafty type, you can make a nectar bottle feeder using a few items you have lying around the house, while also recycling.
Remove the cap from the water bottle and drill a small hole in the lid. Insert the straw into the hole in the lid to the point where it bends. Glue the straw into place and allow it to dry completely. Wrap a piece of crafting wire around the base of the bottle.
Make hummingbird nectar using one of our homemade recipes and pour the liquid into the water bottle. Insert the straw and tighten the cap. Hang the hummingbird bottle feeder upside down from a tree in your yard and wait for the birds to arrive.
Attracting Hummingbirds with Natural Nectar
Nectar is a sweet bird food that hummingbirds enjoy most. It gives them much needed energy for their high metabolism. Creating a natural environment filled with nectar for them to enjoy will not only nourish the birds but create a beautiful outdoor living space for you, as well.
Hummingbird Garden
Eating the flower nectar is a full-time job for hummingbirds. It is also a struggle because flower blooms only last for so long before they wilt. A great way to prevent this is to plant a flower garden that not only consists of the nectar-rich flowers but has a continuous blooming schedule.
This way, these tiny birds have an endless supply of nectar throughout the season. Place the hummingbird garden in an area of the yard that gets both sun and shade throughout the day. The garden should be long and narrow in shape to provide the birds with unobstructed views of incoming visitors.
There are various flowers that hummingbirds enjoy. While they are attracted to red and pink, they do not have a problem getting nectar from other color varieties. Hummingbirds like long, tubular-shaped flowers, and some of their favorites are Fuchsia, Bird of Paradise, and Desert Honeysuckle.
Attract Hummingbirds to Your Yard
Hummingbirds are not only attracted to flowers and feeders. Certain types of lawn decor are alluring to those tiny bird eyes. Hanging these in your yard will draw the birds to your area when you're trying to entice them to your homemade nectar.
Hanging strips of red ribbon that are about 18 inches in length from a tree will attract hummingbirds as they blow in the breeze. Hanging baskets of brightly colored flowers attract the attention of hummingbirds faster than flowers low to the ground.
The key is to draw the hummingbirds in with fresh, bright colors. Rehabilitate old and faded feeders to catch their eye, and place brightly colored lawn decor near the new feeders.
Create a Hummingbird Paradise
Hummers love flowers where they can drink deeply of their favorite nectar. Try growing brightly-colored flowers like honeysuckle, bee balm, and columbine, among many others.
While the first step to creating a paradise for hummingbirds is to plant their preferred flowers and hang nectar feeders, there are a few other steps to take to ensure that they have the perfect place to call home.
Hang feeders at varying heights with your favorite hummingbird food recipe. Different hummingbirds have their height preferences, and doing this attracts various types of birds.
Remember, hummingbirds eat tiny insects as well, so hang a basket near their feeder and toss your banana peels and overripe fruit into it to attract fruit flies. Some other birds and butterflies also enjoy this type of treat, too.
Unfortunately, this may attract bees, and you may have to take steps to get rid of wasps, too. You can purchase commercial bee deterrent products and ant guards to keep unwanted bugs away from your feeders, but you can make your own, too.
Hummingbirds love bathing on misted leaves. Place a water mister near a broadleaf plant for them to enjoy.
Hummingbirds burn a lot of energy and need a safe place to rest, if only for a moment before they are back to the feeder. Provide secure perching areas near their feeder to give them a place to rest.
Offer the hummingbirds nesting material such as ferns, moss, spider webs, and other downy-like materials to encourage the females to nest in your backyard, eventually bringing their babies to your feeders.
Nothing could be more satisfying while birding than seeing the dancing flight of tiny wings adorned with bright green, orange, and red. Hummingbirds are fascinating to watch, and having a yard filled with red flowers and a feeder filled with your own hummingbird nectar will attract these colorful feathered friends to your home.
Recipe for Homemade Hummingbird Nectar
Homemade Hummingbird Nectar
Save money by making your own hummingbird food!
Materials
16 ounces warm tap water
4 ounces regular white sugar
Tools
Funnel
Measuring cup
Bottle with lid
2-cup size hummingbird feeder
Instructions
Use the funnel to add the water and sugar to the bottle.
Secure the lid on the bottle and shake well. Make sure all the sugar dissolves.
Carefully add the nectar to the hummingbird feeder.
Notes
Do not add red dye to the nectar. It harms the hummingbirds.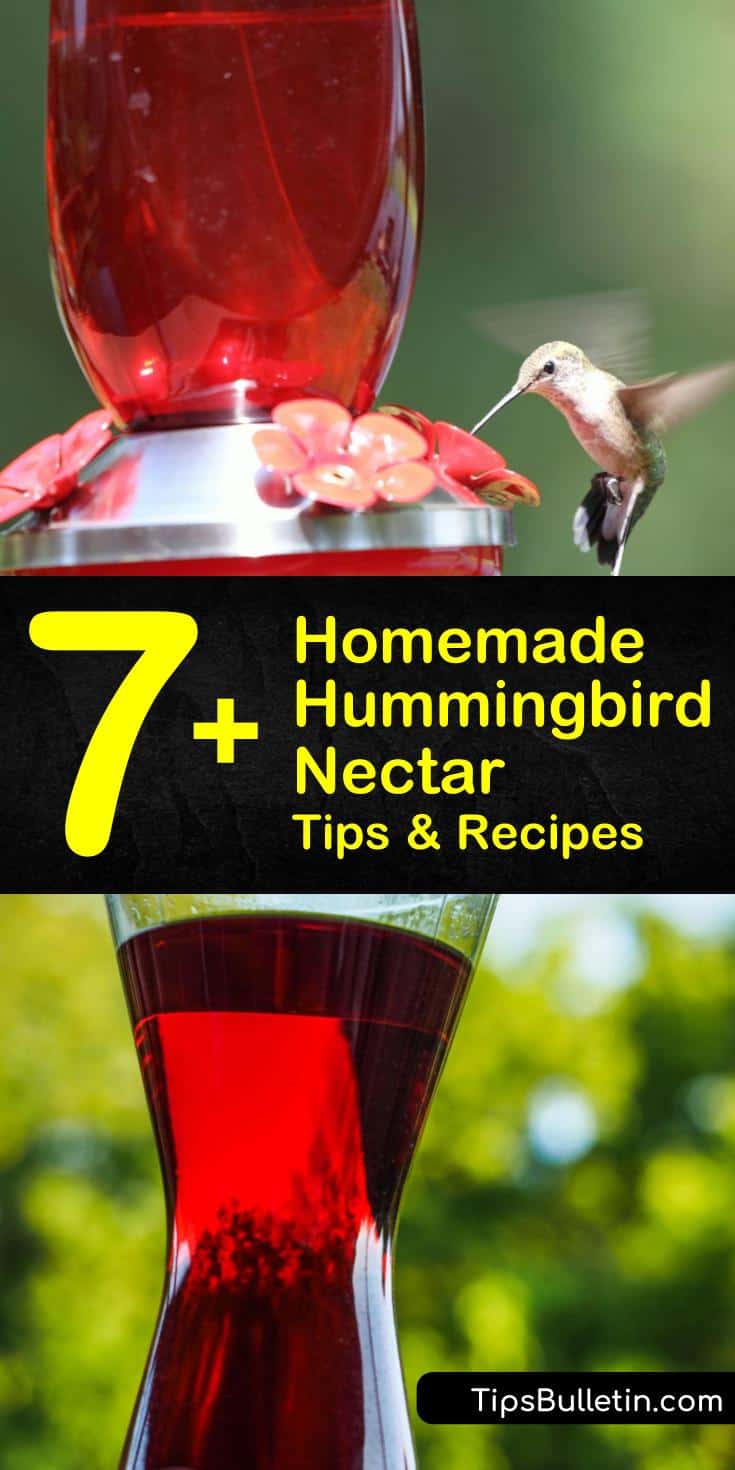 We're glad that we could share our homemade hummingbird nectar recipes and tips, and we'd love it if you share our easy-to-make nectar recipes with your family and friends on Facebook and Pinterest.