Although mosquito-borne diseases like malaria, West Nile virus, and yellow fever are spread by these insects, most people only get painful, itchy bumps due to their bites. While the bites are annoying and inconvenient, they are fortunately low-risk; a mosquito infestation is unpleasant, and mosquito bites are painful. Anyone who lives in a mosquito-infested area should know how to make homemade mosquito deterrent spray.
Mosquitoes are scientifically called Aedes aegypti, and the females are the ones who give you an itchy, stinging bite. The proboscis is a huge needle-like projection on their face used to penetrate the skin of their targets to gather blood to sustain their expanding eggs after mating. Male mosquitoes don't bite and have a small feathery proboscis.
Various simple DIY mosquito-control options are available to deter mosquitoes at home. If you're looking for the best technique to eliminate mosquitoes the next time they invade your home or yard, look no further than a homemade natural mosquito deterrent spray.
Homemade Sprays to Deter Mosquitoes
Mosquitoes are an unavoidable part of life, and no matter how many repellents you use, they're still annoying. If mosquitoes are a problem in your yard, use household goods to deter mosquitoes by mixing a homemade mosquito deterrent spray.
The best way to lower the number of mosquitoes living on your property is to kill them before they mature into adults. Many natural mosquito deterrent ingredients are readily available and safe to mix at home.
Commercial mosquito products often contain harsh chemicals and are dangerous to children, pets, and wildlife. Creating your own mosquito deterrent spray allows you to select non-harmful compounds and tailor the spray to your preferred strength and scent.
Homemade Mosquito Deterrent Spray with Neem Oil
Neem oil is widely known for its many uses in gardening and pest control. In addition to being a natural pesticide, neem oil is an insecticide.
This natural mosquito repellent spray is an excellent way to keep mosquitoes at bay without the harsh chemicals found in conventional mosquito repellents. In addition to being insect repellent, this mosquito spray smells great.
In a spray container, give the ingredients a good shake to mix. To repel mosquitoes and prevent painful bites, apply aerially and to skin and clothing. It will also make an effective gnat spray for house and garden areas. Keep some on hand to protect yourself. If you are allergic to bees and want to keep them away, use this spray, as it deters bees and other annoying bugs.
Lemon Juice is a Natural Mosquito Deterrent
For a natural and non-toxic option, homemade lemon mosquito spray is a safe and efficient insect repellent for your family. Since the ingredients are food-grade, this spray poses no threat if accidentally ingested and may be used directly on the skin. DIY Lemon bug spray is effective against fleas and other insects.
Use more or fewer lemons, depending on the quantity of bug spray you need. Cut the lemons into pieces and bring them to a boil in a pot with water. Remove from the heat, and allow the mixture to steep overnight to make a natural insect repellent.
Because this natural spray is made entirely of lemons and water, it is safe for pets, children, and direct skin application, though it should not be used near the eyes.
Essential Oil Mosquito Repellent is an Indoor Mosquito Deterrent
Certain smells, such as lavender or citronella, repel mosquitoes. Using lavender or citronella oil as a spray or topical application to keep mosquitoes away is a smart strategy to avoid using dangerous chemicals like DEET. This method is perfect to use inside the home and outdoors as the oils smell pleasant and fresh.
Always dilute essential oils with some carrier oil before applying essential oils to your skin. Commercial products like a citronella candle come in many sizes and shapes, making it easy to pick one to fit your needs.
Alternatively, make a homemade insect repellent spray by mixing twenty drops of citronella or your preferred oils with 2 cups of water in a spray bottle. In a pinch, vanilla extract works as a scent to repel mosquitos.
Apple Cider Vinegar Outdoor Mosquito Deterrent
Apple cider vinegar is well-known for a multitude of uses in health, personal care, cleaning, and pest control. Thanks to its strong scent, apple cider vinegar is an ideal homemade mosquito yard spray and works as a bug repellent, as mosquitoes hate the aroma. Apple cider vinegar yard spray is straightforward to mix and non-toxic.
This repellent couldn't be any easier to whip up. To make this natural yard spray for mosquitoes, combine the liquids well in a spray canister and apply it to areas where mosquitoes congregate in your yard. Add two drops of essential oil to repel mosquitoes, such as lemon eucalyptus oil, to boost the potency.
Epsom Salt Mosquito Repellent Bug Spray
This spray is perfect for the yard, keeping seating areas, patios, and porches free of mosquitoes. By combining powerful mosquito repellent ingredients such as mouthwash and Epsom salt, this spray keeps your outdoor spaces free of insect pests for up to two months.
Combine the ingredients in a spray can and shake well until all the Epsom salt dissolves. Spray the solution liberally around your yard, focusing on areas where you plan to spend time outside. It helps to repel mosquitos and other annoying flying pests. Apply the mosquito spray on a dry day so the rain doesn't wash it away.
Dryer Sheet Mosquito Deterrent Spray
It's no secret that dryer sheets are a powerful mosquito repellent. Though they are often used by rubbing them directly onto exposed skin areas or stuffing them in pockets, you can make them into an easy-to-use mosquito bug spray.
Like many ingredients in mosquito deterrents, dryer sheets emit a scent that repels blood-sucking insects. They're available at almost any store and are an affordable option if you need pest control quickly.
Either spray your skin lightly with water and rub a dryer sheet over it to transfer the smell, or make a dryer sheet liquid for easier application. Place several dryer sheets in a bowl and cover completely with water before leaving overnight. The following day, strain the liquid from the bowl into a spray bottle and spray as needed onto skin and clothes to repel mosquitoes.
Mosquitoes are a health risk for everyone, as mosquito-borne diseases affect over one million people yearly. Mosquitoes infect dogs and cats with heartworm, which is a life-threatening disease. Learning to create natural mosquito repellent spray is crucial to having a pleasant backyard and home.
Understanding the best natural mosquito repellents and controlling mosquitoes around your home is worth the effort to reduce your risk of being bitten. Sprays are a fast and effective way to offer mosquito protection for you, your family, and your pets.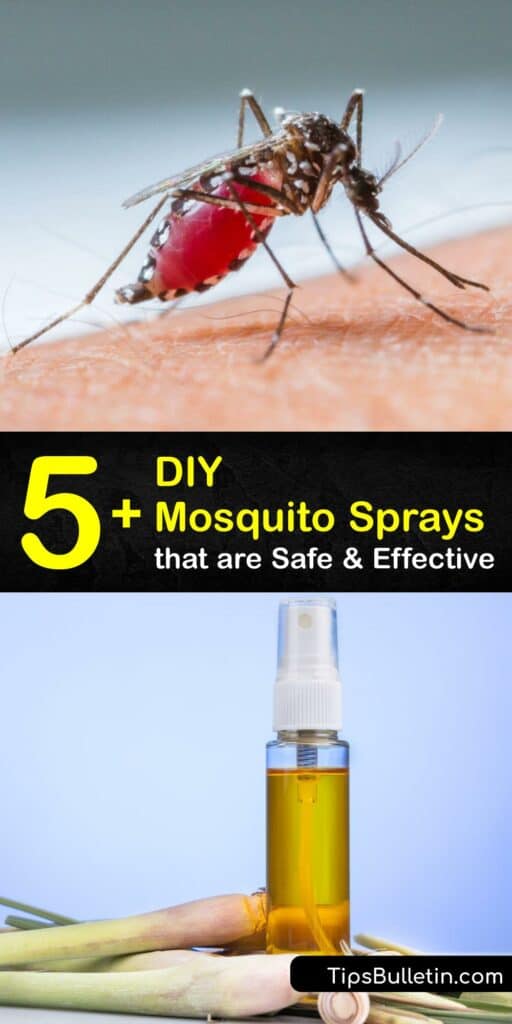 If you loved this article on homemade mosquito deterrent spray, please share these brilliant tips on how to deter mosquitoes with your friends and family on Pinterest and Facebook.