Greasy or dirty wheels and tire rims can make driving less fun. Aesthetics aside, clean wheels also prevent corrosion and damage to the car. Leave dirt and various substances on any wheels long enough, and they can cause peeling on wheel finishes, eventually making the rim porous and causing tire leaks.
Auto detailing companies often use Meguiar and Armor All products for tire cleaning and tire dressing, but if misused, they can permanently mar your alloy wheels instead of being a useful car care product.
And if you are on a tight budget, there are many household products that you can take out of your kitchen cabinets to make a homemade car wash cleaner for your tires and rims.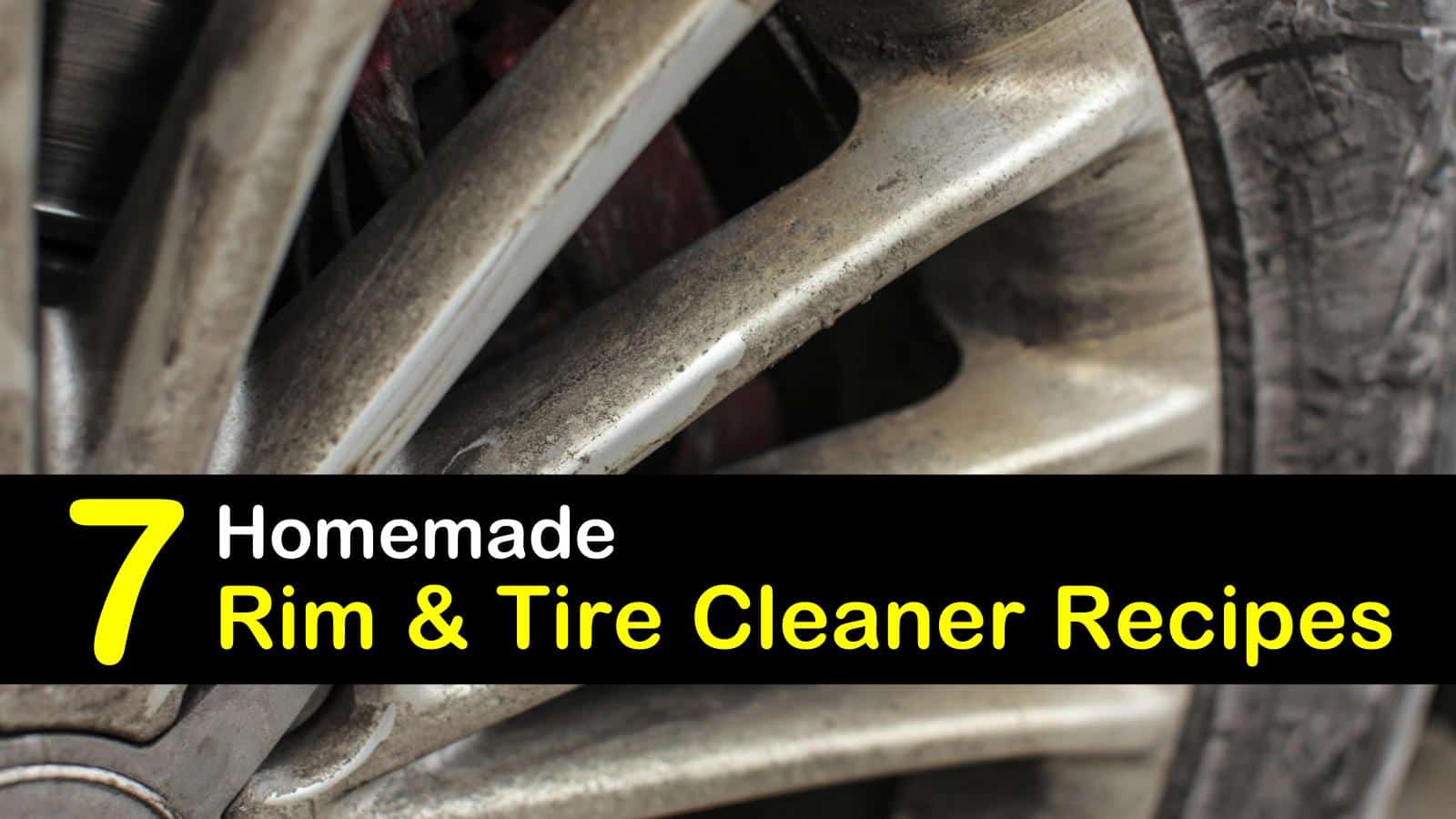 How to Make a Homemade Rim and Tire Cleaner
You will probably take care of cleaning your car at the same time you will wash your tires and rims. How to wash a car and each of its components is easy if you have the right materials and a little bit of time.
We have compiled some ways to make a DIY tire cleaner. By browsing various car maintenance books and searching hundreds of online databases, we found simple and safe ways to clean car wheels at home.
Whether you have aluminum wheels, clear coated, alloy wheels or steel wheels, these tire cleaner recipes are proven to be the most effective homemade rim and tire cleaner. Remove road tar from your car tires with these simple solutions and products you probably already have in the house.
Mix Lemon Juice and Baking Soda
Many car enthusiasts report that lemon juice is a useful car cleaner due to its potency in removing car stains. Lemon juice and baking soda can get rid of stubborn spots such as grease in various types of wheels.
Pour the lemon juice and water in the spray bottle and shake well. Then, spray it on the wheels beginning from the innermost part. After that, sprinkle baking soda on your microfiber towel and use it to rub off tough stains to clean rims.
Did you know that you can also use this simple recipe for a degreaser used in the kitchen? Not only can you clean your rims and tires with this solution, but you can also take care of your stove, countertops, and sink. Lemon juice gives versatility a new meaning.
Use Cream of Tartar Paste
A kitchen product like cream of tartar may be relatively expensive but if you have some in storage and are not using it, take them out for tire cleaning.
Use the cream of tartar with a wheel brush to remove rust, scrub off the stains on the rims, and rinse with clean water.
Combine Baking Soda and Dish Soap
Aluminum wheels' rims harbor road dirt, tar, and grease that require degreaser and deep cleaning ingredients. Baking soda is a slightly abrasive cleaner that can clean grime if used with a sponge. Dish soap, on the other hand, is a degreaser used in the kitchen to rid of oil or grease buildup.
Add the concentrated dish soap to the hot water. Soak the sponge in your dish soap mixture and sprinkle the baking soda on your rag or sponge. Run the sponge around the rims from outside to the inside edge several times.
Use an old toothbrush to scrub the dirt away on tough-to-reach areas. Use this method to make your own car headlight cleaner so you can detail all aspects of your car. Rinse the wheel wells with water from top to bottom and immediately dry with a clean towel.
Use Carbonated Soft Drinks to Clean Lug Nuts
Rusty lug nuts and screws? Here is something that you can use to do the nut job: Coca-Cola. Coke contains phosphoric acid, which, combined with the carbonation, can dissolve and remove tarnish from copper, chrome wheels and other metal alloys.
With these household ingredients, you can also clean your car carpet the DIY way and remove the stains and rust that make your dirty tires look filthy. Pour the cola in the spray bottle and spritz some on the bolts and rims.
Let it sit for a couple of minutes for the acid to do its wheel cleaning. Then, use your wheel brush or toothbrush to clean the lug nuts. Mix the dish soap, vinegar, and water to clean tires of the sticky soda. Rinse well.
Use Your Toilet Bowl Cleaner for Tough Grime
Use this recipe with caution. It can clean almost every type of stain on wheels, but to avoid damage, you need to follow the directions as written.
Wear gloves to prepare your acid neutralizer. Fill the spray bottle with water and add baking soda. Shake well and set aside. Squirt a small amount of the toilet bowl cleaner in the glass or ceramic bowl. Do not use a metal bowl.
Dip your brush to the bowl cleaner and scrub a small area of the rim, not lasting more than 15 seconds. Spray your neutralizer all over the rim. Rinse thoroughly or use a pressure washer. Repeat scrubbing until all spots are gone. Finalize by rinsing the wheels thoroughly.
Use Vinegar and Water Mix for Chrome Wheels
If you are not a fan of acid-based cleaner and are only cleaning chrome wheels, a water-based homemade wheel cleaner will work, too. In a spray bottle, pour equal parts of white vinegar and water. Spritz it on the wheels and remove stains using a sponge. Rinse and repeat the process if some dirt remains.
Use Baby Oil to Shine Tires
Cleaning tires aren't complete without showing off the fresh black look and shine. Not only will it look good but blackening tires prolongs their life too. If you are not a fan of full strength tire dressing products, make your own.
Mix all ingredients in the spray bottle and shake well. You can either spray it on the rag or small areas of the tires.
Why Use a Homemade Wheel Cleaner?
Taking a quick pit stop to rid your car wheels off of road grime is essential for car maintenance. Aside from being able to see your rims and wheels shine like new, cleaning wheels will remove and prevent brake dust from splashing on your car.
If left uncleaned, it may cause damage and destroy your car exterior. This homemade rim and tire cleaner list is safe and chemical-free.
Recipe for Homemade Rim and Tire Cleaner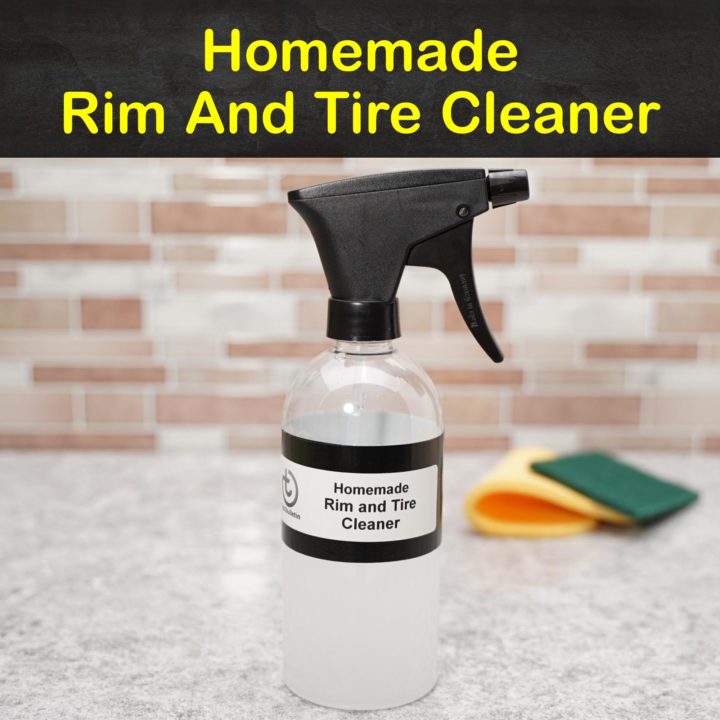 Homemade Rim and Tire Cleaner
Use this homemade cleaning solution to get your rims and tires as shiny as the rest of the car.
Materials
1 cup warm water
2 tbsp lemon juice
4 ounces baking soda
Tools
16-ounce sprayer
Measuring cup
Damp microfiber cloths
Tablespoon
Water hose
Instructions
Add the water and lemon juice to the spray bottle.
Shake to mix.
Spritz the wheels from the inner area outward.
Sprinkle some baking soda on the damp cloth and rub it over the rims, especially tough stains.
Rinse with fresh water from the hose.
Notes
Vinegar can be substituted for lemon juice.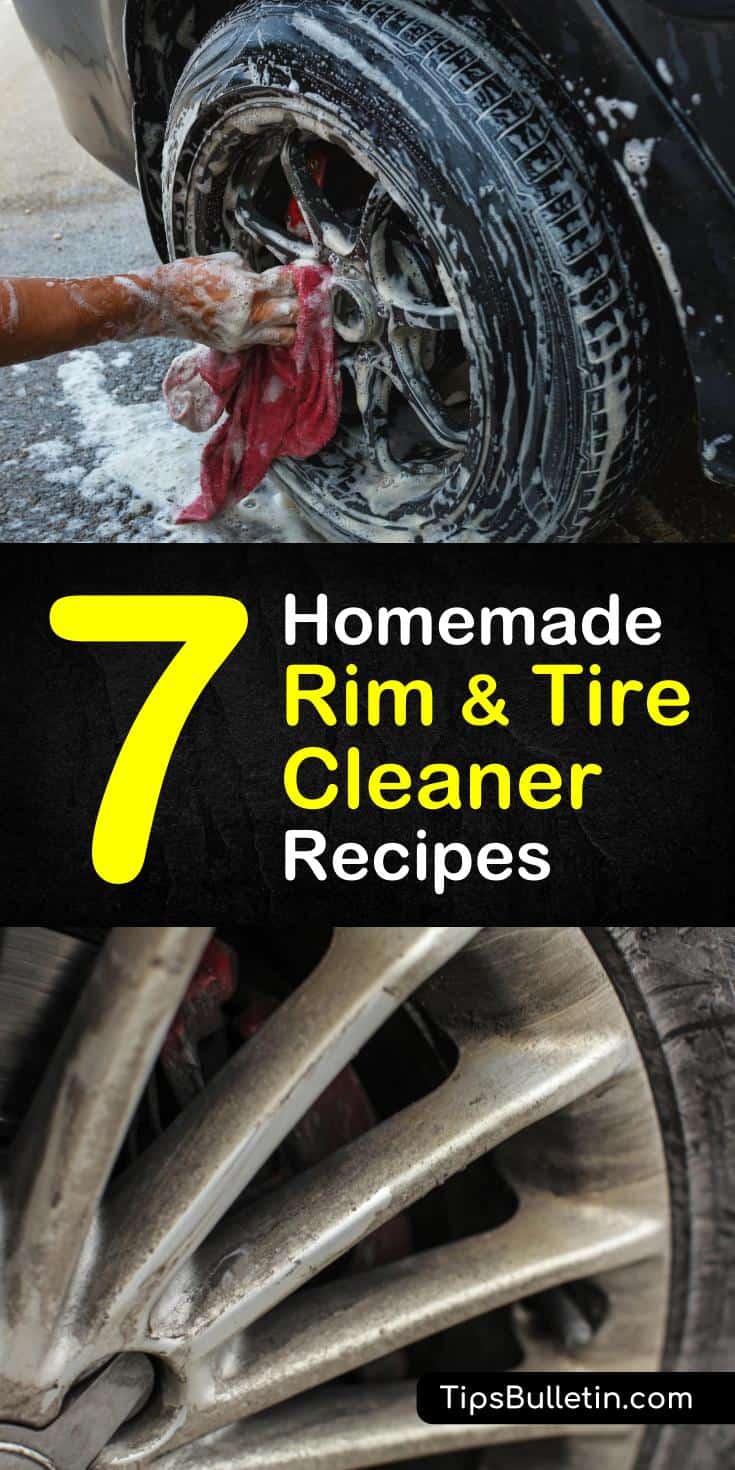 If you found these car wash recipes for your wheels useful, please share these DIY tire cleaner tips with your friends on Pinterest and Facebook. Let everyone know how easy it is to get rid of car wheels grime at home!