If you're like me, you've collected some beautiful silver pieces over the years, but they sit on a shelf unused. I've been taught that silver benefits from regular use, and it turns out that it is true. But I was hesitant to commit to the constant cleaning that I assumed it would need. I've since discovered that keeping my silver clean and polished is not the chore I thought it would be. So, I've given my silver a good cleaning and resolved to use it more.
When tarnish does appear, I choose to clean my silver with natural products that are easily found in the cupboard, and fortunately, they make the chore so much easier. I want to share the methods that work for me and a few tips on what not to do. Hopefully, you'll be inspired to get your silver cleaned up so that you can enjoy using it more often.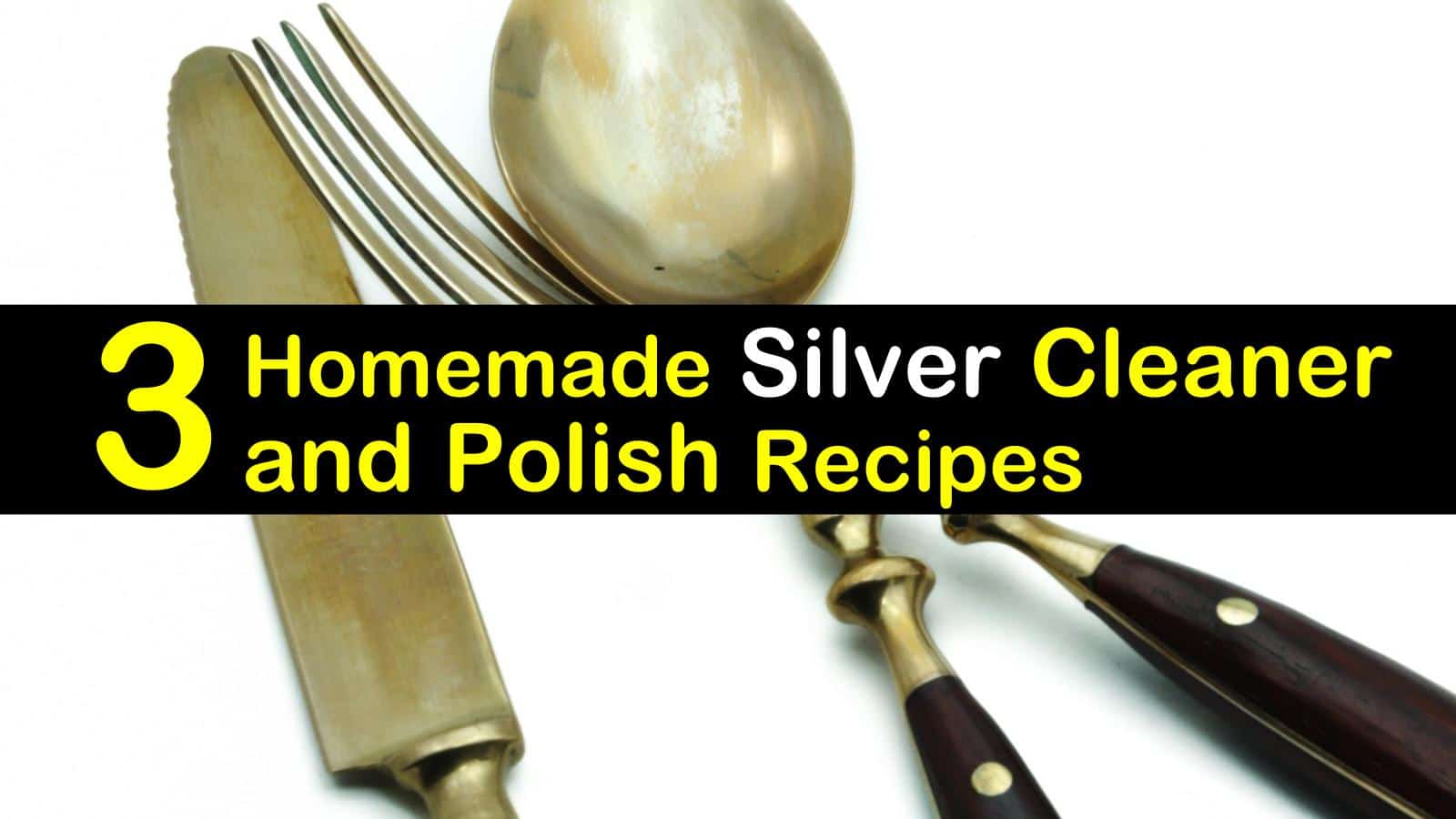 How to Clean Silver Metal
When you clean your silver regularly, it is a simple job. Once the tarnish has built up, it may take little more elbow grease, but the process is the same.
For everyday cleaning, hand-wash your silver separately in sudsy water. When you place silver in the dishwasher or in a sink of dishes you run the risk of scratching or otherwise damaging the delicate metal. When you notice the dark tinge of tarnish, polish the silver immediately to prevent a build-up.
Homemade Remedies to Clean Silver
1. The Easiest Homemade Silver Cleaning Solution
For lightly tarnished silver, the easiest way to clean it is to soak it in a bath of Lemon-Lime Soda like 7-Up, or Sprite. The acid in the soda cleans away the tarnish leaving your silver sparkling clean without harming the metal.
Natural Homemade Silver Cleaner
Place the silver pieces in a container and pour the soda over them. Leave them to soak for an hour or more, then rinse and dry with a soft cloth. Our homemade brass cleaner uses the same lemon base to create a powerful yet mild cleaning solution.
2. An Electrochemical Solution
This is another easy homemade silver cleaning solution. Line a bowl or other container with aluminum foil and heat up enough water to almost fill the container.
Electrochemical Silver Cleaner

Aluminum foil
Hot water
Salt
Dissolve a large amount of salt in the water, as much as possible—you want a very salty solution. Place your silver in the foil-lined container and pour the salt water over it. Remove the silver as soon as the tarnish is gone.
The reaction happens quickly, and your silver will be shining clean in no time. For this solution to work, the silver must be touching the foil. When your silver is clean, rinse it off and buff it dry with a soft cloth.
>> More on metal cleaning and polishing: How to clean pewter – Does pewter tarnish?
3. Homemade Silver Polish – from Household Ingredients
There is no need to buy an expensive silver polish; many different household items do the job efficiently. The procedure is the same no matter which polishing substance you choose. Some of these polish replacements depend on the mild abrasive action, while others make use of acid ingredients. Your goal is to be as gentle as possible with your silver, so avoid heavily abrasive materials like toothpaste and abrasive cleansers. To remove tarnish from intricate designs, use a soft brush with the polish to get into deep crevices.
Household Ingredients that Homemade Silver Polish

Ketchup
Cornstarch
Cream of tartar
Hand sanitizer
Lemon juice and salt
Window Cleaner
To polish your silver with any of these household ingredients, place some of the polish on a damp cloth and rub the silver gently in long, straight strokes. When all the tarnish is removed, rinse the item and buff it dry with a soft cloth.
How to Clean Silver Jewelry and Other Small Silver Items
If you are looking into cleaning small silverware and how to clean jewelry, soak them in a solution made by stirring together 1/2 cup of distilled white vinegar and two tablespoons of baking soda in a large bowl. The solution which also is part of a powerful homemade all-purpose cleaner will foam a bit, so use a bowl large enough to prevent a mess.
Leave the silver in the solution for two to three hours, then rinse and dry thoroughly with a soft cloth. This solution cleans silver safely and easily, but be careful when your jewelry has stones or other added ornaments. Make sure they are safe for cleaning with vinegar before use.
>> More DIY Cleaning Tips: 5 Easy-To-Make Homemade Jewelry Cleaner Recipes
Preventing Tarnish
Now that your silver is clean and tarnish free let's keep it that way. One of the best answers is to use it daily. This works well with silverware and jewelry, but maybe not work as well for those special occasion items.
Storing your silver in a dry environment helps, as well as keeping silver wrapped in a soft cotton cloth and placed in a plastic bag. The plastic keeps out air which has traces of sulfur in it, causing the tarnish.
Avoid wearing your silver jewelry when doing dishes, swimming, or cleaning. Chlorine in water and cleaning supplies can cause silver to tarnish. Don't wear your silver rings or necklaces when cooking and don't wear a silver necklace with wool clothing, since wool encourages tarnish.
What About Toothpaste as a Homemade Silver Cleaner?
Using toothpaste as a silver cleaner is risky. Some toothpaste formulas are non-abrasive and will do the job well, while others contain abrasive ingredients that can scratch your silver. Other ingredients in the toothpaste could also be problematic.
While toothpaste will do the job, I recommend that you use it only if the tarnish buildup is so bad that it is not responsive to other methods. If you feel that an abrasive is warranted, try using a paste made from damp baking soda on a soft sponge or cloth. Rub the baking soda over the piece and allow it to stay on the piece for an hour or more, then rinse and repeat, if necessary. Buff the silver dry with a clean, dry cloth.
How Does Silver Cleaner Work?
These silver cleaners work in several different ways. Acid and basic ingredients are good at dissolving tarnish, while mild abrasives rub away the tarnished surface revealing the shiny silver below. Some cleaners use a combination of acid and abrasives.
Whichever cleaner you choose, you will be amazed at how quickly they work. When using an acid and a mild abrasive, you only need a few minutes and a light polishing. If you follow my advice and give it a good cleaning with one of these silver cleaners, then keeping it clean is easily accomplished.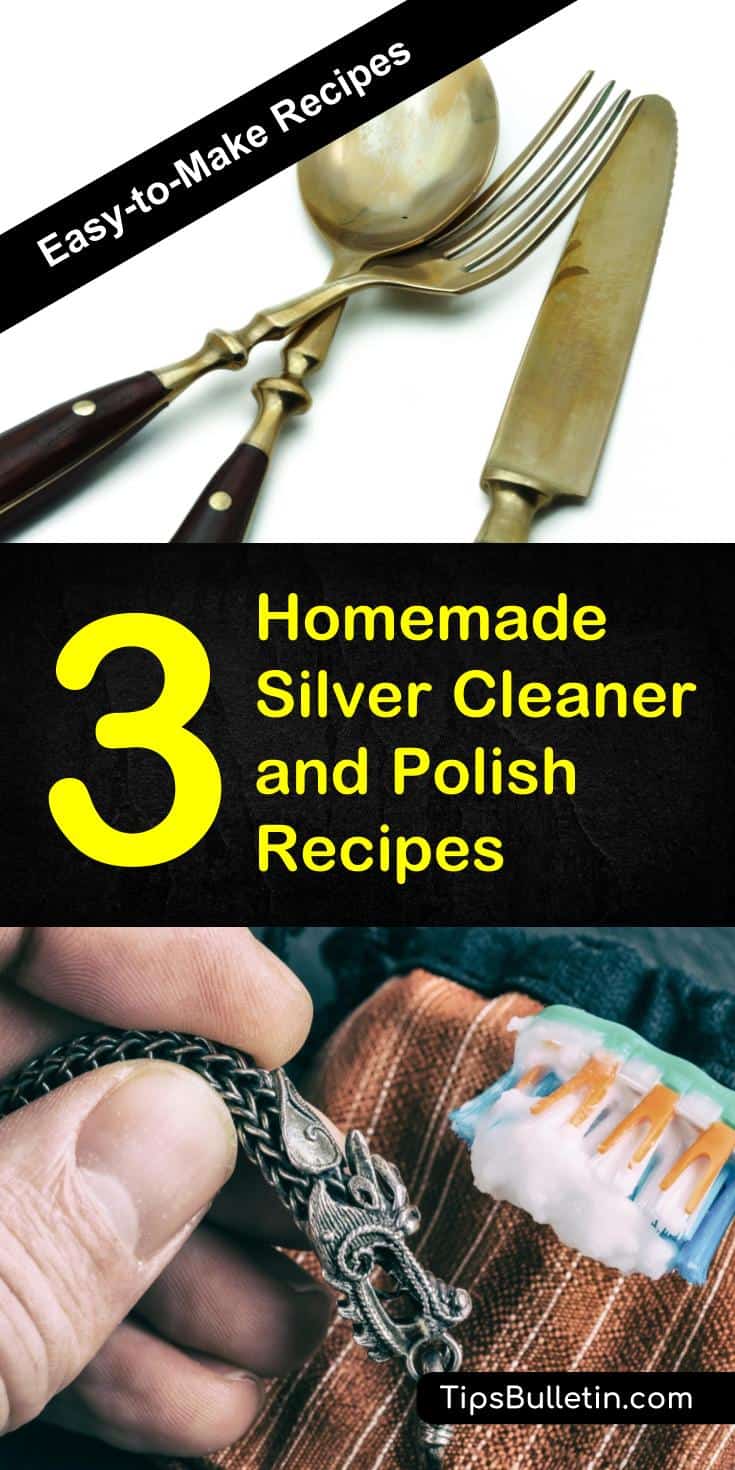 Do you have a good homemade silver cleaner recipe? I often find the best advice comes from the readers who use these techniques every day. Leave a comment letting us know what works and doesn't work for you. Moreover, if you found this article helpful, I would be honored if you share it on your social media so that others can benefit.