Planting tomatoes is a great way to incorporate an excellent vegetable into your garden. Like the heirloom tomato, tomato varieties are easy to grow and are incredibly productive during the growing season. One vital piece of knowledge you must have if you plant tomatoes is how far apart to plant tomatoes in the soil.
Proper spacing is linked to so many other aspects that affect the plant's health. Learning how far apart to plant tomatoes is simple, although there are a few minor differences between tomato varieties. This helpful article teaches you how far apart to plant cherry tomatoes, indeterminate varieties, and determinate tomatoes; like beefsteak tomatoes. Additionally, we show you the numerous benefits a wire cage has when growing tomatoes.
Finally, we shine a light on the dangers of planting your tomatoes too close to one another and how it can impact your entire garden. If you want to harvest as many healthy and ripe tomatoes as possible at the end of the growing season, you must understand the basic needs of tomato plant spacing.
How to Care for Tomato Plants
Before you worry about storing cut tomatoes, you have to buy or grow them first. Taking the proper steps when planting seeds will almost guarantee you a prosperous harvest.
Ensuring your tomato plants have enough room to grow is only one aspect of efficient tomato gardening. There are a few other crucial maintenance techniques that allow varieties of tomatoes to sprout quicker.
One thing that helps tomatoes grow is full sun exposure. Another simple trick that allows your tomatoes to produce fruit in a short period of time is pruning the plant.
When you prune a tomato plant, you remove all the dead leaves and branches, allowing for new growth.
How Far Apart to Plant Tomatoes that are Indeterminate
Types of tomatoes are broken into two categories. Both varieties are relatively easy to grow but do have distinct differences. How far apart should you plant tomato plants? The differences in spacing depend on the type of tomatoes.
Indeterminate tomato plants grow upward and reach heights up to nine feet tall. To help support the weight of the tomato vines, include wire cages in your garden.
Space your indeterminate tomatoes about three feet apart if you decide to use a tomato cage to support the vines' weight.
If you choose to let your indeterminate tomato plants sprawl over the ground instead of trellising them, give the plant about four feet between each seedling.
How Far Apart Should You Plant Tomato Plants that are Determinate?
The second class of tomatoes is the determinate varieties. Determinate tomatoes, like many heirloom tomato varieties, do not call for tomato cages to support their vines' weight, as they grow in a bush formation.
Because these tomatoes do not grow as tall, their roots do not sink deeply into the soil as indeterminate varieties do. When you grow determinate tomatoes, there is not as much spacing required between seeds.
Grow determinate tomatoes at least two feet apart from each other. If you are growing multiple rows of determinate tomatoes, provide at least four feet of space between each row.
How far apart should you plant tomato plants? If you are growing determinate tomatoes, make sure your plants have two feet of room between seeds.
How Far Apart to Plant Cherry Tomatoes
One of the most famous dwarf tomato varieties is the cherry tomato. A benefit of planting cherry tomatoes is that they can grow in a small space, like a pot.
Although these plants do not require as much room to grow, it is still essential to provide the plant with enough space to develop. Educating yourself on how far apart to plant cherry tomatoes is easy.
Plant your cherry tomato seeds about one foot away from each other in the soil. When planning out your garden, consider that cherry tomato plants grow big and bushy when they are cared for correctly.
If your cherry tomato plant starts to take up a lot of space in your garden, consider staking it to save space.
Spacing Tomatoes Grown in a Raised Bed
Tending to plants in a raised bed carries several benefits. Not only does an elevated bed prevent the need to bend over as much, but it also allows you to grow your tomatoes closer to one another.
Grow companion plants alongside tomato varieties in a raised bed to naturally fight off pests and promote healthy growth patterns for every plant in the garden.
When you plant tomatoes in a raised bed of four feet by four feet, plant five tomato plants in the space – an area with a 16 square foot reach is fantastic for growth.
Locate a tomato plant in each corner of the raised bed and one in the middle of the space. When planting tomatoes from seed, bury the seed at least one inch into the ground to ensure the roots have ample room.
Advantages of Using a Wire Cage
A wire cage often accompanies indeterminate and cherry tomato varieties to help support the weight of the vines. Caging tomatoes allows the plants to grow upward without any restrictions, producing more fruit per harvest.
Before implementing a DIY tomato trellis in your garden, remember that indeterminate tomatoes can grow up to nine feet tall. Tomato cages are great because they are so easy to install.
Push the cage's legs into the soil surrounding a tomato plant and monitor the tomato's growth. When the tomato starts to grow, attach its vines to the cage.
As you continue caging or staking your tomato plants, you may have to support some of the heavier vines by tying a piece of twine around the cage and the vine itself for more support.
Why is Spacing Tomato Plants so Important?
When you take the time to correctly space out your tomato seeds, you are taking preventative measures for the plant's health. Although learning how far apart to plant tomatoes is simple, it carries grave importance.
Without enough room for the roots to grow, air circulation is compromised, and the tomato plant does not receive enough oxygen to fuel the plant.
Without proper airflow, various diseases can appear on a tomato plant. A couple of the most prevalent illnesses that attack tomato plants grown too close together are blossom end rot and stunted growth.
Lay a thin layer of mulch around your tomato plants. Mulch locks in moisture even if there are extreme temperatures. Understanding how far apart to plant cherry tomatoes and other tomato varieties is essential for their overall health.
Signs of Blossom End Rot
Spotting the symptoms of blossom end rot is simple. When water does not have enough room to circulate through the roots, it builds up at the plant's base, causing disease.
Signs of blossom end rot include a water-soaked area on the fruit base, slowly enlarging over time. A couple of simple ways to prevent blossom end rot are to space out your seeds and use a low nitrogen fertilizer high in phosphorus.
You may also find insects on tomato plants. It's important to get rid of them quickly before you have an infestation. Making a DIY neem oil spray and spritzing the plants usually takes care of the problem.
Throughout the growing season, growers put in a lot of time to ensure that their plant is correctly taken care of. Although learning how far apart to plant cherry tomatoes seems unimportant, it leads to successful fruiting at the end of the growing season.
Taking the time to know the answer to the question, "How far apart should you plant tomato plants?" saves you the hassle of dealing with stunted growth, blossom end rot, and other diseases.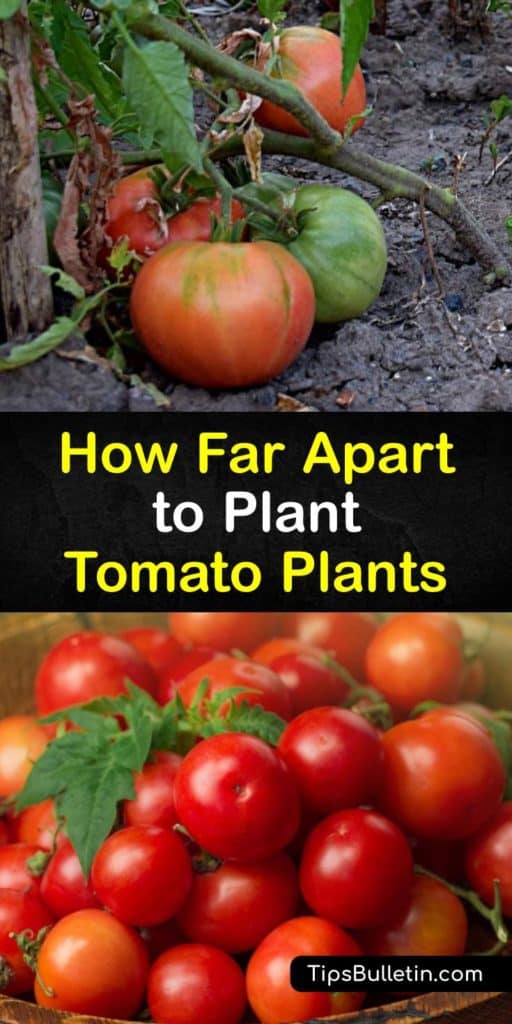 If you learned how far apart to plant tomatoes, share this article with garden spacing tips on Facebook or Pinterest with your friends and family members.