Of all the pests there are in the world, bed bugs are among the worst. Finding out that you have a bed bug infestation causes panic and encourages a million questions. How long do bed bugs live, and how do bed bugs spread?
Where did they come from, and what do I need to do to get rid of them? And finally, how long can bed bugs live without food? If you suspect that your home has bed bugs, there is a lot of information to learn.
This article is your one-stop-shop for everything you need to know about bed bugs. What are bed bugs, and how do bed bugs start? You don't have to hire an entomologist to identify these critters.
Life Cycle of Bed Bugs
Adult bed bugs have small, oval bodies that are reddish-brown. Their bodies are flat and around the same size as a small apple seed after they swell up from a blood meal of warm-blooded animals and humans. To stop nasty bed bugs from taking over your home, there is a lot more to understand about them.
The life cycle of a bed bug, or Cimex lectularius, is complicated because it involves various factors. The bed bug life stages begin as bed bug eggs that are small and milky white.
They often get placed in tight crevices that are easily hidden because they are the size of a grain of salt. After two weeks, the eggs hatch, and the young immediately start feeding. Young bed bugs are called nymphs.
Nymphs molt five times before they reach their full mature size. Nymphs look similar to adult bed bugs but are smaller, not sexually mature, and yellowish-white.
Each molting stage requires a blood meal to complete, and the entire process takes roughly five weeks. Once the bed bugs are adults, they begin feeding every week and start reproducing.
How Long do Bed Bugs Live?
Several factors determine how long a bed bug lives. These elements allow bed bugs to survive from as little as a few months to as long as a few years. On average, most household bed bugs have a life span of around six months.
Another critical question to ask is, how do bed bugs reproduce? Female bed bugs die more on average than males because their abdomens get punctured during the mating process.
As temperatures increase, so does the life span of bed bugs. Temperatures around 80 degrees Fahrenheitincrease egg development at a much faster rate.
Bed bugs are far less active in colder climates, so you may find yourself in luck if you live in a region of the country with frigid temperatures and winters.
How do Bed Bugs Spread?
Homeowners go from having a bed-bug-free house one day to having a significant problem the next. How do bed bugs spread from room to room? These small pests hitch a ride from one object to another.
Bed Bugs Can Take Over
If you have a bed bug problem, the chances are that you or something in your home came in contact with something else that got infected, like a purse, clothing item, luggage, or a new piece of used furniture.
Once inside your home, they spread from room to room and scope out some insane hiding places.
Where do Bed Bugs Hide?
Unlike many other household pests like ants or bees, bed bugs live in hiding places in groups around your home. Some of their most notorious hiding spots are around areas where they have easy access to food.
These spots include along baseboards, box spring, bed frames and headboards, and even mattress seams. Bed bug populations are often spread out into more than one spot, so check every nook and cranny in your house for eggs, nymphs, and adults.
What do Bed Bug Bites Look Like?
Bed bugs are the most active during the nighttime. They often bite us while we sleep and pierce their skin with a long beak. They feed on their host for up to ten minutes and then crawl back to their secret hiding place.
Although bed bug bites are painless initially, they eventually turn into red welts that itch. Other signs that you've been bitten is if there are blood spots on your sheets.
To treat the bites, apply an anti-itch cream, or use an over-the-counter pain reliever to help with the redness, swelling, and any pain.
Signs of infestation
Aside from blood spots on your sheets and pillow, there are other signs to look out for if you're unsure if you have an infestation. Check your bed and other upholstered furniture and items for dark, rusty brown spots.
These spots usually indicate bed bug waste and are often found on mattresses, walls, and clothing. Aside from the fecal marks, you may discover shed skin encasements or eggshells and even a musty odor expelled from their scent glands.
How to Kill Bed Bugs
If you're not keen on hiring a pest control company, there are some ways to kill bed bugs naturally. These bed bug tips are especially helpful for those who want to avoid using chemicals to kill the bugs in their homes.
Some of the same treatments for bed bugs work for other tiny critters, too. Make a tea tree oil spray for dust mites that also kills bed bugs, spiders, and roaches.
Chemical-Free Bed Bug Treatment
Identify all the infected areas of your home. Remove all bedding, linens, curtains, and clothing from the room. Wash the fabrics in hot water and dry them on your dryer's highest heat setting.
For an easy way you use diatomaceous earth for getting rid of bed bugs, sprinkle it on the mattress and let it sit for an hour or so. Scrub mattresses along the seams with a stiff brush and then vacuum the bed and the entire surrounding area daily.
When you finish vacuuming, clean the bag outside by sealing the remnants in a plastic bag and putting them in a garbage can outside your house. Use a disinfectant spray for mattress surfaces before replacing the bed linens.
If you recently stayed in a hotel room with bed bugs, immediately wash all your belongings, inform the hotel's front desk of the problem, and go to a new hotel only after cleaning all your personal belongings in hot water.
How Long can Bed Bugs Live without Food?
Every question about bed bugs is an important one. One of the best questions to consider is, how long can bed bugs live without a host?
Unfortunately, bed bugs live up to a year without feeding on someone. The best way to ensure that all the bugs in your house die is to stop them from spreading.
For killing bed bugs in a mattress, encase your mattress or upholstered furniture in a cover so that no bed bugs may escape or enter. Putting a cover over your furniture for long periods kills the bugs without infesting the same piece of furniture again.
Using Heat Treatments
Heat treatment is the safest way to ensure that bed bugs die. Using intense heat or cold both work effectively, so putting an infested item out on a hot sunny day, in the dryer, or the freezer are all smart ways to kill bed bugs.
Purchasing Pesticides
Using pesticides and insecticides is another step to add to your arsenal of pest control, including getting rid of cockroaches. Scientists of entomology have figured out that pyrethrin and pyrethroids are the most common compounds used against bed bugs.
These bug-killing products often come in the form of a spray that is safe to use indoors. Foggers and bug bombs are other everyday products used to kill bed bugs.
The problems with these are that they are toxic to humans if they aren't used properly and don't often work their way into small cracks around the house. You can also make your own homemade bed bug spray recipe if you prefer a more natural solution. However, if these options don't work, it's time to call the exterminators and schedule fumigation.
Bed bugs are often a significant cause of concern in people's lives. These bugs are the epitome of annoying pests and one of the worst because they are hard to get rid of.
The best tip we have in keeping bed bugs out of your home is informing yourself of what to do if you ever find yourself in that situation.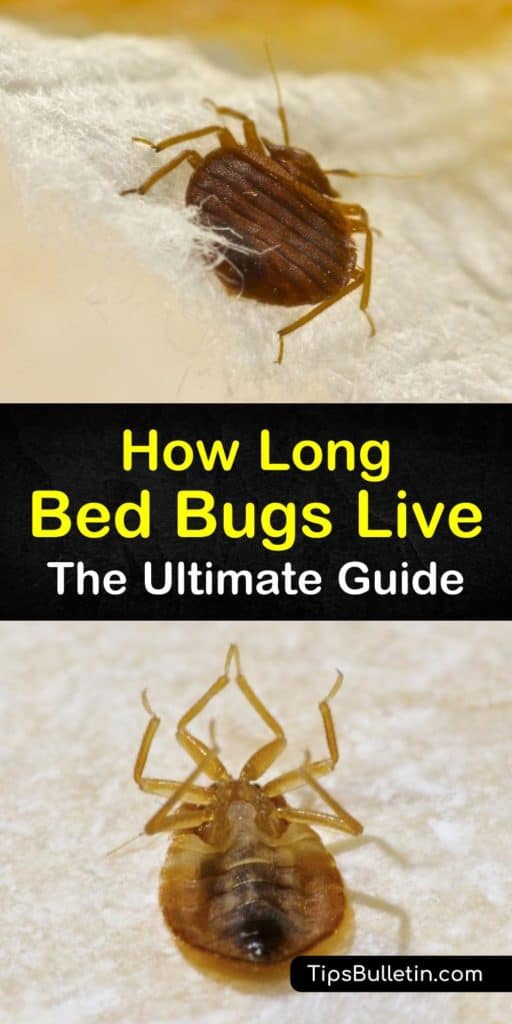 If this article has helped you stop wondering, how long do bed bugs live, then share this guide on bed bug infestations on Facebook and Pinterest.