Ricotta cheese is a versatile dairy product.
Check the expiration date.
Look for signs of mold or sour smell.
Confirm the texture hasn't changed significantly.
Consider the storage conditions.
Use sensory cues like smell and appearance.
First, I always start by checking the expiration date on the ricotta cheese package because this gives me a good starting point. If the date has passed, I take a closer look. I examine the cheese for any signs of mold or an unusually sour smell, which are clear indicators that the ricotta cheese is no longer good.
Next, I feel the cheese to make sure that the texture hasn't altered too much, as a significant change can also mean it's gone bad. I always remember how I've stored the cheese; it should have been in the fridge at or below 40°F. Lastly, I trust my senses – if the ricotta looks and smells fine, it most likely is safe to consume.
Ricotta cheese is an essential ingredient in many Italian recipes, like lasagna and ravioli. It also gets used for making cheesecake and other baked goods. If you recently cleaned out your fridge, you might be wondering, "How long is ricotta cheese good for?"
Ricotta is a type of Italian whey cheese manufactured using the leftover milk whey from the production of other cheeses. The word ricotta means "recooked" or "refined" in Italian.
After separating out the larger curds, leftover whey gets reheated to form a creamy ricotta cheese with very fine curds. Ricotta cheese typically contains less salt and fat than other kinds of cheese. However, the exact content depends on the type of milk used in the production process.
The shelf life of ricotta cheese depends on how it is stored and whether the package is already open or not. In general, soft cheese types like cottage cheese, cream cheese, and ricotta don't have a long shelf life like hard cheeses such as cheddar and Parmesan, thanks to their higher moisture content.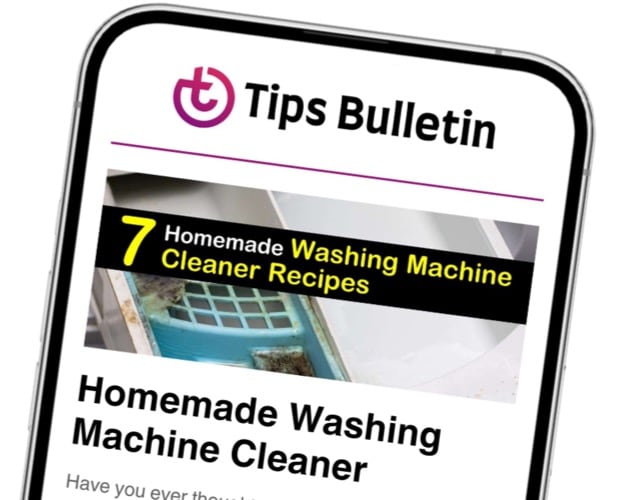 Finally, an email that Transforms Your Home.
Get the latest home and garden tips from our experts, delivered straight to your inbox.
Fresh ricotta usually lasts for about a week or two after opening when stored properly. The best way to keep ricotta cheese fresh for as long as possible is to always keep it refrigerated at or below a temperature of 40℉. Read on to discover the best storage methods for fresh ricotta and how to tell when ricotta cheese is gone bad.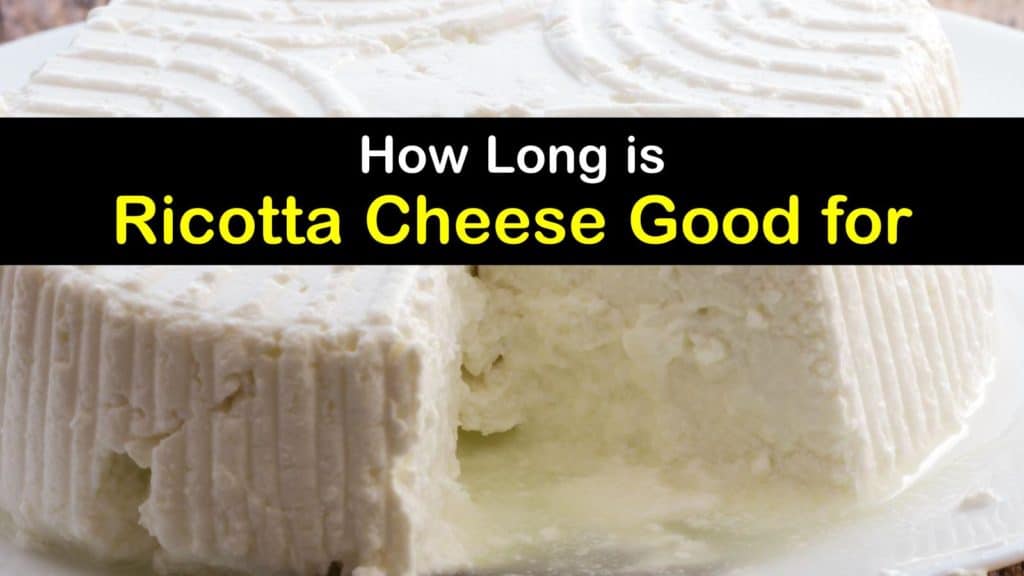 Does Ricotta Cheese Go Bad?
Have you ever asked, "Does ricotta cheese go bad?" Like all dairy products, ricotta cheese is perishable and has an expiration date to indicate its expected shelf life. As long as it is stored correctly, ricotta cheese is often still edible for a few days past the sell by date printed on the package.
Harmful bacteria and mold spores multiply rapidly at temperatures between 40-140℉. When you're at the grocery store, shop for refrigerated items last so that they don't warm up too much before you check out. Discard any package of ricotta cheese that's been sitting out at room temperature for longer than two hours.
When storing an opened package of ricotta cheese, it's critical to keep moisture in and air out. Luckily, most ricotta cheese comes in a lidded plastic container. If you purchase ricotta cheese wrapped in aluminum foil, plastic wrap, or waxed paper, transfer it to an airtight container after opening.
How Long is Ricotta Cheese Good for When Unopened?
An unopened package of ricotta cheese normally lasts for two to four weeks after manufacturing. The precise shelf life depends on which preservatives it contains, if any.
The sell by date printed on food packaging indicates how long the product will retain the best overall quality, not necessarily how long it's still edible.
Sealed ricotta cheese may last up to a week past its expiration date. Nonetheless, always check for signs of spoilage before consuming dairy products, especially if they've been sitting on the shelf in your refrigerator for a while.
Shelf Life of an Opened Package of Ricotta Cheese
Once opened, your ricotta cheese gets exposed to air, moisture, and other contaminants that accelerate food spoilage. As a general rule, try to consume ricotta cheese within a week of opening the package.
Most ricotta cheese comes in a plastic container that has a foil or plastic seal underneath the lid. It's beneficial to use that layer to wrap the rest of your ricotta cheese to protect it against drying out or absorbing other flavors and odors.
Store your opened ricotta cheese in the dairy compartment of your refrigerator that is often located on the door and designed to maintain a slightly higher humidity level than the main shelves. In addition, your dairy products won't be in danger of accidentally freezing, as occasionally happens to food left at the back of the fridge.
Try this irresistibly delicious recipe for three-cheese baked ziti if you're looking for a great way to use up your leftover ricotta cheese. This super-simple recipe only has six ingredients and is ready to enjoy in about an hour.
Begin by preheating your conventional oven to 375℉. Cook the ziti in a large pot of boiling water for eight to ten minutes or until al dente. Drain and rinse the ziti pasta, then transfer to a large mixing bowl.
Mix the ricotta, mozzarella, egg, and one and a half cups of spaghetti sauce with the cooked ziti. Coat a large baking dish with butter, olive oil, or cooking spray and scoop in the ziti mixture. Pour the rest of the sauce in an even layer over the pasta and top with the grated Parmesan.
Bake for 30 minutes, then let the dish stand for 15 minutes before serving. Refrigerate any leftovers in an airtight container and consume within five days.
When does Ricotta Cheese Go Bad?
If you bought some ricotta cheese for a recipe and have leftovers, you might be wondering, "When does ricotta cheese go bad?" If it's been more than a week or two since opening the package, it's probably best to throw it out.
Suppose a week has passed since opening fresh ricotta cheese. You may start asking, "How do you know if ricotta cheese is still good?"
The most obvious signs of spoilage are the ricotta's appearance and smell. If you see moldy spots or the ricotta smells sour or rotten, discard the entire container. Although it's safe to cut the mold off of hard cheeses like cheddar or Parmesan and eat the rest, that isn't the case with ricotta.
Is It Possible to Freeze Ricotta Cheese?
Freezing your ricotta cheese is a terrific way to extend its shelf life. However, the consistency will be slightly different after thawing. The water separates from the cheese's fat content during the freezing process, resulting in a drier, somewhat grainy texture when defrosted.
Unopened ricotta cheese tends to freeze the best. If you're freezing opened ricotta cheese, drain excess liquid on top and wrap it in parchment or waxed paper. Seal it inside a freezer bag to reduce the risk of freezer burn.
It's best to thaw your frozen ricotta cheese in the fridge. Defrosting takes roughly one day. To speed up the process, run the container of frozen ricotta under cool water.
For the best overall quality, try to use up your frozen ricotta within three months. However, when food is stored at or below 0℉, it remains safe for consumption indefinitely.
Nevertheless, there's a noticeable difference in the consistency after thawing frozen ricotta, so it's best in cooked dishes rather than eaten fresh.
After finding a forgotten container of ricotta cheese in the back of the fridge, many people wonder, "Does ricotta cheese go bad?" Under optimal storage conditions, unopened ricotta cheese lasts two to four weeks.
After opening, consume it within a week or two. Always check for signs of spoilage before eating opened ricotta.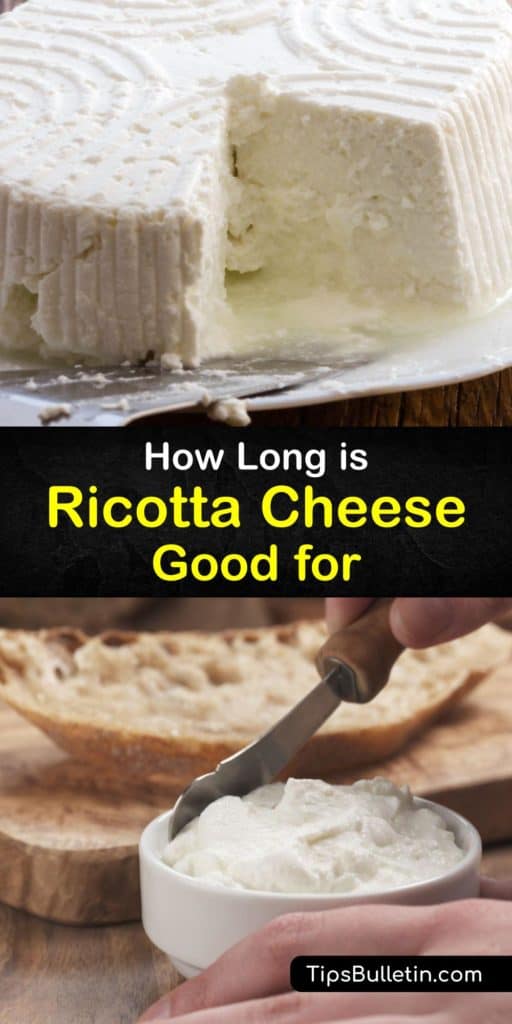 If you found these food storage tips helpful, please share this article about how long is ricotta cheese good for with your friends and family on Pinterest and Facebook who might be wondering, "When does ricotta cheese go bad?"