Hardwood floors add class and beauty to our homes and create a stable and well-crafted appearance. Wood floors can get dirty before you know it, though, and they can be tough to clean if you don't know how to work with them. Understanding how to mop hardwood floors saves you time and effort and leaves your home looking well-kept and attractive.
So, can you mop hardwood floor surfaces? Absolutely, and we're here to show you how. This guide provides instructions on the best way to mop hardwood floors. In this article, we go step-by-step through mopping hardwood floors from beginning to end.
You'll get our favorite DIY hardwood floor cleaner recipes that are easy to create with household products. These cleaning solutions use natural ingredients to keep your floors looking like new. With our guidelines and recipes, you'll be all set to take on a dirty wood floor and come out on top.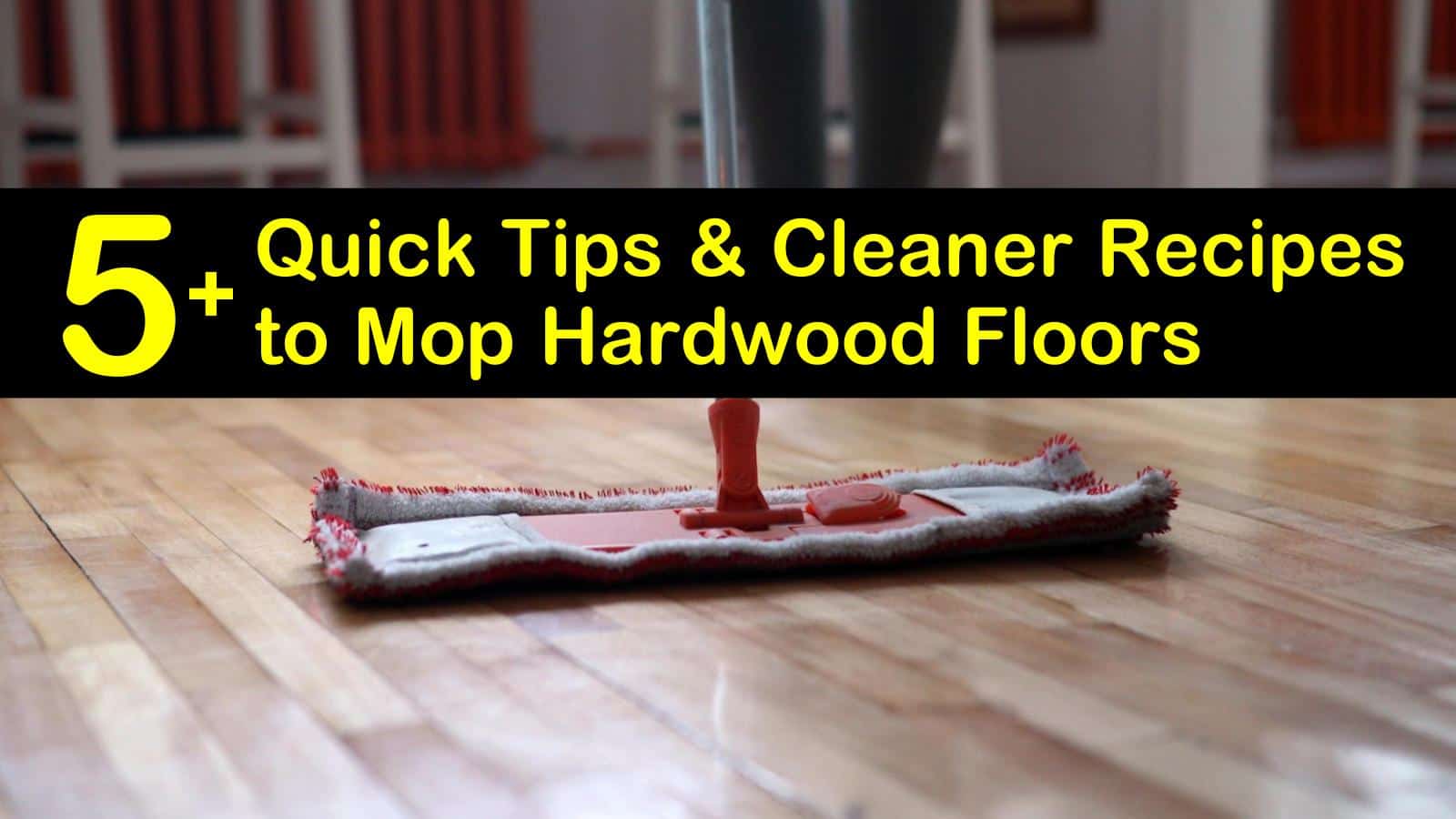 Can You Mop Hardwood Floor Surfaces?
You might be worried about even trying to mop a hardwood floor for fear of damaging the surface. That's an understandable worry, but even laminate floors need more than an occasional wipe down.
With a good idea of how to get the job done, it's possible to quickly and safely master mopping your wood floor and keep it in good condition almost indefinitely.
The Best Way to Mop Hardwood Floors
This section looks at the process of mopping hardwood floors. We give you the steps needed to transform your floor from a mess into a handsome surface fit for a magazine cover.
Cleaning hardwood floors might seem daunting, but practice and some expert guidance from us help you get the upper hand in no time at all.
Sweep and Vacuum First
You might be impatient and have the impulse to skip this section and dive right into the instructions for mopping the floor, but doing so would defeat the purpose of mopping. Your floors build up dirt and grime, and much of that debris starts as loose matter, pet hair, and dust.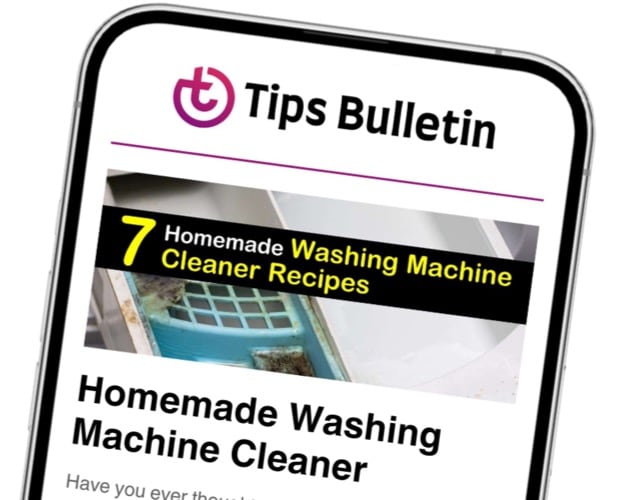 Finally, an email that Transforms Your Home.
Get the latest home and garden tips from our experts, delivered straight to your inbox.
To ensure that your mopping is effective, always vacuum, sweep, or use a dust mop to clean away surface dirt. Conscientious dirt removal and dusting preps your floor for its date with the mop.
If you use a vacuum, remove the beater bar before you begin cleaning. The beater bar is excellent for cleaning carpets, but it scuffs wood and tile. Work your way methodically from one end of the floor to the other, and if you're using a broom or dust mop, make sure to sweep the debris into a dustpan regularly as you go.
Inspect Before Mopping
A pre-mopping inspection is a must if you want to keep your wood floors in good shape. High-traffic areas are especially vulnerable to spills and dropped items that can result in stuck-on messes. If you wish to do a thorough job cleaning your hardwood, do a walkthrough and clean away sticky material before you break out the mop.
Walk over the entire length of the floor, and keep a sharp eye out for gum and other stuck-on debris. Use ice to freeze any sticky areas, and carefully scrape the hardened material off the floor with a putty knife or credit card. Use a dampened paper towel to collect the scraped-off debris and place it in the trash.
Start Mopping
The time has finally arrived! You swept the floor, and it passed inspection. It's time to break out the mop. Your mop should be clean and in optimum shape, or it won't do a good job cleaning wood floors and could even add musty smells to the floor.
If needed, head to Home Depot and pick up a new one; they're inexpensive and can mean the difference between a clean floor and a streaked and smelly one. It's a clean-hardwood-floors essential ingredient.
Begin by rinsing the mop in hot water to clean away any leftover dirt from its last use. Dampen the swab in the cleanser or fill the reservoir in your spray mop, and begin. Try to work from one side of the room to the other, and move the mop head in an S shape.
Always lead with the same edge of the mop so that you clean up debris instead of spreading it around. Wring out and rinse the mop frequently as you work, and keep the mop head damp but not soaking.
A wet mop can damage wood, while a damp mop cleans it safely. Never allow standing water to gather on a wood floor. When you've mopped the entire floor, give it another pass with plain hot water to rinse away any lingering cleaner.
Wax or Polish the Floor
After the floor gets clean, you want it to remain so for as long as possible. To protect your hardwood flooring after you clean it, refinish it with a wax or polish to seal it from exposure to dirt.
The floor protectors give your floors a vibrant, warm glow, too. Giving your floor a coat of wax is a satisfying way to finish your work and rewards you with a clean, shiny floor for a long time to come.
Make sure that you use a polish or wax formulated for wood, as vinyl or linoleum waxes can damage the wood. You could also make your own homemade wooden floor polish with vinegar and olive oil.
Apply the sealant with a clean microfiber cloth, spreading it in the same direction as the wood grain as you work. Once you've applied the wax or polish, buff it with a soft cloth or microfiber pad to really bring out the shine.
How to Mop Hardwood Floors
Now that you know how to mop your wood floors properly, it's time to turn that book learning into concrete action. You're probably comfortable with sweeping and cleaning off sticky substances, but finding the right wood floor cleaner for your needs can be a trickier matter. A good cleaner recipe can be hard to find, but we've made the task easier for you.
DIY Hardwood Floor Cleaner Recipes
Select your favorite cleaner from among our time-tested homemade hardwood floor cleaner recipes. These formulas are safe to use on wood floors and do a fantastic job of getting them both looking and smelling wonderful. We've included one cleaner with a water base and one with an oil base, and both work like gangbusters on wood floors.
Use a Vinegar-Based Cleaner on New Finishes
People have sung vinegar's praises as a cleaner for centuries. Vinegar's secret weapon is acetic acid, its active ingredient. This mild acid eats organic matter and leaves the wood looking amazing.
Unlike oil soaps, which can cloud your floor's finish, vinegar leaves it clean and unmarked. The essential oil in this recipe leaves your floor smelling fresh, too. This cleaner is water-based and is suitable to clean wood floors that still have a good finish of polyurethane, Bona hardwood floor sealant, or another product.
For cleaning wood floors with vinegar and essential oil, mix three parts water to one part vinegar and add ten drops of essential oil per gallon of cleanser. Test the cleaning mixture on a small area of the floor before you clean the entire surface to ensure the safety of the wooden surface.
Increase or reduce the amount of vinegar until it cleans the floor effectively. This cleaner is an excellent one to get Sharpie off floor surfaces and eliminate virtually all types of stains that may accumulate on the floor over time.
Clean Worn Floors with Vinegar and Vegetable Oil
Like the previous recipe, this one uses vinegar as its active ingredient. However, because floors with worn finishes can suffer damage if exposed to water, this recipe replaces the water with vegetable oil. Not only is vegetable oil safe to use on raw or worn wood, but it adds shine to the wood as it cleans.
This cleaner is best applied through a spray bottle rather than on the mop. It's a safe deep cleaning solution.
The ingredient ratio is one part vinegar to three parts oil, with five drops of essential oil added. Spray down the floor, and wait a few minutes. Then clean with a mop as usual.
Add an extra squirt to areas that need more attention. After you've cleaned the floor, run a dry mop across the floor to pick up excess cleaner before applying polish or wax.
You can also try this remedy to remove water stains from wood floors that you may discover while cleaning. If it doesn't work, rub a little mayonnaise into the stain and let it sit for a few minutes. Wipe away the residue.
We hope you had a delightful time perusing our tips on the best way to mop hardwood floors. Having a home with hardwood floors means having a lovely, natural surface that looks fantastic.
Wood floors pick up dirt and grime quickly, though, and it's crucial to know how to clean them. Can you mop hardwood floor surfaces? Absolutely, and our guide shows you how.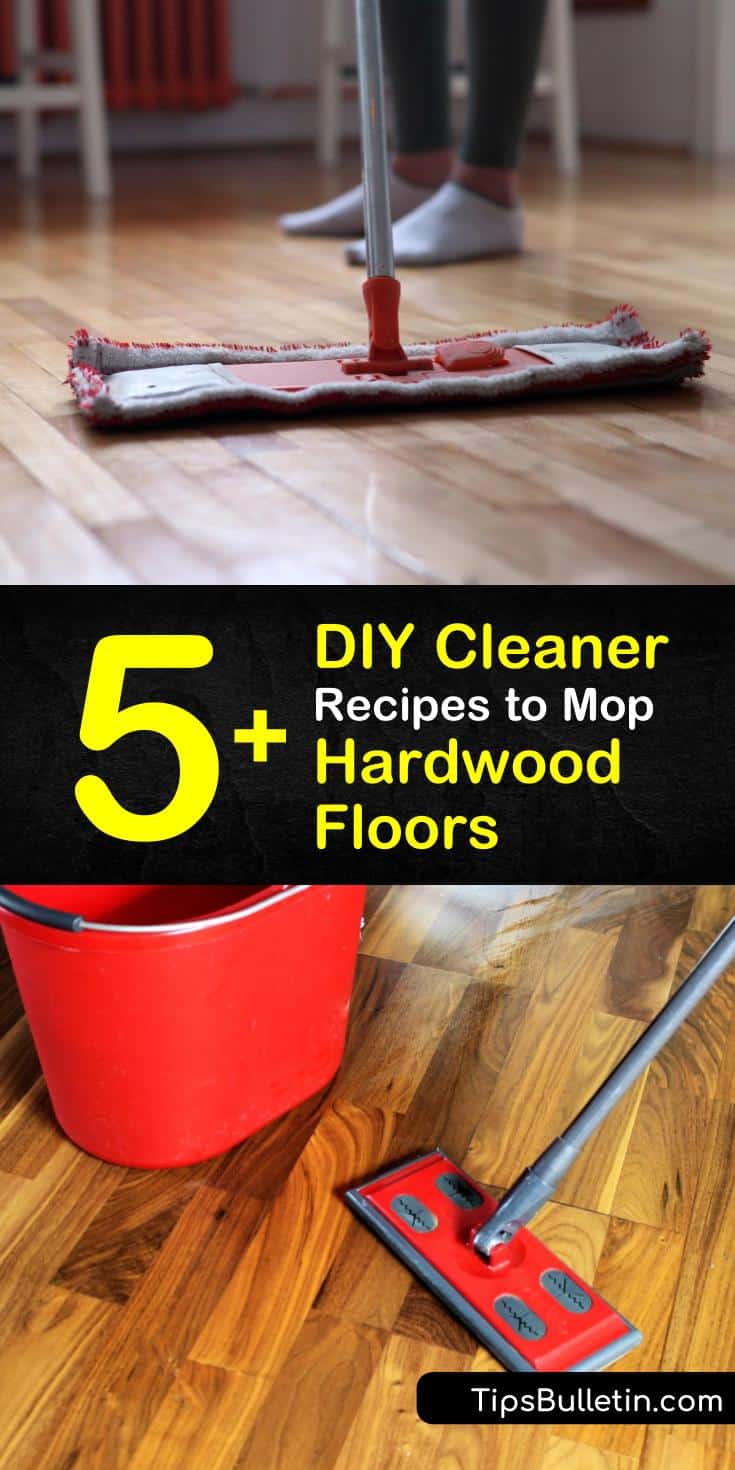 Thanks for reviewing our wood floor cleaning tips. Help others find out how to mop hardwood floors by sharing this handy floor-cleaning article on social media outlets like Facebook and Pinterest.