Basements are another living space in your home, but many people avoid this area due to dirty concrete floors and mildew smells. While doing home improvement projects, you may consider cleaning your basement concrete floor. We'll show you how to clean a concrete basement floor through a variety of floor cleaner methods and cleaning tips.
Concrete is commonly used in basement and garage floors and is notorious for attracting oil stains, rust stains, and grime. While dehumidifiers work well at preventing moisture build-up, which can result in mold and mildew, these floors will still need regular cleaning.
Mopping the basement floor with a degreaser or other effective cleaning method can go a long way toward removing tough stains and restoring the basement floor to its original condition.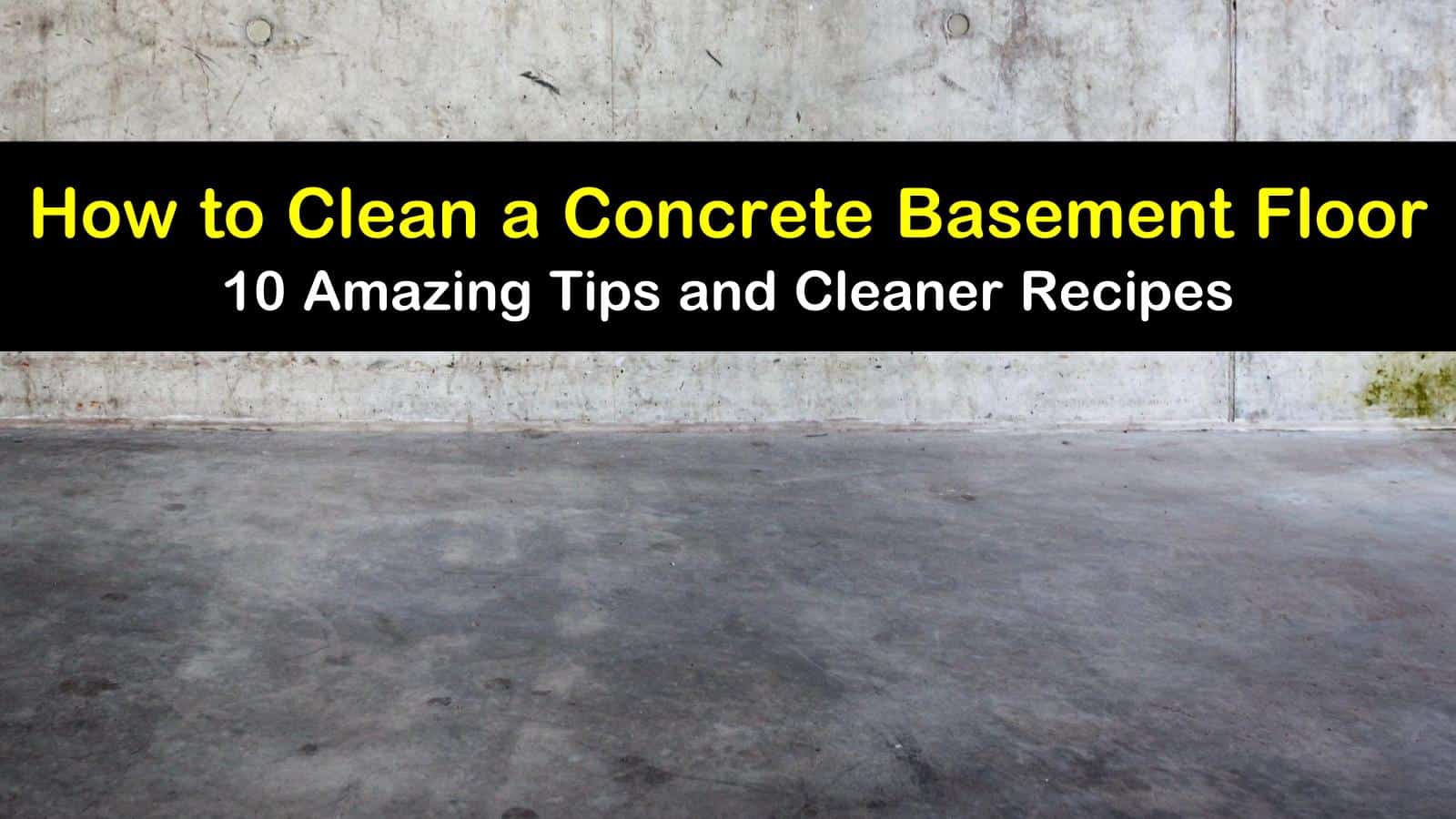 Cleaning a Concrete Basement Floor
Cleaning your concrete basement floor not only eliminates stains and bad smells but provides you with an extra room in your home that has been overlooked. The following cleaner recipes show you how to renew that floor, whether it needs a light cleaning or a deep cleaning.
Often, cleaning the floor is enough for how to get rid of basement odor that permeates the space. Try cleaning the floor to eradicate bad smells before you resort to other solutions.
Pre-Cleaning Your Basement Floor
Before you start wet cleaning a concrete basement floor, do a thorough clean up of the basement floor to remove adhesive from concrete and the build-up of everyday dirt and debris.
Cleaning Concrete Flooring
Before you wash a concrete floor, begin by clearing away everything from the basement floor, such as boxes, furniture, and other items. Use a vacuum cleaner or push broom to clean the floor of dirt and dust to get it ready for cleaning.
Begin at one end of the room, working your way to the other side until you remove all dirt. The basement floor is now ready for wet cleaning.
Clean a Concrete Basement Floor with Trisodium Phosphate
This recipe shows you how to clean a concrete basement floor using trisodium phosphate, which you can find at a local home improvement store. Trisodium phosphate, or TSP, is an inorganic alkaline compound that is highly soluble in water and works well as a cleaning agent.
If your basement has a drain, use a hose to spray the concrete floor with water. Scrub the floor using a wire brush to loosen up dirt and grime. Rinse the floor again using the hose.
Pour the warm water and TSP into the bucket and mix. Pour the solution directly onto stained areas of the basement floor and scrub the stains away using the wire brush. Use the hose to rinse the floor with fresh water.
TSP can also be helpful for cleaning after you pull up old carpet from the basement floor. Get carpet glue of cement with this mixture. Apply to the glue and let it sit for up to an hour. Scrape off the glue with a sharp edge and clean as usual.
Cleaning a Concrete Floor with Ammonia
You can make a homemade cement cleaner using ammonia to remove tough stains. Ammonia is a mild base that works well at breaking down grease and grime.
Make sure that the basement has some ventilation. Mix a quarter cup of ammonia, a few squirts of dish soap, and water in a bucket. Use a nylon scrub brush with stiff bristles to scrub the cleaning solution onto the concrete floor.
If your basement has a built-in drain, pour the cleaning solution directly onto the floor stains. Finish by rinsing the floor with clean water.
Removing Rust Stains Off a Concrete Floor
Discover one of the most straightforward methods for removing rust stains from concrete. Our rust stain remover is also quite surprising because you do not use any cleaning solutions or liquids to remove rust from a concrete floor.
Sprinkle the rust-stained area with the dry cement. Use a small piece of flagstone to rub the dry cement.
The act of rubbing the cement and stone behaves like pumice at removing the stain. Flagstone is commonly used as patio pavers and is easy to obtain from any home improvement store.
Basement Floor Cleaner
Mold and mildew are the results of moisture build-up in the room. Avoid moisture by using a dehumidifier in the basement.
If you've already seen evidence of fungal growth in the basement, this basement floor cleaner works well for removing mildew and mold from concrete.
Before you remove mold from the basement, make sure that the room is adequately ventilated by opening a window or two or running a fan. Wear some old clothes and use a mask if needed. Mix the bleach and water in a spray bottle and spray the dirty areas of the floor.
Use a stiff-bristled scrub brush to work the bleach solution into the grime. Once the floor is clean, use a mop and clean water to wipe away residue.
How to Remove Efflorescence from a Concrete Floor
The white powder that builds on concrete walls and floors is a soluble salt called efflorescence and is a result of water that has seeped through concrete and evaporated. A continuing build-up of efflorescence may be an indication that you need to waterproof your basement walls.
Removing Efflorescence from Concrete
The easiest way to remove efflorescence from basement concrete is to use a stiff scrub brush. Scrub the white powder to loosen it from the concrete floor. Follow by wiping the area with a wet sponge or mop, making sure to wring excess water before wiping the powder away.
Treat a Concrete Floor with Bleaching Powder
This solution uses chlorinated lime, otherwise known as bleaching powder, to clean a concrete floor. Find it in any supermarket laundry section. Bleaching powder eliminates smelly odors and microorganisms in the concrete.
Cleaning with Bleaching Powder
Sprinkle the bleaching powder onto the entire surface of the concrete floor. Allow the bleaching powder to sit for a day while it absorbs bad odors.
Use a broom or vacuum to sweep up all of the powder and dispose of it properly. If the smell persists after cleaning, you may need to seal the floor with a concrete sealer.
Clean a Concrete Basement with Baking Soda
This cleaner recipe removes concrete stains without causing damage to sealant or untreated concrete floors. The recipe uses the combination of baking soda and dish soap to scour away stains and absorb odors.
After pouring a gallon of hot water into a large bucket, add the baking soda and dish soap and mix well. Use the scrub brush to scrub the cleaning solution onto the dirty concrete. Once the floor is clean, rinse with clean water. Wipe the floor dry with towels.
Clean Concrete Floors with a Power Washer
If your basement has a drainage system in the floor, one of the ways to clean concrete is to use a pressure washer to clean-concrete-floors and remove stubborn stains with only a little effort. Pressure wash the floor with water alone or use a cleaner in the machine. Ensure that the surface dries completely.
Pressure washers work great on non-porous surfaces for removing dirt and grease but refrain from using them on brick or wood. This cleaning method is ideal if you plan on installing laminate or other floor surfaces over the concrete.
Cleaning a Concrete Floor with a Pressure Washer
Begin by wrapping areas of the basement with drop cloths that you don't want to get wet while spraying. Follow your pressure washer's manufacturer's directions for adding detergent.
Start at the lowest setting and begin spraying in four-foot sections using a sweeping motion. Start at the farthest corner of the basement and work your way towards the doorway. Allow the detergent to sit on the floor for about ten minutes.
Rinse the detergent out of the washer and use the highest setting to blast the dirt, grime, and soap away in the same manner that you applied it. Once all of the soapy water has rinsed down the drain, use a dry mop or towels to wipe away excess water.
Prepping a Concrete Floor with Muriatic Acid
If you plan on painting your basement's concrete floor, you need to prep it first with muriatic acid. The paint will not stick efficiently to the concrete unless you roughen it up a bit first with the acid.
Begin by mopping the floor with water and allow it to dry completely. Make sure that the basement has proper ventilation before beginning. Wear rubber gloves, goggles, and a respirator for safety purposes.
Mix the water and acid in a bucket and use the brush to scrub the entire floor surface with the solution. Use a mop and clean water to mop the floor at least two times after cleaning to remove any residue.
While cleaning a basement concrete floor is not the easiest task to perform, the final result is well worth the effort. A concrete floor that is cleaned properly can be painted or have a different style of flooring installed over it to provide you with another room to enjoy in your home every day.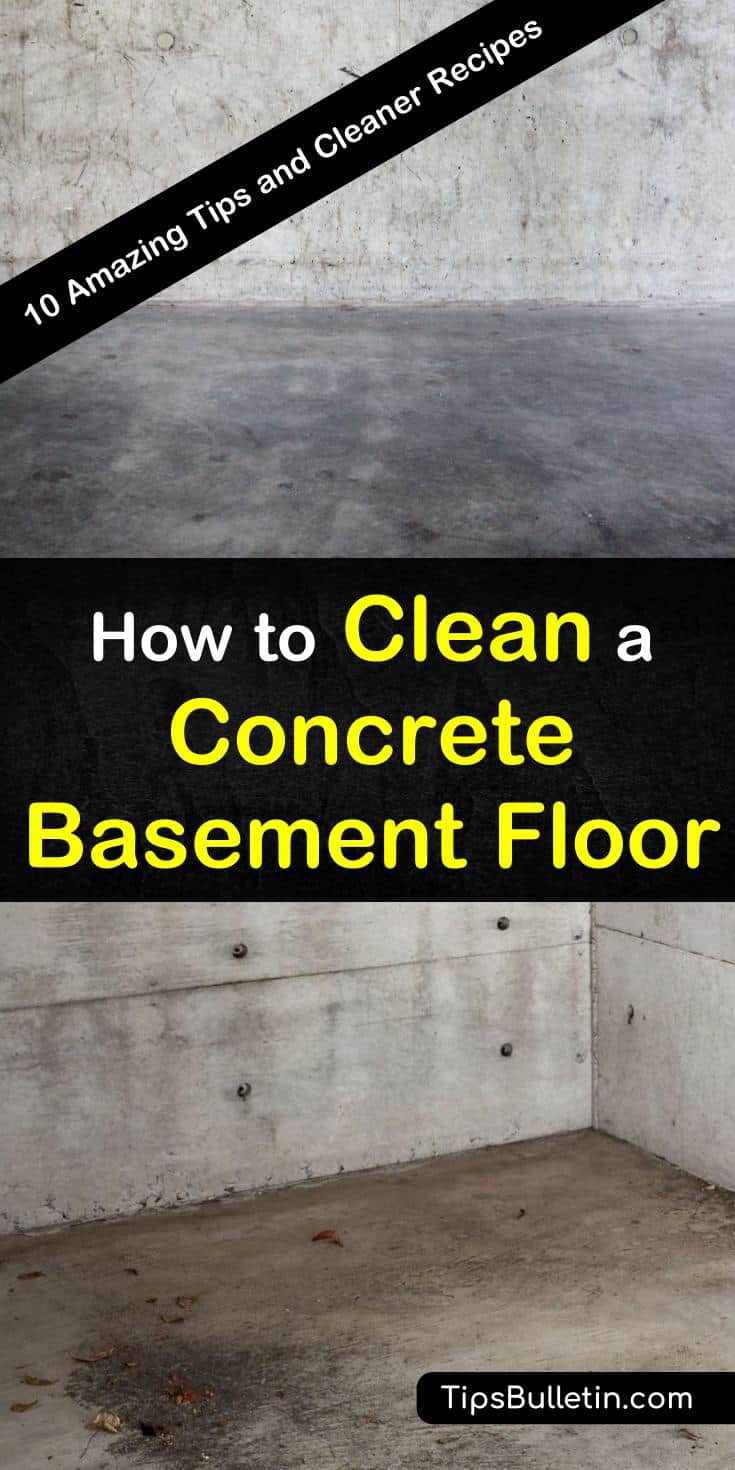 Cleaning concrete flooring can be done with ease if you've got the right cleaning solutions and a bit of elbow grease. Now that you have learned how to clean a concrete basement floor using a variety of methods, why not share these concrete floor cleaner recipes with your family and friends on Pinterest and Facebook?