If you have rust stains randomly dotted across your patio, garage floor, or driveway it can make the overall appearance of the exterior of your home look ugly. This can be particularly burdensome if you take pride in the appearance of your house and its surrounding landscape. Learn how to remove rust stains from concrete with this simple method that uses natural ingredients.
Luckily, removing rust stains from the concrete around your home is a relatively simple process. The sooner you tackle the rust stain, the easier it will be to remove. Rust is nothing more than iron oxide and knowing what causes rust stains on concrete can help you keep them from appearing on the pavement around your home. Rust can come in contact with your concrete from a variety of sources.
Old garden tools left out in the rain or a bike left on the surface can transfer the rust to your pavement. You can remove old or stubborn rust stains with oxalic acid, a naturally occurring compound, or trisodium phosphate. If the stain is newer, use natural cleaners to remove rust stains from concrete surfaces around your home.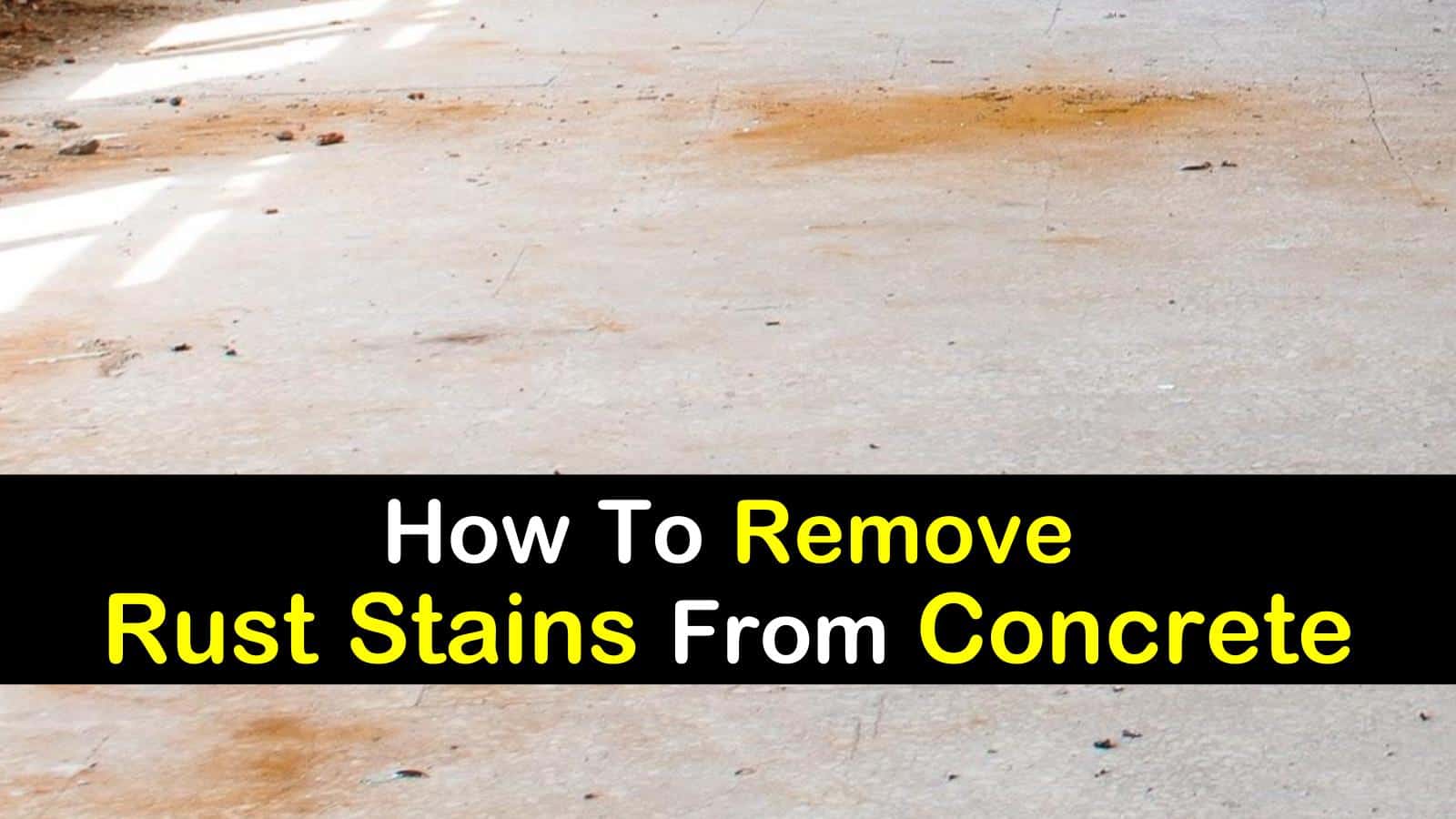 How to Get Rust Stains off Concrete
Rust stains on the concrete around your home, like in your driveway or garage, is a common problem, especially for those who rely on well water, because well water tends to contain high levels of iron. It can be challenging to prevent rust stains, and if not adequately removed they can quickly become an eyesore in the neighborhood.
Using all-natural products that you can find around your home is one of the most inexpensive and effective ways to remove rust stains from concrete, as well as any other ugly discolorations. This recipe also works as a way to clean a brick wall that may accumulate rust from a leaky faucet or gutter.
For cleaning concrete, pour the lemon juice or vinegar directly onto the rust stain and allow it to sit for ten minutes, so the ingredients can fully penetrate the rust. Using the scrub brush, scrub the stain, using a considerable amount of pressure. Rinse the area off with cold water.
If you have hard to reach rust stains, you can use a spray bottle to saturate the stain with this homemade deck cleaner. Spray the stain with the ingredients and follow the above process. Lemon juice and vinegar are both great solutions for removing rust stains because they are highly acidic. The acid reacts with the rust, which causes it to dissolve.
Use this recipe for how to clean rust off stainless steel or to get tarnish off other metals, too. You must be careful to rub with the grain, however, or you risk scratching the surface.
Not only does this solution eliminate rust, but vinegar and lemon juice can clean mold from concrete basement walls, too. If there is a lot of moisture in your basement, mold can become a problem. Be proactive and treat walls periodically to keep mold from forming.
How to Remove Rust Stains from Concrete Garage Floor
Garage floors are notorious for attracting stains, from mud and oil to grease and rust. While you can learn how to remove oil stains from a concrete garage floor here, removing rust from your garage floor and concrete takes a small amount of time and effort and is a pretty simple fix.
To remove stubborn rust stains from your concrete garage floor, you can create a paste out of laundry detergent and baking soda. Mix the ingredients and apply to the surface of the floor where the rust stain appears.
Leave the baking soda paste on the stain for about an hour, keeping it wet so that it doesn't harden. Scrub the area with a stiff brush and rinse thoroughly with clean water.
How to Remove Rust Stains from Concrete Patio
Cleaning the rust stains from outdoor furniture and your concrete patio is a lot easier than you might think. To remove rust stains from your concrete patio, you have to use an acid to dissolve the iron oxide.
You can also use this method to take care of rust on the bolts and other hardware that may hold your deck together. Always treat rust on these spots before staining it. When to stain a new deck is after you are sure there is no rust on the hardware. Even new decks may accumulate some rust on screws.
Acids contain a large percentage of ionic hydrogen, which when combined with oxygen will help to dissolve the rust.
Be careful when using strong acids like hydrochloric acid because they can damage your concrete. You can use a tart soft drink, vinegar, or lemon juice to dissolve rust without damaging your concrete.
To clean a concrete patio of regular grime or to eliminate a rust stain, pour the acidic product over the rust and allow it to sit for at least 15 minutes to allow the acid to penetrate and dissolve the rust.
Using a pressure washer, rinse the natural rust remover off the concrete and enjoy a rust-free patio. You can re-treat the area as needed for stubborn stains.
Finding rust on the concrete around your home can be incredibly annoying. While rust stains on concrete are a common issue for homeowners, it doesn't have to continue to detract from the beauty of your home. With a few common household ingredients and a bit of elbow grease, you can quickly remove any stains from your concrete.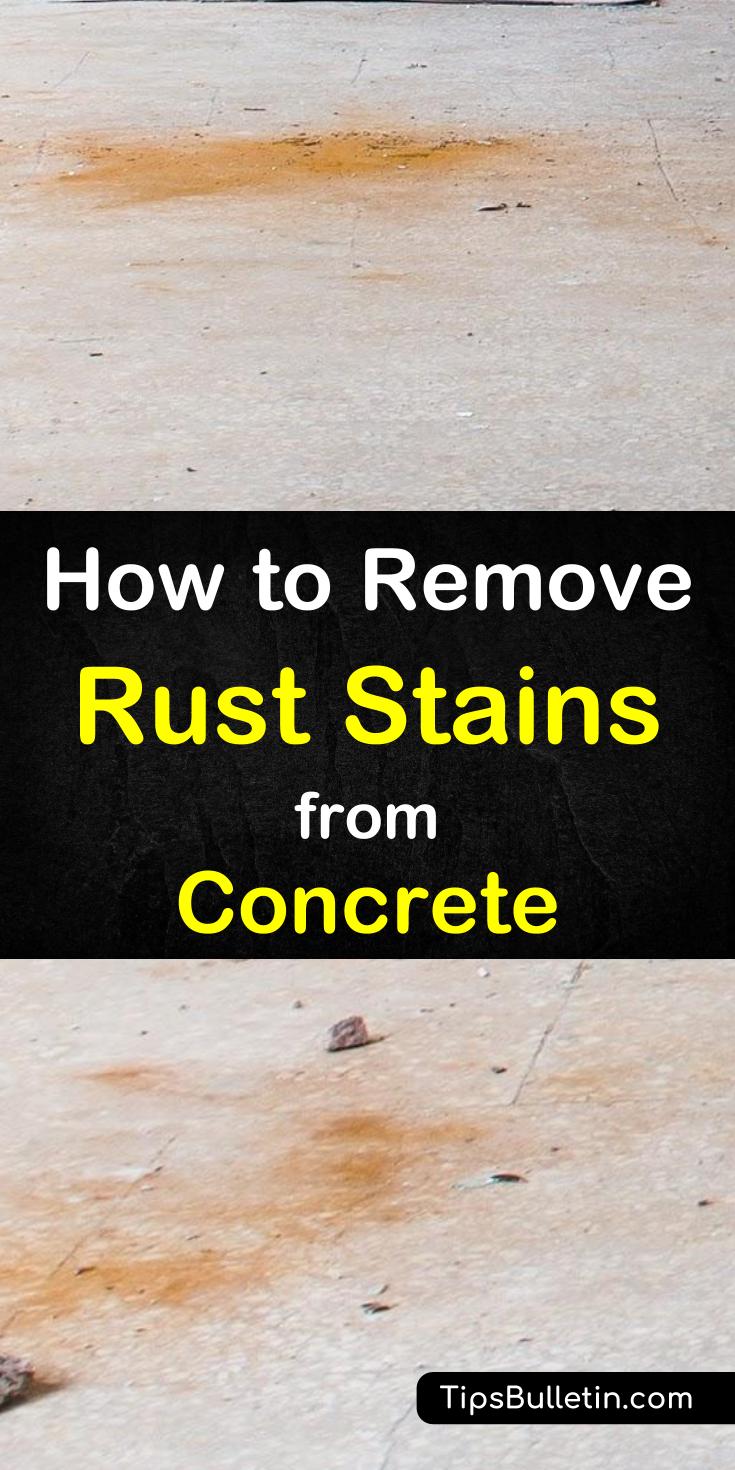 We hope you found this article on how to remove rust stains from concrete helpful. If you enjoyed learning about rust stain removal and think your friends and family can benefit from the information, please feel free to share the article.