Your dishwasher filter is responsible for taking the bits of food from your dishes and filtering them out of the clean water. When your filter is dirty, however, those nasty little food particles have nowhere to go and quickly find their way back onto your dishes. So how to clean a dishwasher filter and limit the amount of food and gunk left on your plates?
The solution to your filter problem is much easier than you think and requires simple cleaning tips and recipes to keep your filter functioning properly. Whether you have purchased KitchenAid or Maytag kitchen appliances, cleaning and operating your dishwasher is relatively the same.
Keep the filter clear of food buildup and use robust cleaning agents like vinegar and baking soda. You also want to ensure you are regularly cleaning a dishwasher filter unit and checking for signs that it needs cleaning. These cleaning tricks will show you the best way to clean an old dishwasher filter.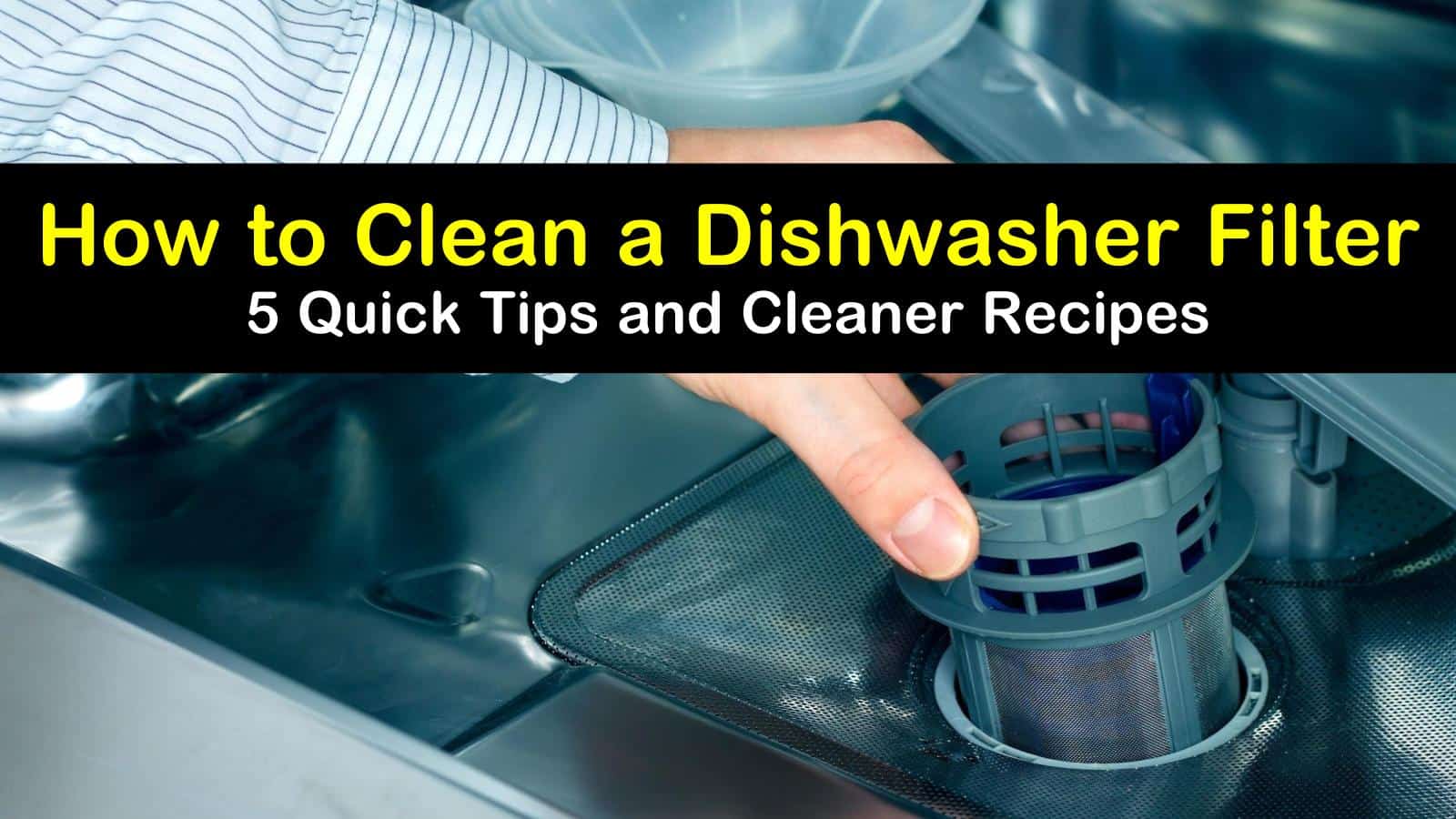 Amazingly Simple Tips for Cleaning a Dishwasher Filter
Before we start, you want to ensure you are cleaning the right type of filter. There are two filters in a dishwasher: manual and self-cleaning filters. If you have a self-cleaning filter, you don't need to clean it.
These filters are easy to detect due to a loud cleaning grinder that sounds similar to your garbage disposal. For those with manual cleaners, a cylinder that easily removes from the bottom of your dishwasher, these cleaning tips will work for you.
Cleaning the filter is one simple way to fix a smelly dishwasher without spending a lot of time or money to do it. A few minutes every few weeks is all that's needed.
Sometimes all that is required for unclogging a dishwasher is to take care of the filter. There may be so much debris accumulated in it that it creates a blockage.
Locate Your Filter and Clean Dishwasher
For the first order of business, clean inside of your dishwasher and remove the filter. This step doesn't have to include a deep clean with chemicals or cleaners. The most significant concern is gathering food particles stuck in the filter system or dishwasher drain.
If you notice dirt or pieces of food floating at the bottom of the tub, clear these out, as well.To locate your filter, start by removing the bottom rack of your empty dishwasher. Manual cleaners reside at the bottom of the dishwasher tub, a fact that rarely changes among manufacturers.
It will also look like a cylinder with two different filter systems hooked together. Not every appliance has both an upper and lower filter, however. No matter what type of dishwasher filter you have, twist the cylinder to unlock it from its place and remove it for cleaning.
How to Clean a Dishwasher Filter with Soap
To start your cleaning process, use gentle dish soap or dishwasher detergent to clean your filter. Thoroughly clean the filter with soapy water, ensuring you remove all remaining food particles from the surface.
For a stronger, homemade dishwasher soap that you can use on both your filter and the remaining interior of your dishwashing machine, use the ingredients below.
When making this recipe, add the grated soap pieces to the boiling hot water to allow for the soap shreds to melt quicker before adding in the other ingredients. Once all the parts of the recipe are combined and thoroughly blended, allow the mixture to reach room temperature before using it.
This cleaning solution works the same way as regular soap and cleans removable parts like the spray arm and cleaning racks, as well as the top and bottom of the dishwasher.
Vinegar: Best Way to Clean an Old Dishwasher Filter
Another excellent way to both deodorize and disinfect your filter is to use white vinegar. If the dish soap isn't cutting it, then this is another step up for cleaning away grime and dirt. There are multiple ways you can use vinegar in the dishwasher, including cleaning the compartment that holds your filter by running one wash cycle with vinegar and a second with backing soda.
However, the best solution to use vinegar for cleaning the filter is with a diluted form of vinegar containing equal parts water. After removing foul odors and stains from the filter, place it under running water to rinse away the vinegar.
For difficult to remove food particles, use an old toothbrush or a toothpick to clean deep within the crevices of the filter. Rinse clean and replace in the dishwasher.
Running your dishwasher empty with a bowl of vinegar sitting in the top rack is a great solution for how to descale a dishwasher. Hard water buildup decreases efficiency, so using this strategy every month or so keeps your dishwasher interior stain-free.
Cleaning a Dishwasher Filter with Bleach
Another essential component of keeping your filter functioning well is cleaning out the place where it sits. After you finish wiping your filter clean, don't shove it back into an unsanitary location. The first thing you need to do before returning your filter to its home is to sanitize the area using this bleach formula.
Pour the combined ingredients into the small compartment at the bottom of your dishwasher. Let this cleaning solution soak overnight, then complete by running a wash cycle in the morning.
If any food particles remain in the dishwasher or the space holding the filter, use a soft cloth or toothbrush to scrub away the last few specks. Do not use this method on stainless steel dishwashers as the bleach may corrode the metal.
Take Care of Your Filter
As crucial as any cleaning ingredients on this list is taking the time to ensure your filter is clean and used correctly. Keep the dishwasher clean and periodically check for large pieces of food or floating particles. Double-check that your filter is in the correct position before using it; otherwise, it may cause irreparable damage.
The best way to check for this is to check that it is locked securely in place. The filter should drop down into the section it came from and will not easily twist when moved.
If parts need replacing, do this as soon as you notice it to ensure other parts of your dishwasher won't suffer because of it. Always check with your manufacturer for special offers on these replacements.
Additional Tips When Cleaning Your Dishwasher Filter
After all of those wonderful ideas, you may still have some questions about when to implement them and what are some early indicators that it's time to clean your filter. Luckily, we have all that information for you right here.
How often should I clean my dishwasher filter?
How often you should clean your filter depends on how well you clean your plates before running them through the dishwasher. This number also relies on how many loads of dishes you run each week. If you only use your dishwasher for sanitizing your plates after you clean them, then cleansing your water filter once a year is enough.
If you scrape the food off your plates and rinse them before placing them in the dishwasher, this number may jump up to twice a year. If you only scrape off the food from your dishes without rinsing, this may require cleaning the filter every three months.
What are some indicators that I need to clean my filter?
One primary indicator that it's time to clean your filter is when food particles or dirt remain stuck to the filter assembly. These items may be either on the lower or upper filter. Once you remove your filter, you will be able to tell straight away.
Another sign that it's time to change your filter comes from the performance of the washing machine. If you notice grittiness or grime stuck to your dishes, it's time to clean the filter.
The same goes for clogs or hard water stains that linger on your plates. If cleaning the filter doesn't solve the problem, then you may need to buy replacement parts instead.
Now you are equipped with all the supplies and information you need to succeed. Just like your dishwasher! Your dishwasher filter does most of the heavy lifting when it comes to keeping your dishes clean, so don't forget to give it the tender love and care it deserves.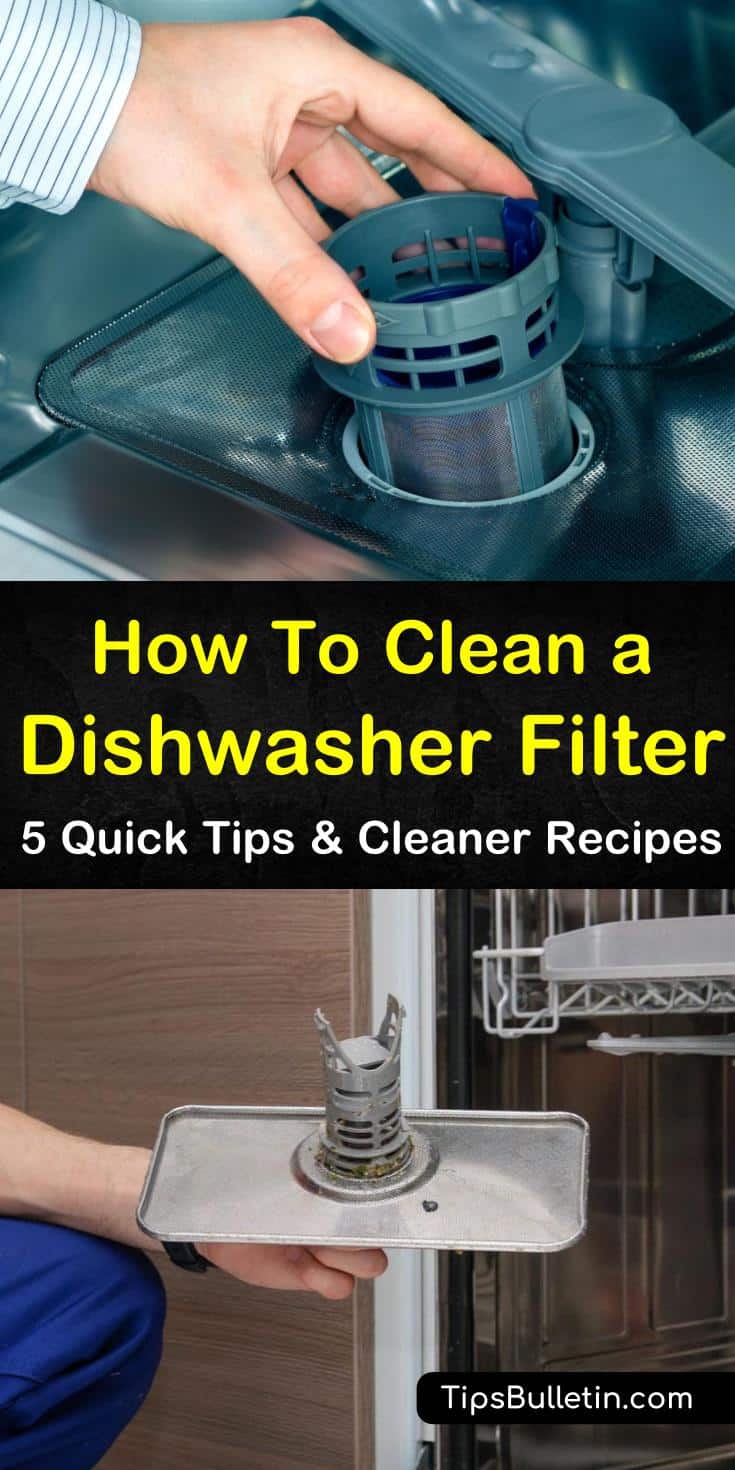 We hope these dishwasher filter tips provided you with all the information you need. If you liked learning about cleaning a dishwasher filter, please pass along how to clean a dishwasher filter with your friends and family members on Facebook and Pinterest.