Figuring out how to clean a glass chandelier seems daunting. Chandeliers are a beautiful accent for a room and are often a significant investment. Protecting your investment with maintenance is crucial, yet knowing where to begin cleaning chandelier glass is challenging. Weekly dusting of crystal chandeliers should be a component of your regular cleaning schedule.
Start with the chandelier, so loose dust falls to the floor and is easily vacuumed. How often your crystal chandelier requires more than dusting depends on its location. Kitchen or bathroom chandeliers require frequent cleaning because they become coated with grease or spray products and draw dust. High-humidity environments also make dust on chandeliers stick to them quickly.
Find out how to clean a glass chandelier using DIY methods to save time and avoid spending money on a cleaning service. Use everyday products like dish soap and white vinegar to keep your crystal chandeliers sparkling.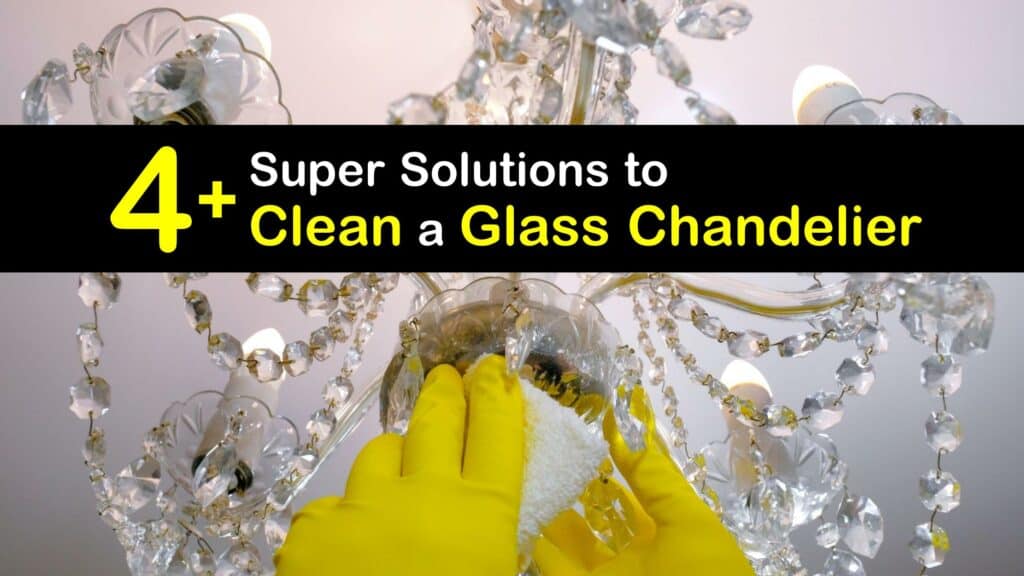 Easy Ideas to Clean a Glass Chandelier
As with any light fixture, cleaning a glass chandelier is not required daily. Cleaning is only necessary once or twice a year. However, you may need to clean yours more frequently if there's something sticky on your crystals or if some dust has accumulated in the crevices.
Determining how to clean a glass chandelier takes a little time, but there's no need to hire a professional chandelier cleaning service. Luckily, there are several ways to do this; you can even make a natural glass cleaner without any alcohol. Use straightforward DIY strategies to ensure you always have clean chandeliers.
White Cotton Glove for Cleaning Chandelier Parts
A clean crystal chandelier is a beautiful addition to a space. When cleaning chandelier parts, you may find that cloth is too big to fit into small spaces. Use a white cotton glove to make it easier to clean hard-to-reach areas. Simplify the process with a white glove.
Put on the glove so it fits comfortably on your hand but is not too tight to restrict movement or blood flow. Use the glove to run over the facets and individual crystal surfaces to disperse cleaner and remove dust.
Always ensure your wall light is turned off before cleaning your crystal chandeliers. Using gloves rather than a bulky cloth gives you more control. It prevents accidentally dropping chandelier crystals while fumbling with a towel.
How to Clean a Glass Chandelier With Dish Soap
Dish soap is a mild detergent, making it a smart choice for cleaning your chandelier's crystals and metal parts. Combine a few drops of liquid dish soap with warm water to make an economical glass cleaner.
Apply the soapy water to your microfiber cleaning cloth or glove and work it over the surface of the glass. Wipe away dirt and soap residue with a soft, dry cloth and buff to leave your chandelier clean and shiny.
Use White Vinegar for Cleaning Chandelier Glass
Vinegar is a natural cleaner that will get rid of dirt and dust from crystal and glass chandeliers. It's inexpensive and available at grocery stores.
Mix equal parts pure distilled white vinegar and clean, warm water in a spray bottle, spritz, and gently wipe the crystal prisms with a soft cloth (or cotton glove). If there's still dust on your chandelier, go over it one more time with plain water.
Once the crystals are sparkling, dry them with another clean, soft cloth or use a blow dryer. Avoid applying the damp cloth to a light bulb.
Other homemade cleaners will work on a glass chandelier as well. You can clean glass with baking soda or toothpaste to keep the small glass pieces sparkling.
Isopropyl Alcohol Cleaning Solution for Chandeliers
Isopropyl alcohol is a popular cleaning liquid for chandeliers, and it's easy to see why. It's inexpensive, environmentally friendly, and widely available. Mix isopropyl alcohol and distilled water to make an uncomplicated streak-free chandelier cleaner.
Dip the microfiber cloth into the cleaning solution. Dab the glass chandelier crystals with the dampened microfiber cloth. Use enough solution to coat each crystal lightly, yet not so much that it drips onto the base or floor.
If you see excess water dripping from your crystals, use less liquid. Don't use too much force on the chandelier, as this damages its structure and finish.
Alcohol is a natural stain remover; it can also work for getting dark stains off a glass coffee carafe along with cleaning glass light fixtures.
Canned Air Cleans Crystal Chandeliers
Canned air is used to clean out dust and dirt from small spaces. Canned air is a standard cleaning tool for electronics, and though it's not designed for chandeliers, it quickly blows the dust and dirt off. Find it at most stores that sell computer supplies or online.
Hold down the trigger on the can and spray the dirty chandelier, blasting dirt away from each crystal (don't point it at yourself or anyone else) until all crystals are sparkling clean. Use a soft, clean cloth and wipe each crystal carefully. If dirt remains on the crystal, spot-clean it with compressed air.
Clean a glass chandelier once a year to keep it bright. Because many chandeliers are intricate, it's usually a good idea to write down how the design is put together before cleaning. Most chandeliers are manageable, but if yours is too complicated or hung too high, consider hiring a cleaning service.
Draw something quickly, or get the camera out and shoot some pictures. Work slowly and observe safety precautions when near an electrical fixture. Turn off the electricity at the fuse box for your safety. Cleaning chandeliers yourself is an excellent way to save money and keep your light fixtures looking incredible.
If you loved this article on how to clean a glass chandelier, please share this expertise with your friends and family who struggle with cleaning chandelier glass on Pinterest and Facebook.