Whether it's food and drink spills, grease stains, or general filth, white leather goes from appealing to ugly if it gets dirty. Are you confused about how to clean a white leather sofa? White leather sofas make stunning centerpieces and add style and character to a room. If cared for properly, a leather sofa lasts a lifetime and offers visual beauty and comfort.
The downside of a white leather sofa is grime and blemishes are very apparent against its pale backdrop. If you purchased or are considering investing in a new sofa, it's prudent to find out how to remove stains from a white leather sofa.
Although there are many commercial products for cleaning stains off white leather furniture, they usually contain harmful chemicals and are pricey. Limit your family's exposure to toxic compounds and save money by crafting your own cleaner to keep a white leather sofa looking pristine. Rely on everyday items to remove marks and keep your leather sofa in top condition.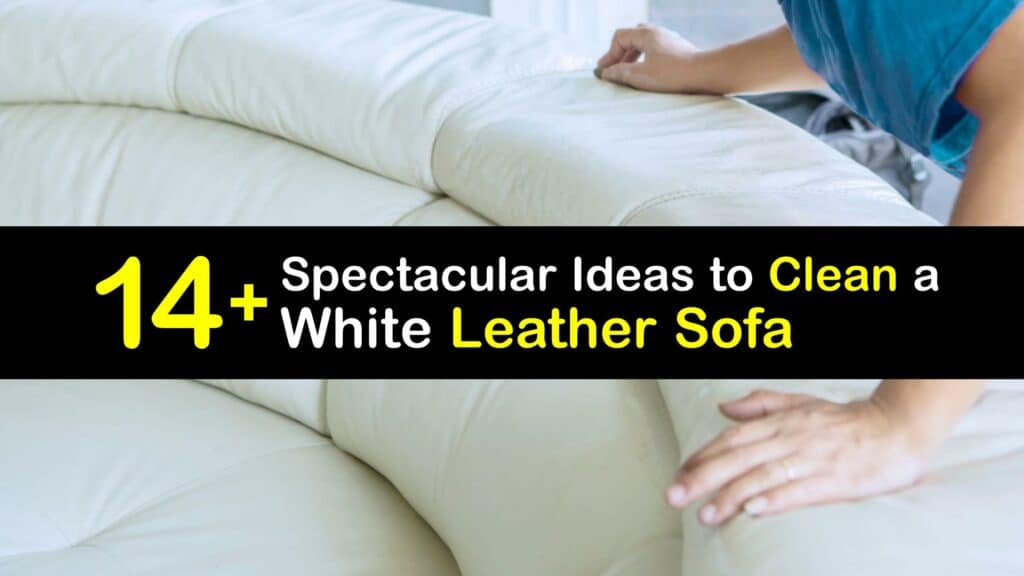 How to Remove Stains From a White Leather Sofa
Discover how to clean a white leather sofa. Knowing where to start cleaning a filthy white leather sofa is difficult. While white leather is visually appealing, every streak and stain is visible against the pale pigment.
Learning the correct techniques for cleaning leather sofas is vital to prevent accidental damage during the cleaning procedure. Fortunately, there are numerous tricks to make getting white leather clean more manageable.
Use tried and tested methods to ensure cleaning a white leather sofa goes smoothly.
How Often to Clean a White Leather Sofa
It makes sense that regular cleaning is beneficial for furniture; however, leather is slightly different as it is an organic product. Over-cleaning leather encourages earlier breakdown, wearing, and fading.
It's recommended to clean white-colored leather sofas every six months and dark-colored leather sofas every year. Faux leather holds up better to use and cleanings than delicate animal leather such as Aniline leather.
Address spills and stands as soon as you notice them, but save general cleanings for the scheduled time. Leather care might seem overwhelming, but if you follow our step-by-step instructions, leather sofa cleaning is painless.
Preparing for Leather Upholstery Cleaning
Before cleaning your white leather sofa, it is wise to remove crumbs or debris. The easiest way is to use your vacuum cleaner fitted with the brush attachment. Spend time collecting dirt from between the cracks. Remove throw cushions and blankets, and thoroughly vacuum your leather sofa.
Use a soft cotton or microfiber cloth to wipe the entire sofa. Inspect the couch for stains and areas appearing worse for wear, and focus your cleaning efforts here.
How to Clean a White Leather Sofa With Vinegar
Distilled white vinegar is a natural way to clean and sanitize your white leather sofa. The acetic acid in white vinegar destroys germs and breaks the bonds holding dirt and grime to the hide. Although distilled white vinegar is acidic, it does not harm the leather as long as it's diluted in water.
Measure and pour the white vinegar and water into the spray bottle. Lightly douse the leather of your sofa without soaking it, and use a soft cloth to wipe it. Distilled white vinegar may slightly dehydrate the leather, so using a good quality leather conditioner is crucial to restore the finish.
For softer leathers, test the distilled white vinegar solution in an inconspicuous location before applying it to the whole couch. Do not proceed with the white vinegar cleaning if you observe signs of intense drying or cracking.
Dish Soap Makes Cleaning a White Leather Sofa Easy
Using dye-free liquid dish soap is advisable to prevent accidental staining on your white couch from color additives. Liquid dish soap rapidly removes a grease stain without harming the leather. Dish soap contains surfactants that cling to dirt to hasten its removal.
Mix a basic dish soap solution and warm water for washing stains out of a black leather sofa. Add a cup of warm water and one tablespoon of colorless liquid dish soap to a bowl. Use this soapy solution and a clean cloth to wash a soft leather sofa. Use enough cleaner to get the weather moist all over but not wet.
Too much water is difficult to remove and could lead to mold growth on your leather sofa later. Wipe the entire couch with dish soap and water, leave it to dry, and check for blemishes you missed. Spot clean filthy regions and keep the room well-ventilated while your sofa dries.
Use Saddle Soap for Couch Cleaning
Saddle soap is used to wash, condition, and protect leather goods. The paste or balm is made of soaps, beeswax, neatsfoot oil, and water. Occasionally, it comes in liquid form.
As the name suggests, saddle soap is traditionally used to clean saddles and other leather-made horse items. However, it works equally well for leather furniture, including sofas.
Each element of the saddle soap has a specific purpose. The soap removes dirt, sweat, and particles from the leather. Beeswax aids in sealing the pores on the leather's surface, making it better withstand moisture. Neatsfoot oil helps to nourish and soften the leather.
These qualities stop your leather sofa from deteriorating or cracking. For cleaning leather furniture's upholstery, saddle soap works great. Use saddle soap to clean a leather couch by wetting the soap, running a rag over it, and wiping down the leather surface.
Baking Soda Will Clean White Leather Sofa Stains
Baking soda paste is a food-grade and natural cleaning product you can craft for a challenging stain on your white leather sofa. Baking soda is well known to eliminate the trickiest stains and deodorize as it cleans.
Though baking soda tends to lighten darker colors, it won't cause an issue with white leather. Consider using a different technique if you have a beige or black sofa.
Pour equal parts baking soda and lukewarm water into a small mixing bowl and stir until thoroughly combined into a paste. Smear the paste over the stain on your couch and let it rest for at least ten minutes.
Use a damp cloth to clear off the baking soda and dirt. Check out the stained patch and repeat the paste application if discoloration remains. Otherwise, apply a leather conditioner to restore a lustrous finish.
Removing Stains From a White Leather Sofa
Hydrogen peroxide is a godsend when removing stains from white leather sofas. In addition to being an effective disinfectant and all-purpose cleanser, hydrogen peroxide revives dull or drab white surfaces. This common household item is helpful for first aid and miscellaneous cleaning projects.
Oxidizing substances such as hydrogen peroxide break down the colored parts of chemical structures, causing a persistent stain. As a result, the color is no longer discernible. Create a solution of hydrogen peroxide and water as a cleaning spray for your couch.
To remove the grime, spray and rub the liquid into the leather using a clean towel. Scrub in light circular motions with an old toothbrush to remove debris and assist in bringing out the undesirable color. Rinse the couch with clean water, and let it air dry.
DIY Leather Cleaner Spray
Erase even the worst stains from a leather couch by making a stain remover for couch cushions, which employs supplies you most likely already have. Laundry detergent removes lingering stains, while hydrogen peroxide brightens worn-out leather.
The cleanser doesn't bleach leathers and has a subtle aroma thanks to a dozen drops of your preferred essential oil. Test the mixture on a discreet spot and hold off on applying it to a more extensive region until you're confident it's safe.
Fill a spray bottle with the simple ingredients and apply the mixture to the stained area. Before lightly rubbing with a clean cloth or an old toothbrush, give the cleaning solution one minute to soak into the stain. Rinse the sofa thoroughly with cool water and repeat as necessary.
Your white leather couch will be pristine after using this simple DIY cleaning mixture to remove dirt and stubborn stains.
Toothpaste for Leather Sofa Cleaning
Toothpaste removes the naturally occurring stains in the mouth, such as food lodged between teeth after eating. Due to its gentle cleaning capabilities, it is also an efficient item for removing stains from leather. Use any brand and flavor of the toothpaste you like, but choose a traditional cream formulation rather than gel-based.
Get an old toothbrush or another brush with soft bristles, apply a tiny amount of toothpaste to the discoloration, and carefully massage it with circular motions. After cleaning, give the surface a final rinsing in lukewarm water. Carefully wipe it off with a paper towel to remove excess moisture or color.
Repeat until no traces of the undesired color are left on your white leather sofa. Eradicating marks with toothpaste leaves your couch spotless with an appealing odor.
Olive Oil Conditions a White Leather Couch
There's no need to spend money on an expensive commercial leather conditioner for your sofa. Store-bought leather conditioners are packed with toxic substances and harmful chemicals. Olive oil is an ideal conditioner to keep the leather on your couch soft, supple, and hydrated.
Once you finish cleaning your white leather sofa, dip a microfiber cloth into a small dish of olive oil and use it as a polish to buff your couch. Olive oil penetrates deep into the leather fibers to restore moisture lost during cleaning. For severely dried or brittle leather, perform multiple olive oil applications.
Castile Soap Cleans Leather Couches
Castile soap was first manufactured in the Mediterranean and quickly spread across Europe. Its name comes from Spain's Castile region. Lye, water, and various natural plant oils combine to create Castile soap, which will clean your white leather sofa safely and naturally.
Castile soap is categorized as mild since its pH ranges from eight to nine. This natural soap is biodegradable and free of harmful or artificial components. It is also safe for the environment.
Purchase Castile soap in solid or liquid form for cleaning leather upholstery. Mix one cup of warm water and one tablespoon of pure Castile soap in a basin. Use a soft cloth dampened in the cleaning solution to gently scrub the leather couch to remove embedded dirt and gunk for general leather cleaning.
Wipe off any excess cleaner remaining when you finish working on the leather couch and let it completely dry. To clean numerous leather sofas, pour the cleaning solution into an empty spray bottle for rapid application.
Rubbing Alcohol Erases an Ink Stain on Leather Upholstery
If you spill ink, figuring out a way to get black stains off a white leather sofa is vital. Rubbing alcohol is one of the most popular and reliable DIY methods for removing dark ink stains from leather couches. If you have rubbing alcohol, rely on its solvent abilities to treat the ink stain.
Add a few drops of pure rubbing alcohol to a dry cloth or cotton balls and rub back and forth over the ink. The rubbing alcohol dissolves the bonds in ink, which comes up quickly. Only use a tiny measure of rubbing alcohol.
As the alcohol dries, it evaporates and may dry out the leather. Only apply rubbing alcohol to the mark and not the leather surrounding it. Follow rubbing alcohol cleaning with a leather conditioner to keep your sofa supple.
Try Baby Wipes on White Leather Furniture
Baby wipes are a valuable tool for wiping down a beige leather sofa. As they are designed for sensitive skin, baby wipes clean gently without causing dehydration. Whether you spill a drink or notice a dirt smear, grab a baby wipe to spot-clean the area quickly before the stain sets.
Use a regular paper towel to absorb any liquid from the leather, followed by a baby wipe to remove the rest. Gently rub the baby wipe back and forth, following the grain of the leather to remove all traces of discoloration.
Commercial Products to Clean Leather Furniture
If you don't feel comfortable using a home remedy to clean your dirty white leather sofa, head to the store and pick up a suitable leather cleaner. Starboard leather cleaners come in many forms; choose a paste, spray, or cleaning concentrate based on your preferences.
Select a cleaner appropriate for the type and color of leather on your sofa. Some genuine leather sofas respond poorly to conventional leather cleaners. Use a clean cloth to apply the store-bought cleaner in a corner with the manufacturer's directions. If you're unsure the cleaner is safe for your sofa, consider making a small test patch before making a wider application.
Challenges With Cleaning a Leather Couch
Leather is a natural product easily damaged or even destroyed by improper cleaning protocols. Fibers in leather lose moisture and become dull if subjected to harsh cleaning solutions. Abrasive cleaners tend to scratch and scuff leather, damaging its sheen and leaving a noticeably worn patch.
Using potent cleaners to eliminate the grease and dirt without stripping the leather fibers of their natural oils and moisture is essential. Never use stiff brushes or abrasive cleaners like a Magic Eraser on your leather couch. Though these items help eradicate the blemish, they also leave scuffs behind.
Don't use copious amounts of water for cleaning your white leather sofa. The leather grain absorbs and retains liquid, potentially leading to mold problems as moisture accumulates over time.
Clean your leather with the least amount of water possible to get the job done, and ensure it's allowed to dry. Condition your leather couch following cleaning to maintain the integrity of the hide.
After reading this article, are you more confident about removing stains from a white leather sofa? Like carpet cleaning and other household chores, getting the stains off your white leather sofa can be a headache. White leather is stunning, yet it can be tricky to keep it looking clean.
Discover the best cleaning tips for leather couches to ensure maintaining your furniture is a breeze. Use uncomplicated homemade remedies to clean your leather couch. Stay away from strong cleaners that strip the leather fibers of their natural luster.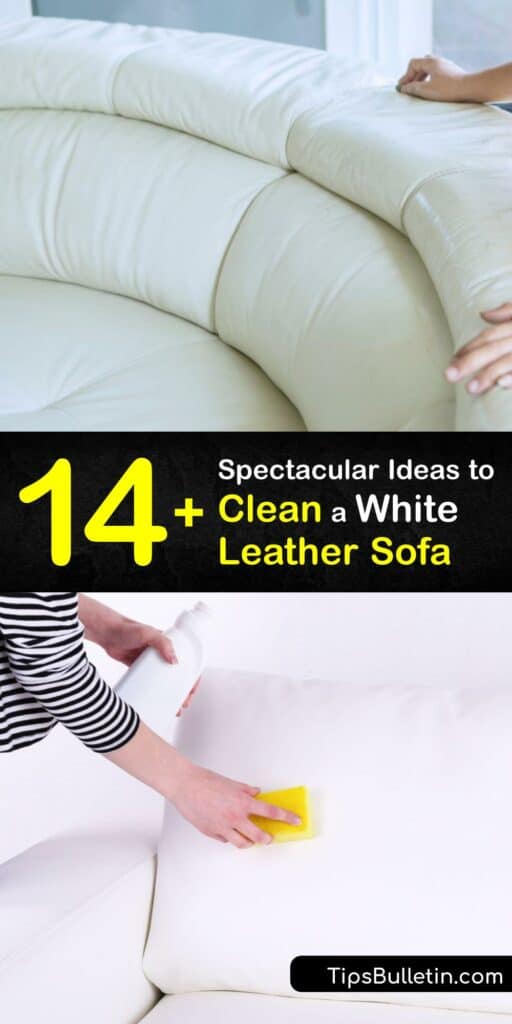 If you loved this eye-opening article on how to clean a white leather sofa, please share it with your friends and family who are cleaning a white leather sofa on Pinterest and Facebook.