Air mattresses are a convenient, lightweight alternative to bulky standard spring or memory foam beds, whether camping or having family over for the holidays. Variations of blow-up mattresses have been around for millennia. Knowing how to clean an air mattress properly is crucial for anyone who owns one.
They have helped many families create temporary sleeping arrangements since they set up quickly. Whatever their purpose, air mattresses have always been vulnerable to problems like mold and dirt buildup despite being highly convenient. Air mattresses harbor germs because of their close contact with skin, perspiration, dust mites, and moisture.
The likelihood of a moldy air mattress increases when it is stowed for the season because it is frequently kept in a dank basement or storage space. Make it a habit of cleaning an air mattress after each use or at least once every season to make sure you get the most use out of it. It pays to learn how to wash a blow up mattress.
How to Wash a Blow Up Mattress
Working out how to clean an air mattress may seem daunting. If you clean your mattress with easy remedies, that improves the experience of the user. Having a clean bed for your guests is essential, and keeping an air bed clean helps ensure it lasts.
Explore tips and tricks to deep clean your mattress without a vacuum cleaner. Use affordable and effective remedies like baking soda and white vinegar to keep your inflatable bed in top condition.
Why Cleaning an Air Mattress Is Important
Once you buy the best mattress for your guest room or camping trips, it's vital to maintain it. Cleaning an inflatable bed is essential, so it lasts and remains a sanitary place to sleep. Though air mattresses are less prone to infestation by dust mites or bed bugs than traditional mattresses, keeping them clean is still good practice.
Cleaning your air mattress is as important as fixing an air leak. Your air mattress should be spot cleaned as necessary and lightly cleaned following every use. Over time, a sweat stain or spilled drink erodes the mattress material. Regular cleaning prevents damage.
How to Clean an Air Mattress With Dish Soap
Dish soap is a mild detergent that provides powerful cleaning without the risk of damage. Choose a colorless dish soap to avoid accidentally staining your air mattress with dyes or chemical additives.
Add several squirts of mild soap to a basin of warm water. Dunk a rag into soapy water, wring it out, and use it to wipe the air mattress. Pass the rag over the mattress, spending more time scrubbing lightly at soiled areas.
Let the bed dry naturally in a well-ventilated room and inspect it. If there are still marks or odors, repeat the cleaning and dry thoroughly before storage.
Get Mold off an Air Mattress With White Vinegar
Mold and mildew are some common issues with blow-up beds. Air mattresses are typically used for trips or when guests come to stay and require temporary accommodation. Stored for weeks and even months at a time predisposes the bed to grow mold spores or develop unpleasant odors.
Distilled white vinegar is an ideal tool to clean off mold or freshen your air mattress. The acetic acid in vinegar eliminates mold and other germs fast while being safe and non-toxic. Blend white vinegar and water for a simple cleansing spray.
Shake the cold water and white vinegar in the spray bottle, mist over the entire mattress surface, and leave to dry. For mold infestations, use undiluted vinegar, let it sit for five minutes, and wipe it and the mold residue off with a damp towel.
Washing an Air Mattress With Rubbing Alcohol
Rubbing alcohol is a mild solvent and works well for washing a dirty futon or blow up mattress. While this might sound concerning, its solvent properties mean the alcohol quickly eradicates mold, dead skin cells, and general grime from your airbed. Dilute rubbing alcohol in an appropriate amount of water so it doesn't degrade the structure of an inflatable bed.
Shake the sprayer so the rubbing alcohol and cold water blend, and spritz over the mattress surface. For a light cleaning, leave the spray to dry. To remove stains, apply a heavier layer of cleaner and rub it with a damp cloth.
Clean a Velour Air Mattress Using a Vacuum Cleaner
Velour is a popular material for an air bed. It has a pleasing and soft texture, making sleeping more comfortable, though it requires different mattress cleaning methods. A vacuum cleaner is the premier way to clean a velour air mattress.
Remove your mattress protector and spot clean or launder it as appropriate. Either clean your mattress as it's aired up or deflate it and remove all the air bubbles. It's less challenging to vacuum your air mattress while inflated; this eliminates creases and crevices where dirt and dander may hide.
Don't run your vacuum cleaner over your camping mattress like you would on the floor. Use a soft brush or small corner attachment to clean the material. Start at one corner and work methodically until you've vacuumed the whole mattress.
The vacuum cleaner quickly collects dirt, dust, fleas, and ticks from camping trips so you can confidently store your bed. If your mattress has visible dirt stains, combine vacuuming with another technique for a complete clean.
Deodorize an Inflatable Mattress With Baking Soda
Whether you want to deodorize a clean mattress or remove stubborn stains, baking soda is a low-cost solution. Though it's a common ingredient in cakes and cookies, baking soda is a multipurpose cleaner and powerful deodorizer.
If you retrieve your air mattress from storage and find it has a musty odor, inflate it and sprinkle baking soda over it. Let the powder sit as long as possible before vacuuming or sweeping it away to remove the smell. For stains or grime spots, create a baking soda paste.
Stir the baking soda powder and warm water until you have a thick paste. Apply the paste to dirty parts of the inflatable bed and leave it to dry. Dip a clean cloth in damp water and wipe away the paste and any stains.
Pat the areas dry with a cloth. Ensure the spots you cleaned are entirely free of moisture before folding up your air mattress to prevent mold.
Spot Clean Your Camping Mattress
One of the simplest and often overlooked ways to prolong the life of your air mattress and keep it hygienic for your guests or camping trips is spot cleaning. Address dirt as soon as you notice it. If a spill happens on the mattress surface, blot it up immediately using paper towels or a clean cloth.
If you're away from home, dip a paper towel or cloth in some clean water and wipe off as much as possible. By preventing dirt from sitting on the mattress, you halt damage until you can deep clean. Invest in a mattress cover to protect your inflatable bed and save it from the wear of insects, food stains, and liquid spills.
Store Your Airbed Appropriately After Cleaning
Storing a deflated air mattress is important after neatly folding or rolling it. Ensure your air mattress is dry before storing it to prevent mold. Putting the air mattress in your closet may be tempting if you're keeping it indoors; however, that is one of the easiest ways for it to deteriorate.
The air mattress and pump don't have to be kept in the original box. Many include a carrying bag. Place the airbed inside the bag or a storage tote, and seal it tightly. The air mattress quality is negatively impacted by dampness or weather exposure.
Ideally, store your air mattress in an attic or similar area. However, as long as the air mattress is adequately covered, placement doesn't matter.
Don't fret over how to wash a blow up mattress. It's frustrating to head out for a fun camping weekend or invite your family to stay and find a stained or stinky air bed. A clean sleeping pad and mattress contribute to good quality sleep.
While some air mattresses might fit in the washing machine, this is not an advisable way to launder them. Learn the best approach to keep your air mattress fresh using things you have around the house. Trust familiar products from your pantry and first aid cabinet to keep your mattress clean and ensure it lasts a long time.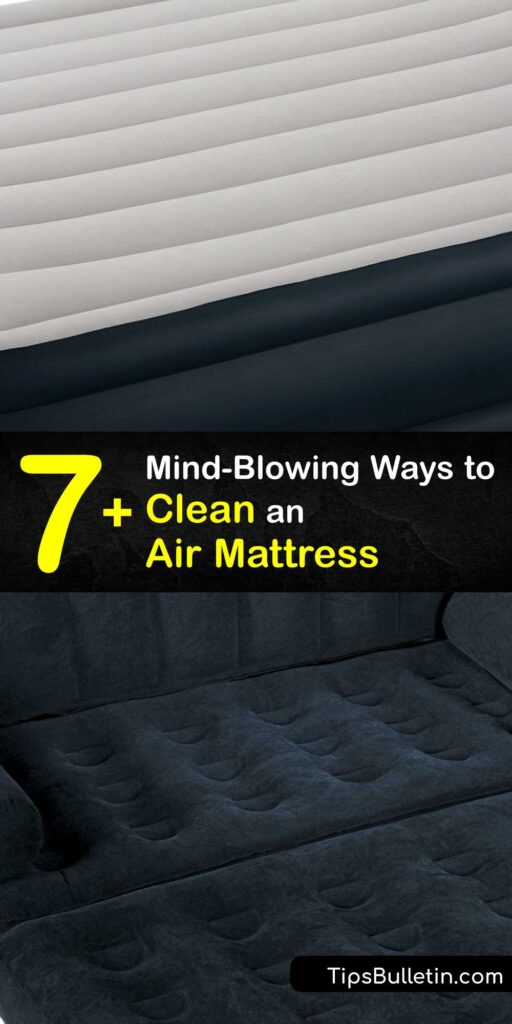 If you loved this enlightening article on how to clean an air mattress, please share this knowledge with your friends and family who are interested in cleaning an air mattress on Pinterest and Facebook.