It's inevitable; your carpet is going to become dirty, no matter how hard you try to keep it clean. Your kids and pets, along with those who forget to take off their shoes, track dirt into your home.
While this may initially go unnoticed, when enough grime gets into your carpet, it can become hard to hide. If you don't have a steam cleaner, and can't afford to rent one, there are ways to clean carpet by hand. Here are some tips for how to clean carpet by hand without a machine.
Many of the products you need to clean your carpet by hand are inexpensive and are probably items that you already have at home. All you need is a bit of time, and some elbow grease and your carpets will look like new.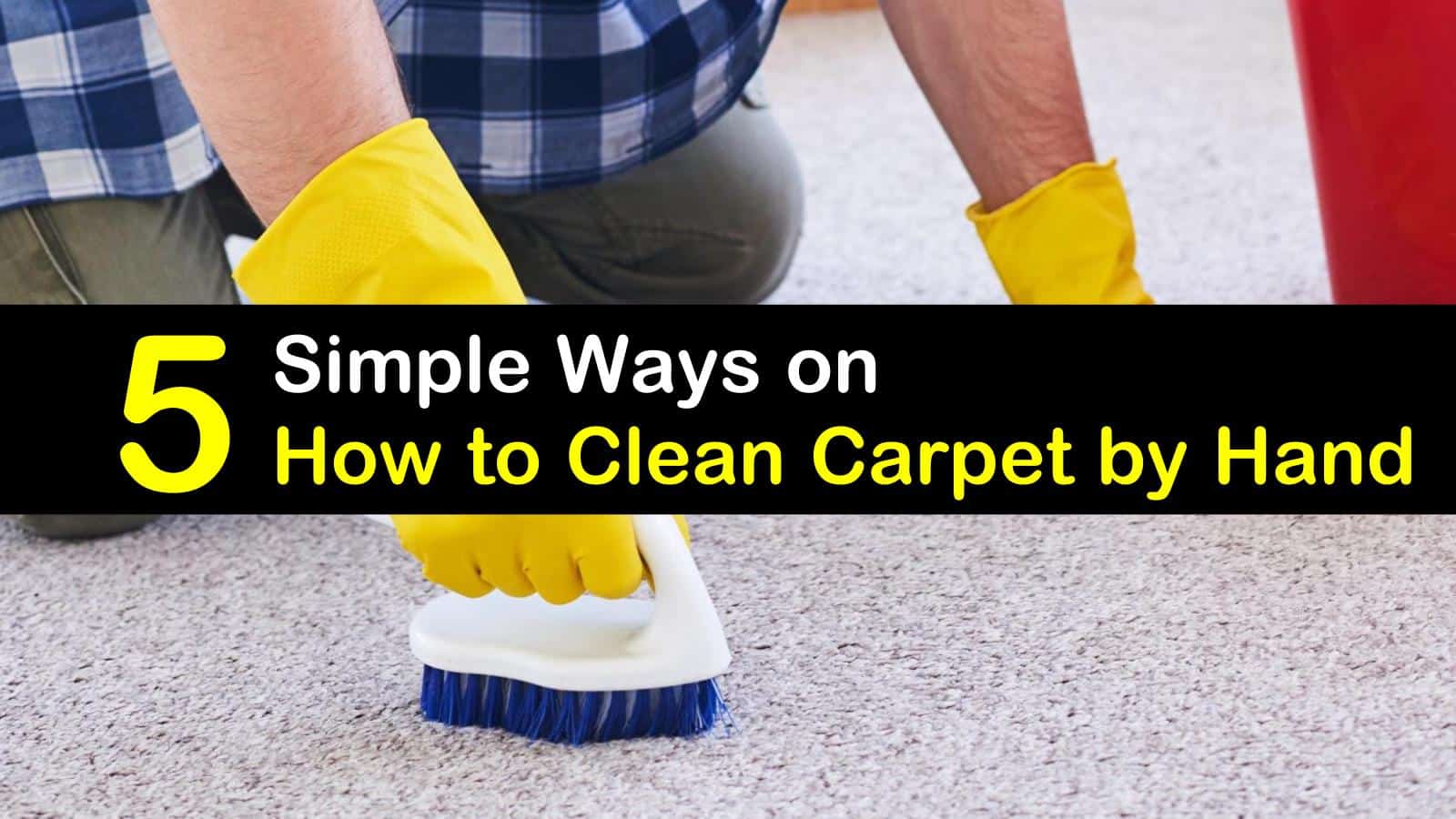 How to Clean Carpets by Hand Naturally without using a Carpet Cleaner
When you don't have the money to buy or rent a steam cleaner, you may not think it's possible to get your carpets clean. However, there are several techniques that you can use to clean your carpet without steam cleaner. The following methods and homemade carpet cleaner solutions work great at removing stains, deodorizing, and cleaning your carpet.
If you're cleaning the whole carpet or a large section, take the opportunity to clean your baseboards at the same time. This way you won't have to bend down multiple times to get the floor area clean – doing it all at once saves time and your back!
Agitate the Carpet with a Carpet Brush
You can use a carpet brush to remove soil, dust, and pollutants from your carpet. You'll have to get on your knees and use some elbow grease to scrub and agitate the carpet.
After you've agitated the entire area, you'll want to run a vacuum across the floor to pick up the dirt and pollutants that you just loosened. This process should be completed every week to keep dirt and dust from settling in and making your carpet look dingy.
Hand Clean the Carpet with Vinegar
If you aren't able to give your carpet a good steam cleaning, you can still get your carpets clean and be smelling fresh with just a few items and your hands.
All you need is a bucket, a scrub brush, some white vinegar, and a little bit of sweat. Vinegar also works well to remove slime from carpet and other unpleasant stains.
To start, fill the bucket with warm water and ¼ cup white vinegar. Take the scrub brush and dip it into the bucket. Start to scrub the carpet with the cleaning solution. You want enough of the mixture on the scrub brush to get the carpet a little wet, but not saturated.
Once you've scrubbed the carpet, empty the bucket and fill it with fresh water. Dip a rag, or terry cloth towel, into the bucket. Ring it out and start to scrub the carpet again. After you've made a second pass over the carpet, let it dry thoroughly. To help speed the drying process along, you can turn on a floor fan.
Manually Clean the Carpet with Baking Soda
Baking soda is a miracle product because it can be used for everything from baking to cleaning your carpets. It is an inexpensive solution that is environmentally friendly and will tackle stains and odors in your carpet. Cleaning your carpet with baking soda is simple.
Just sprinkle a generous amount of baking soda over your floor, or directly on a stain. It works similarly to other homemade floor cleanerand DIY carpet stain remover recipes.
With a spray bottle, lightly mist the soda with hot water. Let the mixture sit for at least three hours to allow it to soak up and absorb the dirt and odors. After the area has dried, use your vacuum cleaner to vacuum up the baking soda.
Clean Area Rugs by Hand
If you have area rugs in your home, you know they can get pretty dirty. Many area rugs are delicate by nature, making cleaning them difficult.
Cleaning your area rug by hand takes a few everyday ingredients and a little hard work. To start, make this DIY cleaning solution that is inexpensive and free of toxic chemicals.
Start by vacuuming the rug on both sides to remove any loose dirt. Next, you'll need to test the colorfastness of the rug, by performing a spot test on the corner of the rug. If the cleaning solution doesn't discolor the area, you can proceed with cleaning it by hand.
Mix the ingredients in a small bowl. Dip a sponge or brush into the solution and begin to scrub the rug. Allow the mixture to sit on the rug for several minutes.
In the meantime, get rid of the solution and fill the bowl with fresh, clean water. Rinse the rug thoroughly. Using a squeegee, or clean, dry towel, remove any excess water from the rug, only working in the direction of the rug's nap.
Lay the rug outside to dry in the sun. Once the top part of the rug is dry, flip it over to allow the bottom of the rug to dry. Once the rug has dried completely, use a vacuum cleaner to vacuum the rug to loosen up the carpet fibers of the rug, as they have probably become compacted during the cleaning process.
Note: For tough stains, you might want to use hydrogen peroxide directly applied to improve the cleaning effect; however, be careful as it may bleach your carpet.
How to Clean Carpeted Stairs without a Machine
If you live in a multi-story house, you know how quickly the carpet on the stairs can get dirty. Most commercial carpet cleaners aren't built to clean individual stairs. It means that to get the carpet on your stairs clean, you'll have to do it by hand.
You'll need to make or buy a carpet cleaner. To make a homemade carpet cleaning solution, combine the hot water and vinegar in a large spray bottle. Add the lavender oil and salt to the container. Replace the cap and shake well.
To remove dirt and debris from your stairs, use a stiff brush and scrub the stairs, starting from the top stair and working your way down. Brushing the stairs will help to get rid of any stubborn dirt that a vacuum cleaner can't remove. Next, you'll want to clean the loosened dirt with a vacuum. Again, start on the top step and work your way down.
Next, you'll want to take the cleaning solution and spray each stair liberally. To get a deep clean, use a scrub brush, and scrub each stair. Allow the carpet to dry, then vacuum the stairs to remove any residue.
Quick Tip about Smelly Carpets: To remove carpet odors dust your rugs or carpets with diatomaceous earth. Let it sink in and vacuum it up after several hours. Let's your carpet smell fresh again!
Cleaning your carpets by hand takes a lot of work but is well worth the effort. These techniques will help you get your carpets clean, removing stains and leaving them smelling fresh. For more homemade carpet cleaning solutions, check out our other posts on carpet cleaning.
We hope you enjoyed these useful tips and techniques for cleaning your carpet by hand without a machine and we'd appreciate it if you share the info about carpet cleaning by hand with everyone you know on Pinterest and Facebook.