I love finding efficient and inexpensive solutions for everyday problems, like carpet stains!
Vinegar and water make a cheap, effective cleaner.
Baking soda neutralizes bad odors affordably.
Dish soap and vinegar tackle various stains easily.
Hydrogen peroxide removes tough stains quickly.
Alcohol can clean without peroxide's risks.
Here's what you need to do for cheap and straightforward carpet stain removal:
First, mix one cup of white vinegar with two cups of warm water and add two teaspoons of table salt and a few drops of essential oil to create a general carpet cleaner. This solution is perfect for regular stains and keeping your carpets fresh.
Second, if you're battling persistent odors, mix two cups of baking soda with about 30 drops of essential oil. Sprinkle this on the carpet, let it sit, and vacuum it up. It's a highly cost-effective way to deodorize your carpet without any harsh chemicals.
Third, for spot cleaning, blend one tablespoon of clear liquid dish soap with one tablespoon of white vinegar and two cups of warm water. Apply it directly to stains, scrub, and blot dry. It's a rapid and straightforward method to remove various stains without spending much money.
For tougher stains like wine or chocolate, mix a quarter cup of hydrogen peroxide with two tablespoons of liquid dish soap and two tablespoons of baking soda. Spray, let dry, and then vacuum. It's a fast-acting solution that's also light on your wallet.
Finally, if you have darker carpets and want to avoid the bleaching effect of hydrogen peroxide, try dabbing rubbing alcohol on the stain with a clean cloth. It's a safe and inexpensive alternative that works well on different types of stains.
By using these steps, you can effectively clean your carpet stains in a way that's easy on the budget and gentle on your carpets. Plus, these methods are quick and involve items commonly found at home, ensuring you can take care of spills and stains without waiting for a costly cleaning service.
Between your kids, pets, and everything else, your carpet takes a beating. Unfortunately, the commercial carpet cleaners that you can purchase at the store can leave your house smelling for hours after you've cleaned up the spill.
Plus, many of them contain harsh chemicals that can damage your furniture, carpets, and curtains. When you have severe stains on your carpet, you can make a DIY carpet stain remover that is easy on your wallet and won't leave harsh chemicals behind.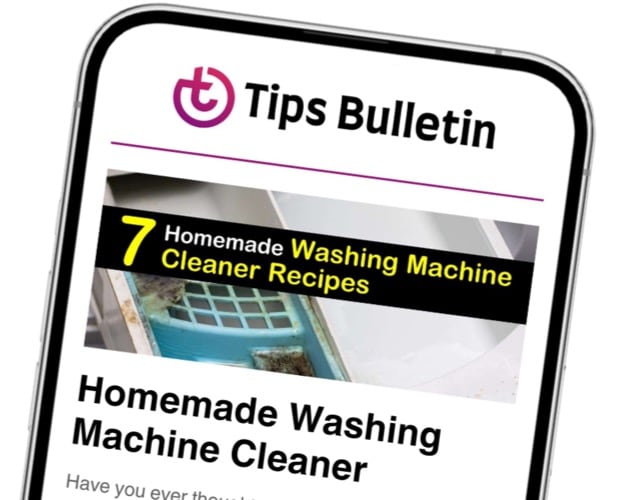 Finally, an email that Transforms Your Home.
Get the latest home and garden tips from our experts, delivered straight to your inbox.
Discover several homemade carpet stain remover recipes that are simple to make using everyday household products that you might already have in your kitchen and bathroom. When you are dealing with stains in your carpet, the last thing you want to do is have to call a professional cleaner every couple of months to deal with the problem, as this can get very expensive.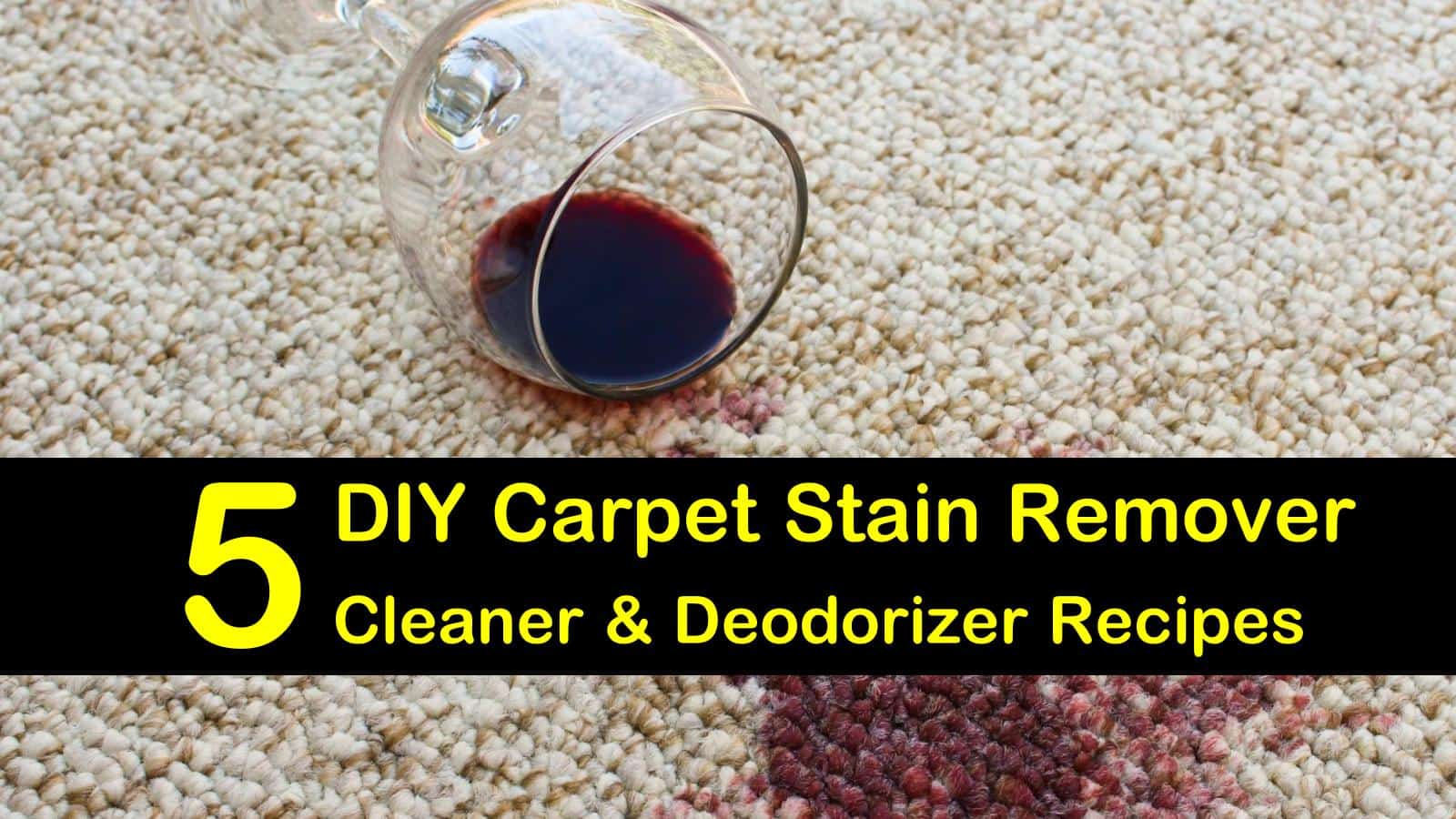 DIY Recipes for Carpet Stain Removers
Making an effective homemade carpet cleaner is extremely easy to do. It performs just as well as the carpet cleaners that you can find at the store. Containing natural ingredients that can be found in any supermarket, these cleaners are less expensive than commercial cleaners and are safer for your family and the environment.
Look over these great homemade spot remover recipes you can use between professional cleanings to keep your carpet smelling fresh and give it a new look.
DIY Carpet Cleaner with Vinegar
When you have spills and tough stains to treat on your carpet, a homemade spot remover is a way to go. Everything in this recipe is something you probably have in your pantry.
It's inexpensive to make and will get rid of even the toughest stains, like red wine or pet stains. You can even remove acrylic paint from carpet, as well as a host of other spills.
In a large spray bottle, combine the warm water and vinegar. Add the salt and essential oil of your choice. Place the cap on the bottle and shake. Liberally spray your carpet with the solution.
Allow the carpets to dry. Vacuum the treated areas. For tough stains, like to get blood out of carpet or to remove tea stains from carpet, spray the solution directly on the stain and allow it to dry. Vacuum the area. Repeat if needed.
DIY Carpet Steamer Solution
The carpet cleaning solution you use in your steam cleaner doesn't have to be expensive. You can make a simple homemade carpet cleaner from the products you have in your kitchen and bathroom.
Not only will you save money by making your own cleaner, but it will be less toxic than those you can purchase at the store.
In your steam cleaning machine's reservoir, mix the vinegar and the water. Clean disgusting carpet by following the manufacturer's instructions.
The white vinegar will probably leave a slight smell for a couple of hours until it dries. You can use several drops of essential oils in the solution to help make this method better smelling.
DIY Carpet Deodorizer
When you have children, keeping your carpets clean is super important. Unfortunately, even with regular vacuuming, your carpet can begin to smell, especially in the winter when the house is closed up. This DIY carpet deodorizer recipe uses baking soda to soak up odors, leaving your carpet smelling fresh.
In a Mason jar, combine the soda and essential oil of your choice. Place the lid on the jar and shake well to combine. Remove the cover and replace the inner, metal lid with construction paper. Place the ring back on the jar and tighten.
Cut off the excess construction paper. With a thin, sharp object, like a nail, poke holes in the construction paper. Shake the powder liberally onto your carpets. Let the deodorizer sit for 1 to 2 hours. Vacuum the carpet thoroughly.
DIY Carpet Stain Remover
If you have carpet in your house, stains are inevitable, especially if you have kids or pets. To quickly get rid of spots in your carpet, you can make a simple spot remover from everyday household ingredients.
Similar to our DIY homemade carpet shampoo, mix the ingredients in a spray bottle. Spray the stain with the solution and scrub the stain with a clean, dry washcloth. Using a fresh, dry towel, blot the area dry.
Before using this on your carpet, be sure to test the colorfastness of your carpet fibers by doing a quick spot test in an inconspicuous place.
This recipe or vinegar alone can also be used as a DIY carpet glue remover if you are pulling up old carpet to lay down new flooring. Sometimes boiling water can be added to the mix to loosen hardened glue and make it easier to take off.
DIY Carpet Cleaner for Tough Stains
If you have tough spots like wine, chocolate or even mustard stains on the carpet, or you need a powerful car carpet cleaner, this homemade cleaning solution works great. The combination of the liquid dish soap and the hydrogen peroxide are excellent at removing tricky stains like grape juice and red wine.
If you have young children, you will likely have slime dumped on your carpet at some point. This wonderfully fun concoction can create quite a mess, however. If slime makes its way onto your carpet or rugs, cleaning slime with this recipe does offer you some success.
Take care, though, on darker carpet, as the peroxide may cause discoloration. It's always a good idea to test an inconspicuous area first.
In a plastic spray bottle, simply mix the ingredients until combined and the baking soda is dissolved. Saturate the stain with the solution to remove wine stain from your mattress or the living room rug. Let it stand until the area is completely dry. Next, vacuum the area to pull up the residue.
If the stain is especially tough, you can scrub the area with a soft-bristled brush before it has had a chance to dry. You can also try this recipe as one of the best ways to remove fingernail polish from your carpet.
If you have darker carpet and don't want to worry about the effects of hydrogen peroxide, you can try rubbing alcohol to see if that will work to get rid of the stain. Dab the alcohol on the spot with a clean cloth until the stain is completely lifted from the carpet.
>> Related Tip: How to get chocolate out of clothes
The next time your carpet needs to be cleaned, or you have a tough stain to get out, forget about calling the professional cleaning service and save yourself a ton of money.
These DIY carpet stain remover recipes work just as well as the commercial carpet cleaners on the market and are less expensive because they use everyday products that you probably already have in your pantry and bathroom.
The best part of these homemade carpet cleaning solutions is that they don't contain any harsh chemicals, making them safe to use around your family and are safe for the environment.
Recipe for DIY Carpet Stain Remover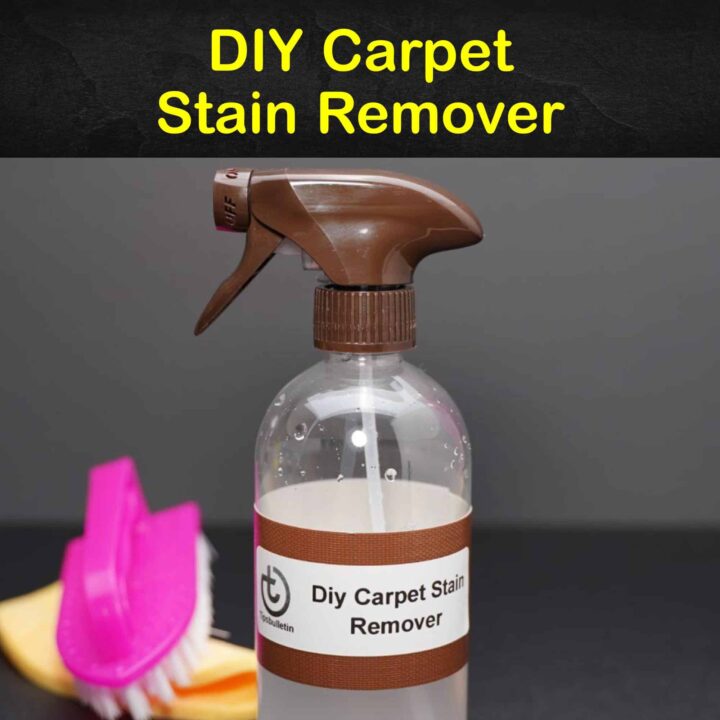 DIY Carpet Stain Remover
A great homemade mixture for all types of stains.
Materials
16 ounces tap water
1 tbsp vinegar
1 tbsp clear dishwashing liquid
Tools
Tablespoon
24-ounce spray bottle
Measuring cup
2 clean, dry cloths
Instructions
Add the water, vinegar, and soap to the sprayer.
Shake to mix.
Thoroughly spritz the stain.
Wipe away the spill with the cloth.
When the stain is gone, dab with a dry cloth.
Notes
Test in an inconspicuous area before using to ensure that this stain remover will not discolor your carpet.
We hope that you found the information about DIY carpet stain remover helpful and hope you will feel free to share our carpet cleaning tips with all your friends and family on social media outlets like Pinterest and Facebook.