Most of us have several pieces of costume jewelry in our jewelry box. Beyond being more affordable than rubies and other precious gems, each piece of jewelry is a unique work of art that adds a different style to your wardrobe. So to preserve these statement pieces, it is essential to know how to clean costume jewelry using the best methods possible.
The most significant issues we run across with our beloved costume pieces is tarnishing, and how to restore fake gold jewelry to the vibrant luster it once had. Some solutions are as simple as cleaning tarnished jewelry with dish soap and hot water.
Others may require more sophisticated methods, like using aluminum foil to fix discoloration. No matter which way you choose, these jewelry cleaning solutions are relatively simple and will save those fashion favorites with just a little bit of love and care.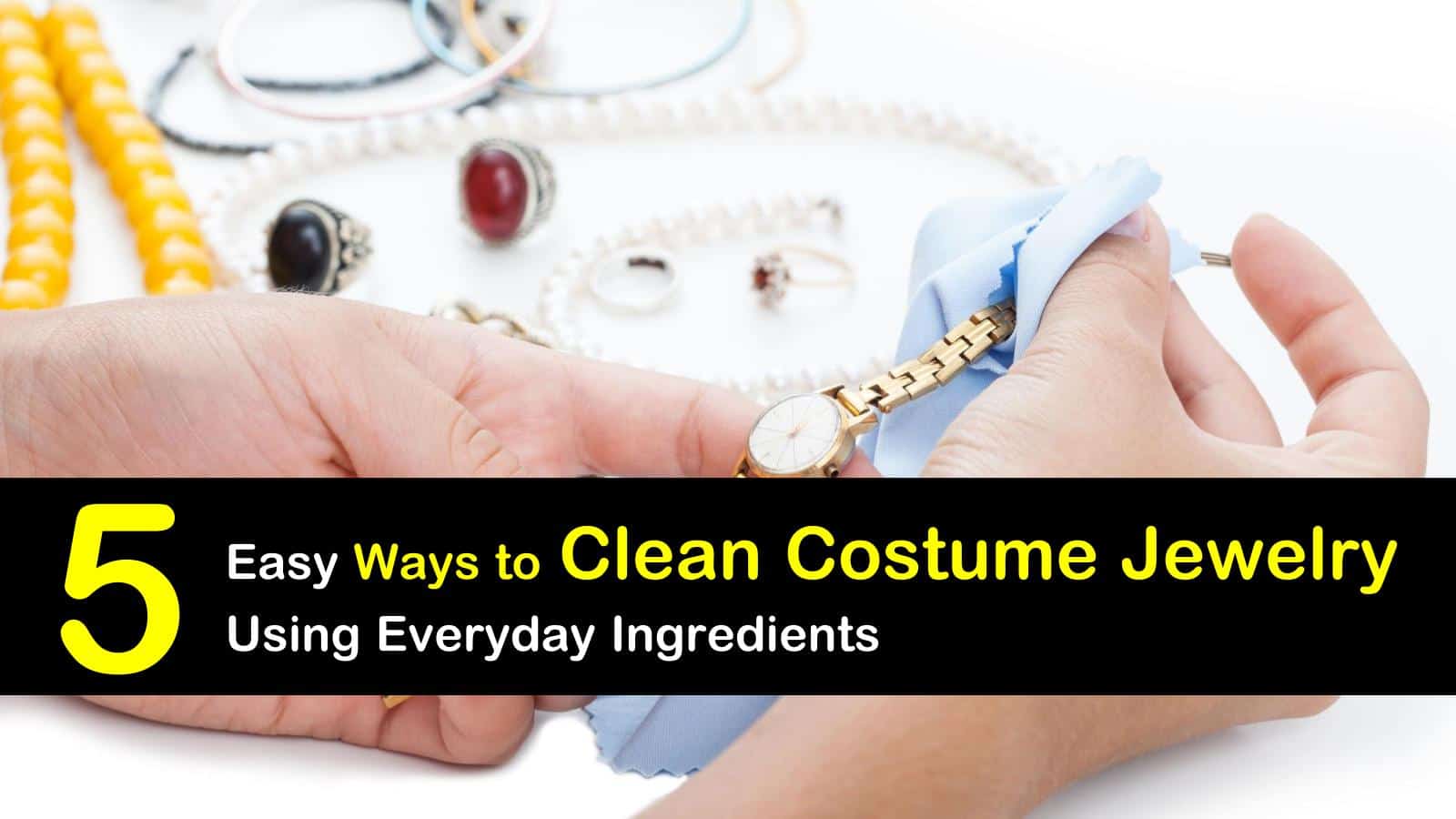 Cleaning Costume Jewelry – The Basics
Even if your jewelry looks clean, if you wear it often, sweat and body oils accumulate on the surface. There are many ways to clean metal jewelry depending on what it is made from. Sometimes wiping down your jewelry with a dry cloth is all you need to brush away dirt and grime from the surface.
Body oils, perspiration, and even cosmetic products like hairspray are the main contributors to the lack of luster in your fake gold jewelry. The excess moisture becomes trapped on the surface of your jewelry and in between crevices, causing it to look dull and dark.
How to Restore Fake Gold Jewelry without Harsh Chemicals
Starting with a dry clean should be your first course of action to remove any oily residues and moisture.If your jewelry requires a deeper clean, use a soft bristle toothbrush to reach in between tiny cracks and creases. You may also use a toothpick to dig out dirt particles or even a little shot of compressed air to blow away stuck on flakes.
For tough water stains or tarnishing, add a dab of dish soap or dishwashing liquid. Smooth the soap over the jewelry with your fingertips, then rinse using a damp cloth. Afterward, dry the jewelry piece thoroughly and buff with a microfiber cloth to restore shine.
Cleaning Cheap Jewelry with Toothpaste
Toothpaste may seem like an unusual jewelry cleaner but it is an effective solution for cleaning jewellery at home, especially cheaper jewelry, although toothpaste is appropriate to clean copper jewelry and some other metals, too. Using an old toothbrush and toothpaste to clean gold, for example, causes scratches in the soft metal surface and is not recommended.
Since this is costume jewelry, there is little need to worry about scratches ruining the metal. Not to mention, using this method saves you a quick trip to the jeweler and doesn't expose delicate jewelry pieces to harsh chemicals.
For how to clean costume jewelry using toothpaste, start by adding a small dab onto a soft toothbrush. Scrub the surface of the jewelry lightly, working the toothpaste in between those nooks and crannies.
If you don't want to use a toothbrush, you can also work the toothpaste over the costume jewelry using your fingertips. Rinse off and dry thoroughly to prevent water damage. When it comes to using toothpaste, you may want to test a small portion of the jewelry to see how it affects the metal.
How to Clean Tarnished Costume Jewelry with Cleaning Products
Most chemical cleaners will destroy costume jewelry unless plated with silver or other precious metals. However, there are some jewelry cleaners specifically designed for cleaning costume jewelry. If you don't have a commercial cleaning product that is safe for fake cheap jewelry, here are some items you can also use.
A bottle of nail polish remover that is acetone-free will also work similarly to a commercial cleaner. To clean, dip the jewelry item in a small bowl of jewelry cleaner. Leave the piece in the bowl for only 30 seconds, since leaving it any longer may damage the metal.
Lightly rub the jewelry piece with a soft cloth, then rinse with warm water and dry. Shine jewelry afterward by buffing it with a clean polishing cloth.
Restore Discolored Jewelry Using Aluminum Foil
A fabulous option to clean tarnished brass jewelry is to use aluminum foil and some baking soda. The mixture creates a chemical reaction that works well for cleaning jewelry of all types, including silver, gold, and costume jewelry.
First, line the small bowl with a sheet of aluminum foil. Make sure your container is large enough to hold your jewelry piece. Place your jewelry into the bowl and sprinkle enough baking soda over the top of it to completely cover it.
For the next step, pour the boiling water into the bowl and fully submerge the item. Some recipes suggest adding a tablespoon of salt, but it is optional. Wait for approximately 5 minutes, then remove the jewelry item and rinse with cool water.
How to Clean Costume Jewelry Plated with Precious Metals
Vinegar and salt are used in many cleaning recipes from bathtub cleaners to a copper cleaner and more. Adding another impressive cleaning ingredient to the mix like baking soda creates a spectacular homemade jewelry cleaner for costume jewelry. While vinegar is not recommended to clean most costume jewelry, it can be used to clean silver and gold-plated costume pieces.
Mix the ingredients in a small bowl for cleaning jewelry with baking soda and vinegar, along with salt, until they form a paste. Using a microfiber cleaning cloth, dab it into the solution and wipe it gently over the jewelry piece, being sure to get into all the cracks and crevices. Let the paste sit for several minutes to work its cleaning magic.
For tough stains, clean jewelry with a soft brush after waiting, then rinse with cool water. Buff the jewelry with a dry lint-free cloth. This recipe also works as a DIY brass polish.
What is the difference between costume jewelry and real jewelry?
Fine jewelry is made with precious stones and usually a metal like sterling silver or gold. The line between what is costume jewelry and real jewelry, however, sometimes falls into a grey area.
Some consumers recognize costume jewelry as any fake piece of jewelry made with synthetic stones and base metals. Though this is mostly true, it doesn't cover every exception.
While costume jewelry does not use real gemstones, it may still use precious metals like gold or silver. These jewelry items don't use pure silver and gold, but instead, consist of base metals that are gold or silver-plated. Even with elements of real precious metals, these jewelry pieces are still considered costume jewelry.
Can I use the same cleaning products on my costume jewelry as I do on my silver jewelry?
Cleaning silver and gold jewelry usually consists of harsh chemicals that will deteriorate most costume pieces. A regular jewelry cleaner, for example, may work wonders when you want to clean gold but will add tarnish on a cheaper base metal.
To clean silver, you may decide on an acidic cleaning solution like white vinegar, though this may cause discoloration in fake jewelry items.
When cleaning costume jewelry, it is best to use milder methods and avoid excessive use of water. The only exception is when cleaning gold and silver-plated jewelry. Even if the costume jewelry is only plated with precious metals, treat it as if it were the real deal.
A tarnished piece of costume jewelry does not mean sacrificing one of your favorite accessories. These easy methods for cleaning your costume jewelry and removing that yucky green tarnish will save even your most challenging pieces.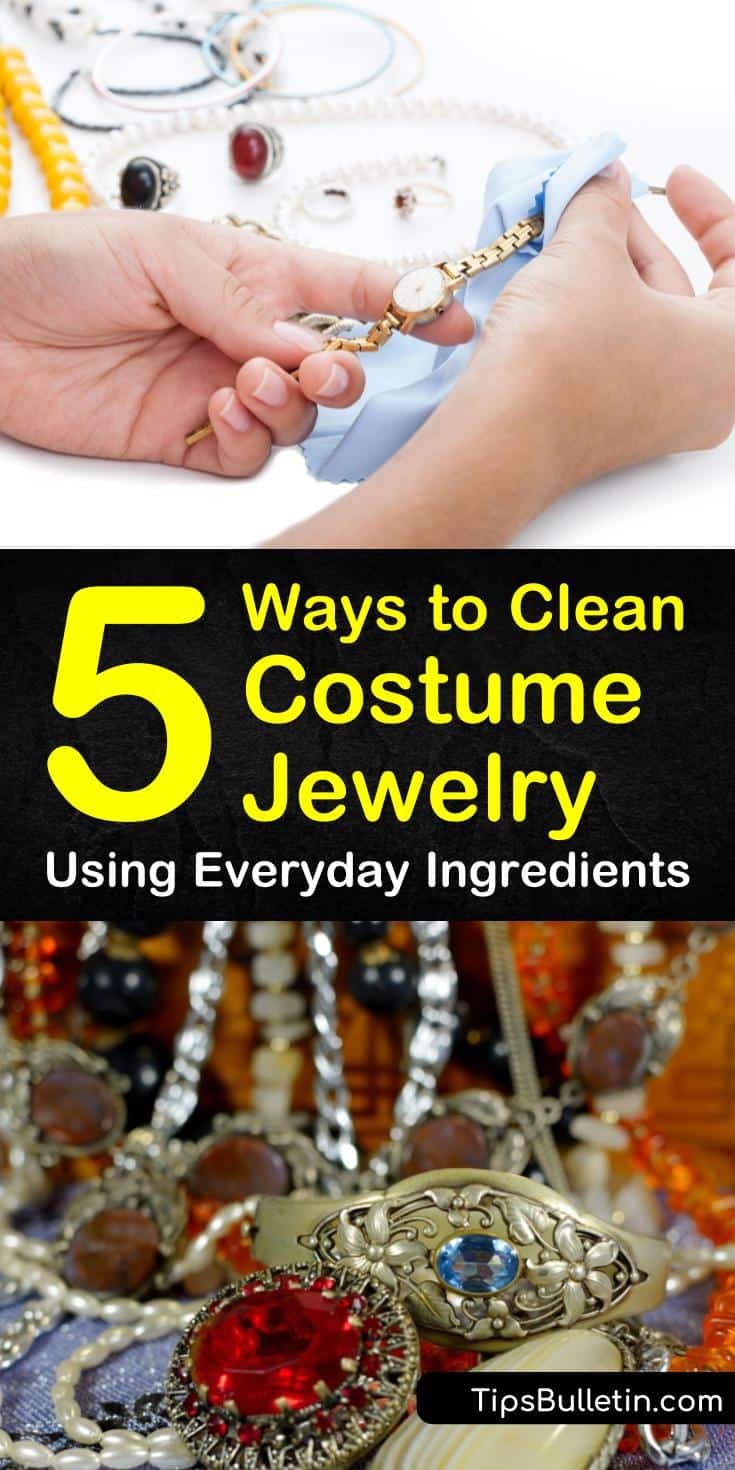 Hopefully, these costume jewelry cleaning tips were exactly what you needed to restore the shine and brilliance in your favorite statement pieces. If you found these tricks helpful, don't forget to share how to clean costume jewelry with friends and family on Facebook and Pinterest.