Opening up a package to see a dazzling gold chain or stainless steel earrings is always a pleasant surprise. But, how do you keep them that way? In this situation, knowing how to clean metal jewelry is very useful. Learning how to clean your jewelry helps you to return the glitter it once had without having to go to a jeweler or buy something new.
There are many different kinds of metal used for making jewelry around the world. This variety means there are also a large number of ways to clean them, some of which are used for a specific type of metal and other different varieties.
It is also up to you what kind of cleaner you use when there are multiple options. There are many ways to clean jewelry at home or to DIY it instead of using cleaning products. Generally, there is always a way to stay natural as well, and cleaning jewelry is no different. You can shine metal with household items and a little extra elbow grease.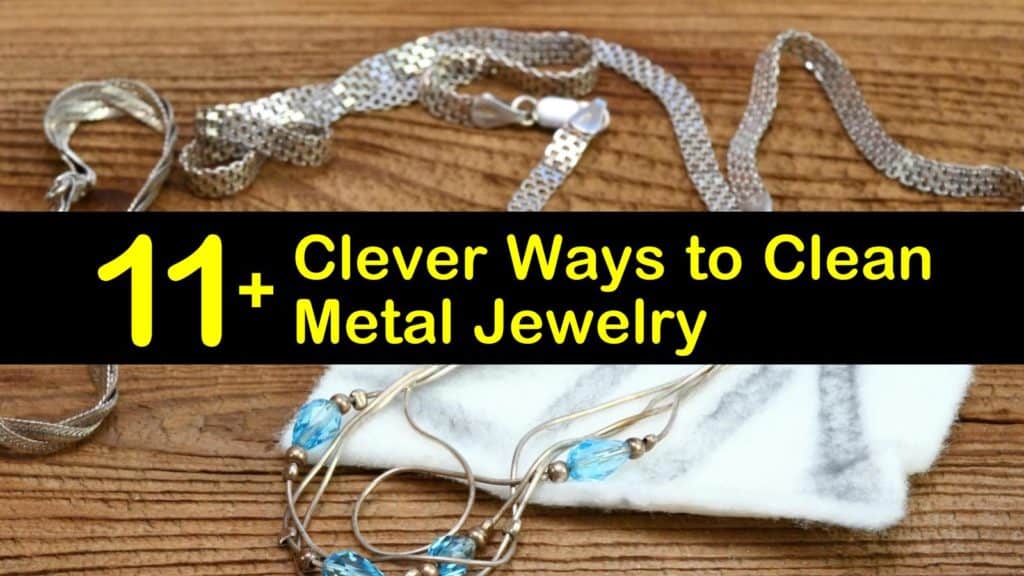 Cleaning Hacks for How to Clean Metal Jewelry
Use our compiled lists of the different methods to clean your jewelry and make your life more glittery. Figuring out which type of metal the jewelry is that you need to clean helps you choose the best method for your situation.
From baking soda and vinegar to traditional tarnish, we have all the ways to clean metal jewelry to reduce your need to spend more time searching the internet.
Clean Tarnished Metal Jewelry with Cold Water and Air
Hot water is more common in most of the mixtures highlighted below. However, certain precious metals like copper, silver, brass, and gold jewelry need to be cleaned with only cold water and air. This temperature requirement is because the hot water causes tarnish to return to the metals afterward.
The best way to clean tarnished metal is by using a soft cloth dipped in cold water. Do not use an abrasive material as this causes scratches to appear after drying. Rub the tarnished areas away and set the pieces out to air dry.
Dish Soap and Water: Useful for More than Just Dishes
Mild dish soap is a useful cleaner for almost anything, even though producers market it as a dishwashing fluid. It is a gentler cleaner since it doesn't contain a lot of harsh or toxic chemicals, making it perfect for cleaning metal jewelry. Here is an easy way to clean brass and other metals.
The consensus for the best dish soap for jewelry cleaning is blue Dawn soap. It works its magic for a lot of metals, including sterling silver, titanium, niobium, gold-fill, aluminum, and stainless steel. It is also very affordable.
Add dish soap to a bucket of warm water. Then, put your fine jewelry in and allow it to soak for 10-20 minutes. Use your palms and carefully but quickly rub the jewelry down or specific areas between your fingers.
Once finished cleaning, set the jewelry on a cloth to air dry. If you need it immediately, use a blow dryer on its coldest and lowest setting to dry faster.
Ways to Clean Metal Jewelry with Plain Vinegar
Vinegar is a kitchen ingredient that often gets shoved to the back of the pantry. It is worth digging it out to use when cleaning tarnished jewelry if the cold water and air-dry method doesn't work.
To clean gold and other metals, using white vinegar works best for the jewelry cleaner recipe, but almost any type does the trick.
For one of the ways to clean anodized aluminum or other metal jewelry, start by soaking the jewelry in a bowl of pure white vinegar. Let it sit for five to ten seconds; vinegar is a powerful cleaner. Take the jewelry out and use dish soap and cold water to form a lather while briskly rubbing the jewelry with your hands.
Use cold water to rinse the soap away and then immediately dry with a blow dryer on the coldest and lowest setting to prevent water spots and areas where it could quickly tarnish again.
Toothpaste Cleans More than Your Teeth
Toothpaste is another hidden gem when it comes to using everyday household items to clean jewelry. Use it to shine almost any piece except for those with pearls.
For a real or fake jewelry cleaner, squeeze some toothpaste onto a toothbrush. An older toothbrush is better than a newer one since the bristles are typically softer.
Rub the tarnished or dull places down with the toothbrush. Dip a soft cloth in warm water and rub it clean, noticing the shine as you go.
Toothpaste also works to remove rust from chrome surfaces. Try it on your car bumper or door handles.
Shampoo for Porous Pearls
Above, we said not to clean pearls with toothpaste and rinse method. It isn't because they stay perfect forever. So, how should you clean them? Since pearls are very porous, they quickly lose their sought-after luster as well as making them difficult to clean.
Shampoo works wonders for this kind of material, though, whether real or faux. Made to clean hair, which is porous and sensitive, shampoo is the right choice for the porous pearl. It is an excellent way for how to clean jewelry at home and does well at restoring a pearl's luster.
Don't ever soak pearls in water since this weakens their string. Instead, set them on a soft cloth. Make a mixture of warm water and shampoo. Dip a makeup brush into the water mixture and gently "dust" over all of the pearls.
Once finished, rinse the strand or single pearls off with a warm, wet cloth and allow them to air dry. This method is useful for any porous material, such as the gemstones opals and turquoise.
Cleaning Metal Jewelry with a Tumbler
Using a rock tumbler is a great and easy way to clean your jewelry. The tumbling process polishes and takes away sharp edges on a piece of jewelry.
This hard action means that it may not be the best for jewelry with small gemstone pieces. However, it does well for polishing up metal rings, metal necklaces with metal pendants, and silver jewelry.
Start by pouring the steel shot into the barrel of the tumbler until it is approximately half full. Follow this by pouring enough water to cover over the shot by about an inch. Then add the soap flakes and the jewelry. They need to tumble, so make sure that they are not too packed.
Seal the barrel and turn the tumbler on, allowing it to rotate for six to eight hours. After about six hours, take the jewelry out to check if it is sufficiently polished. Continue if not. Once finished, rinse them thoroughly with water and polish with a soft cloth to stop water spots.
ArmorAll for Rubber Jewelry
If you have rubber jewelry, whether a durable ring or costume jewelry, use ArmorAll to clean them. The process is straightforward and ordinarily safe for other materials that may be included in the design. The exception is anodized aluminum.
Put the jewelry pieces in a Ziploc bag. Spray them with three or four spritzes of ArmorAll. Seal the bag, pressing out any extra air. Then, rub it between your palms, as if you are trying to warm them up for about 30 seconds. Afterward, either rub the excess ArmorAll off with a clean towel or rinse it under some water.
Baking Soda isn't Only for the Kitchen
Baking soda is another clever kitchen solution for cleaning cheap metal jewelry. To clean materials that are not sensitive to tarnishing, use a baking soda and hot water mixture to get your jewelry sparkly clean. It is also a great way to clean pewter naturally.
Line the bottom of the bowl with aluminum foil. Add the baking soda and hot water on top. Set the jewelry inside the bowl and let it soak for five to ten minutes. Afterward, rinse it in lukewarm water, rubbing any leftover baking soda and dirt off the jewelry. Use the towel to dry it off. You can also add some vinegar to get an even deeper clean.
Old-Fashioned Polish is Still in Style
Jewelry polish such as silver polish is often the first option that traditionally comes to people's minds when they want to make their jewelry sparkle again. It may not be a standard household product, but it still works like a charm.
This method is one of the most straightforward. Purchase a polish meant for the type of metal you want to clean. Use a polishing cloth with the cleaner and strip away the grime and tarnish.
Polish it off with Lemon or Lime
When looking for a way to do it at home, stainless steel jewelry cleaning is easy with a lemon or lime. The citric acid that these fruits contain is able to strip metals of rust, tarnish, and dirt.
Gather the materials and make the mixture of dry milk, lemon, or lime juice and water in the bowl. Let your jewelry sit in the mix overnight.
Scrubbing them gently with the toothbrush the next morning helps to get into any crevices, especially when cleaning plated jewelry. Dry them off with a microfiber cloth.
Note: Do not use latex or rubber gloves to avoid future tarnishing problems.
Ammonia Adds Sparkle
Many of us have pieces that we use almost every day, such as wedding rings or extra bling. The dirt, lotions, and shampoos that can add layers of grime to the exterior of these jewelry pieces can be irritating to try to get off after a while. Ammonia or bleach is a well-known hardcore cleaner that you can use to shine diamonds and other gemstones.
Make up the ammonia and water mixture. Set your piece in it to soak for about 30 minutes. Use the old toothbrush to get in the grooves. Do not use this solution for high porosity substances, like pearls, opal, or turquoise.
Antacids Burn the Bad Away
We generally use antacids to soothe a burning stomach, among other maladies. However, this substance also creates its burn on the dirt on jewelry anyway and is effective at cleaning metal jewelry.
Throw two tablets into your warm water and then add the jewelry. Let it soak in the effervescent solution for about two minutes. Take it out and clean it with a soft bristle toothbrush or aluminum foil.
Now that you know how many ways to clean metal jewelry there are, the only other thing left to do is pull out your jewelry box and get to work.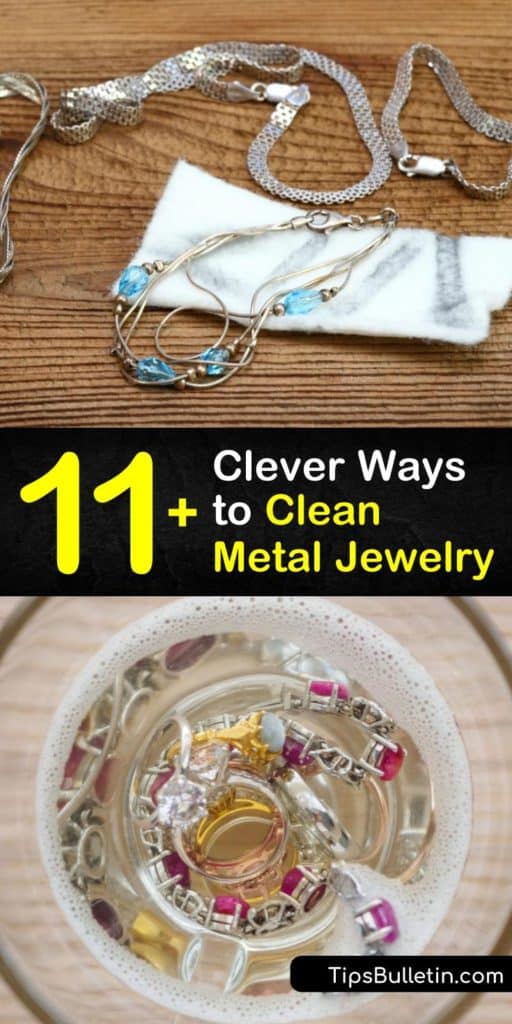 Hopefully, you found our compilation of cleaning hacks useful. If you liked our guide about how to clean metal jewelry, please share our cleaning metal jewelry hacks on Facebook and Pinterest.