Marble is a beautiful natural stone that has become a popular decorating choice for many homeowners. From marble sinks to marble kitchen countertops to marble fireplaces, marble is an attractive investment for any home. Learn how to clean marble and protect your investment from damage.
Unfortunately, along with being beautiful, marble is also extremely vulnerable and susceptible to stains and damage. While marble is a favorite material for many homeowners, it is challenging to care for and clean the natural stone.
Marble is extremely porous and can be quickly damaged by acidic substances like milk, tomato juice, wine, and lemon juice. Even the smallest of spills can etch the marble, permanently damaging it with a dull scar. Here's how to clean any marble surface to keep it scar-free.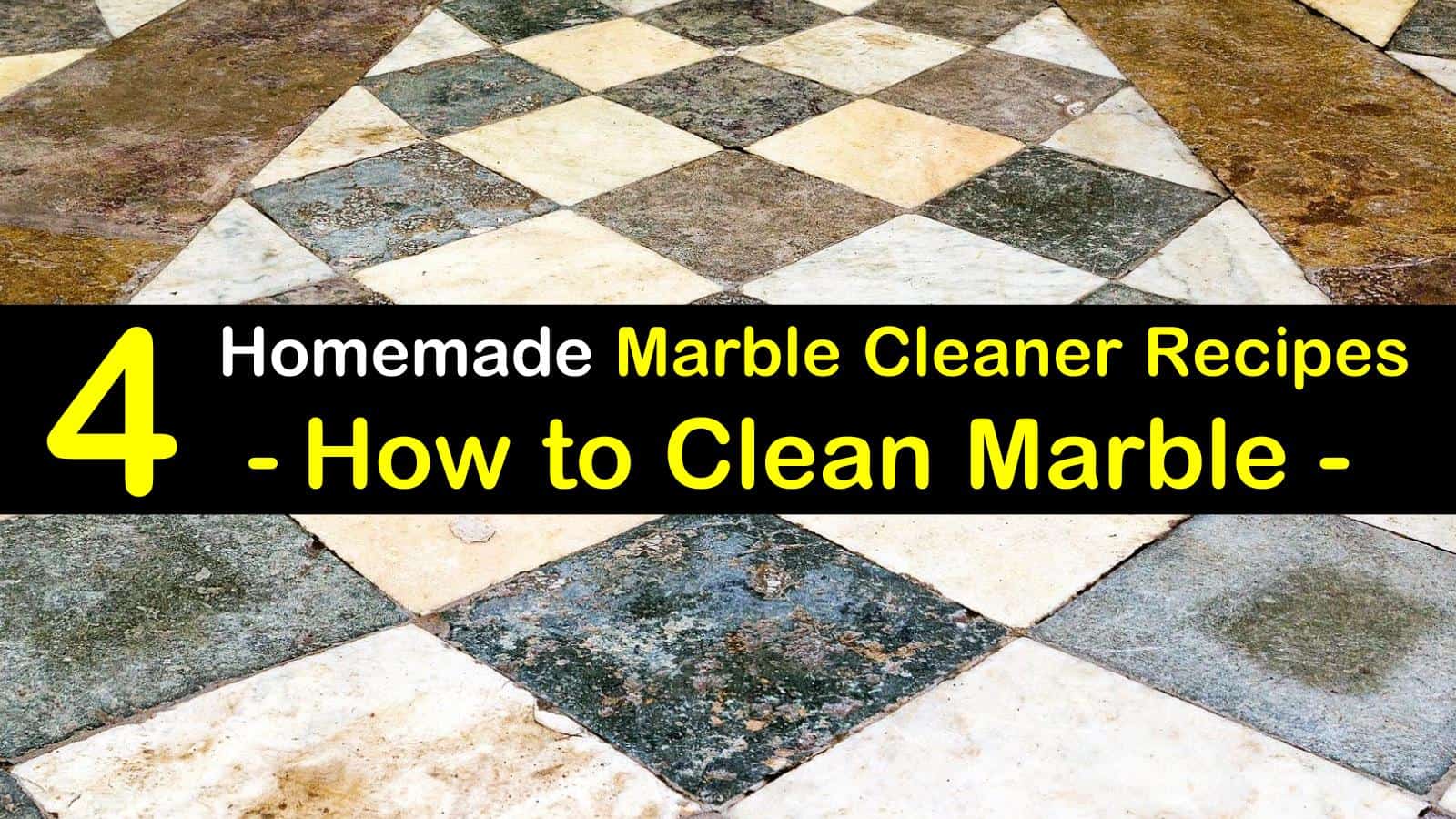 Clean Marble Countertops
The key to keeping your marble countertops damage free is prevention. Just when you disinfect granite countertops, avoid cleaning marble countertops with Windex, lemon juice, vinegar, or bleach as these acidic products will eat into the marble surface and dull the natural stone.
The most effective way to clean marble counters is with a simple home solution of liquid dish soap and warm water.
Combine the ingredients in a spray bottle. Replace the lid and gently shake it to create a mixture of soapy water. Lightly spray the surface with the cleaning solution. Use a clean cloth to wipe down the marble surface.
Make sure you thoroughly rinse the area with water to remove the soap residue, because a buildup could eventually damage the marble. Use a soft cloth to gently dry the marble surface.
Castile soap is an incredibly versatile stone cleaner. You can also use it to make a simple granite cleaning solution at home. It is cheap and works very well even on hard water stains.
Cleaning Marble Floors
Marble floors are relatively durable, but knowing how to clean marble tile floors is essential for keeping them looking beautiful.
If you happen to spill something on your marble flooring, it is vital that you clean the spill up as soon as possible because marble is incredibly easy to stain. Cleaning marble floors with conventional cleaning products or even a natural floor cleaner can damage the material.
Start by using a floor duster to sweep up any loose dirt and debris from your marble floors. Don't use a broom, and the stiff bristles can scratch your floor, leaving permanent scratches on the marble surface.
Next, pour the water and ammonia into the bucket. Dip the soft mop into the bucket and wring the excess water from the head. Systematically mop the floor using short strokes that overlap. Continually rinse and wring out the mop head.
Next, use clean water to mop the floor again. This will help you pick up any dirt or debris that remains on the floor, as well as removing any residue from the marble cleaning solution.
Finally, use a soft cloth to dry the floor. Due to its porous nature, you want to make sure you sop up as much of the water as possible to keep it from leaching into the marble and staining it.
Cleaning a Marble Table
If you have a marble table, you know that it is highly susceptible to watermarks and water rings. Anytime you place a glass down on your marble table; you run the risk of it becoming stained.
The condensation that forms on the glass can drip down the outside of the glass, creating a pool of water on the table surface. As the water evaporates, it leaves behind magnesium and calcium buildup, resulting in an unsightly stain on your marble. Fortunately, the stain isn't permanent, and you can remove it quickly.
Combine the baking soda and water, mixing well. Dip the microfiber cloth in the cleaning solution. Vigorously scrub the stain until the watermark disappears.
Using a clean cloth, rinse the marble cleaner residue from the table with clean water. Use another clean towel to dry the table surface thoroughly.
How to Remove Stains from Marble Tile and Other Marble Surfaces
If accidental spills on your beautiful marble surfaces have turned into unsightly stains, your typical natural stone cleaner may not work. Don't worry; the following techniques will help you remove tough marble stains.
Removing Rust Stains from White Marble
Rust stains are typically caused by a metallic object begin left on the surface, and generally are copper to brown. Rust stains are the most challenging marble stains to remove. However, you can use a commercial marble poultice at home to treat tough rust stains.
Place the rubber gloves on your hands to protect them from the chemicals in the rust remover. Combine the commercial rust remover with the enough distilled water to make a paste. Spread the paste over the stain, at least ¼-inch thick.
Make sure you are only applying the paste to the stain and not the surrounding areas. Cover the paste with the plastic wrap, taping the edges down with painters tape to help hold the moisture in.
Allow the poultice to sit for 24 hours, then remove the tape and plastic wrap. Leave the poultice on the marble surface until it has dried. Once the treatment is completely dry, use the plastic scraper to remove the paste from the counter.
Wipe the area down with a clean cloth to remove the residue. Clean the area as usual. You may need to repeat the process several times before the stain completely disappears.
>> Related Household Tip: Best Ways To Remove Rust Stains
How to Remove Oil Based Stains from Marble
Oil-based stains from grease, cooking oil, and cosmetics will leave a light brown or yellow stain on your marble surfaces. Fortunately, these stains are relatively easy to remove.
You can use a soft liquid cleanser, household detergent, mineral spirits, or ammonia to remove oil-based stains from your marble surfaces.
Pour a small amount of the cleaning solution on a clean, soft cloth and gently scrub the stained area. When the stain has disappeared, you need to thoroughly rinse the surface with clean water to remove any residue leftover from the marble cleaner. Thoroughly dry the surface with a clean, dry cloth.
Removing Organic Stains from Marble
You don't usually notice organic based stains until you remove the item that made the stain from the surface. These kinds of stains typically darken the stone to a light pinkish-brown to dark brown color and are usually caused by coffee, tea, and fruit.
You can create a marble poultice using 6% hydrogen peroxide and a few drops of ammonia. Follow the above directions for removing rust stains from marble, to effectively remove organic stains.
How to Clean Cultured Marble
Cultured marble is different from natural marble in that it has a resin finish that is non-porous and more resistant to stains. While cultured marble is more durable than natural marble, you still have to take care when cleaning it.
Like natural marble, you don't want to use abrasive chemicals or scouring pads when cleaning. You can use products like Tilex or Fantastic to clean cultured marble, or you can use white vinegar.
To clean cultured marble dampen a clean rag with white vinegar. Make sure there isn't too much vinegar in the rag by wringing out the excess liquid. Gently wipe down the surface with the cloth. Rinse the area with cold water to remove any residue.
Eventually, you will need to clean the marble surfaces around your home, no matter how careful you are not to spill on them. Make sure you know how to clean your marble the correct way to avoid damaging or staining it, and keep it looking beautiful for years to come. These simple techniques will allow you to clean marble with simple everyday products that are gentle and inexpensive.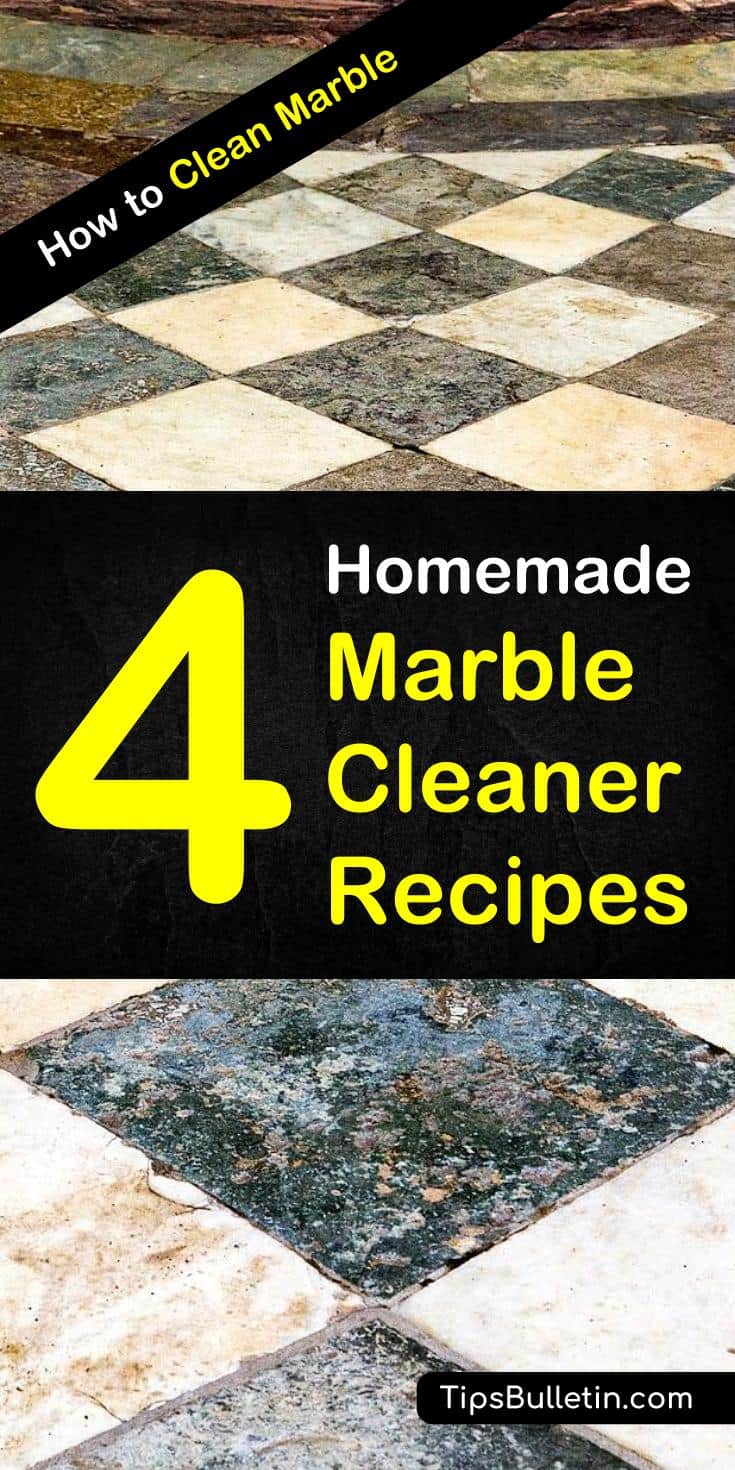 We hope you enjoyed learning how to clean marble. If you found the information in this article useful, please feel free to share it with everyone you know.