Oil paint brushes are one of the most expensive tools in an art supply kit. High-quality brushes have a long lifespan if you clean them with the right technique and brush cleaner. We show you how to clean oil paint off brushes to ensure they perform their best and stand the test of time.
Oil painting is a fun form of expression, and it's easy to get caught up in the experience. Stepping back from your latest project and inspecting your hard work is satisfying. However, now there is a mess to contend with, and the cleaning process is not as enjoyable as the artwork itself. There are many different types of paint and varnish, from shellac and acrylic to oil.
Oil paint consists of drying oil and pigment and is more slow-drying than others. However, it still requires proper cleaning as soon as you finish your work to help keep the brush bristles' shape and prevent damaging the paintbrush.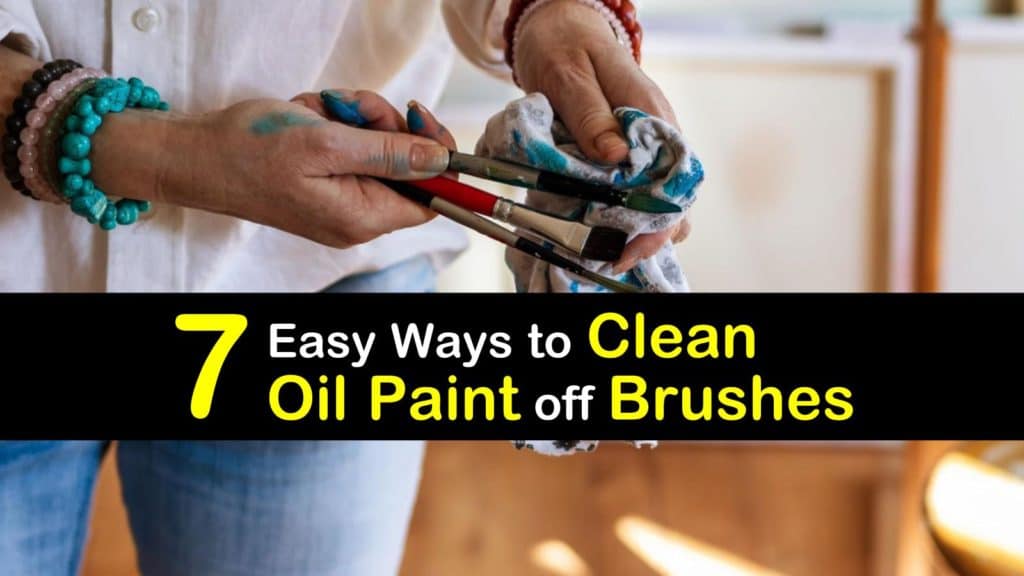 Cleaning Paint Brushes after an Oil Painting Session
Learn how to remove excess paint from your brushes after a session, use solvents and other cleaners to clean oil paint brushes, ways to remove dried paint from the bristles, and how to dry and shape them for storage.
Preparing Brushes for Paint Removal
To remove oil paint from brushes, all of the excess paint needs removing first to make the job easier and more efficient – it only takes minutes to perform.
If you plan on using your brushes within the next day, dip the bristles into a slow drying oil, such as Winsor & Newton Safflower Oil, and store them until later. Otherwise, wrap a cleaning rag around the ferrule, where the brush metal and bristles connect.
Use moderate pressure as you squeeze paint off the surface while pulling the rag down the bristles. Repeat these steps with clean areas of the cloth to remove as much paint as possible.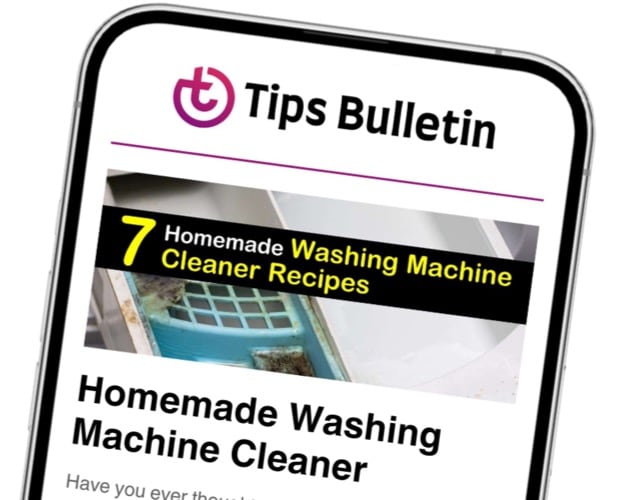 Finally, an email that Transforms Your Home.
Get the latest home and garden tips from our experts, delivered straight to your inbox.
How to Remove Oil Paint from Brushes with Paint Thinner
After you clean away extra paint from the bristles, use a solvent to remove oil paint from brushes for the best results. Paint thinner thins the remaining paint from the brush for a quick clean up.
Cover the work area with some paper towels to protect the surface. Pour enough paint thinner into each container to cover the paint bristles. Soak the brush in one glass for five minutes and swish it around to loosen the paint.
Spread out some cleaning rags and use them to blot the brush using gentle pressure. Soak it in the second container of liquid and repeat the steps.
To remove acrylic paint from clothes, try dabbing the area with paint thinner or acetone. Launder as usual afterward.
How to Clean Dried Oil Paint Brushes
Mineral spirits is a petroleum-derived liquid that works well to clean dried oil paint brushes. It also makes a great DIY paint roller cleaner. While this organic solvent cleans both dry and wet paint, there are specific steps to take if the paint is dry on the brush.
Fill a glass jar with enough mineral spirits to cover the painted brush. Suspend the brush in the liquid by clamping it to the side of the container to prevent the bristles from curling.
Cover it with a plastic bag and soak it in the liquid for a day or two. Remove the brush and blot it on a stack of paper towels to clean away wet paint.
Fill a second jar with fresh mineral spirits and soak it in the new liquid for ten minutes while swishing it around to remove any remaining paint, and then blot it once more with paper toweling.
Here is How to Clean Oil Paint off Brushes without Turpentine
While using turpentine or mineral spirits is the easiest way to get your oil brushes clean, these liquids are not necessary to get the job done. Try using an oil to remove paint from your paintbrushes and get them clean.
Pour baby, safflower, or linseed oil into a container and dunk the brush's bristles into the oil. Hold the paintbrush over a sink and use your fingers to work the oil into the bristles.
Continue massaging it while being careful not to break any strands. Rinse the brush under warm, running water to flush away the paint. Repeat the process until the running water is clear, and use several paper towels to blot the brush.
A small bit of oil can also help you get paint off leather shoes, furniture, and other items. Rub gently so that you don't damage the leather.
Cleaning Oil Paint Brushes with an Oil Soap
If you do not have a solvent, consider using an oil soap to clean dried oil paint brushes. This method works well to clean away the paint and prepare your brush for its next project, and it's easy to find oil soap at any grocery store.
To make this paint brush soap recipe, position the paintbrush over a sink and pour a small amount of Murphy's Oil Soap onto the bristles. Add a small bit of warm water, and then work the soap into the brush gently.
Rinse away the residue, apply more of the soap, and continue massaging the bristles to clean away the paint. Give it a final rinsing to ensure that the water runs clear, and blot it with paper towels.
Cleaning Away Paint and Solvent Residue
After using a solvent, oil soap, or baby oil to clean your paint brushes, it's vital to remove all residue from the bristles before storing your brush. A little soapy water is a necessary step in the cleaning process.
Squirt some dish soap into the palm of your hand and hold it over a sink. Get the paintbrush wet with a little bit of warm water, and then sweep it back and forth over your soapy palm.
Rinse both your hand and the brush under warm, running water and repeat the steps until the lather on your hand no longer picks up paint.
Drying and Reshaping a Paint Brush after Cleaning
Paintbrushes often lose their shape after a thorough cleaning. Here is how to dry and shape the bristles of the brush after removing oil paint to maintain its integrity.
Wrap a cleaning rag around the bristles of your paint brush, apply gentle pressure while pressing your fingers around it, and gently pull the rag downward off the brush. Inspect the cloth for soap or paint residue, and rinse it under warm water if you spot any.
If your paint brush is old or brittle, apply a small dab of conditioner to the bristles and rinse it once more with warm water. Lay another cloth on a flat surface and press the brush, flat side down, on the fabric.
Keep flipping it from one flat side to the other while pressing down on the rag to dry it. Gently pass your fingers over the bristles to get them back into their original shape. Avoid breaking or squashing them during the reshaping process.
While oil paints dry slower than many other types of paint, they require different cleaning methods to remove all remaining paint from the bristles.
Using warm water and dish soap is a great place to start, but additional solutions are often necessary to remove dried paint and maintain the brush shape.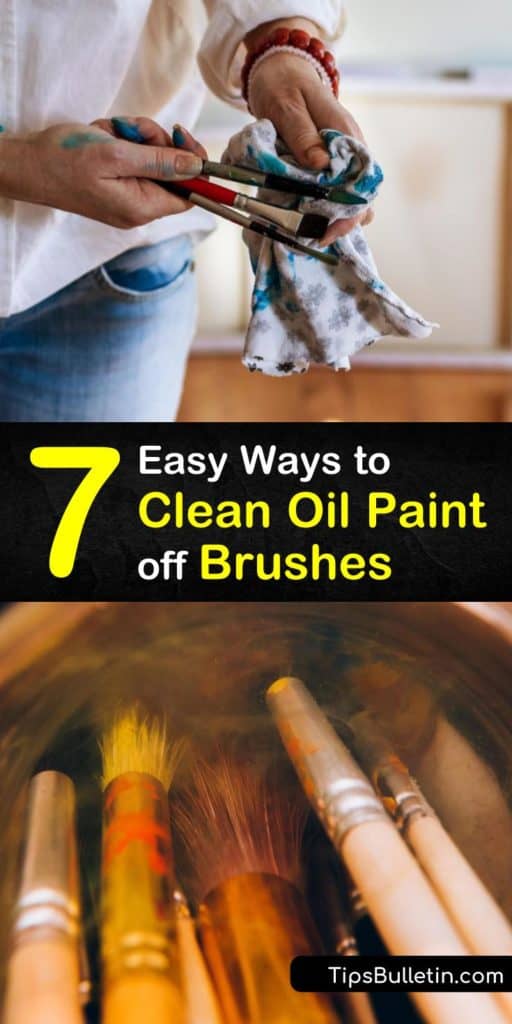 As an artist, it's important to know how to clean oil paint off brushes to keep their shape and quality, so why not share our oil paint brush cleaning solutions with your artistic friends and family on Pinterest and Facebook?